If you're thinking about starting an Etsy shop, you'll want to know how much it costs. I often have Etsy newbies ask me things like how much does it cost to have an Etsy shop versus other e-commerce options.
In this article, we'll discuss the different costs involved in running an Etsy shop, from the cost of having a shop to payment processing fees.
We'll also provide tips for keeping your costs down, so you can start and run your Etsy shop on a budget. Read on to learn more about the cost of having an Etsy shop.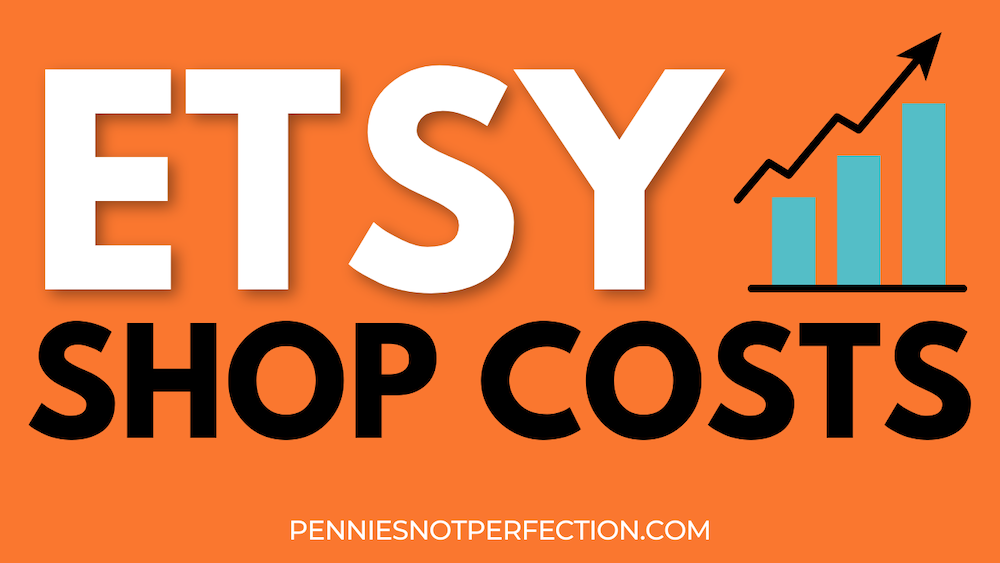 Related: What I Wish I Knew Before Starting An Etsy Shop
How much does it cost to have an Etsy shop?
Let's be honest, there are a lot of fees associated with selling on Etsy.
It's impossible to give an exact number on how much it will cost you because it depends on a lot of factors.
Are you selling digital downloads? Then it will cost you less than someone selling physical products they have to pay to ship.
Are you selling in large volumes or doing big bundles in one listing? This will affect how many times you pay listing fees.
There are many factors that affect how much it actually costs to have an Etsy shop. Unfortunately for many those costs rise as their shop grows and it has sent many sellers off the platform.
Let's look at some of the fees Etsy has for sellers and how they can affect your shop costs.
Etsy Listing Fees
Etsy listings are created when you add a product to your Etsy shop. You must pay listing fees in order to list goods for sale on Etsy. You will be charged a listing fee for each individual listing you post.
A fixed cost of $0.20 USD is charged for each listing.
This fee will still apply whether or not the item you list sells. The fee is automatically added to your payment account when you publish an item.
Auto-Renew Sold Fees
Auto-renewed listings automatically repost listings that are purchased from your store and charges you the $0.20 USD listing fee again.
This is a great way to reduce the time required for manual product reposting. For digital product sellers it makes things even more passive.
When a listing is set up to renew automatically and is bought, you will be charged the regular $0.20 USD listing cost.
Multi-Quantity Listing Fees
You will additionally be charged the standard $0.20 USD listing fee for each subsequent item bought from the listing if you offer different versions of the same item for sale in a single listing and a consumer purchases more than one version. However, the extra fees won't be applied until after a multi-quantity purchase.
Your payment account would show the first $0.20 USD listing charge plus an additional $0.20 USD for the additional item purchased, for instance, if you had more than one item in stock for a particular listing and a buyer bought two distinct varieties of that item.
Custom Listing Fees
When you wish to advertise a specific item for a private sale to a particular buyer, private listings can be helpful. The typical rate for private listing fees is $0.20 USD even if you've discussed the product off of Etsy.
Etsy Transaction Fees
Beyond the listing fee just to have your product on Etsy, you will also have to pay fees whenever you make a sale. These transaction fees cover the price of using Etsy for your e-commerce platform.
Transaction fees are the fees that Etsy collects when someone buys something from your store. In contrast to listing fees, transaction fees only occur on listings that sell.
Right now transaction fees are 6.5% of the total order value.
Along with the shipping and gift-wrapping costs, this fee is added to the final item price. The costs will be listed separately on your payment account since Etsy keeps this 6.5%.
Your payment account will automatically be updated with the transaction charge amount.
Etsy Payment Processing Fees
Payment processing costs consist of a fixed rate plus a percentage of the item's overall sale price.
Each nation has a different rate and percentage. The fees deducted from the final sale price of the item will include shipping costs and any relevant sales taxes.
For each transaction that makes use of Etsy Payments, there are fees for payment processing. These processing costs are added to your payment account and taken out before deposits. They are in addition to the transaction costs charged by Etsy.
Sales Tax
If your customer lives in a state that requires sales tax, Etsy automatically charges sales tax to your customer. Legally you have to charge sales tax where applicable, but luckily Etsy makes this easy for shop owners.
Etsy determines the applicable state sales tax rate for the shipping address, bills the customer, and forwards the tax due to the appropriate state.
Since Etsy charges sales tax where applicable automatically, you do not need to count this as an extra fee for your business.
It is just something that you should be aware of when selling items since this is included on Etsy but would be something you must collect on your own website.
Etsy Shop Advertising Fees
In addition to the other fees, Etsy also has advertising programs that charges a fee when it leads to a sale for your shop. Etsy offers two different ways to advertise that will rack up advertising fees for your Etsy shop.
Etsy Ad Fees
The first option is the advertising program Etsy offers on their platform so they you can appear above other shops in search results.
You can purchase this paid advertising on Etsy through the Advertising Dashboard in Shop Manager.
With this advertising option you set a daily maximum budget and Etsy distributes your ads based on the bids. For more information on how this works you can read the om your current balance and reflected in your payment account. For more information, please see the Advertising & Marketing Policy on Etsy's website.
Etsy Offsite Ad Fees
Etsy also operates an advertising program that shows ads on various social networks and search engines.
If these offsite ads show your listing, a buyer clicks it, and then purchases it, you pay an advertising fee.
The rates for offsite advertising fees varies based on your shop volume over the last year:
You pay 15% of the order amount as the standard fee
If you made less than $10,000 in sales in the last year you pay 15% on offsite ad orders
If you made more than $10,000 in sales in the last year you pay 12% on offsite orders
Yes, you have to pay 12-15% of the purchase to Etsy if they've advertised your item. Luckily small shops earning less than $10,000 can opt out of the offsite ads program until they hit $10,000 and then it is mandatory.
Calculating Your Etsy Fees
Those are the main fees you'll have to deal with as a seller on Etsy. Unfortunately most new sellers are not aware of all the different fees.
Every week I see new sellers freak out over the amount they received from a sale after Etsy's fees.
Etsy might have a lot of fees but they are very upfront about them. You should take some time to figure out all the fees required and how much it will cost you to run an Etsy shop.
You can use your own products and run they through Etsy fee calculators. Try a couple different Etsy cost calculators to make sure you are considering all fees and pricing your products appropriately.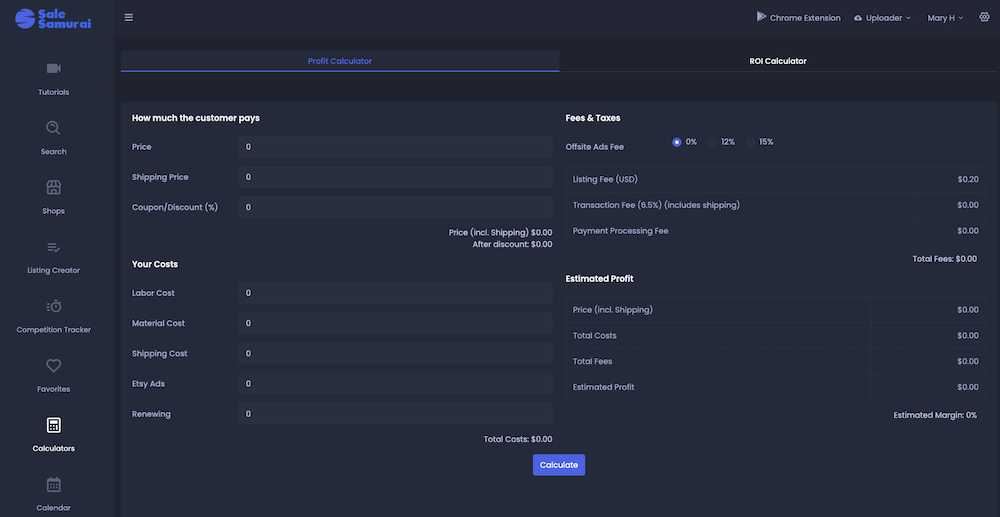 Our favorite Etsy fee calculator is from SaleSamurai.
You can enter the amount the customer pays and your costs to make the product. Then it automatically calculates the Etsy listing, transaction, and payment processing fees to give you the estimate profit.
This is something every seller needs to do on the products they sell on Etsy.
If you aren't making a profit then you aren't running a business.
You can use most Sale Samurai features on their free plan and use code penniesnotperfection for any paid plans for 20% off forever.
Now let's look at some of the other elements to consider as a seller looking at costs.
What is Etsy Payments?
With the help of Etsy Payments, you can offer your customers a variety of payment methods that allow them to pay in their own currency. All of it is deposited according to a timetable you designate into your bank account.
Customers have a wide range of alternatives through Etsy Payments, including PayPal, Apple Pay, and Etsy gift cards. Actual data shows that businesses with various payment alternatives generate 49% more revenue than those with only one.
No matter how customers pay, Etsy will deposit all sales into your bank account in your home currency. Daily, weekly, biweekly, or monthly payments are all possible. In addition, you can request further deposits whenever you like.
Etsy's Seller Protection Policy applies to all transactions completed through Etsy Payments. To support and safeguard you, their payment experts and fraud-detection technologies are available round-the-clock.
Tips for Keeping Etsy Shop Costs Down
The amount Etsy takes per sale causes sticker shock for some sellers once they see the amount they're left with. I've seen many people freak out in Facebook groups when they end up with much less than expected.
In order to keep your Etsy shop profitable, it is important to keep costs down in any way you can.
Fortunately, there are a few ways to reduce the amount you pay in expenses and Etsy fees.
Here are some ideas for keeping your Etsy fees low:
Lower Shipping Fees
You can reduce the amount you pay for shipping if you choose a less expensive courier and lower your shipping costs.
Even though the savings might not seem like much, they add up over time.
It's also important to remember that Etsy takes their fees out of what the customer pays for shipping too. You need to make sure you cover your costs for shipping even after fees.
Reduce Shipping Countries
The reality is being a global shipper is expensive. Being picky about the nations you ship to can help you reduce the fees charged by Etsy as well as your delivery expenses, which in turn reduces the amount Etsy takes.
When shipping abroad as opposed to domestically, the Etsy Payments cost increases by 1% for Australia, Canada, and New Zealand. This is because Etsy makes more money when you have to charge more to ship an item.
Of course, one may contend that making a sale to a consumer in another nation and paying Etsy more money is preferable to not doing so. However, the more significant cut that Etsy takes might not be worthwhile for small businesses with modest profit margins.
Like most payment processors, the fees for Etsy Payments vary by country. Etsy deducts the complete sale price of the item, including shipping costs and any relevant sales tax or VAT, in order to cover payment processing costs.
Reduce The Amount of Items You Offer
Many Etsy business owners tend to offer a lot of products in order to reach more people. Some "Etsy gurus" tell people they won't see any success until they have 100 listings for example.
However, just because you have the ability to create something doesn't mean you should.
Having too many options might actually hurt sales because it could possibly decrease customer perception of your product's value.
Furthermore, more listings will raise the Etsy fees without raising your take-home pay.
Naturally, you don't want a simple store with just 1-2 listings. You need a range of options that customers can browse once they find your shop. However, you also don't want to keep adding listings to your shop aimlessly and accruing Etsy listing costs without any guarantee that they will actually sell.
There will be some testing involved when you initially open a shop, and you'll have listings that don't sell. You gain a better understanding of what kinds of listings sell over time. You can decide which listing are more likely to be ignored as you make transactions and gather statistics.
You'll limit the number of unneeded Etsy fees you pay when you figure out which items are your bestsellers and just include those that are essential.
Do Not Use Auto-Renew
You might wish to keep auto-renew enabled for some listings, such as bestsellers. But you should be picky about which listings earn a place in your shop if you want to lower your Etsy fees.
If an item hasn't sold in 4 months, is it worth spending $0.20 over and over in hopes that it will?
It may be preferable to delete a listing and try selling it through a different platform if it isn't selling as is. You might want to try instead selling it through your own website with a Shopify store.
Create Bundle Listings
Bundle listings are a great way to increase your average order amount and also save on fees. It's one of the best things digital product sellers can do.
If your customers commonly purchase multiples of the same type of item, you can create bundle listings for the most popular items and quantities.
For instance, if your clients frequently purchase 3 candles at once, but you have a range of scents available, you might want to make a listing for a 3 candle pack and list the various scent combinations in the variation.
Again, this helps you spend less money on listing costs. These strategies won't result in appreciable cost reductions for every purchase, but they might mount up over the course of a year.
In Summary
Hopefully this look at the fees and related expenses has helped you get a better idea of how much it costs to have an Etsy shop.
There are several ways that you can reduce the amount of money you pay in fees to Etsy.
While some methods, like reducing the number of items you offer for sale, may not be ideal, others, like reducing shipping countries or using auto-renew sparingly, can help to keep your costs down so that you can run your Etsy shop on a budget.
Etsy is a great platform for selling handmade goods and digital products. However, it is important to know the costs associated with running a shop. This allows you to make informed decisions about how to run your business.
Etsy Tips & Tutorials
Etsy was a life changing side hustle for me. Selling digital products on Etsy allowed me to quit my job and grow a business to support my family. That is why I love sharing what I've learned as an Etsy seller.
Here are a few useful Etsy tutorials on Pennies Not Perfection:
And here are some useful Etsy handbook guides:
Check out more Etsy tutorials or request a new tutorial by reaching out on Instagram!
If you want to say thank you, you can Buy Me A Coffee.
Etsy Seller Resources
Here are some Etsy seller resources that can help you start, run, and grow your Etsy shop: