I love selling digital products and I'm glad I finally started selling profitable digital products in 2019 after years of dragging my feet. It has been an incredible and profitable income source in my online business!
Not sure what to sell? There are hundreds of digital products you can sell!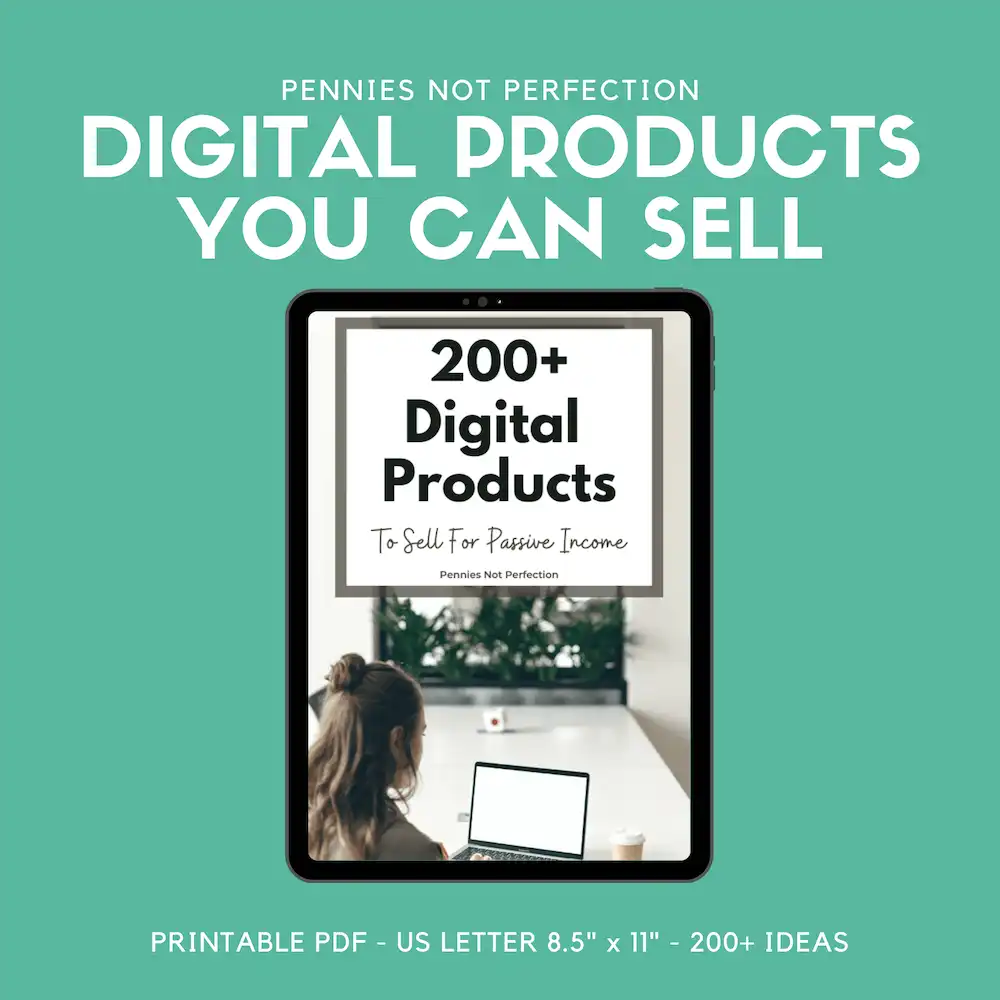 Selling Digital Products
Selling digital products is a highly profitable way to earn money online while also helping your customers solve a problem and improve their lives. It's truly a win for everyone.
Selling digital products is actually my favorite way to make money online (here are the ways I make money online). I sell digital products that make me hundreds of dollars every month and sometimes even thousands in passive income. I love making products once that I can then sell thousands of times.  
Whether you are a blogger, YouTuber, or online business owner, selling digital products is a great way to earn money online in 2020 and beyond.
Even if it is not your main revenue it can become a great side income that helps you earn money to pay for items you need.
Why Should I Sell Digital Products?
Maybe you are wondering if you should even sell digital products or why digital products are such a great way to earn money online. 
There are a ton of reasons why you might want to start selling digital products. Here are a few:
Passive income – create products once and sell an infinite number
No physical inventory to worry about – everything is done online
Low start up costs – you can create digital products with free programs
Easy to create products – time to create digital products can be low
Easy to sell – plenty of avenues to sell your products 
Easy to create products for multiple niches & interests
These are very compelling reasons for why every person wanting to create an income online should be making and selling digital products. It is a fantastic opportunity to create passive income for yourself while also creating useful products for others. 
How to Sell Digital Products Online
There are many different ways to sell digital products online and each have their pros and cons. 
You can sell on sites like Etsy where you don't own your platform but can reach a huge amount of customers quickly. 
You can sell on your own website as well which takes more work to setup but you keep more of the money and have more control over your products. 
First, you will need your own website or at least a domain for selling on your own website. See how to start a website or blog here. 
Next you will want an e-commerce platform that will allow you to both take payments and deliver your digital products to your customers. There are many different e-commerce platforms that make this possible so let's look at the best ones for selling digital products specifically.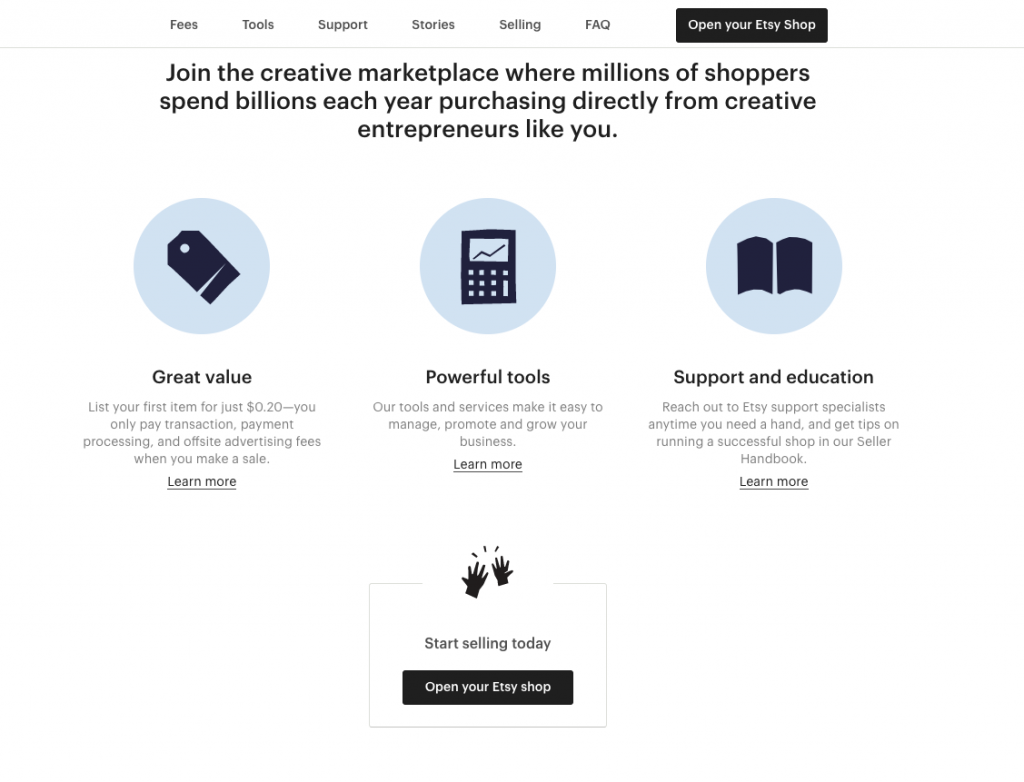 Etsy – I love selling on Etsy because you don't have to find people to buy your digital products – they are already on the platform and Etsy is bringing them to you! It's easy for beginners to start and Etsy shop and you can get 40 free listings through this link.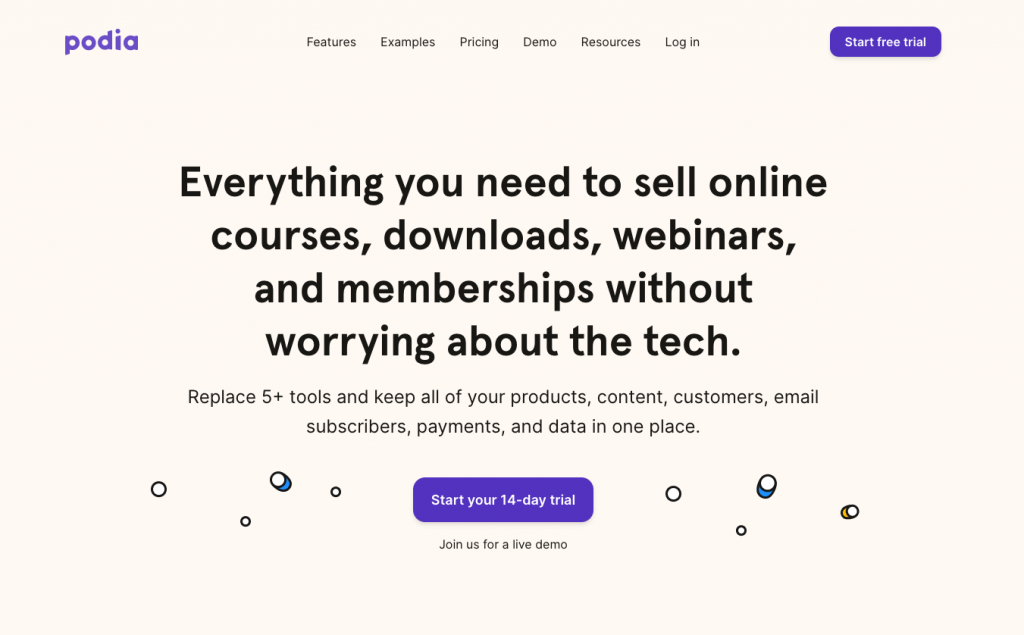 Podia –  Podia is a more robust platform that will allow you to not only sell digital downloads but also offer memberships and online courses. If you have plans to grow a full online business it's the ideal platform to use to keep everything in one place. Get a 14 day free trial of Podia here.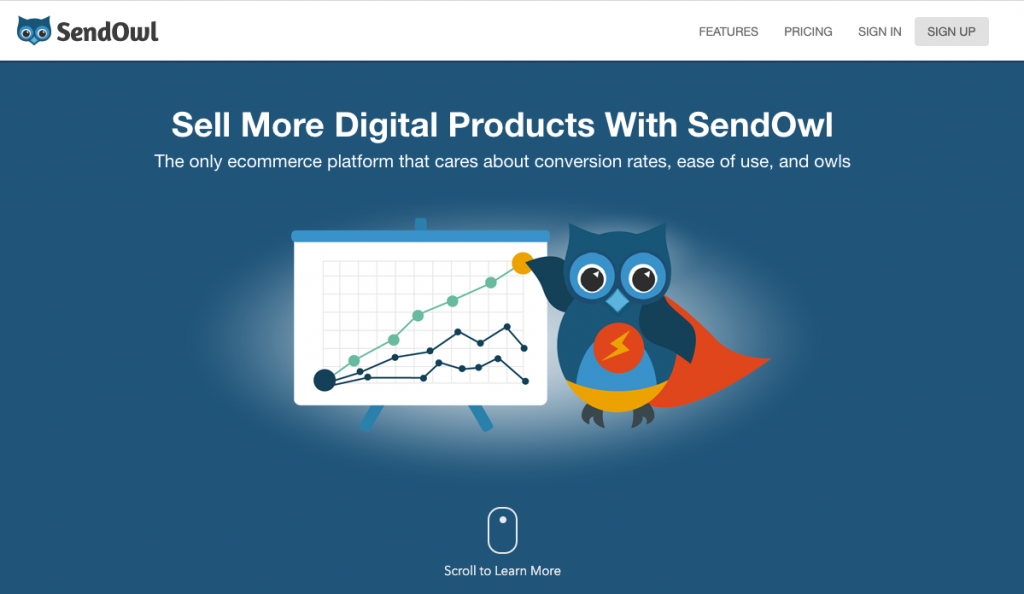 SendOwl – This platform is specifically designed for selling digital products. You upload the digital products and start selling immediately. This platform is just $9 per month with no additional fees taken our from sales you make. Get a free trial of SendOwl here.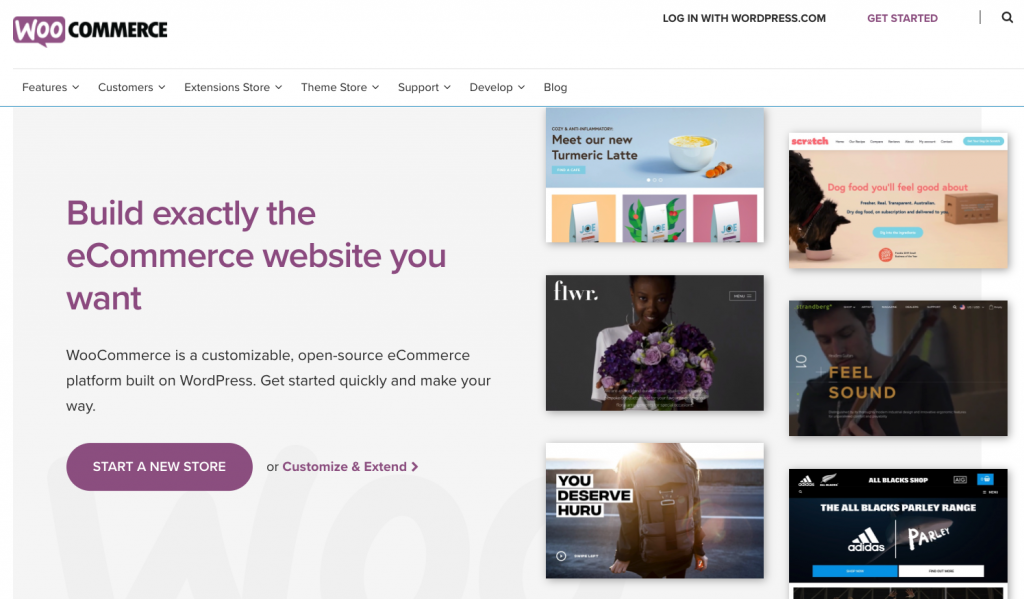 Woocommerce – WooCommerce integrates easily with existing WordPress websites to sell digital downloads. WooCommerce is not specifically for digital downloads but they have made the process super simple for sellers and do not take additional fees from sales. I currently use WooCommerce to sell my digital downloads on my website. Get started with WooCommerce.
How To Determine Profitable Digital Products
There are tons of digital products you can sell online but if you are looking for maximum profitability from your efforts then you need to think about your end customer.
If you are aiming for a market of people who don't have much money then you can't price your items that high. If you are looking to sell to a group of people that won't get anything besides personal satisfaction from your product that drops the level of profit for you as well. The customer you are targeting will determine how profitable your item will be.
You want to look for markets where your future customer is going to gain high rewards from your products therefore they will be willing to spend more which increases your profit.
The most profitable items help someone earn money or achieve a goal especially if it financially benefits them more. An example of this is selling editable marketing materials to real estate agents. These products are profitable because you can charge more for them because the customer is willing to spend more to save time in creating these materials and will make money in their business from them.
Next let's look at some of the most profitable product ideas and examples of each.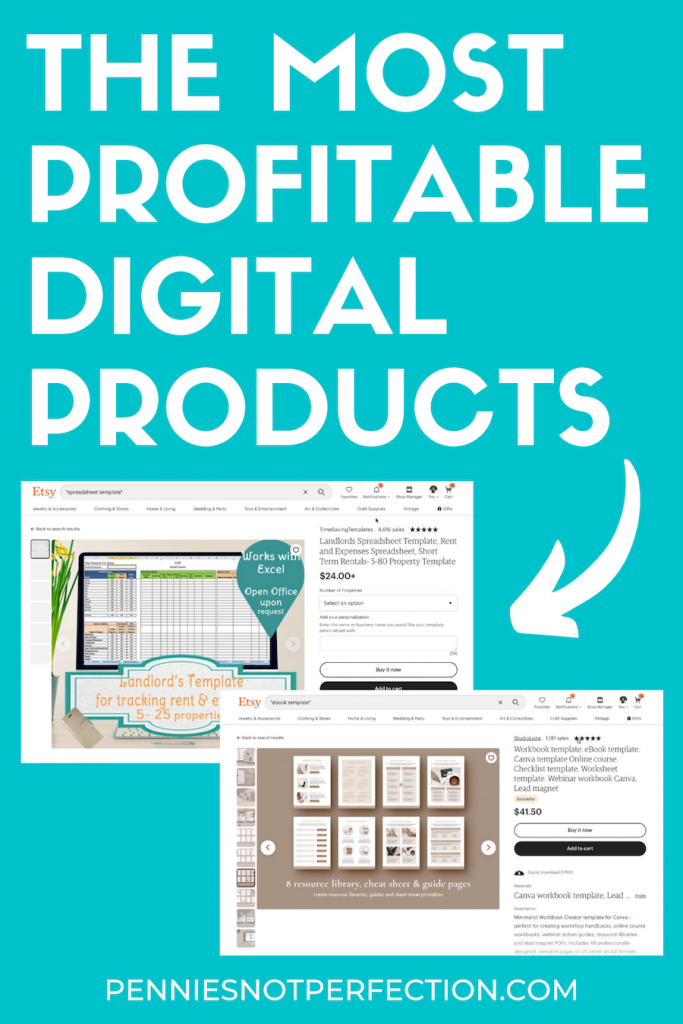 6 Most Profitable Digital Products To Sell Online
If you are planning to add digital product sales to your online income streams, then you likely want to make sure you choose the most profitable digital products to sell so your time is used wisely.
Below are my top picks for the best digital products to sell in 2020 and beyond. 
Ebook templates
Marketing templates
Swipe files
Spreadsheets templates
Online courses
Elements for creators 
These are incredibly profitable areas of digital products because they are things that help other people make money. Generally people with money or making money are the ones who are willing to spend more. 
There are dozens if not hundreds of other digital product ideas for things you could sell online, in fact I've shared more than 60 digital product ideas you can sell online!
Regardless of which digital product you decide to sell, your profits for creating a digital product will always be higher than a traditional product because you are creating a product once you can sell again and again.
Growing A Digital Product Business On Etsy
Etsy has downsides but it's also an amazing place to build a business and earn an income.
If you want to grow a business selling digital downloads on Etsy I recommend my friend Sharon's Etsy Entrepreneur course where she walks you through the process of setting up an Etsy shop and growing it to make $1,000 a month or more. She grew her Etsy store of digital downloads to more than $1,000 a month and has inspired many people to do the same.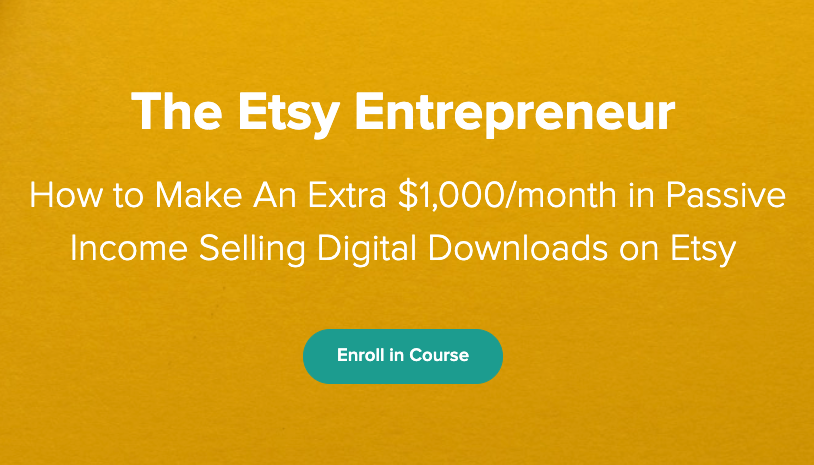 Remember that your business growth will depend on being consistent and growing over time adding valuable products. For most of us we begin with one product and grow over time building on what works.
Over time you will learn tips and tricks to grow your digital products shop and find that success can be far beyond you expected when you focus on profitable digital products.
Mary is the founder of Pennies Not Perfection where she shares her journey to build wealth through online income. She quit her day job in 2021 after she paid off her debt and doubled her 9-5 salary.
Mary's favorite free financial tool is Personal Capital. She uses their free tools to track net worth and work toward to financial freedom.
Her favorite investment platform is M1 Finance, where she built a custom portfolio for free with no fees. She shares her portfolio growth and savings progress every month on YouTube.