Use this referral link when you sign up for Rakuten $30 for free! The Rakuten referral code helps you earn money upfront with this amazing cash back program.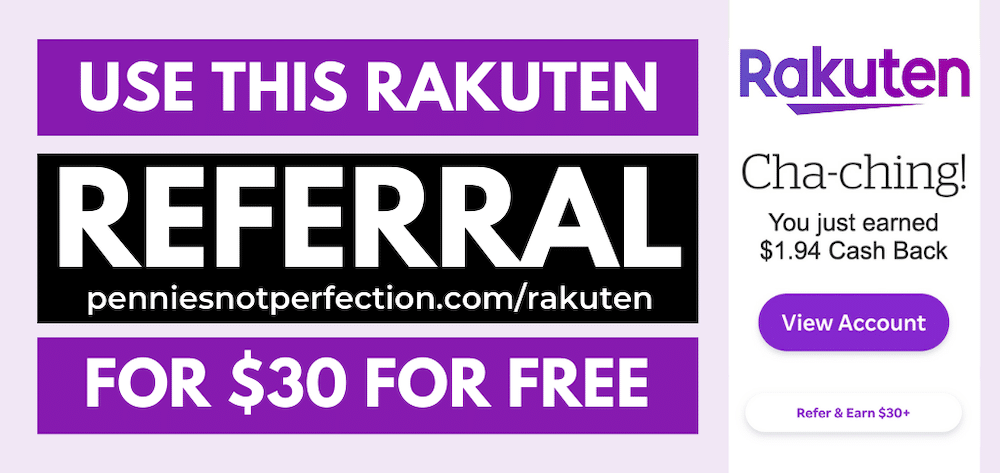 This referral link for Rakuten will get you $30 for free when you sign up and make a qualifying purchase.
A qualifying purchase is a purchase of $30 while using Rakuten made within the first 90 days of signing up.
This $30 sign up bonus is one of the largest for any cash back apps. It is multiple times the amount offered by sites like Fetch Rewards or Ibotta.
How To Use Rakuten Referral Code
Signing up for Rakuten to gety the referral bonus is easy!
Here's how to sign up:
Sign up for an account with your email and personal information
Makes Qualifying Purchase totaling at least $30 within 90 days of signing up
It's really that simple!
As soon as you sign up you are able to start earning cash back and you'll get the referral sign up bonus when you make your first $30 purchase.
Make sure you do BOTH things when you sign up: clicking a referral link AND completing a $30 qualifying purchase in the first 3 months.
Why use a referral code to sign up?
When you sign up from a referral link you get a $30 bonus. Otherwise the sign up bonus is $10.
Click here to start using Rakuten with a sign up bonus!
Rakuten Review
Rakuten is easy to use and can help offset the money you spend online.
Here are the steps to using Rakuten:
Choose the store you want to shop at (over 3,500 to choose from)
Start your shopping at that store by first using either the Rakuten app, browser extension or at rakuten.com
Shop as usual and complete the checkout on the store as you normally would.
You'll receive an email about how much cash back you earned through Rakuten.
Add your payment details and you'll get a cash back payment from all your shopping every 3 months!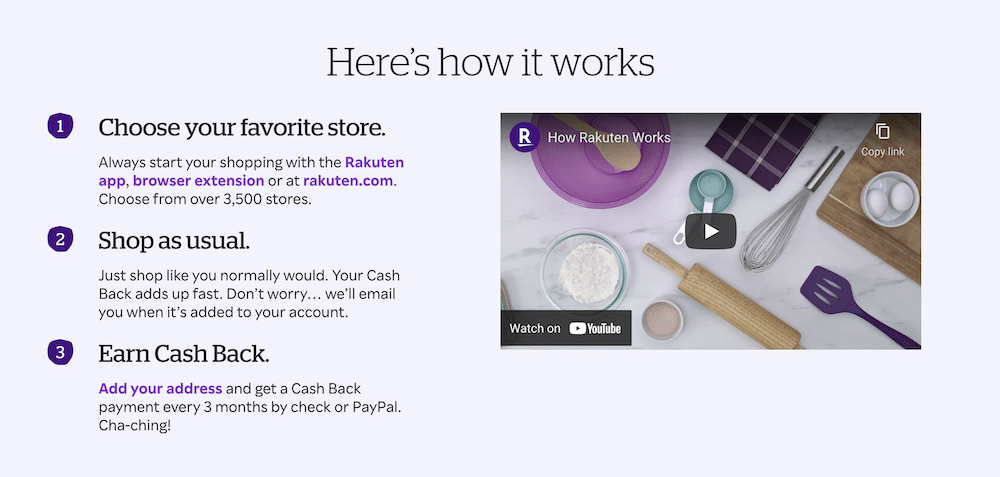 It's really one of the easiest apps to use to get cash back for shopping. You shop like normal with one small step beforehand. If you use the browser extension you don't even have to remember it because the extension will remind you!
If you want to get some money back but don't want to do a lot of work then it is ideal for you.
Reasons why I like Rakuten:
easy to use when shopping
lots of different stores offer larger cash back bonuses
you can earn even more by referring your friends
has browser extensions and phone apps available
the chrome extension helps you remember to use it
high referral bonus of $30 when you invite friends
Downsides to Rakuten:
you are unable to use affiliate links to support other

businesses and influencers
commissions on stores are constantly changing
you can't go back if you forgot to activate rakuten on a site
Some of my favorite places to shop at with Rakuten:
Target
Amazon
Old Navy
Walmart
There are so many ways to earn points to redeem for free cash!
Clearly it has a lot of benefits to using it! I use Rakuten in addition to other cash back apps like Ibotta and Fetch Rewards because you can stack the rewards. Rakuten works via affiliate link sessions but the others are based on scanning receipts so you can stack them together.
Rakuten Referral Program
The Rakuten referral program is another great way earn extra cash.
You can invite your friends and family to join Rakuten and earn $30 when they sign up with your referral link. (I get $30 if you sign up for using my link so thank you!)
Every time you refer someone to Rakuten and that person uses your referral link you both get free cash you can later withdraw.
Referring others to sign up for Rakuten benefit you both since you are both earning the a cash bonus by using the referral code program.
Here's how to get your unique Rakuten referral code:
Go to Rakuten.com
Sign in to your account
Click the dropdown next to your next
Click on My Account
On the left sidebar, click Refer & Earn $30+
Share your link or copy link mid-page and then send to friends
Every time you share your Rakuten code you can earn more money!
Rakuten Sign Up Bonus
How much will you get as a sign up bonus when you join Rakuten with a referral link to start?
The standard sign up bonus with Rakuten is $10 if you go directly to the website. If you use a referral link like this one the sign up bonus triples to $30.
With the amount of money you earn for the same action there is no reason not to use a Rakuten referral link. Triple the money for one extra click is an enticing offer!
Rakuten FAQ
Below are some of the questions I often get asked on videos about the Rakuten referral code and related program.
What's the Rakuten Referral code?
Rakuten uses a referral link system instead of a code. You can click my referral link here to get the sign up bonus.
Is Rakuten a scam?
Nope! Rakuten is a legitimate USA based company with millions of users and hundreds of thousands of reviews. I've used Rakuten personally for several years and have earned hundreds of dollars. My current cash out at the time of writing this post is $100.74!
Is this too good to be true?
Sounds like it, but it's really not. Rakuten partners with the stores and when they get paid they give you part of the commission as well. They handle all the tech and backend work and you just get to generate cash back!
Does Rakuten payout in gift cards?
Nope! Rakuten offers a few different ways to get paid – including CASH! They will send you a check or send money directly to your paypal account if you want money instead of gift cards.
You also have the option to get paid in American Express membership points.
Another option is to donate your payouts to a nonprofit through Rakuten's program.
There are multiple ways to get cash back from Rakuen.
Are there any Rakuten hacks to earn points fast?
Unfortunately there are not glitches or ways to cheat the system that you should use. Rakuten is based on your spending so you will earn as you spend.
If you want to earn faster you can focus on referring more people to Rakuten. Each qualifying referral can add $30 to your earnings.
Are there ways to earn money faster on Rakuten?
Rakuten does offer a few ways to earn more beyond just the traditional cash back from shopping.
If you want to earn more you can do a few things. You can get the Rakuten credit card for more cash back, you can refer friends for referral bonuses, or you can use Rakuten when you shop in stores too.
How can you get paid from Rakuten?
You can get paid in several ways:
check
PayPal
American Express membership points
donation to charity
What is the Rakuten referral code?
The Rakuten referral code is the same thing as the Rakuten referral link.
You can use this. Rakuten referral link to get $30 in cash when you sign up.
Rakuten: Shop & Get Cash Back
Make money while you shop online with Rakuten. Get cash back, deals and shopping rewards from your favorite stores when you use Rakuten.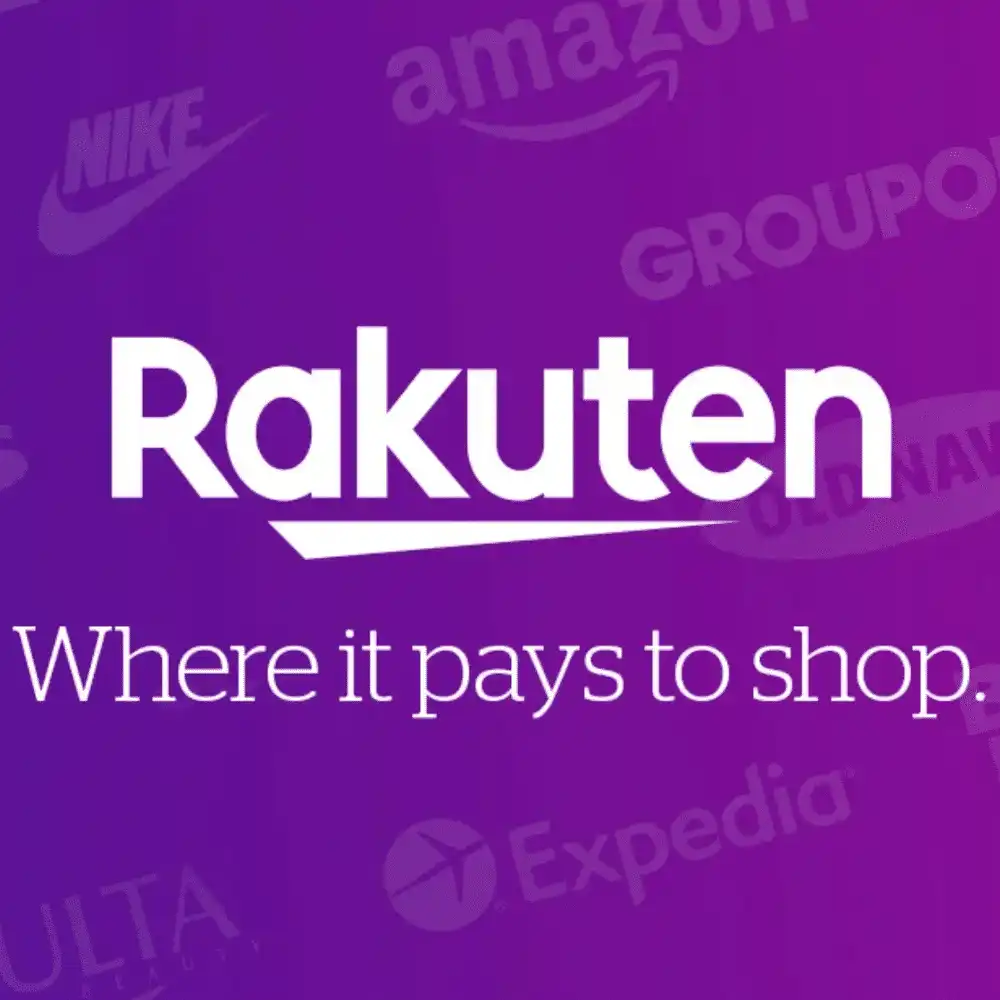 I earn a commission if you make a purchase, at no additional cost to you.

Want to earn more free stuff with other apps? I've got a whole page and YouTube playlist full of referral codes and referral links for the best financial apps!
I only include the apps I use and love so it won't have everything, but you can get hundreds of dollars free just by using these referral codes when you sign up for things! The list includes apps for investing, saving, coupons, and more.
Check out the list of referral codes for free money!
Why Am I Sharing These?
First of all, referrals earn me money too! For every sign up you get a bonus and so do I! It's usually the exact same amount you are receiving.
Second, because it helps you. I've been in the position where I wanted to use an app or service but didn't have access to a connection where I would receive a referral sign up bonus. It is frustrating!
Putting these referral codes and links out there can help others avoid that situation and I get a little bit of a kickback that helps me continue running this website to provide financial education. I love being able to give others free money!