What are the best Etsy keyword tools? I want to tell you about the best ones so you can grow your sales to new levels.
With these tools you can effortlessly find popular keywords people use to search for products to buy on Etsy. These keyword tools show you how many results keywords get per month, what percentage of searches result in a sale or interaction, and how your competitors use keywords.
Some of the best Etsy keyword tools are:
We will cover each of these Etsy keyword tools in depth below. We will also look at some of the things you need to know about Etsy SEO.
If you want to skip all the learning on your own, you can check out this course that teaches you all about Etsy SEO along with how to make money selling printables.
Why Keywords Matter On Etsy
One of the best ways to increase your sales on Etsy is by using marketing strategies that will help you reach more potential customers. This includes improving your shop's SEO so you can be found via search.
Every time someone types related keywords into Etsy's search bar is an opportunity to get in front of a buyer.
However, Etsy is a crowded platform with millions of sellers. You are fighting with other store owners to get in front of the buyer in the first position.
Finding the right keywords to match your listings perfectly improves your ability to show up for the right buyer in the right position.
When you use the correct keywords in your listings Etsy will send you a steady stream of customers looking to buy your product.
Selecting the right keywords to match buyer's is part of Etsy search engine optimization. When you optimize your shop for this you are more likely to make sales from that search traffic.
What Is An Etsy Keyword Tool?
An Etsy keyword tool can help you find the best words and phrases to describe your product so that it matches what people are searching.
Keyword tools help you find and select the best possible words to use on your listinga.
Etsy keyword tools do this by providing you important information like:
The search volume of keywords (how many people are looking for that item)
Whether there is high competition or low competition (how many other shops are using those keywords)
Related keywords that might also work (giving you ideas for listings and additonal products)
Etsy keyword tools compile all of this information and offer you feedback on choosing the right keywords for your products.
Having all of this information in one spot allows you to make better informed decisions about which terms to use for your listings.
You can then use those keywords to optimize your Etsy listings with good content matching buyer search intent.
The Best Etsy Keyword Tools
There are many ways to research keywords for your product listings on Etsy. These are some of the best tools to assist you in making the best keyword selections.
Let's look at the pricing, features and reasons why you might want to consider each of these Etsy keywrod research tools.
SaleSamurai
Details: Sale Samurai is a great tool for sellers who want to be the best at what they do.
The data they provide on Etsy keywords and other information comes from actual customer searches and sales data.
Plus with information on price, shipping days, and views per product, you'll be able to stay ahead of your competitors. The insights allow you to position yourself with the most favorable offerings that will guarantee sales.
This is one of the best options for keyword research because of how powerful the AI is with this tool as well as the detailed analysis it provides.
Pricing: $9.99 per month but you can use my discount code penniesnotperfection to get 20% off forever.
Marmalead
Details: Marmalead grows your sales with real shopper keywords. They use advanced machine learning to take the guesswork out of getting found on Etsy.
There are multiple tools inside Marmalead that allow you to brainstorm and then analyze potential keywords for your Etsy shop. They also offer tools to grade your listings so you know if your SEO work will pay off or not.
An additional feature that might make it work the price is access to their Entrepreneur Course library. This covers various aspects of running an Etsy business and can help a ton if you are a new shop owner.
Pricing: $19 per month
Keysearch
Details: Keysearch is powerful but it provides information in a simple way that allows you to make good choices quickly.
You can run searches quickly and each search provides estimated volume, competition, and suggested additional keywords ideas.
The platform also includes additional SEO tools. You can analyze competitors and track keywords you've researched so you can continue to try new things with your SEO.
Keysearch is actually my preferred keyword research tool because I use it for everything: blog SEO, YouTube SEO and Etsy SEO. I use the keyword information to make content for all of these platforms!
Pricing: $17 per month Starter, $34 per month Pro
eRank
Details: eRank is one of the first keyword tools you will hear about because it's one of the best free options.
Even the paid plan on eRank is very affordable making it a good keyword research tool for any beginners who want to keep their expenses low.
e-Rank contains multiple tools for Etsy sellers that give you all the information needed to optimize your listings and increase sales.
The Keyword Tool will generate keywordsto use for your listings. Then their Listing Audit shows how often shoppers use these same words when browsing through products similar to yours.
These tools and others on eRank will give you an idea about what type of changes you may need to make in order to stay on top of your competition.
Pricing: $5.99 a month or FREE for a plan with limited features
Etsy's search bar

Details: The final keyword research tool is actually built into Etsy itself: the search bar.
Every time you search on Etsy the search bar shows a drop-down of suggested searches. These are suggested because they are things that people are actually typing to find products.
You can use these auto-populated keyword suggestions as the keywords for your product listings.
You won't know any estimated volume these searches get but you will be guaranteed someone is searching for that term.
This is a great way to get started with keyword research on Etsy or a way to continue without spending money each month. You can gather useful keywords just from testing out your keyword ideas in the Etsy search bar.
This isn't the most detailed method nor does it give you much analysis but it can help you if you aren't able to invest in a keyword tool right away.
Pricing: FREE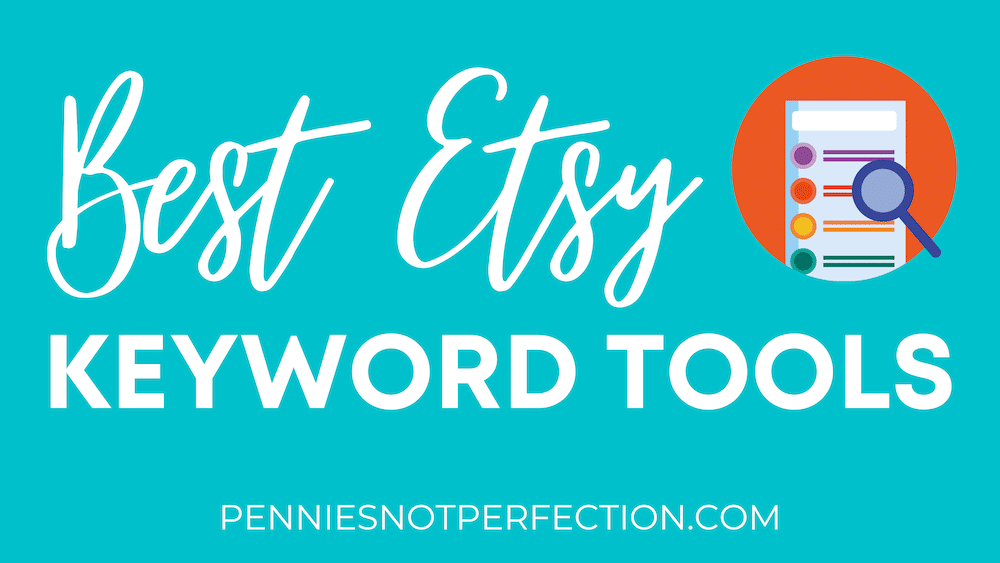 Reasons to Use A Keyword Research Tool
If you can just look up keywords on Etsy's search bar, why would you use any Etsy keyword tool? Especially a paid one?
These tools help you cultivate your research and make better decisions than just guessing which auto-populated keyword will be best.
While Etsy does not release it's exact search data to any company, these keyword tools are able to still give good estimates and actual sales data from competitors. This is more than you'll find with the Etsy search bar and it can give you an edge on your competition.
These tools are also helpful for beginners who need more guidance with things like listing grades and other features.
After you've sold on Etsy for years you'll be able to recognize the best keywords naturally. But when you first start? It might as well be another language and a whole new job to figure out. The keyword tools help making it easier by providing an easy-to-understand framework when choosing keywords.
Basically, you'll save hours of time and lots of headaches when you use a keyword tool for assistance.
Etsy Keywords 101
If you are researching the best Etsy keyword tools then you likely know how keywords work.
But if you don't, let's consider why keywords are important and how they actually work on Etsy.
When someone searches for a product on Etsy, Etsy search gathers all the listings that could match that shopper's request. Then Etsy search filters them by multiple factors to provide a ranking of which they think matches the best.
Here's where you can use the keywords in your listing:
titles
tags
categories
attributes
description
Optimizing your listing with keywords in these places will help make your listing more relevant and show up higher in search.
If you want to learn more about keywords and how they work on Etsy, check out this seller handbook guide: Keywords 101: Everything You Need to Know
While there are many other SEO factors to consider, using good keywords is the foundation. Improving your shop's SEO can lead to more sales on auto-pilot as people search and find your shop thanks to Etsy's rankings.
More Etsy Tips & Tutorials
Etsy has been a life changing side hustle for me.
Selling digital products on Etsy allowed me to quit my job and grow a business which is why I love sharing what I've learned as an Etsy seller.
Here are a few useful Etsy tutorials on Pennies Not Perfection:
Selling on Etsy can be a life changing if you learn how to grow your sales and get steady traffic.
It's something that I've seen change multiple people's lives. I wish that for you and hope this resource can help you make it happen!