Use referral code vernepp when you sign up for Ibotta for $10-$30 for free!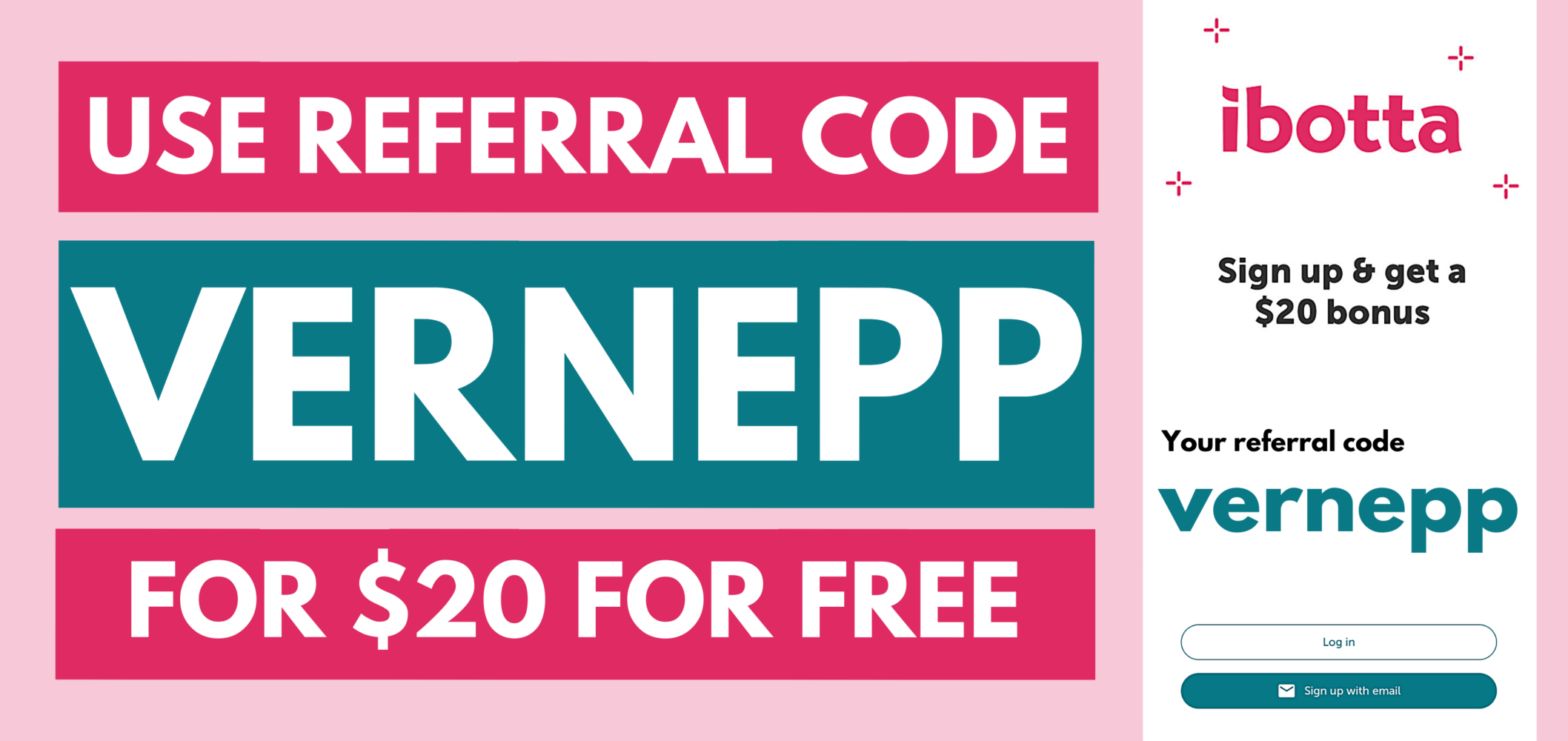 This referral code for Ibotta will get you between $10-$30 for free when you sign up. The bonus at the time of writing this is $20 but it changes often with Ibotta promotions.
The most common referral bonus is $10 which is double what Ibotta offers on their website: $5 if you sign up directly without a code.
How To Use Ibotta Referral Code
Signing up for Ibotta is easy!
Here's how to sign up:
Download Ibotta – you can download the free browser extension and mobile app 
Sign up – sign up for an account with your email and personal information
Enter a referral code – Make sure you enter referral code vernepp when you sign up for a bonus
It's really that simple! As soon as you sign up and download the app you are able to start earning.
Ibotta Review
Ibotta is super easy to use and generates a good amount of cash back.
According to Ibotta, the average Ibotta user earns $150 a year on groceries, online purchases, delivery, and more! For very little additional work this is an awesome amount of cash back!
Here are the steps to using Ibotta:
Download Ibotta – you can download the free browser extension and mobile app 
Sign up – sign up for an account with your email and personal information
Enter a referral code – Make sure you enter referral code vernepp when you sign up for a bonus
Find offers – Search and browse offers on hundreds of products at your favorite retailers
Get cash back – You get cash back as soon as your order is confirmed! No points, no coupons – cash!
It's really one of the easiest apps to use to get cash back for shopping. If you want to get some money back but don't want to do a lot of work then it is ideal for you.
Reasons why I like Ibotta:
easy to use
gives you a good referral bonus – I've seen $10-$30
cash back instead of only offering gift cards
lots of opportunities for offers on items you might buy
very easy to cash out
can cash out directly to PayPal
most offers don't need to do extra work like scanning barcodes
you can earn even more by referring your friends
monthly bonus opportunities
when others on your "team" use the app you qualify for bonuses
has browser extensions and phone apps available
lots of different stores offer bonuses
you can link loyalty accounts at stores you use often
Downsides to Ibotta:
you have to earn $20 to withdraw earnings (this can take time if you only get the $10 referral bonus)

some receipts don't earn much so it's not worth the time spent

on the scanning
bonus opportunities aren't usually things I would buy in the store
Ibotta accepts receipts from the following:
Grocery stores
Convenience stores
Drug stores
Big-box retailers
Liquor Stores
Dollar stores
Some of my favorite stores to shop at for Ibotta offers:
Target
Kroger
Aldi
Walgreens
Costco
Dollar Tree
Trader Joe's
Walmart
There are so many ways to earn points to redeem for free cash! I've scanned receipts from grocery stores, dollar stores, beauty stores and more.
Clearly it has a lot of benefits to using it! I use Ibotta in addition to other grocery scanning and digital coupon apps like Fetch Rewards because you can stack the rewards on multiple apps by scanning receipts at the same time.
You can get $10-$30 for free by using my referral code when you sign up, code: vernepp.
Ibotta: Shop & Earn Cash Back
With Ibotta, you can get cash back every time you shop online or in stores. Their app makes it easy, fast, and safe to save up to 30%.
Use code vernepp to get a $10 sign up bonus on your first receipt.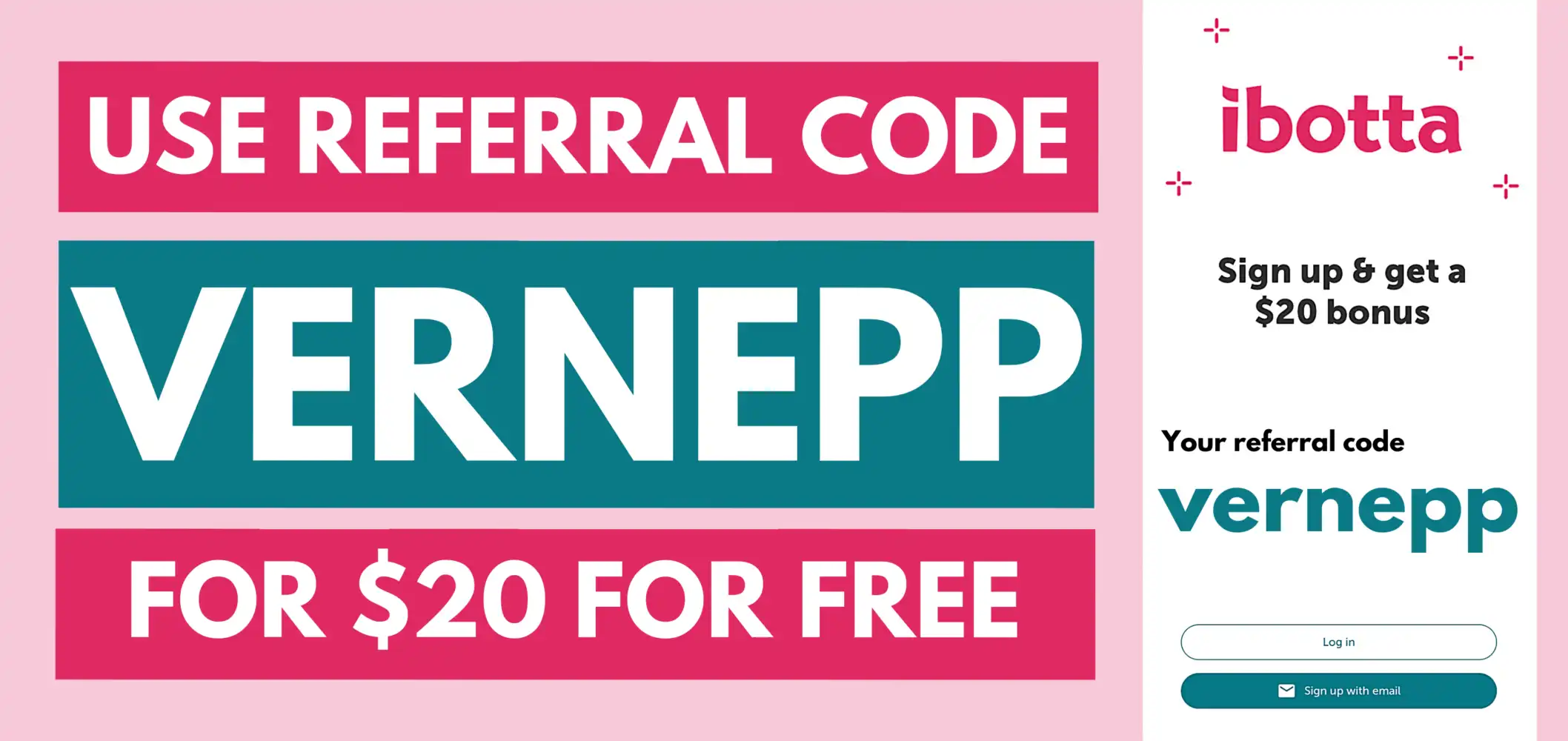 I earn a commission if you make a purchase, at no additional cost to you.

Ibotta Referral Program
The Ibotta referral program is a great way earn extra cash. You can invite your friends and family and earn $10 when they sign up with your referral code. That person will get whatever the referral bonus is at the time.
Every time you refer someone to Ibotta and that person uses your referral code you both get free cash you can later withdraw.
Referring others to sign up for Ibotta will benefit you both since you are both earning the a cash bonus by using the referral code program.
Here's how to get your unique Ibotta referral code:
Open the Ibotta app
Click "Account" in the bottom menu
Scroll down midway and click "Invite Friends" link
On this page you can "tap to copy" your referral code
You can also click the green invite button to send a message via email or text
Every time you share your Ibotta code you can earn more money!
Ibotta Promo Code
The Ibotta app promo code is just another way to say the Ibotta app referral code.
Ibotta calls it a referral code but many people use the term promo code as well when they are looking for a bonus when signing up.
Either way you can use this unique code when you sign up and also share this code with your friends and family to earn a bonus when you refer friends
You can use my Ibotta promo code "vernepp" to get at least $10 for free when you sign up and Ibotta.
Ibotta Sign Up Bonus
How much will you get as a sign up bonus when you join Ibotta with a referral code to start?
The standard sign up bonus with Ibotta is $5 if you go directly to the website. If you use a referral code like vernepp the sign up bonus doubles to $10 automatically.
Ibotta also runs sign up bonus promotions randomly throughout the year to attract new users. During these periods you can get a sign up bonus of $20 or even $30 (the highest I've personally seen).
Those special sign up bonus periods do not last long and come and go throughout the year. If you are wanting to get more points to start you can wait for one but there is never a guarantee that they will return.
Ibotta FAQ
Below are some of the questions I often get asked on videos about the Ibotta app referral code program.
What's the Ibotta Referral code?
Ibotta referral code vernepp will get you $10 cash when you download the app and enter this referral code.
Is Ibotta a scam?
Nope! Ibotta is a legitimate USA based company with an app that has millions of users and hundreds of thousands of reviews. I've used Ibotta personally to for several years and have earned hundreds of dollars.
Does Ibotta payout in gift cards?
Nope! One of the reason why I love Ibotta is because they payout in cash only – no gift cards. Some apps like Fetch Rewards only pay in gift cards. With Ibotta you get cash directly sent to you that you can use immediately.
It's truly the best option since you can only use so many gift cards in life!
Are there any Ibotta hacks to earn points fast?
Unfortunately there are not glitches or ways to cheat the system that you should use.
How can you get paid from Ibotta?
You earn cash from signing up with a referral code and then redeeming offers when you shop. When you reach $20 you can withdraw those earnings. You withdraw earnings as cash straight to a Paypal account.
What is the Ibotta app promo code?
The Ibotta app promo code is the same thing as the Ibotta referral code.
You can use Ibotta promo code "vernepp" to get $10-$30 in cash when you sign up.
Want to earn more free stuff with other apps? I've got a whole page and YouTube playlist full of referral codes and referral links for the best financial apps!
I only include the apps I use and love so it won't have everything, but you can get hundreds of dollars free just by using these referral codes when you sign up for things! The list includes apps for investing, saving, coupons, and more.
Check out the list of referral codes for free money!
Why Am I Sharing These?
First of all, referrals earn me money too! For every sign up you get a bonus and so do I! It's usually the exact same amount you are receiving.
Second, because it helps you. I've been in the position where I wanted to use an app or service but didn't have access to a connection where I would receive a referral sign up bonus. It is frustrating!
Putting these referral codes and links out there can help others avoid that situation and I get a little bit of a kickback that helps me continue running this website to provide financial education. I love being able to give others free money!