Selling digital products on Etsy is a great way to make passive income!
You may have heard this before but what exactly can you sell? What types of digital products actually sell for passive income?
If you don't know what to create to sell on Etsy this will give you a great starting off point on digital items you can make.
Want to skip the free content and get the bigger inspiration list? Check out 200+ Digital Product Ideas For Passive Income
63 Digital Product Ideas
Digital products can take you anywhere from a few minutes to many days to create. They can also be priced for small amounts like $1 up to thousands.
Digital products are truly versatile and worth adding to your business income streams.
The digital product ideas in this video range from the standard items you can make like SVG files to ones you might not have thought about selling like Instagram story highlights.
In this video I'm talking about A LOT of digital product ideas you can create and sell on Etsy or any online platform in order to make passive income.
Here are some digital product ideas you can create and sell for passive income:
Art prints
Birthday cards
Birthday invitations
Build plans
Bullet journals
Business cards
Business logos
Business planners
Cash envelopes
Checklists & trackers
Clip art
Coloring pages
Craft patterns
Crochet patterns
Digital papers
Ebooks
Embroidery patterns
Etsy banners
Excel templates
Facebook templates
Flash cards
Fonts
Funny cards
Gift tags
Graduation invitations
Greeting cards
Holiday cards
Instagram story highlights
Instagram templates
Invitation templates
Knitting patterns
Leather making patterns
Lightroom presets
Meal plans
Party banners
Party decor
Party invitation
Party signs
Phone wallpaper
Pinterest templates
Planner inserts
Printable backdrop
Printable envelopes
Printable photo props
Printable stationary
Printable stickers
Quilt patterns
Quote prints
Resume templates
Selfie frames
Sewing patterns
Shower invitations
Snapchat filters
Social media templates
Stock photos
SVG cut files
Sympathy cards
Thank you cards
Website themes
Web store themes (Shopify themes)
Wedding invitations
Wedding signs
Workbooks
This is a huge list of digital products and even this list is not comprehensive. I left plenty of digital products off the list! You can catch all of these ideas and more in the ebook I created for people getting started:
200+ Digital Product Ideas For Passive Income
More Digital Product Ideas
Want more passive income ideas and video inspiration?
Check out these additional digital product ideas:
6 Most Profitable Digital Products To Sell Online
17 Popular Digital Product Ideas To Sell To Make Passive Income
15 Digital Products to Sell Online For Passive Income In 2021
How To Decide What To Sell
If you have been trying to decide what to sell then this will definitely help get you started! Most of these ideas can be created in free programs like Canva.
You don't have to have design skills or a background in digital marketing in order to create and sell digital downloads. You don't need a formal education or design background to create digital products and earn money selling them – you just have to be curious and willing to learn!
When deciding what type of digital product to sell I would recommend picking an area where you have a passion in life and then deciding the types of products. For example, maybe you think you should make SVG files because they are popular, but you really love making spreadsheets to keep your life and business organized. I'd focus on that instead!
Or maybe you like planning parties so you think you need to create party invitations. But I wouldn't limit myself to one digital product.
I'd think about what types of products would complement each other in a shop that helps my target audience. You can create listings that complement and link back to each other like related party invitations, party signs, party photo booth backdrops, photo booth props, and more.
Read more: How to start an Etsy shop
Creating Digital Products Online
There are a number of ways to create digital products online these days. It's possible to make digital products to sell for free with a number of programs!
Adobe InDesign – I personally use Adobe InDesign for creating all my printables because it's the best, most reliable and has the most flexibility. There is a learning curve because it's a professional program but it's worth it for the hassles it removes. Try creating with Adobe InDesign's free trial.
Adobe Illustrator – This program is a must have for all graphics creators! It allows you to do so much and the only limit will be your creativity. It's perfect for creating wall art, clip arts, designs for SVGs, etc. Try creating with Adobe Illustrator's free trial.
Canva – Canva is one of the best free editing programs where you can create a digital products and the paid version is even better with bonus features that help take your work to the next level. Try creating with Canva.
PicMonkey – This might be a photo editing heavy program but you can also create digital downloads through PicMonkey and edit photos for stock photos sales as well. Try creating with PicMonkey.
Selling Digital Products Online
You will want an e-commerce platform that will allow you to both take payments and deliver your digital products to your customers. There are many different e-commerce platforms that make this possible so let's look at the best ones for selling digital products specifically.
Etsy – I love selling on Etsy because you don't have to find people to buy your digital products – they are already on the platform and Etsy is bringing them to you! It's easy for beginners to start and Etsy shop and you can get 40 free listings through this link.
Check out these posts for more tips about selling on Etsy:
Shopify – One of the most popular platforms to use for selling goods online. Shopify has emerged at the top of many seller's lists for the ease of use, beautiful designs, set pricing, and powerful backend. It offers everything you need to sell digital or physical products and scale your business too. Get a free trial of Shopify here.
WooCommerce – WooCommerce integrates easily with existing WordPress websites to sell digital downloads. WooCommerce is not specifically for digital downloads but they have made the process super simple for sellers and do not take additional fees from sales. I currently use WooCommerce to sell my digital downloads on my website. Get started with WooCommerce.
Marketing Your Digital Products
Once you've created your digital downloadable products and have them ready to be sold, you have to market them! One huge way to do this successfully? Email marketing!
People won't know your products exist without a little effort on your part. While Etsy makes this the simplest (you just need a little SEO to start), you should still work to promote your items in oder to make sales.
When you build an email list you are able to contact them directly with new products, sales and more. The best email marketing platform for digital product sellers is ConvertKit. (I previously used MailChimp but switched to ConvertKit because they are focused on helping creators make a living online.)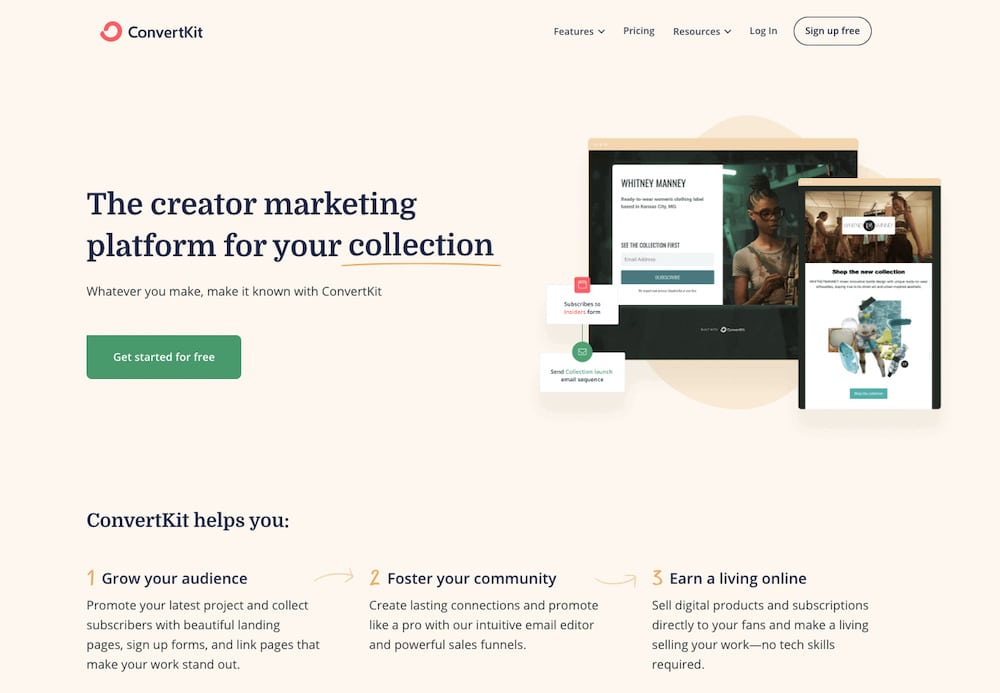 ConvertKit email marketing sells more products than most social media efforts and should be at the top of your to do list. Email marketing is essential to selling digital products. Creating an email list outside of Etsy should be your NUMBER ONE PRIORITY since things on Etsy are out of your control.
ConvertKit makes it easy and cheap to get started and can scale with your business growth. You can start with a free plan and move up to paid plans.
They also allow you to sell your digital products in your emails!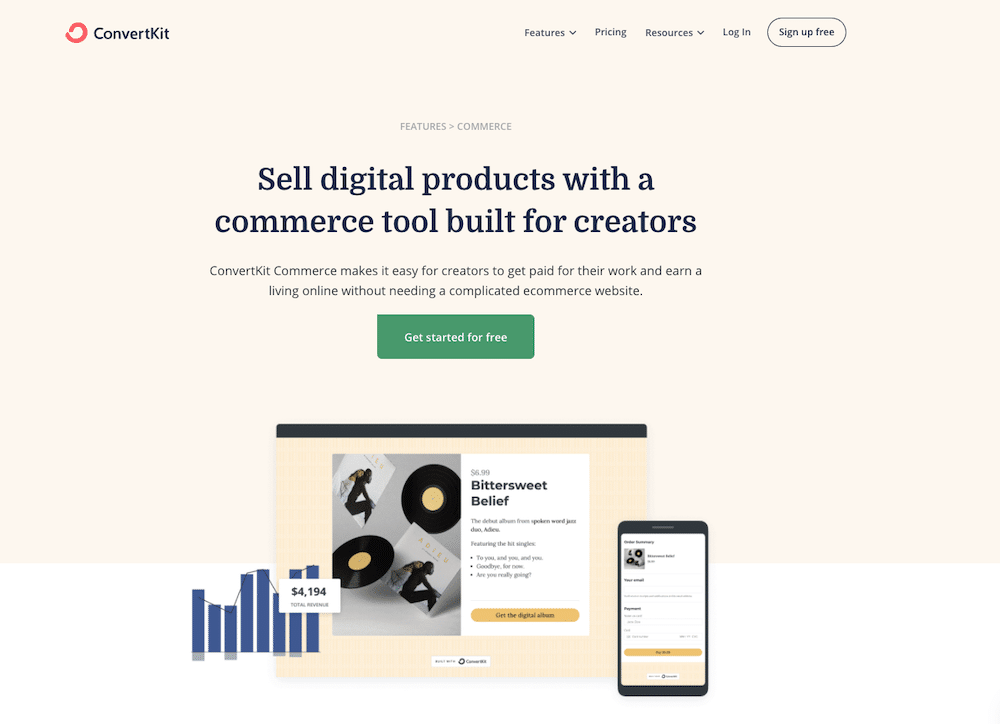 That's right, you can sell digital products and deliver them straight through ConverKit. This allows you to provide customers multiple options to get your digital products. This reduces sales friction and opens you up to new passive income opportunities with your digital products.
Get started with ConvertKit for free!
Grow Your Passive Income With Digital Products
Digital products are amazing because these are things that you can create once and sell online over and over creating passive income and freedom in your life. This benefits you but it also benefits the end user who gets something they need at a lower price point and quicker. Not everyone has the budget to pay top dollar for custom designed work so digital products have revolutionized how consumers are able to get what they need. It is truly a win win for us all.
If you have been wanting to sell some type of digital products in order to earn passive income I highly recommend it! I started my Etsy shop to share what I had made for myself during my own budgeting journey. I definitely did not know everything about Etsy and have figured it out along the way while also selling thousands of dollars worth of products.
If you want to grow on Etsy I recommend my friend Sharon's Etsy Entrepreneur course where she walks you through the process of setting up an Etsy shop and growing it to make $1,000 a month or more. She grew her Etsy store of digital downloads to more than $1,000 a month and has inspired many people to do the same.
Regardless of whether you continue to learn on your own or pay for education, I hope you keep going and keep creating products for the world to use and enjoy. You are capable of creating the products that can change your life while also helping others.