Use this referral link to get $30-$50 free on M1 Finance for free when you open an account and contribute the required amount after signing up.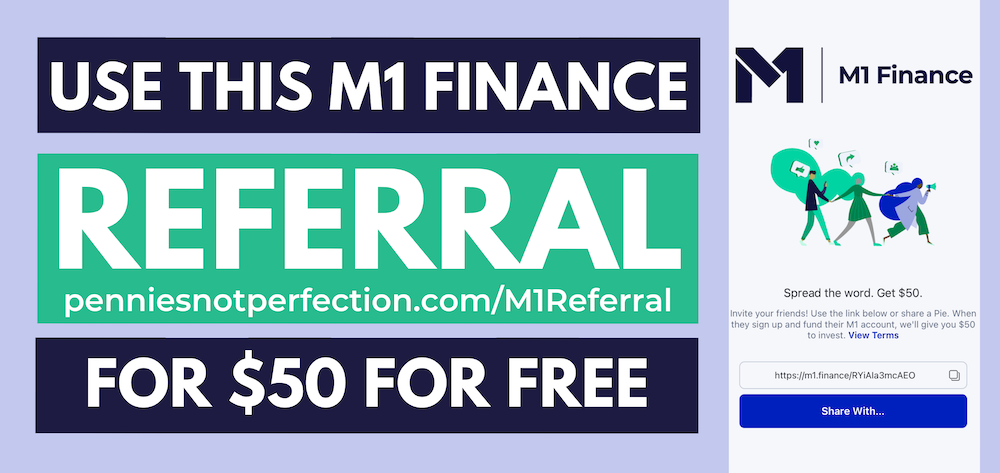 This M1 Finance referral link will allow you to earn $50 for free when you sign up and contribute $100 to your account.
Check back often to see what the referral amount is for M1 Finance. It's changed multiple times from $10 to $30 to $50 for funding new accounts.
M1 Finance Review
M1 Finance is a financial app that offers investing, borrowing and spending in one easy-to-use platform.
The easy-to-use app makes investing simple through automation. You set up a portfolio using their pie functionality to invest via percentages to create the perfect portfolio to fit your needs.
Then when you contribute money it will be automatically invested based on your portfolio.
Reasons why I like M1 Finance:
focused on long term investors not traders
you can buy fractional shares which is great when you have small amounts to invest
M1 is free to use and charges no fees
they keep adding new functions and features to make it a comprehensive solution
Downsides to M1 Finance:
you can't buy stocks immediately and have to wait for windows of time
there is a learning curve to use it successfully
While there are a could downsides to this financial institution, the upsides and functionality of the app make it a winner for any long term investor!
Read more: Full M1 Finance Review: Pros, Cons, Features
How to Use M1 Finance Referral Link
Getting the $50 bonus when you sign up for M1 Finance is easy but there are a few requirements. This step-by-step tutorial shows you how to redeem the $50 M1Finance referral code bonus in 2021.
The following instructions will show you:
how to use a referral link for M1Finance
steps to open an account on M1 finance
how to hit all the requirements to get your bonus money
Sign Up For M1 Finance
The steps you need to take to get the referral money for the M1 Finance bonus:
Click on this referral link to open the M1 Finance website
Enter your email and password and then click "Sign up now"
Follow the sign up instructions to open the account type of your choice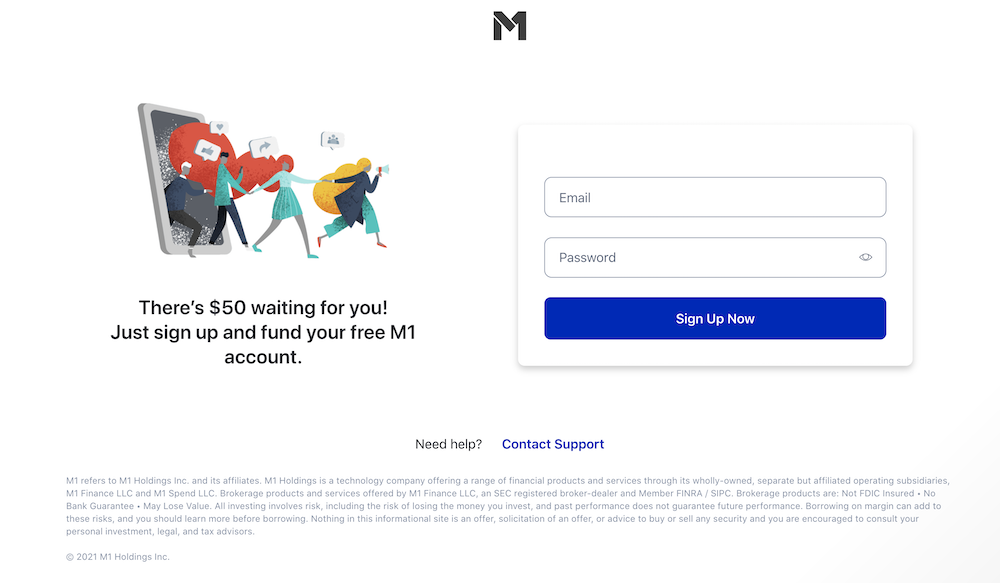 Account Funding Requirements
You must contribute this amount per account type to successfully fund your account for the referral bonus:
Individual brokerage – $100
Joint brokerage- $100
Custodial account – $100
Trust account – $5,000
Retirement (Traditional, Roth, or SEP IRA) account – $500
Some notes:
You must fund the account after opening it to get the bonus. As of writing this post it requires funding a certain amount as shown above but double check to make sure the requirement hasn't changed.
The bonus can take a couple days to show up in your account. When it's ready it will automatically drop into your investment account. If you have auto invest on then it will be automatically invested into your investment pies.
Want more? See M1 Finance in action.
M1 Finance Investing Referral Code
Once you've signed up you may want to share your M1 Finance referral code and make money by referring your friends as well. You can make $10-$50 each time you refer a friend to use the app.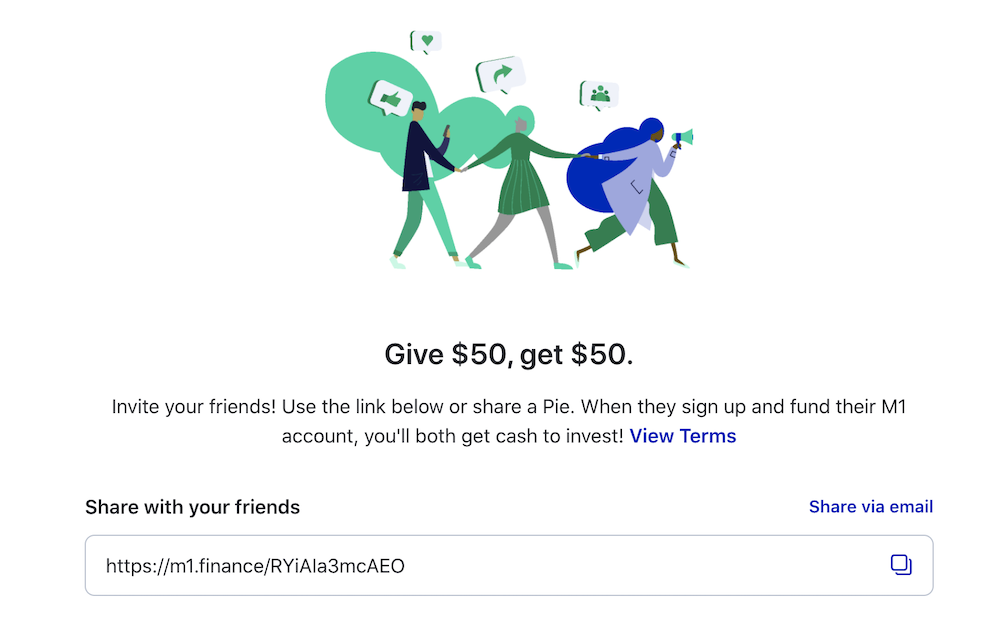 Here's how to find your referral code in M1 Finance:
Go to M1 Finance app on your phone or the website
Open your Invest screen (mobile) or click on your name (web)
At the top right hand corner click on the silhouette (app) or your name (web)
Click "Refer & Earn" (Note: this will only be visible if your account is funded)
Click on the link in the box to copy automatically
Share your unique referral link with friends
You can get $10-$50 per referral when you share your link and someone opens and funds an account.
If you haven't started your own account then use this referral link to get a bonus when you start investing at M1 Finance.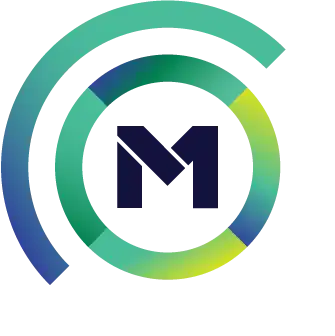 I earn a commission if you make a purchase, at no additional cost to you.

M1 Finance Sign Up Bonus
How much will you get as a sign up bonus when you join M1 Finance with a referral link?
The standard sign up bonus with a M1 Finance referral link is currently $50.
You can only get this bonus if you are referred to M1 Finance. If you just go to the website without a referral link you will not get it.
The referral has changed multiple times. It has been $10, $30, and $50. The have periods where the amount changes and increases.
The same is accurate for how much you can earn by referring people with your own referral link within the app. The amount can range from $10-$50 for what you can earn when you refer your own friends.
M1 Finance Referral Code FAQ
Below are some of the questions I often get asked on videos about the M1 Finance referral code program.
What's the M1 Finance referral link?
Each person that uses M1 Finance has their own individual link they can use to refer friends that looks like this: https://m1.finance/RYiAIa3mcAEO
You can find your own referral link inside your account. After you locate it, share it with others to get a sign up bonus for both yourself and the new user.
What is the M1 Finance referral code?
There is not a specific code to enter with M1 Finance because they use a link system instead.
The referral link will have unique numbers and letters at the end that identifies you for the bonus. It will look like this https://m1.finance/RYiAIa3mcAEO
Can you still get the $50 referral bonus after signing up? 
Unfortunately the M1 Finance referral program only applies to new users who sign up with a referral link from an existing customer.
If you already signed up for an account without using a referral link then you will not be able to get the bonus added later.
How long does it take to get the referral money from M1 Finance referrals?
You will receive a $50 referral bonus in your Payment Account within 14 business days of successfully opening an M1 account and funding it for the full 30 day period.
Where will my referral bonus be deposited?
M1 Finance will be deposited into your designated "Payment Account". A Payment Account is either your individual or joint brokerage account. They will not put the referral bonus into a retirement account. You will have to have a brokerage account to act as your "Payment Account" to receive the bonus.
What restrictions are there for the M1 Finance referral code?
This referral program is valid only for new M1 account users.
Why did I not receive the referral bonus money?
Unfortunately if you didn't receive your referral credit, it's possible that something went wrong with the link or you did not properly fund the account.
You can use this M1 Finance referral link when you sign up to get $50 as a free bonus!
Want to earn more free stuff with other apps? I've got a whole page and YouTube playlist full of referral codes and referral links for the best financial apps!
I only include the apps I use and love so it won't have everything, but you can get hundreds of dollars free just by using these referral codes when you sign up for things! The list includes apps for investing, saving, coupons, and more.
Check out the list of referral codes for free money!
Why Am I Sharing These?
First of all, referrals earn me money too! For every sign up you get a bonus and so do I! It's usually the exact same amount you are receiving.
Secondly, because it helps you. I've been in the position where I wanted to use an app or service but didn't have access to a connection where I would receive a referral sign up bonus. It is frustrating!
Putting these referral codes and links out there can help others avoid that situation and I get a little bit of a kickback that helps me continue running this website to provide financial education. I love being able to give others free money!