Today I'm sharing EXACTLY how much I made from 2.2 million views on YouTube (Hint: I'm not YouTube Rich yet.) and giving you insight into what it takes to actually make money on YouTube.
How Much YouTube Paid Me For 2 Million Views
I'm sharing how much YouTube paid me for two million video views and how exactly YouTube advertising works.
I've had a lot of my YouTube subscribers ask questions about how YouTube ads work and hopefully this sheds a little bit of light on how YouTubers generate income with ads on their videos.
I get a lot of questions from my friends in real life about whether or not YouTube is worth the effort or not. They want to know if I make real money on YouTube or not.
The video in question is on my other DIY related channel about how to make paper flowers.
How Much YouTube Pays For 1 Million Views
This video was inspired by Shelby Church's video about 1 million views which you can watch here.
I made this video because I found Shelby Church's video about how much youtube paid her for 1 million views and others like it insanely inspirational. They motivated me with their transparency and their income, so hopefully my version can motivate you as well.
If you're a small YouTuber like me, I hope you realize it's possible to get millions of views on videos even if you're not a big channel with hundreds of thousands of subscribers. Regular people like me are making videos that get millions of views. Often they are even just quick iphone videos!
I also want you to know that it is possible to earn money on this platform. It is 100% possible to make money on YouTube. It is not easy to do, but it is possible. If you're just curious how much a youtube channel can make or how much a million views pays, that's in there too.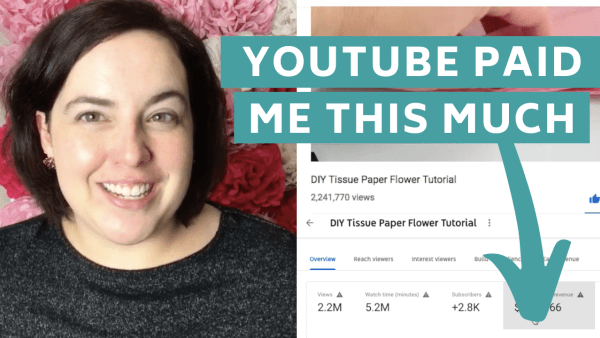 How YouTube Ads Work
I wanted to clear up some things about ad rates and how ads on Youtube work. There are many different factors that go into different ad rates for channels and this determines how much YouTube creators make for each video on their channel.
YouTube pays creators a split of the ad revenue on each video. YouTube take a chunk for supplying the platform and tools for creators and channel creators take a chunk for supplying their content to YouTube's hungry audience.
Ad revenue on videos is determined by factors like:
audience location
audience interaction with the ad
audience demographics
CPM
number of ads in a video
Clearly there are a lot of factors you can't control and depend entirely on your audience. You have even less control when a video goes viral and hits different audiences. YouTube makes sure ads are served up that benefit both the viewer. As a creator the main things that you can control is making good content and making sure you turn on a couple ads per video.
There are many, many factors to determining the ad earnings for a video and I didn't even cover some in the video like number of ads you include in your video!
How to Make Money On YouTube
I'm a small YouTuber but this is my favorite side hustle to earn money because even though it has taken a ton of work upfront, I can do it while being around my baby and family.
I started YouTube just to share videos of my family's Alaska vacation with friends but it sparked a creative passion that I never expected to find.
One reason why I love YouTube is because I don't have to leave to sell more of my time for money. I can make a video once and then it continues to earn and grow as time goes on and new people find it. There are millions and billions of people out there potentially waiting to see my videos. It's an endless opportunity!
Another reason why I like YouTube is because I can keep side hustling and earning money online to get to freedom while also supporting others! It's another platform to share my message of financial encouragement and motivation. There is a huge community on YouTube encouraging and supporting each other as we pay off debt, build businesses, and change our lives financially.
Luckily I have been earning money from both of my Youtube channels for a while now. While I'm not YouTube rich or quitting my job any time soon, I do make enough money that it is helping us pay off debt and improve our lives financially.
If you've been curious about how people make money off YouTube, keep reading as I share all my income sources!
The income sources for my channel include (affiliate links to each):
Adsense (YouTube Ads)
Sponsored Posts
My Etsy Printables Shop (product sales)
Other creators also do more intricate brand deals, channel sponsorships, create membership sites or sell merchandise. There are a lot of different ways to make money surrounding a YouTube channel.
How Much Money Small YouTube Channels Make
In the video above, I'm sharing what I made from YouTube ads since I've been monetized with my main channel and giving you a look at my analytics of my best performing videos. This video helped answer the questions I got often about what I made as a small creator.
I started my channel without any expectations of making money on YouTube. I made small amounts less than $20 a month when I started and then when my channel was demonetized for being too small, I really couldn't imagine getting to this point of earning money. It seemed so far out of reach.
Yet with my channel's growth and my connections to larger YouTube channel creators, I now see that I'm still just at the beginning of what is possible with YouTube income!
I've always loved seeing real numbers from other creators which is why I wanted to share my own experiences and numbers with making money on YouTube. I'm not a videographer or a technical person so I wanted to share what a regular person earning income from this hobby could potentially make.
The Truth About Making Money On YouTube
Making money on YouTube is not a fast process.
In fact, even after consistently making videos for two years I'm still a small YouTuber only making $400ish a month on ads. I'm nowhere near a fulltime income from YouTube even after putting in hours and hours of work.
That isn't to discourage anyone trying to make money on YouTube (or myself), but be aware that it isn't fast and it does involve a lot of work! The honest truth about YouTube is that it's hard to make money.
For every channel that succeeds and earns a massive amount of money, there are thousands who toil away unnoticed and eventually give up.
If you want to be successful on YouTube you need to go one of two ways: 1) do it for the creative outlet and not for money 2) be very strategic and have a business plan from the beginning.
Either way, you have to take into consideration the types of videos you make on YouTube and the types of advertisers that might want to advertise to your audience. If you are in a niche that doesn't have high paying advertisements then you will need a lot more views to make the same amount of money as someone in another niche.
Knowing a bit about how YouTube ads work can help you create your own plan for your channel's success. Hopefully this look into my analytics and more information about how to make money on YouTube has been helpful for you!
Resources For Making Money On YouTube
If you are interested in making money on YouTube, I suggest the following resources. I've used these to help learn about Youtube and grow my own channel.