Is it really possible to make money on YouTube without showing your face? Or course it is!
Every month I make around $3,000 from ad revenue from videos where I'm not on camera. You don't have to show your face on YouTube in order to make money.
In this guide to making money without showing your face on YouTube we will cover everything you need to know:
Types of videos you can make without showing your face
How to create videos without showing your face
Ways to make money from videos on YouTube
Faceless YouTube niches that make the most money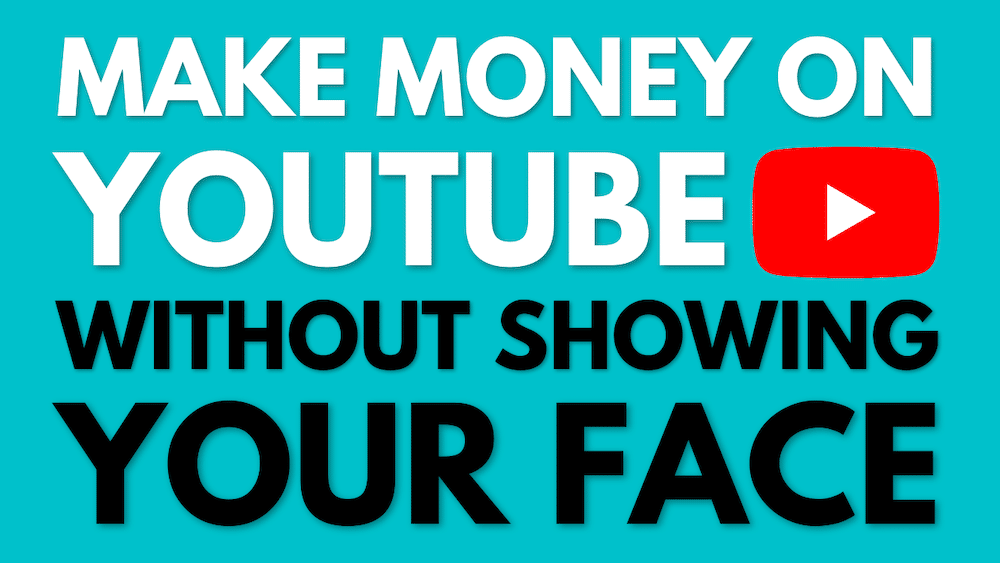 Faceless YouTube Video Ideas
There are many ways to create videos without showing your face. From in person videos only showing your hands to whiteboards to screen share tutorials, there is an endless amount that you can create.
Not sure what type of faceless videos you want to create? Check out these ideas for inspiration.
There are 40 faceless video ideas in this video and that's only a small slice of potential video ideas.
There are many creators with millions of views and subscribers that have never shown their face. It's possible these days to build an entire online career and maintain anonymity.
Those are video ideas and types of videos you can make but what kind of niche or channel should you build? what types of YouTube channels are best for faceless videos?
This video shares some of the most successful channel types you can build.
Think about the types of content you could make based on your personal interests, knowledge, and talents. What topics and types of videos appeal to you as a creator?
Even if you want to make videos in a niche that is typically personality driven you can find ways to succeed. I have seen faceless channels in every niche succeed.
How To Make Money On YouTube Without Showing Your Face
Now on to what you really want to know: HOW to make money on YouTube without showing your face.
There are many ways to monetize a YouTube channel:
ad revenue
affiliate marketing
digital products
merch / physical products
memberships
super chats
sponsored videos
and more!
With faceless YouTube videos I believe these are three best ways to monetize:
Ad revenue paid by YouTube
Affiliate marketing where you get paid commissions for sales
Selling a digital product related to your niche
These are the best ways to monetize faceless YouTube videos. These are ideal because they are close to passive income once you've created and launched the video.
Let's look at each of these methods for making money on YouTube without showing your face.
Ad Revenue
YouTube ad revenue can be very lucrative in certain niches. There are many YouTube creators out there currently living on the ad revenue from their channels, myself included!
I get a lot of questions about this since I openly talk about living off my YouTube income as a full time creator.
People want to know:
how do ads work?
how much can you earn?
what does a million views on YouTube earn?
In the video below I share how much YouTube paid me for two million video views and how exactly YouTube advertising works.
This example is from a video where I did not show my face. It was a tutorial video showing my hands only!
YouTube pays video creators a split of the ad revenue on each video and your total revenue will depend on the views you can get along with other factors.
Ad revenue on videos is determined by factors like:
audience location
audience demographics
interaction with the ad
number of ads in a video
what advertisers are willing to pay
You can't control everything related to ad revenue since there are so many factors. But you can work on getting more and more views which will turn into income for you.
Growing Your YouTube Ad Revenue
In order to make more on YouTube from ads you need to get more people to watch more ads. It's really that simple.
Here are some of my favorite ways to earn more on YouTube via ads:
Add more ads to your videos. You can have ads before the video, after the video and in the middle with mid-roll ads. More ads increases your CPM (what you are paid per 1,0000 views). With more ads you will earn more because more people watch more ads during each viewing.
Create longer videos so you can get to the 10 minute mark which enables mid-roll ads. Inserting mid-roll ads give you a chance at a higher revenue total per video without doing anything else.
Make your content binge worthy and engaging. You want viewers to watch the whole video and move from one video to the next. The more videos a viewer watches from you the more money you will make.
Create evergreen content that people will be able to watch multiple times or find useful any time they find it. Making vides that can be helpful years from now gives you a longer earning period. This creates a level of passive income for you each month.
Great good videos that people want to watch and share! This will help your ad revenue grow because the more your videos are watched and shared the more money you can make. It also helps because sharing gives YouTube signals that your video is good and they should promote it more.
Those are a few of the best tips for growing your ad revenue on YouTube!
Affiliate Marketing
Affiliate marketing is where you promote products to your audience and then earn a commission when someone makes a purchase through your unique affiliate link.
You earn money by selling other people's products. The commissions for those sales can range from 4% to 70% of the product sales price.
It's a great way to earn money via YouTube videos because you can promote related products to your videos and then earn commissions when people buy.
There are affiliate programs for all types of products and in every industry. Regardless of what you plan to talk about online there will be an affiliate marketing program that will fit into your niche.
Affiliate programs will pay commissions in three different ways:
Pay per sale – You will earn a commission only when someone makes a purchase through your affiliate link.
Paid per lead – You will earn a commission if someone signs up for a free trial or creates a free account or somehow otherwise gives a company their email address as a lead.
Pay per click – This style of program is where you are paid money whenever someone clicks through one of your links.
You can find affiliate marketing programs by searching your niche + affiliate program or by joining affiliate networks. Affiliate networks host multiple affiliate programs so you can join multiple in one place.
Here are a few affiliate marketing networks where you can find programs to promote:
Growing Your YouTube Ad Revenue
If you want to make money on YouTube without showing your face then affiliate marketing is a fantastic option. You can promote products and services without having to show yourself.
Now sure how? Here are some of my favorite tips for earning with affiliate marketing on YouTube:
Mention your links in the video.
Tell people where to click the link – direct your audience to your description box or pinned comment.
Include an affiliate disclaimer link in your description box that is clear you will make a commission (legally you need to do this).
Link to specific products you use instead of the general page. The less steps between a buyer and the purchase the better. Specific links will convert better than generic ones.
Use the products that you are promoting as an affiliate. It's easier to sell something when you actually use and like it. It's also easier when people see you using it. People always want to know where you got things.
Leave a link to what you are promoting in the video in a pinned comment.
Respond to any questions where people ask where you got something and give them the affiliate link. (This is just polite practice as well that builds trust with your audience.)
Affiliate marketing has actually earned me more than my ad revenue on YouTube. It's one of my personal favorite revenue streams because I feel like it benefits all parties involved.
Digital Products
Digital products are a great way to monetize your YouTube channel. Many YouTubers do this through creating and selling courses through sites like Teachable.
Creating digital products like courses, printables, or templates is a wonderful way to monetize. With this method you do the work upfront but then can be paid over and over again. You can promote the products on multiple videos or all of your videos.
Digital products are a great passive income source model for YouTubers.
Digital products I've seen YouTube creators sell successfully include:
Ebooks
Guides and workboooks
Planners
Printable sticker kits
Spreadsheets
I've done this personally by creating digital products related to my channel that I sell through Etsy and other websites.
If you want to learn about earning income from selling products, check out my content about selling digital products online and 63 digital product ideas you can sell online for ideas of product you can make and sell for your channel.
Best Paying YouTube Niches
You can make money on YouTube with any topic. However, some niches pay more than others.
After watching many, many YouTube paid me type videos, there are clear patterns to which videos pay the most.
Here are a few very high paying YouTube ncihes:
affiliate marketing
business
dropshipping
e-commerce
investing
luxury
make money online
online marketing
personal finance
product reviews
side hustles
social media marketing
These make the most money online via ad rates because the CPM is much higher in these niches. They all also have higher paying affiliate marketing programs where you can make $100 or more per referred sale.
YouTube Resources
I've compiled lists of my favorite resources for YouTube creators. These tools have all helped me improve processes and make more money on YouTube.
The most important tools for anyone wanting to make money without showing their face on YouTube are the ones listed below.
Here are a few tips and resources that can help you save time and earn money faster.
Here are some resources that you can use to create these videos and grow your channel:
Fiverr – With this tool you can hire freelancers to help edit your videos, create voiceovers, film footage, and more. This is an incredible resource when you are wanting to avoid being on camera.
You can create an entire channel using Fiverr freelancers and several specialize in creating these types of faceless, voiceless channels.
TubeBuddy – TubeBuddy is an all around tool helpful especially for SEO research and creating optimized videos that rank in search.
It's the ideal tool to use for video channels where you won't be showing your face. It can help you find ideas, nail down keywords, and get more clicks for more views.
YouTube Success Planner – This YouTube planner includes everything you need to get organized. It covers how to grow your channel, how to monetize your videos, and how to track your success. For those who like to plan ahead and stay organized it's essential.
I wish you success in building your YouTube channel and making money on YouTube without showing your face!