I've been selling printables on Etsy now for almost two years and it has changed my life with a consistent and ever growing source of passive income.
Incorporating digital product sales into your business can be fun, motivating and a great way to increase your income without increasing your time spent earning money. It's a mostly passive income stream that can earn you hundreds or thousands of dollars each month with very little continual effort.
In this post we will be covering how to make and sell printables on Etsy but you can browse this list of 63 digital product ideas to sell on Etsy for other ideas as well.
Ready to get started making printables to sell on Etsy for passive income?
Here's everything you need to know to get started making and selling printables on Etsy.
This post contains affiliate links you can use to help compensate me for the time putting this together. I offer all the information for free instead of selling a course and will make a commission if you use the links included.
You can also buy me a coffee if this post helped you!
How to Make & Sell Printables on Etsy
For the ease of learning we will break this down into three sections:
creating your digital product (printable)
creating your shop and listing digital products
marketing your item to get sales
While it might feel overwhelming as a beginner, creating and selling printables is an easy and profitable way to make money online.
In fact, I know many printable sellers that make $1,000 a month and some who make six figures a year just from selling printables.
Inspiring, right? You can do this too and this post will show you how.
Let's get started!
What Are Printables?
You might be new to the world of printables and wondering what exactly are they?
A printable is a type of digital product that is delivered through digital download that the customer can print out at home.
It's ideal for creators since you can create and sell a product multiple times with no printing and shipping. It's also great for customers who can purchase the design for a cheaper price and print as they want to as many times as they need.
Printables are cheaper and more efficient for both the seller and customer.
Selling printables on Etsy can generate a great passive income each month but you have to put in time to understanding your audience and creatine unique printables they want to purchase.
Best Selling Printables On Etsy
Do you need a little inspiration before you start creating printables? Here are some of the best selling printables on Etsy:
Printable Planners
Planner Accessories & Inserts
Printable Invitations
Coloring Sheets
Crafting Patterns
There are many, many more categories of printables out there. You can even create your own niche if you see an area that is not being served.
How Much Money Can You Make Selling Printables?
Before you start making printables you probably want to know if it will be worth your time.
How much money are people actually making with printables on Etsy?
Personally I make between $500-$1,000 per month selling printables in just one of my shops. This is a pretty common amount for printable sellers who have about 100 listings and consistently add to their shop.
Making $50 a week selling printables can be achieved with a limited number of offerings and work. It's one of the first milestones I see newer sellers achieve.
How much money you make will depend on several factors:
your pricing
product type
how many products you sell
if your products are seasonal
how often you run sales
success of your promotional methods
There are many other factors that will affect how much money you earn.
If you're ready to get started making money with printables, let's create your first one!
How To Create Printables To Sell On Etsy
Creating your printables is one of the first steps but if you have no design experience it might feel overwhelming. Luckily technology has made a variety of tools that make design work super easy. My go to for creating beautiful printables that sell is Canva.
Canva works great for most designs and the software is easy to use even for beginners. It's one of the best design tools out there and has many benefits:
easy to use even as a beginner
many advances tools and function in 1 click
low cost – half the price compared to Adobe Creative
web based so you can access it anywhere
desktop and mobile applications
Obviously I love Canva and it is the leading online design tool used by millions for a reason.
In the following tutorials I walk through how to create printables using Canva. I cover how to create printable wall art and printable planners. The options are endless for the printables you make to sell!
In this Canva video tutorial I walk through how to create a printable chore chart that you can sell on Etsy.
In this Canva video tutorial I walk through how to create printable wall art for a nursery that you can sell on Etsy.
In this Canva video tutorial I walk through how to create a printable meal planning and pantry inventory that you can sell on Etsy.
All of these videos show you how to create printables and they are just a few of the options out there. They include different designs and styles so if you are completely new it might be worth watching both to get an idea of how to create different printables.
Important Things To Know About Canva
Here are a few important things to note when using Canva to create printables to sell:
You can't just use a template you found on Canva's templates section and sell as is. You must make your own design from scratch.
You have to have commercial use license of elements (or be using ones included as free / with Canva Pro) you are using in your design in order to sell it. Read the terms of service to be safe.
There is a learning to curve to creating printables in Canva but it's much lower than other softwares.
Exporting in pdf file format gets you the best resolution for customers who will print your files.
I also have playlists on my passive income tutorial YouTube channel featuring some of the best tips and tricks when designing with Canva.
How To Get Elements For Your Designs
Designing in Canva is obviously my preferred method of creating printables to sell but it is important to avoid any licensing restrictions or copyright issues for the work you create.
In this section we will cover a few ways to get design elements to create amazing designs without worrying about potential legal issues. Luckily the internet is filled with fonts and graphics you can use for creating commercial designs.
Commercial use means something can be used in a design you plan to sell. You need to make sure whatever you are using from the fonts to the graphics has a commercial use license so you are safe to sell your end product.
Here are my favorite sources for buying commercial use fonts, graphics, and more:
Creative Market – This is my personal favorite for designs since it has the highest quality of any of the sites I've found. Creative Market also gives you free goods every single week with a personal license so you can try them out for free before deciding if you want to buy a commercial license. It's a great way to get started!
Etsy – You can also find commercial use design elements on Etsy from other sellers! This is one of my favorite options since I love supporting fellow Etsy sellers and can often find great deals since many shops offer value bundles for their designs.
Font Squirrel – This is a great option for finding fonts to use since they scour the internet for free commercial use fonts. While Canva includes many fonts you can use for commercial use this is a great addition if you want to stand out and make your designs look a little bit better.
These are just a couple places to find font and graphics for commercial use that you can use when creating your digital products to sell on Etsy.
Checking Design Trademarks
There is another thing you need to be careful about when designing printables and that is trademarks!
Before you start creating printables to sell yoou need to make sure you are not violating any trademarks with the phrases you will be using. If you are designing anything with quotes or phrases you must check trademarks first because many of these popular quotes and phrases are actually trademarked.
This is important because if you use something that is trademarked then the trademark owner can legally come after you and Etsy will shut down your shop. If you violate trademarks you are a risk to Etsy as a platform. I've seen them shut down many shops for this reason.
Trademarks apply to the obvious things like Disney, Harry Potter, Star Wars, etc. But they also apply to common phrases like dog mom, boy mom, onesie, etc. Companies with a lot of money will often trademark these popular phrases and then file trademark infringement notices to wipe out competition. It might not feel fair, but it is reality and you need to be aware of this.
You can learn more about trademarks on the he phrases you're using. You can learn more about trademarks through the U.S. Patent and Trademark Office website.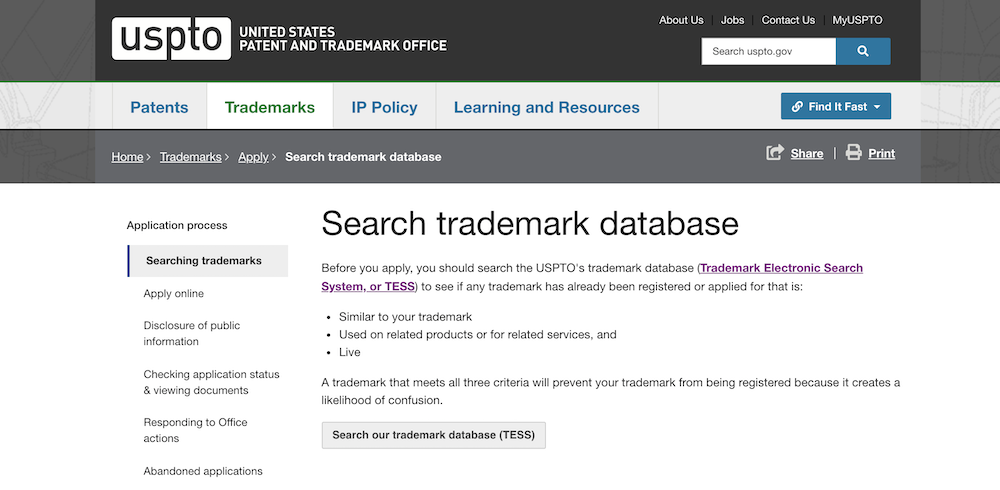 You can perform a search for any trademarks on TESS, the Trademark Electronic Search System. This search will let you know if you need to abandon a phrase if it's trademarked or go ahead with your design free and clear.
I can't recommend highly enough that you should run these searches first before creating designs to sell. It's easy to fall into the trap of thinking "everyone else is selling it" but I promise it is only a matter of time before it catches up to those sellers.
Before You Launch Your Etsy Shop
It is possible to open an Etsy shop with just one item but I recommend you have at least a handful before you open your shop and start selling.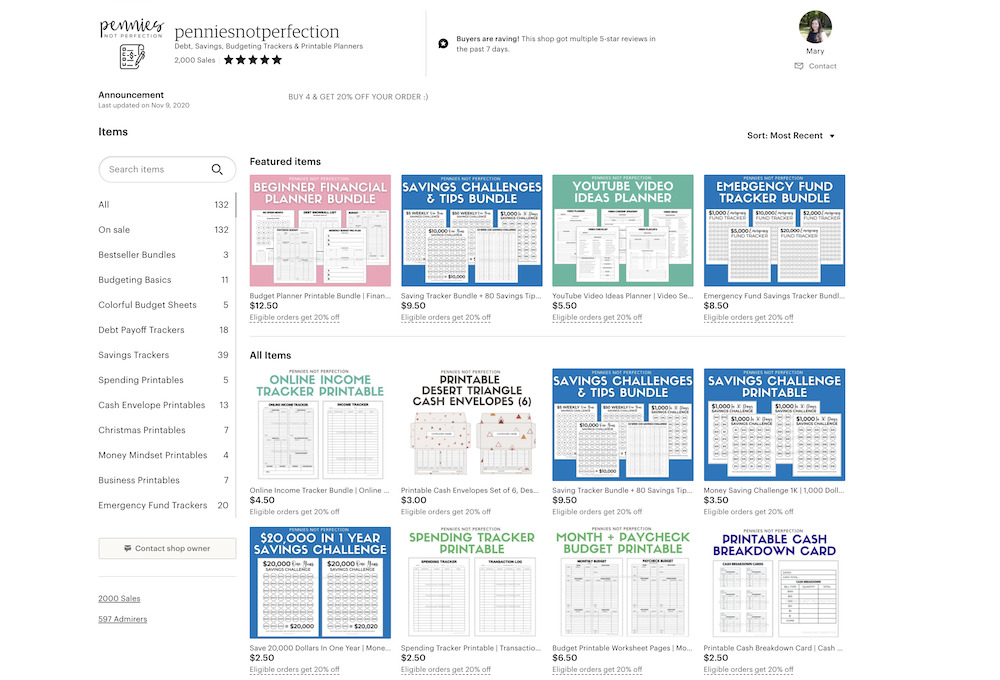 Why should you start with more than one item?
It looks better. First, it will look better when you share your shop or someone lands on it. A shop with more items looks better since Etsy shows your listing thumbnails in rows. With just one item your shop won't look as professional to potential shoppers. Shoppers are more likely to trust a shop with multiple items than just one.
More sales opportunities. Second, and this is obvious, but more product listings means you have more opportunities to make sales. You will have more options for people to buy from you. Each extra item you have listed is an opportunity for someone to buy from you and to add additional products to their cart when they buy from you.
Increased visibility on Etsy. Etsy is a huge platform with lots of competition. Many people think every niche is already oversaturated. Having more listings gives you more chances to show up in search results and alongside your competition. With additional listings you can target different keywords and reach new audiences. The more listings you have the more visibility you will have on Etsy.
So how many product listings to you need before you launch your shop?
I recommend launching an Etsy shop with at least 8 items but ideally 24 to fill out all the lines.
How To Create Your Etsy Shop
In order to sell printables on Etsy you have to first start your Etsy shop!
I highly recommend you create a few products before moving on to the logistics of opening your shop since you will need at least one to start and ideally will launch your shop with multiple.
In order to start an Etsy shop you will need an idea of what you want to sell and a name picked out for your new Etsy store. If you haven't already decided this before starting you will want to think about what you will sell in your new Etsy store and what brand you want to build around your shop.
Once you've got a general idea you are ready to watch this video tutorial on how to create your new Etsy shop!
You can start your shop with this link for 40 free listings to jumpstart your shop without having to waste money on those first listings.
How To Sell Digital Products On Etsy
Selling digital products on Etsy is easy but creating your listing is going to be different than creating a listing for a physical product.
In the video tutorial above we walk through the steps to create a listing on Etsy step by step. Creating a listing is not difficult but it can be helpful to see the process laid out step by step like I do in the video.
Digital Product File Delivery
Let's talk about the details and most frequently asked questions about delivering digital download files to your buyers on Etsy.
File Types
Printables can be created in multiple file types. The most common will be PDF, JPG, and PNG. For printables I always recommend PDF since they are easier to print and will be the highest quality option for someone printing. You can always include multiple file types for your customer.
Naming Your Files
Naming your digital download files doesn't need to be complicated but it should be useful and make sense to your customers. Make sure you name them in a way that is easily identifiable so your customers can find them quickly once downloaded.
That means you will want to change things from IMG_2021_06_05.PDF to something like Spending_Tracker_Pennies_Not_Perfection.PDF or something similar.
This is a simple thing to do when you are creating your printables and it will help keep you and your customer organized.
Adding Files To Your Etsy Listing
When setting up your listing you will be able to upload 5 files with your listing.
You should upload the printable files but you can also include instructions or bonuses here as well.
Customer Downloads
When someone purchases your printable from your Etsy shop the files are automatically available for them to download inside their account. As the seller you don't have to send any files to the customer or interact with them unless they send you a message with questions.
After a purchase your customer will be be able to go to "Purchases and Reviews" under "Your Account". Here they will see all the files they purchased from you.
Then they can click the black "Download Files" button which takes them to a screen where they can download each file individually. by clicking each "Download" button.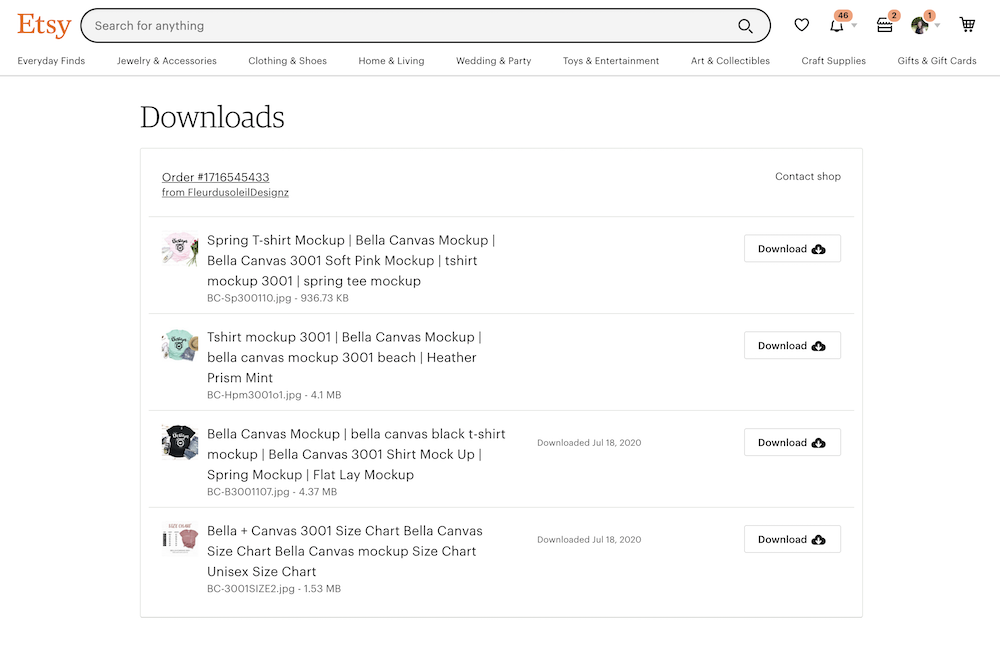 For a customer resource you can send them to read frequently asked questions on this post: How To Download A Digital Product On Etsy.
What if your file size is too large?
One of the common problems I hear from digital product Etsy sellers is that they don't know what to do with a file that is too large to upload on Etsy.
Etsy has a max file size of 20MB for digital downloads. If your file size is larger than that then you will need to host the download somewhere else like Google Drive or DropBox. Then send the link to that download via the PDF with your instructions.
Including Download Instructions
Even with a clear cut process of downloading digital files you will still have customers with questions. I highly recommend you create instructions for how to access and open your printables.
Providing detailed information about how to find and download your files will help you save time and provide additional value to your customers. You can share this information in as many places as possible so they know what to expect and how to proceed with your files.
Things you can include for your customer's education:
This is a printable that is a digital file – nothing will be shipped
File types and size of the files
Ideal printing methods and information
Where to access files in their account
How to download digital files in their account
Any other disclaimers that are important for your shop like refund policy, commercial use policy, and color discrepancy issues
It works best with customers to spell out as much information as possible. Then if they don't read it and still ask questions you can quickly refer back to the original instructions.
You can include all of this in your notes to digital buyers section and also as a downloadable pdf file that you can label either "Read First" or "Instructions". This is an additional opportunity to include elements to reinforce your brand and build a relationship with the customer by being helpful.
How To Get More Sales On Etsy
Getting your first sales on Etsy can be a challenge for new sellers with a brand new Etsy shop. It can also be difficult to get sales at all at times!
In this section we look at how to get more sales on Etsy and tips for how to get sales especially when you are a newer shop without an established customer base.
Here are some ideas for getting sales on Etsy, especially as a new seller:
Pick a niche & stick to it
On Etsy most shops are very focused around one niche or type of product.
When you start and try to grow a new shop you should pick a niche and stick to it.
It confuses buyers who might find your shop when you are selling 1 or 2 items of many random things.
Master one thing first
Similar to the niche concept, master one thing first.
To truly have a successful shop you will want to master the one thing you plan to be known for first.
It means that you will work to establish both your product creation skills and your shop as a a leader in your niche so people share your shop and come back again and again,.
Be different from others
Being different from others is key to success on Etsy.
In order to stand out and build your shop's reputation on Etsy you will want to be different from the competition, not a copy.
You will want to figure out some way to make your product different and unique. You will be inspired by others but instead of copying, find ways to stand out.
Get sales for social proof
Sales are social proof. Knowing others bought the product you are selling helps convince buyers to trust you.
Your goal in order to get more sales is to build your sales number.
Shops that already have a lot of sales in fact tend to get more sales, partly because they are selling a good product and partly because new buyers feel like they can trust someone with thousands of sales.
Getting your first sales
Your first sales will likely come from either being patient (very, very patient) or by getting creative.
Since sales are social proof you may have to "prime the pump" and have someone you know buy your product first. Or you may want to team up with another new Etsy seller and buy each other's products.
Perhaps your first sale can come from a friend or family member who wants to support you and start you on the path to success.
Get creative because often new shops aren't optimized well enough for SEO and the lack of sales can turn off buyers who do find you.
Use Etsy's marketing tools
Etsy has a number of great marketing tools built into their system.
Within Etsy you can do things like set up marketing emails to reach out to someone who has an item in their cart to give them a coupon code.
You can run sales and offer incentives that encourage people to buy. These are so useful and you should utilize them to get more sales.
These are all tips to start your shop off and get it growing so it can eventually grow and become something you can even live off of financially.
How To Improve Your Etsy Photos
One important way to improve your sales on Etsy is to make better listing photos, especially the first one that customers will see in the search and browse results.
Photo Mockups
An easy way to do this is to create mockups of your designs so customers can see what the final product will look like when printed and in use. Mockups will bring your product to life and lead to more sales.
Where to make or buy mockups:
PlaceIt – A monthly subscription will include unlimited professional looking mockup designs that you can create and edit in seconds. (Watch the quick product mockups with PlaceIt tutorial here.)
Canva – There are lots of mockup options with a Canva Pro subscription and their smart mockups feature is very helpful.
MissMockup – This Etsy seller has beautiful aesthetic mockups you can purchase for your shop.
Listing Videos
Listing videos are another way to improve your product's performance on Etsy. Etsy even says this when you are creating a listing:
"Buyers are loving listing videos! We know that shoppers are more likely to purchase an item if the listing includes a video. Cha-ching!*
*Based on a July 2020 analysis of over 5 million buyers, comparing the purchasing behavior of those who were shown listing videos to those who were not."
If Etsy is saying buying love listing videos then you should take note and add listing videos for your printables!
A few ways to make quick listing videos:
PlaceIt – Along with mockups you can also create short videos with this monthly subscription design program.
Canva – There are also plenty of ways to use Canva to create videos that you can use for your listings!
Your phone – Use your phone to take a quick in person video of your printable after you've printed it out. People love to see the real end result before they buy.
A few quick tips for successful listing videos:
Videos can be 5 – 15 seconds and will not include sound
Focus on your product being the star rather than background items
Adjust your settings to record high resolution video—aim for 1080p or higher
Crop your video after you upload it to get the right dimensions
Choose a spot to film with plenty of indirect natural light that can softly fall on your subject from the side
Keep your camera steady and use a tripod if you have one
Choose the same aspect ration (a ratio of width to height) of your listing video to reflect the same orientation as your primary listing photo
Avoid adding filters or altering the color saturation on your listing videos to provide an accurate depiction of your products – the closer it is to reality the less issues you'll have from customers
Those are a few ways to improve your listings for success by using mockups and videos!
How To Promote Your Products
Once you've got a sale or two you're ready to scale your shop to get more sales. This will be done by focusing on promotion. Without some level of promotion you will not get views which means you will not get sales.
You don't have to do every form of promotion for your shop. In fact I recommend you focus on just one method of promotion until you have mastered it. Pick one and work on it until you have traffic and sales going and then add another.
Ideas for promoting your shop and products:
Create a YouTube channel showing off your products
Write tutorials on your blog about the item
Create a Pinterest account and use Tailwind to pin and promote
Share on your personal social media accounts
Share on your business/shop social media accounts
In general there are multiple ways to bring people into your shop:
Etsy SEO
Etsy marketing
Etsy repeat customers
Social media
Newsletter
Word of mouth
Remember that you'll have to continually promote your work and often people will need to see it multiple times before buying.
Keep learning how to grow your shop!
The most important part of getting more sales to your Etsy shop is to keep learning and growing.
Etsy changes regularly and in order to grow you'll have to keep learning and growing to keep your shop relevant and bringing in sales consistently.
Etsy SEO Tips
One of the best ways to succeed on Etsy is by learning how SEO works and using it to get more people to your listings.
Search engine optimization (SEO) is one of the most important tools for selling anything online because it brings you traffic without the need to continually make changes and updates. It's much more sustainable long-term than social media for promotion, but it does take more time to see rewards for your efforts.
When you use SEO you are optimizing your work in order to be found through the search function on Etsy's website.
Here are some of the best Etsy SEO Tips to help improve your listings:
Know Your Customer – Knowing your ideal customer helps with SEO because you will want to know how they think about and describe your products. Are they going to be looking for nursery wall art? Or baby shower gift? Or Depending on who your target customer is they might be using all of these and more. Knowing what words and phrases they are using can help jumpstart your listing with keywords important for SEO.
Use Phrases That Auto-Populate – The best keyword research tool is actually Etsy itself. You can start typing in phrases into the Etsy search bar and Etsy will populate keyword phases that they think might interest you as a buyer. You should take these phrases and use them in your research and in your listings. If something does not auto-populate in the Etsy search bar it likely means there is not enough interest and it's not a good phrase to use.
Get Specific – Because there is so much competition SEO is best utilized by going after the "long tail keywords" which just means the longer phrases. You are going to be competing against way more people when you use a phrase like "Instagram template" instead of "Instagram story template for coaches". Getting more specific in what you are using for your descriptions and keywords will help the right people find you.
Prioritize The Beginning – The first characters of your listing title and your description are the most important. You will want to use this space to include keywords that were the most fitting based on your research. It's important to remember that the beginning of your title and the beginning of your description will be seen first by both the user and the algorithm.
Fill in All Your Tags – You get the option to use 13 tags to describe your item. It is recommended that you use your keywords phrases to use up all of these tag opportunities. Tags do have a limit of 20 characters so you won't be able to use all your long-tail keywords but you should definitely make sure you use up all 13 positions with tags. For the best results at least a few of your tags should match the keywords from your title.
Remember SEO Takes Time – The biggest frustration I see with new sellers especially is that the SEO work they are doing isn't bringing in sales fast enough. Remember that SEO is based on an algorithm and it can take weeks for your changes to even be noticed and cataloged in that algorithm. Once you've made changes you should wait a month at the least before you change anything else again. Otherwise you will never know what works and what doesn't for SEO because you need to give it time.
Want to learn more about Etsy SEO? Check out these Etsy SEO tips.
How To Create & Run Etsy Sales
Using Etsy sales and coupons can help you make more sales and earn more money on Etsy.
In this tutorial I'm going over all the things you need to know about sales and coupons on Etsy so you can start running sales and make more money with your Etsy shop.
This video tutorial will definitely help you use these sales and coupon features in order to increase your sales. It covers:
the different sales and coupons you can create on Etsy
the targeted offers you can use to make more sales on Etsy
how to create a coupon code for more sales on Etsy
In my Etsy shop for digital products I've made more money by running percentage off sales each month and think it's an exceptional way to make more sales especially for digital products.
Learn more about Etsy promotions in this post all about How To Create & Run Etsy Sales.
Growing A Business On Etsy
Etsy can be an amazing place to build a business and earn passive income through selling printables.
If you want to grow on Etsy I recommend my friend Sharon's Etsy Entrepreneur course where she walks you through the process of setting up an Etsy shop and growing it to make $1,000 a month or more. She grew her Etsy store of digital downloads to more than $1,000 a month and has inspired many people to do the same.
I always recommend Sharon's course Etsy Entrepreneur when someone is interested specifically in the passive income power of Etsy. She built passive income streams on Etsy that allowed her to travel the world for two years without a job.
Another great option for beginners who want to sell printables is the E-Printables course from Gold City Ventures.
E-Printables Course focuses specifically on printables and guides you on how to create printables, how to sell them on Etsy, and how to market them for success.
This course walks you step by step through the process and they have an ongoing Facebook group where you can get and give support to other digital product sellers.
Keep Growing Your Printables Shop
Remember that your Etsy growth will depend on being consistent and growing over time. Very few people start their Etsy shop and go full time the very same month. For most of us we begin with one product and grow over time.
Over time you will learn tips and tricks to grow your Etsy shop and find that success on Etsy can be far beyond you expected.
I personally know multiple full time Etsy sellers who started as a fun side hustle and now make a full time living selling on Etsy. Several even make six figures with their Etsy shops.
Keep Learning
Here are some posts about starting and growing an Etsy shop and selling digital products that may help you:
Etsy Basics:
Etsy SEO:
Digital Products on Etsy: