The process for changing your YouTube channel URL changed recently so this tutorial shows you how to change your YouTube channel URL in 2021.
Having a custom URL for your channel helps with branding your channel and makes it easy to remember and share with potential viewers.
In this video and tutorial post I show you how to:
set up your custom YouTube channel URL
delete your custom channel URL and pick a new one
options for choosing your custom URL for YouTube
how to change your custom YouTube channel URL
custom YouTube URL requirements
With this process for selecting and changing your channel URL you'll be able to quickly and easily pick the channel URL you want!
Custom URL for Your YouTube Channel Step By Step
How to get your custom YouTube channel URL step by step:
Sign in to YouTube Studio for your account
From the left menu, select Customization
From the top menu, select the Basic info tab
Under the Channel URL sections, click Set a custom URL for your channel.
In the box, you'll see your current URL and your potential custom URL. You can add extra letters or numbers to make your custom URL unique to your channel.
Click the blue Publish button in the top right of the page.
Click Confirm on the popup screen to confirm your custom URL.
YouTube Channel Custom URLs Details
Why would you want a custom URL for your channel? Creating a custom URL is an easy to remember URL that you can share with your audience. It's easier to remember, better for branding, and customizes your channel.
Instead of have a channel that is youtube.com/ceJWE8732fjKEWNF# you will instead be able to have a channel URL that is youtube.com/penniesnotperfection for example. It's much cleaner and easier to remember or share.
You get to choose your URL but there are some things you can base it on:
Display name
YouTube username
Current vanity URLs
Linked website name
You can also choose the capitalization options so that you can make words stand out of not. For example you can choose either of the following:
youtube.com/c/yourcustomname
youtube.com/c/YourCustomName
This gives you even more flexibility to use the custom URL feature for your channel to reinforce your branding.
Custom URL Eligibility
Who is eligible to get a custom channel URL? There are some requirements you need to hit before you are able to set up your custom URL.
To create a custom URL for your channel, your YouTube account needs to:
Have 100 or more subscribers
Be at least 30 days old
Have an uploaded profile picture
Have uploaded banner image
That's it!
The great thing about custom URLs is that it is one of the first things you get to do on YouTube while building your audience. Most features won't unlock until 1,000 or even 10,000 subscribers, but at 100 subscribers you get a custom URL!
It's important to note that a custom URL can be changed or removed by YouTube at any time. This could include things like copyright infringement or when an account is deleted.
Growing Your YouTube Channel
Once you've got 100 subscribers and have selected your custom URL, then it's time to keep growing until you hit 1,000 subscribers and more!
If you want to grow and actually make money from your Youtube channel then the following tips should help.
Get Useful Growth Tools
Use a free tool like TubeBuddy to evaluate your competition, research keywords, and make better videos.
TubeBuddy has a free version as well as a couple paid plans. You can get a lot out of the free version as a newbie and when you are ready you can go to the next level.
I love TubeBuddy for the SEO help but also the bulk management tools, canned comment responses, A/B testing, end screen templates and more.
Here are the SEO tools you have access to inside TubeBuddy:
view and copy video tags from another channel
tag rankings so you can track where you rank
suggested tags for your videos
keyword explorer
search rankings
best practices audit
All of those tools help you get your video ranked on YouTube so you get more views. TubeBuddy helps improve your SEO and increase search traffic that will double your views over time.
Make Good Videos
Seriously, making good videos is how you grow on YouTube. There are a lot of additional factors but you won't grow if you make bad videos.
Here are a few of the best tips from successful creators I've followed about making good videos:
Get to the point in your videos. Don't ramble on for a long period at the beginning where people will fall off. Study your old videos too see where people drop off.
Make your videos provide value. If your videos are educational then make them very educational. If they are entertainment based then they should provide value by making your viewer feel something. Think of each video and consider what value it is providing someone.
Audio quality matters the most even over video quality. You can have top notch video but if your audio is bad people will stop watching.
Focus on your presentation and story telling skills. When you first start making videos you probably won't be very good at this but it's something that makes the best YouTubers connect with their audience.
Every video on your channel is providing some type of value. That value might be education or entertainment or just a feeling like someone belongs. You need to recognize what value you are providing and then put your own unique spin on it.
Remember that these are all things that you can work on and you can't compare yourself to other creators. You should work hard to improve your skills and tune out the distractions of others.
Build Community
Having a community around your channel and your videos is another great way to guarantee successful video launches and continued success. Building community can be done in a few ways:
commenting on other youtube channels
responding to all of your comments
referencing viewers and comments in your videos
giving shoutouts to people in your community
giving your viewers a nickname and expected phrases
Those are just a few ways I've found to build my community but you can find what works for you! The most successful YouTube channels have an element of community around them.
Those are just some of the ways I've learned how to grow my channel and consistently doubled my channel size each year I've been on Youtube while still keeping consistent and engaged subscribers.
Learn From YouTube Experts
Another great way to grow on YouTube (and save a ton of time) is to learn from experts who have already done it.
You can book one on one time or take a course like my friend Erika's course Mastering YouTube for the Busy Professional (affiliate link).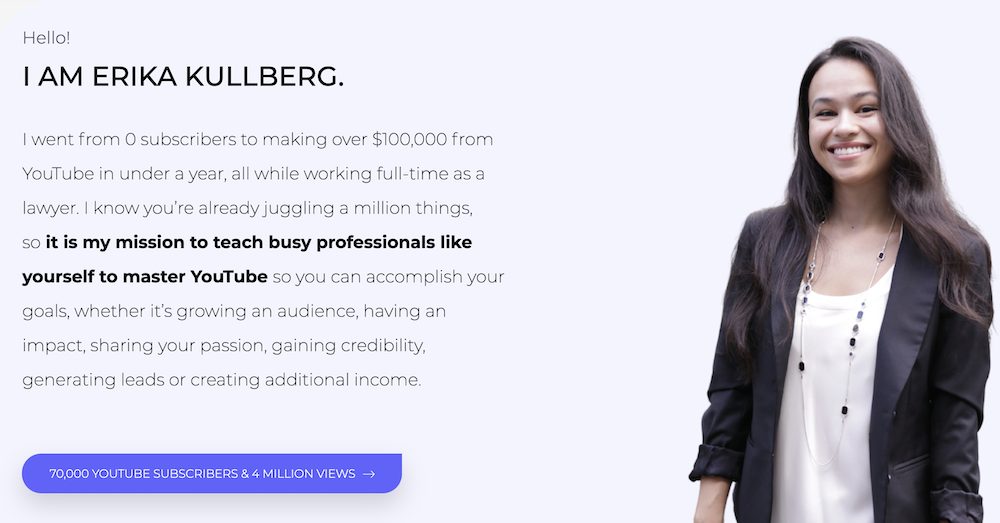 She went from 0 subscribers to over 70,000 and $100,000 earned from YouTube in just one year. I've learned a lot from her about both getting views from trending topics and outsourcing to grow faster.
Taking a course like this or from any big YouTuber will help you learn faster and grow faster because you will make less mistakes.
More YouTube Channel Resources
Here are some resources that you can use to create videos and grow your channel on YouTube.
Outsourcing Video Work
These sites help you find freelancers and virtual assistants to create your YouTube content and run your cash cow channel.
Fiverr – Hire freelancers to help edit your videos, create voiceovers, film footage, and more. You can create an entire channel using Fiverr freelancers and several specialize in creating these types of faceless, voiceless channels.
OnlineJobs PH – Hire freelancers in The Philippines to help you run your channel. You can find professional video creators and editors looking for work at very reasonable prices. I personally use video editors that I found on this site and it has been an amazing working relationship.
YouTube Tools
These tools help you create content that will actually reach an audience on YouTube, from finding the right topics to creating thumbnails that capture attention.
TubeBuddy – TubeBuddy is an all around tool helpful especially for SEO research and creating optimized videos that rank in search. It's the ideal tool to use for video channels that will be faceless and not rely on a personality to build them.
Epidemic Sound – Get music for your videos without worrying about future copyright issues. You can try to get "copyright free" or "royalty free" music from other sites but those can come back to claim. your ad revenue years down the road (I speak from experience). Avoid issues and pay for access to music you can use legally.
Canva – If you need to make thumbnails for YouTube videos then you need to use Canva. It's a fantastic design tool that makes creating thumbnails quick and easy. It's also super easy to manage a team of freelancers who might be helping you generate thumbnails. At only $12 per month it's essential.
YouTube Channel Organization
These resources will help you plan and organize your ideas for your cash cow YouTube channel.
YouTube Success Planner – This YouTube planner includes everything in the video planner and goes more in depth on how to grow your channel, how to monetize your videos, and how to track your success.
All of these things will help you grow faster after you've hit your first 100 subscribers. Best wishes on growing your channel to a huge success!