Every month I earn $3,000 on a faceless YouTube channel where I create content without showing my face. I make useful faceless YouTube videos that earn money every single day. It's my favorite side hustle.
I love to help others do the same which is why I'm sharing this list of faceless YouTube video ideas.
Making money on YouTube without showing your face is more possible than ever. While most YouTubers are famous for being personalities, there is a huge market for faceless video content.
If you've been waiting to start a YouTube channel because you were worried you have to be an on camera personality then this list is for you!
Faceless YouTube Video Ideas
Below are some faceless video ideas you can make for YouTube:
Product reviews
Unboxing videos
Compilation videos
Gaming clips
Gameplay videos
Gaming best of videos
How to gaming videos
Best of video compilations
Top 5 list videos
Luxury example videos
Life hack videos
Screen-recorded tutorials
Whiteboard videos
Podcasts
Cooking videos
Crafting videos
Building videos
Restoration videos
Meditation videos
Timelapse videos
Ambient point of view videos
Extreme sports point of view videos
Animated content
Drawing content
Painting timelapse
Nail art how to videos
Cash stuffing videos
Budgeting videos
Planner videos
Commentary videos
Meme recaps
Reddit post commentary
Motivational content
Scary stories
True crime stories
Homework help videos
Celebrity news
Movie reviews
Voice dubbing (ex: bad lip reading)
Vtubers (digital avatar instead of your face)
Those are just a few of the videos you can create without having your face on camera. There are many more and new types of videos popping up all the time!
Organizing Your Faceless YouTube Video Ideas
Once you start researching ideas for your videos you will be able to create a list and develop a content plan.
I created a video ideas planner based on my own experience planning my YouTube videos. I grew multiple YouTube channels using this process and was able to quit my job to do YouTube full time in 2021.
The video planner walks you through multiple useful steps:
planning your video title, description, keywords
the content strategy for what your video will achieve
organizing your videos into useful playlists for viewers
a checklist for creating and promoting videos
video ideas to inspire your content
The planner is in PDF format and available to be used digitally or as a printable you print and use at home.
This video ideas planner is part of a larger planner that helps walk you through everything you need to have a successful YouTube channel.
This YouTube planner includes everything in the video planner and goes more in depth on how to grow your channel, how to monetize your videos, and how to track your success.
Finding More Faceless YouTube Video Ideas
You can do all of these YouTube video ideas on your own and the examples I've included show you others who are making videos without ever showing their face.
This list of no face video ideas is not comprehensive. There are many, many ways to do faceless videos on Youtube.
To find more video ideas you can do without your face showing, I recommend signing up for TubeBuddy for research.
TubeBuddy is a FREE browser extension & mobile app that integrates directly into YouTube to help you run your channel with ease.
You can use TubeBuddy to research different niches and keyword ideas. IOnce you make a few faceless videos you can see what takes off and then use that information to start the basis of your research on TubeBuddy. Making related faceless videos is a great way to grow your channel with repeat views from subscribers.
You can also use TubeBuddy to do competitive research. When you check out other faceless YouTube channels you can see their stats when you are signed into TubeBuddy. You can learn if they are getting views or not from their faceless videos.
How To Find Stock Images & Video For Faceless Videos
There are many different types of videos you can make but some will require you pull together stock images and video. If you aren't filming your hands or screen recording you will need to find stock footage for your videos.
Free Stock Photos & Video
Here are some places to get free stock photos and videos:
Paid Stock Photos & Videos
Here are some places where you can pay for stock photos and video:
Can you make money on YouTube without showing your face?
If you want to make money on YouTube with faceless videos then you probably are wondering if you can make it profitable. The answer is yes!
How Much Money I Made With Faceless Videos
In fact, the channel I started to make videos without showing my face actually now makes more money than my first channel. Below is a screenshot of my earnings for my faceless videos.. I made over $1,800 from videos on YouTube without ever showing my face in them! This is an average amount I earn on this channel each month.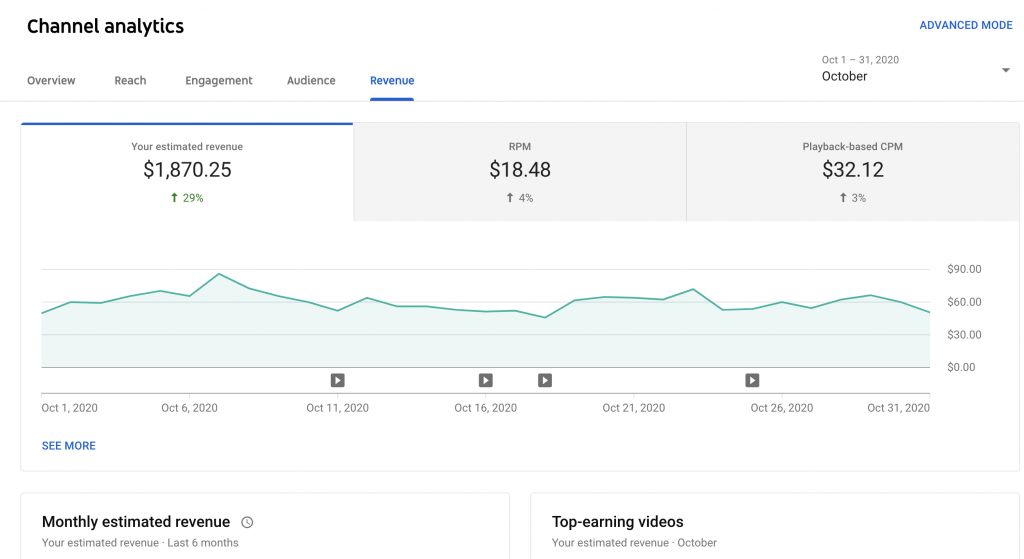 In fact, in the last year I made $23,000 just from ads on faceless videos.
That is a significant amount of money to earn just from ads without ever showing your face! Even better? That income does not even count affiliate marketing income or sponsored videos!
How To Monetize Faceless Videos
There are many ways to monetize a YouTube channel:
ads
affiliate marketing
digital products
merch / physical products
memberships
super chats
sponsored videos
The type of video you make and the ability to connect with or educate your audience matters much more than being on camera. I polled my audience and the majority of them said they did not care if someone was on camera or not – the content mattered the most.
You will make money on YouTube by providing content that helps people. You do not have to show your face in the video to accomplish that goal.
It is important to remember that YouTube is not quick money. It often takes months or even years of hard work in order to get to a place where the income is sustainable and enough to replace a creator's full-time job.
The Truth About Making Money On YouTube
Making money on YouTube is hard.
It is hard work. It's hard to compete. It's hard to constantly be creative.
If you are new it is hard to even get monetized and make minimal ad revenue. Even just hitting the minimum requirements to earn money is so hard many channels never make it.
In order to be part of the YouTube partner program and earn money from advertising you have to hit a number of requirements.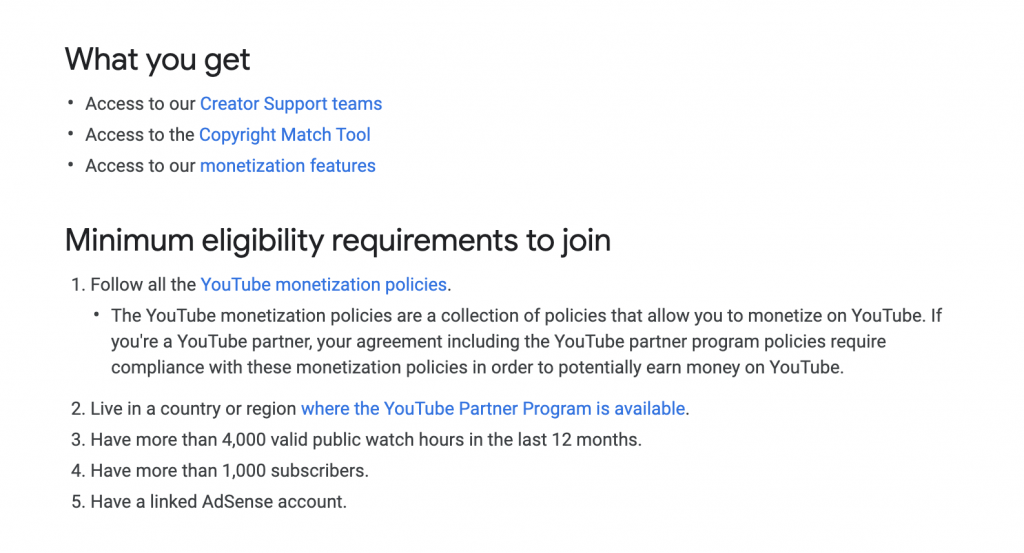 Before you can make any money from ads you have to first:
Have more than 1,000 subscribers
Have more than 4,000 watch hours in the last 12 months
Those are hefty requirements that usually take new creators a while t achieve. This keeps the platform in better conditions for advertisers and viewers alike so it's a great requirement even if it is a higher hurdle for most new creators.
All this means is that when you start making videos for YouTube you need to be realistic about the amount of money that you may be able to make. At first you won't make anything and this phase can last a long time. You might be creating content and not earning anything for months or years. I made videos for at least 6 months without earning a dime. It's important to remember that YouTube is a long game for income.
Growing Your YouTube Channel
If you want to make more money from your small Youtube channel then the best way to do it is to grow your channel.
Growing on YouTube requires work but it will pay off in revenue down the road. The more people that find you the more money you will make.
I've written a few times about the ways I've grown my channels on YouTube.
Here are a few tips for growing on YouTube:
Use YouTube growth tools like TubeBuddy
Learn about and implement SEO
Build a community around your YouTube channel
Make quality content with good videos
Provide unique value in your YouTube videos
Experiment with ideas on your channel
Find ways to be more efficient in your processes
Take a course like course Mastering YouTube for the Busy Professional
Keep growing and learning because YouTube changes all the time!
You can read more in my post How To Grow A YouTube Channel.
YouTube Channel Resources
After reading these cash cow channel ideas you're probably ready to start your own channel and rake in money. Here are a few tips and resources that can help you save time and earn money faster.
Here are some resources that you can use to create these videos and grow your channel.
Outsourcing Video Work
These sites help you find freelancers and virtual assistants to create your YouTube content and run your cash cow channel.
Fiverr – Hire freelancers to help edit your videos, create voiceovers, film footage, and more. You can create an entire channel using Fiverr freelancers and several specialize in creating these types of faceless, voiceless channels.
OnlineJobs PH – Hire freelancers in The Philippines to help you run your channel. You can find professional video creators and editors looking for work at very reasonable prices. I personally use video editors that I found on this site and it has been an amazing working relationship.
YouTube Tools
These tools help you create content that will actually reach an audience on YouTube, from finding the right topics to creating thumbnails that capture attention.
TubeBuddy – TubeBuddy is an all around tool helpful especially for SEO research and creating optimized videos that rank in search. It's the ideal tool to use for video channels that will be faceless and not rely on a personality to build them.
Epidemic Sound – Get music for your videos without worrying about future copyright issues. You can try to get "copyright free" or "royalty free" music from other sites but those can come back to claim. your ad revenue years down the road (I speak from experience). Avoid issues and pay for access to music you can use legally.
Canva – If you need to make thumbnails for YouTube videos then you need to use Canva. It's a fantastic design tool that makes creating thumbnails quick and easy. It's also super easy to manage a team of freelancers who might be helping you generate thumbnails. At only $12 per month it's essential.
More YouTube Tips & Tutorials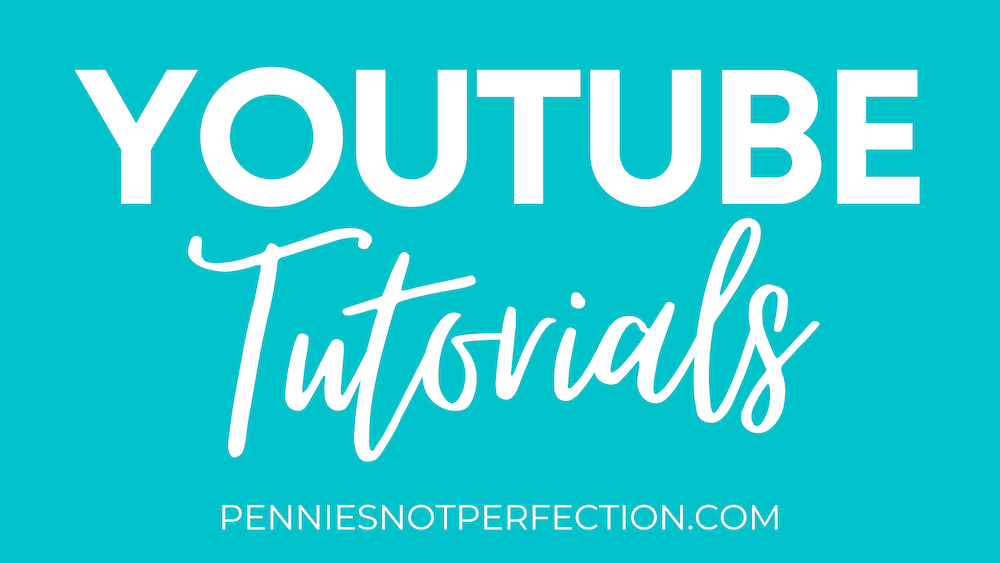 Here are a few useful YouTube tutorials on Pennies Not Perfection:
YouTube Tutorials
Faceless YouTube Videos
Youtube Tips & Tricks
Check out more YouTube tutorials or request a new tutorial by reaching out on Instagram!
If you want to say thank you, you can Buy Me A Coffee.