Do you need to know how to increase sales on Etsy?
Etsy can be an incredible side hustle or even a full time business. It's got unlimited potential with millions of customers just waiting to buy from your shop. Established shops can have hundreds of thousands or millions of sales.
Yet many new Etsy sellers struggle to get any sales at all. What can these sellers do to take advantage of the amazing marketplace? In this Etsy guide we will look at various tips for how to get sales on Etsy.
How To Increase Sales On Etsy
Maybe you are one of those struggling sellers. You've set up your Etsy shop, added new listings, told your friends, but you've heard crickets.
I've found this is the more common Etsy experience instead of the quick success stories. Most new sellers are not flooded with orders. Even established Etsy shops can struggle with low sales and how to increase Etsy sales.
Don't worry though – there are ways to turn your shop around and get more Etsy sales!
After getting thousands of sales in my public facing Etsy shop and helping many other sellers I'm happy to share some tips and tricks on how to get sales on Etsy.
These tips will cover a variety of situations:
if you are just thinking of a shop but want to make sure you get sales from the start
when you've got zero sales and need to make your first sale on Etsy
if you've been selling for a while but hit a dip and need to increase Etsy sales
No matter where you are on your Etsy shop journey you'll be able to walk away with some useful and actionable tips to implement. You'll never again have to wonder how to increase sales on Etsy.
Here's a list of some of the ways you can increase sales on Etsy:
Use Etsy SEO strategies
Create a memorable brand around your Etsy shop
Drive traffic to Etsy from Pinterest
Promote your Etsy store on social media
Pay for more visitors with Etsy Ads
Get reviews from customers
Create a blog in your Etsy niche
Refresh your Etsy product listings
Use beautiful pictures
Create videos for your products
Reward your loyal customers
Run sales on your Etsy products
Create an email list to sell products to
Create searchable videos for YouTube
Pay influencers to promote your products
Cross link and upsell your products
Focus on your target audience
Research Etsy top sellers
Provide amazing customer service
Now let's dive deeper into each method of getting sales on Etsy.
Use Etsy SEO Strategies
Etsy SEO is one of the most important tools you have to increase sales on Etsy.
SEO stands for search engine optimization. This is incredibly important for your shop since Etsy relies heavily on the search function to connect customers with products.
Etsy SEO is the process of making sure the keywords and phrases used in your product listing match what people are searching for on Etsy. When you do this correctly you get a lot of buyers arriving in your shop just from what they type into the Etsy search bar.
To use Etsy SEO in the best way possible you want to use accurate, descriptive keywords in your listing that people are actually searching for on Etsy.
How do you do this? Finding the right keywords requires you do keyword research. This helps you understand how many people are typing in certain words per month into the search bar. This process is done through using an Etsy keyword research tool like Sale Samurai.
With Sale Samurai you can research different keywords and find out how many people are using that keyword. This is one of the best keyword research tools I've found for Etsy. It's affordable, easy to use, and gives you all the data necessary to make sure you create SEO optimized Etsy listings.
For a 20% discount on Sale Samurai use my code penniesnotperfection.
You can use other Etsy keyword tools as well. A quick and dirty method is to just type in related keywords to the Etsy search bar and see what auto populates. If it shows up in the automated suggestions then you know people are searching for it on Etsy. You won't know many details but this a quick way to rule out or add new keywords too.
Want more Etsy SEO help? Check out these posts:
Create A Brand For Your Etsy Shop
Branding is critical for most businesses but many Etsy shops skip over this process in favor of other quick wins.
Creating a strong brand for your Etsy business will help you increase sales on Etsy. The process might feel slower at first but pays off in the long run.
This happens because it makes you look more professional and trustworthy and it also helps generate repeat buyers who remember you.
Building a brand on Etsy is difficult. Many shoppers don't take time to look at individual shops and they only remember they bought something "on Etsy." This can make it hard to stand out in a customer's memory but it also makes the need for branding even stronger.
Creating a recognizable and trustworthy brand makes visitors more likely to convert into sales.
Need more on this? Check out Etsy's article Branding 101: How To Build A Memorable Etsy Shop
Drive Pinterest Traffic To Etsy
Pinterest is incredibly powerful when it comes to Etsy sales. In fact, it can send thousands of potential buyers to your shop every single day.
Pinterest is one of the best social media platforms to get sales on Etsy. This is because pins can generate traffic for longer periods than most other social media sites and many use Pinterest for purchase planning.
When you create pins linking to your Etsy products those pins can be shared over and over as they are pinned to people's boards. Since Pinterest is also a search engine with an algorithm you can also be found by search. The audience you reach on Pinterest is likely an entirely different audience than you are reaching on Etsy via search.
On Pinterest you can also link your business account directly to your Etsy store. This will give your listings some authority and make it easier to share on your account.
When creating pins promoting products make sure you include as much detail as possible: eye-catching photos, detailed descriptions, price, and anything that might encourage someone to click through.
Promote Your Shop On Social Media
Increasing your sales on Etsy can be done well by using social media promotion.
There are many different social media platforms now and each one has a large unique audience. Creating content for your products showcasing them or showing them in use is a great way to promote them on Instagram, Facebook, or TikTok.
These social sites all have hashtags and communities dedicated to promoting small business and Etsy shops on all social media sites. Many users love to see small shop owners succeed.
In the past year or two many Etsy sellers have blown up by sharing videos of their products or packaging on TikTok. Customers love to see videos showcasing behind the scenes shots, order packaging,
Social media promotion can help you get sales on Etsy because it more closely connects you to customers. Instead of just being another listing on Etsy you are someone customers can relate to and connect with. These relationships can help because people want to see you succeed.
Pay For Etsy Ads
Etsy has an internal advertising system that allows you to pay to promote your products.
Lots of new sellers throw shade at Etsy ads because they don't understand how they work or the power behind them. But when they are done effectively? Etsy ads can print money for your shop.
Etsy ads can boost your sales but it is important to take time to understand how they work and how to best use them.
Not sure how it works? Etsy ads are purchased in an auction system meaning there is not a set amount paid for each listing promotion. When you when a bid with your ad dollars Etsy shows your listing above all others in the Etsy search results. This gives you the first and best impression with a buyer and can lead to more sales. You pay for the ad when someone clicks on your listing photo and visits your shop.
However, when you are using Etsy ads you are also competing with other advertisers and all of the listings showing up via Etsy SEO. There is no guarantee you'll get the attention of a buyer if your listing photos and title are not on point.
Crafting an Etsy ad strategy can be a great higher-level strategy. When you have a working ad strategy you know that you can pay $1 in ads to generate $3 in revenue. This allows you to confidently increase your budget until you max it out.
If you are new to Etsy ads then you should start small. It's ok to dip a toe in and start slow. Set a small budget and work with a few listings to better understand how to use Etsy ads to get more sales.
Get Customer Reviews
Getting customer reviews can be difficult but it's a great way to increase sales. Potential buyers trust shops that have multiple positive reviews over a new shop with no reviews.
The more reviews you generate for your Etsy shop the more likely your store will be featured in search results. It also increases the odds that a potential buyer will click on your listing.
Asking customers for reviews can help improve your shop overall. To say thank you for the review you can entice customers with a discount on future purchases when they leave a review.
For more ideas on how to get reviews check out this guide: How To Get Reviews On Etsy
Create A Related Niche Blog
Blogging is a ton of work just like running an Etsy shop. If you enjoy writing it can be an effect way to generate more traffic and sales.
Creating a blog around the niche you sell can generate additional traffic but also authority too. By blogging you will demonstrate superior knowledge and expertise with whatever product type you are selling.
You can also use a blog to share more of the stories behind your particular shop. You could share the details behind products, how they are made, where you source materials from, or the special meaning behind items. A blog gives you a chance to share more details and stories that won't fit into your listing descriptions.
It also gives you yet another chance to reach more visitors beyond Etsy and bring them to your shop.
Running a blog can feel overwhelming but it is actually very easy to get started. You can sign up and create a blog in under 15 minutes.
Refresh Your Etsy Listings
Your product description space is very important and often neglected by Etsy sellers. I see many shops asking why they don't have sales but they have products with very little in the product descriptions.
With the product description you can craft a store that resonates with buyers and helps sell your product. This can be difficult but you will benefit greatly by learning how to improve your copywriting.
Product descriptions that tap into what buyers actually need is how to increase your conversions and get more sales.
Learning how to write a good product description that is both descriptive and unique will help you get more sales.
And Etsy now includes the product description in their SEO factors. This makes the product description even more important! It contributes to user experience, satisfaction and SEO.
You'll want to make sure your listings are built around descriptive keywords that people are actually searching for daily. If you describe something with a name you made up then no one will ever be able to find it. You have to describe it with words people use to search.
If you need more help with keywords for SEO on Etsy, check out this guide: 5 Best Etsy Keyword Tools To Grow Sales
An easy way to find keywords people are searching without special software is to just start typing in the Etsy search bar. It will auto-populate ideas that are keywords people are using to search. Copy these phrases and use them in your listing title, description, and tags.
Look at your favorite websites and see how they describe their products. Good listings will include descriptive items like size, dimensions, etc., and they will also have a bit of copy that make you aspire to own the item. This is the kind of product descriptions you need to be aiming for with your products.
Use Beautiful Product Photos
Etsy is a very visual platform. Your main listing photo is competing against others for customers. Your additional listing photos are helping close the sale.
Photos are incredibly important!
This means you need take better photos to increase your Etsy sales.
Your customers can't physically touch your items so your listing photos are the best information they have. Descriptions are helpful but nothing beats a beautiful product photos. You need to make sure your photos show your products in the best way possible.
Customers should be able to see:
what the product looks like from multiple angles
the colors of the product
the size in comparison to another item
the product in use if possible
Photos should be all of the following:
descriptive
eye-catching
well lit with good lighting
focused on the product without busy backgrounds
They need to serve as marketing to get customers to click on your listing and they also need to be descriptive so customers understand the product and don't feel tricked after buying it.
You should use up all the slots for photos so your customers have as many good photos of your products as possible.
Create Videos For Your Products
What's even better than product photos? Videos!
Videos are a great way to give your customers an incredibly realistic idea of the product in use. They can and do sell products. (As a video creator I promise this is true!)
When you add short videos to your product listings it can drastically increase sales.
You will get higher conversions from visitors that see your product listings. You'll also get more visitors because Etsy has said they prioritize listings with videos. They like to share products with the best customer experience and videos help with this.
Videos for your products should be:
5 – 15 seconds long
no audio (if included it is removed when uploaded to the listing)
at least 1080px in resolution
100 mb maximum file size
video format options: MP4, MOV, FLV, AAC, AVI, 3GP, MPEG
one video per listing
If you want to increase your Etsy sales then you should try adding videos to your product listings.
Reward Loyal Customers
Customer loyalty can be a strong way to increase sales on Etsy.
Many shoppers that buy on Etsy buy again and again. When you treat those customers well you are likely to capture their future sales instead of losing them to a competitor.
What are some ways to reward your customers? Try these:
give them a discount on future sales
provide freebies in their order
offer ways to stay in touch after the sale
Whichever way you decide to reward loyal customers, you can be sure that it will pay off in the end with more sales!
Run Sales For Your Products
Running Etsy sales and creating discount codes is a great way to get more sales on Etsy.
With the built in Etsy marketing tools you can do a lot of different sales:
run a sale offering a percentage off the whole store
create a coupon code you give users on a certain platform
send a coupon code to people who favorite your items
give a discount code as a thank you after purchases
And more! There are many ways to do automated sales or create manual sales every month.
You can often get more sales from running a sale or giving a coupon even if you haven't lost anything in profits. You should always adjust prices to make sure any sales you run still leave you with enough profit.
Learn more: How To Run A Sale On Etsy
One of my favorite features on Etsy is the ability to create discount codes for certain things like an abandoned cart.
Creating this discount code can be very effective in getting sales. The person already liked your product enough to add it to their cart but they didn't follow through with the purchase.
Want to get that sale? Send them a discount code to push them on to finish the purchase.
Here's how to create an abandoned cart discount code:
Go to your Shop Manager
Click Marketing
Choose Sales and coupons
Click Abandoned cart
Fill in the details for your abandoned cart discount
Depending on your margins you can set this up for any amount to try and encourage the buyer to finish checking out.
These coupons can be very effective to get sales but make sure you are still making your desired profit per sale.
Create An Email List Of Customers
Creating an email list of customers is a great way to create additional sales over time. Keeping in touch with customers allows you to build relationships and earn more sales.
This can be tricky on Etsy since you can't just take customer emails and add them to your list.
Before you add customers to your email list you have to get the buyer's consent to add them to the list and message them. There are local marketing laws that you have to comply with as someone sending emails and selling products!
Once you have customers on your email list you are able to reach out and make sales without relying totally on Etsy. This is the best way to build a business that earns sales on and OFF Etsy.
Need a place to create your email list? I use and recommend ConvertKit!
Even better? You can also sell products via email with ConvertKit!
Create YouTube Videos
YouTube is a treasure trove for getting more Etsy sales. Videos on Etsy listings help increase your sales but videos do the same thing and bring in new customers.
YouTube is a huge search engine and full of many targeted communities. It's the perfect place to show up and introduce your products.
No matter what you sell you will find people on YouTube interested in your offerings. You'll also be able to create videos that show up when people search for the products you are selling.
People love to use YouTube to research and learn more before purchasing products. Review videos and unboxing are super popular and lead to more sales.
If you are interested in another platform that can increase your product sales then I highly recommend considering YouTube. Videos can take work to produce but they are incredibly effective!
Not sure if you are capable of creating YouTube videos? Check out some of these resources and guides:
Pay Influencers To Promote Your Products
Not sure you want to create your own content to make sales? Then pay an influencer to do it for you!
You can find and pay influencers to promote your Etsy products. Like any business you can tap into the hugely successful influencer marketing world.
You can find related influences on any of these platforms:
TikTok
YouTube
Instagram
Facebook Groups
Bloggers
There are lots of ways to find people that can reach the audience you want. Once you've nailed down your target audience and know who will buy your product then you can find influencers already reaching that audience.
You can also try sending products for free and hoping for an unboxing and promotional video but this is often less effective than reaching out to sponsor content. Free promotional items are often ignored and if you want to utilize this option successfully you should be prepared to pay just like paying for Etsy ads.
Cross Link & Upsell Your Products
Once you have a customer buying 1 product, an easy way to increase your sales is to get that customer to buy more products.
You can do this by cross-linking and upselling your products on etsy.
To cross link products you can do this in the description of products where you add the links to related or complimentary products and bundles. Etsy also does this for you since they show your related product listings on the page as well.
There are also ways to encourage upsells for additional sales. Creating a sale where you offer 20% off 2 or more items or 25% off 3 or more items allows you to upsell products.
Many customers will add more products to their cart to get the discount. If they haven't, Etsy will prompt the customer during checkout to add more to get the discount. this is a huge benefit and great way to upsell. In fact, this is one of my favorite strategies for digital product sellers on Etsy.
Focus On Your Target Audience
Another way to increase your sales on Etsy is to really focus in on your target audience.
You can have a shop with thousands of unrelated products where you hope SEO works in your favor. This isn't the best strategy though. Instead you want to nail down your target audience and focus in on that niche.
Focus in on what your target audience needs:
What does your audience really need?
What products would they want to buy together?
Who are they already purchasing from online?
Then you focus in on where your target audience is online:
Where do they hangout online?
Where do they research purchases?
How to they figure out what to buy?
Who do they listen to for advice in their niche?
When you go really deep into a niche and specific target audience you are going to make more sales. This is because understanding your audience allows you to create better products and sell them more easily.
Research Top Selling Etsy Shops
One way to get more sales is to study what the people getting sales do. What are the top Etsy sellers doing? What are the shops with tens of thousands or hundreds of thousands of sales doing?
While it's great to learn from online educators, it's even better to learn from the people actually succeeding.
Find a popular shop with lots of sales that is similar to you or in a niche that you can learn from.
Look at what they are doing with their shop. Do they have lots of listings? Do they use certain keyword phrases for SEO in their listings? Are their listing photos bright and eye-catching?
Make a list of all the things you see successful best-selling Etsy shops doing. Use this list to compare with your shop and find the areas where you are doing the wrong things. Don't copy the other shop but use it as a benchmark to improve.
Provide Amazing Customer Service
If you want to make more sales on Etsy then you need to provide amazing customer service.
Nothing else matters if the customers you do have hate the experience and rate you poorly.
Etsy has focused again and again on making sure customers are happy and well taken care of on the site. They emphasize excellent customer service from the beginning to the end of the sales experience.
Here are some ways to provide great customer service:
respond to messages quickly (within 24 hours)
communicate with buyers professionally and kindly
make sure listings are clear, specific, and descriptive
set reasonable timelines and expectations on delivery
resolve customer service issues quickly and fairly
build relationships with customers on Etsy and off
These are a few ways you can improve your Etsy customer service and make more sales.
Keep Improving Your Etsy Shop
Too often I see Etsy sellers start and quit discouraged within a month because they haven't achieved success quickly.
This is a mistake! For most Etsy sellers you need to put in more work and improve your shop through multiple methods over a longer period in order to succeed.
To increase your sales on Etsy you need to keep improving your Etsy shop. You'll never stop truly because even the best shops continue to evolve and improve over time.
Keep the mindset of always improving your Etsy shop and you'll get continue to grow and get more sales!
More Etsy Tips & Tutorials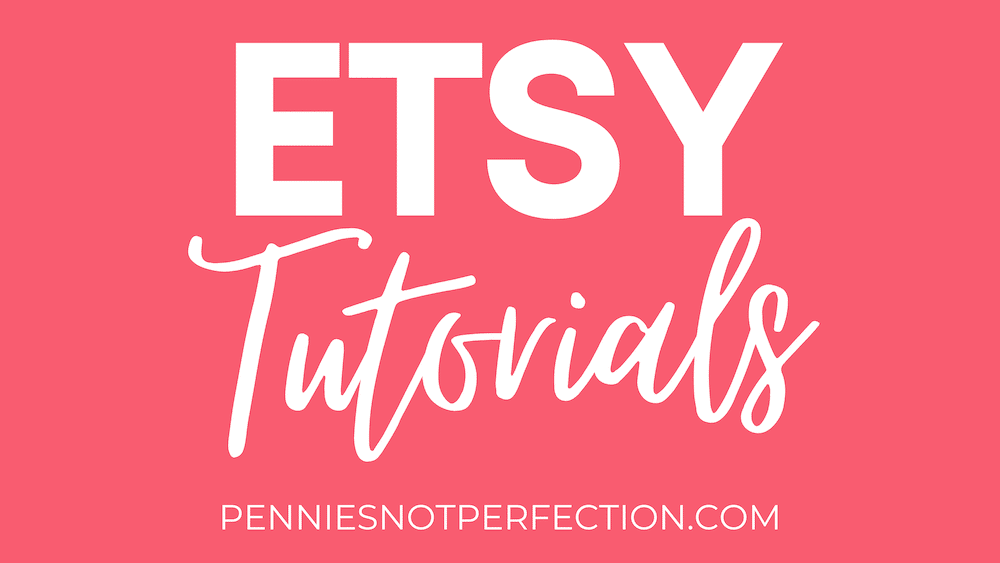 Here are a few useful Etsy tutorials on Pennies Not Perfection:
Etsy Tips
Check out more Etsy tutorials or request a new tutorial by reaching out on Instagram!
If you want to say thank you, you can Buy Me A Coffee.
Etsy Seller Resources
Here are some Etsy seller resources that can help you start, run, and grow your Etsy shop: