Have you heard of YouTube cash cow channels or YouTube automation? It's one of those things that sounds too good to be true: completely passive income from YouTube month after month.
Let's look at what YouTube actually means and whether it's a business worth pursuing… or a huge scam.
What Is YouTube Automation?
YouTube automation most often refers to a YouTube channel that's completely outsourced.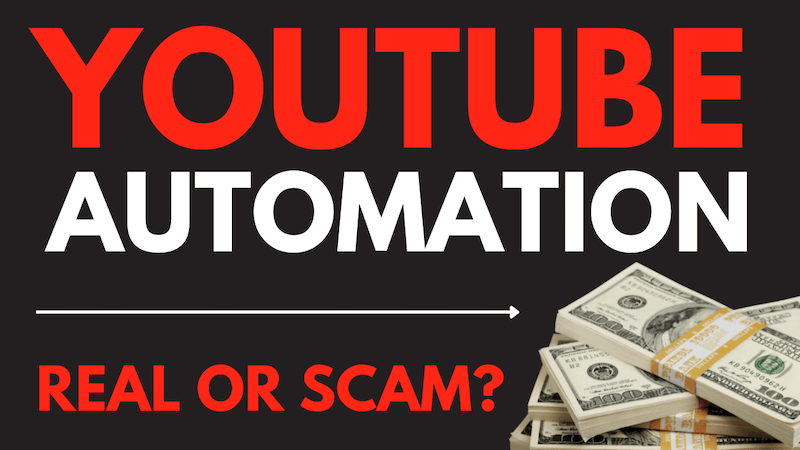 You pay creative people to script, edit, and publish YouTube videos on a channel that you own. Then you sit back and collect the income from that channel as the videos earn money every month.
Many YouTube creators hire freelancers to help produce content. In fact, I'm a full time YouTube creator who pays editors to help me most months. There is nothing unusual about hiring professionals to help produce content on YouTube.
YouTube automation takes that a step further. You hire freelancers to create every part of your video.
You are not on screen or even involved in the video at all. The team (or individual) you hire does it all for you with your direction.
The goal of YouTube Automation is to creative a monthly passive income stream from YouTube after you've invested in the content creation.
Is YouTube Automation A Scam?
In theory, YouTube automation is a business model that can and does work.
You can hire freelancers to create every part of a video for YouTube.
The dream of completely passive income from YouTube automation is a bit more complicated however.
Many of the "gurus" selling courses on how to create cash cow channels are selling a dream that feels much more like a scam.
Why does it feel so scammy?
It feels like a scam because creating YouTube content that earns money is difficult!
Beginners who've never created videos are very unlikely to put together a team that creates content worth watching. If your videos aren't amazing they won't get views and you won't earn money.
The poorly paid freelancers you hire when you're starting out also will need a lot of direction. Undoubtedly without your valid input you'll be wasting money on hiring people.
Many YouTube automation articles and courses sell the dream but it's much more complicated to put into practice. These courses are selling a dream of passive income without being realistic about the effort involved.
For veteran video creators this is a valid business model but finding reliable and professional freelancers is difficult. Directing content that's worth views is difficult even with a good team. Like any online business method this is not a quick or easy method to earn passive income.
YouTube Automation Steps
Still interested in using this model to create income from YouTube? Let's look at how to put YouTube automation into practice.
Here are the steps to creating a cash cow style channel with YouTube Automation:
Choose a niche for your videos.
Pick one of the higher paying or higher view niches.
Find freelancers onsites like Fiverr or Online Jobs PH for the following steps
Hire someone to create video ideas or do keyword research
Pick someone to write a script for your video
Hire someone to record the voiceover or on camera speaking
Choose an editor to put together free or paid video clips and effects
Hire a freelancers to upload and optimize your video
Bonus: hire someone to promote your videos off YouTube too
That's it! You can hire as many freelancers as needed to hit all of these elements of a YouTube video.
You can see how this could get difficult since multiple people will be working on one video. Sometimes you can usually find people to do more than one step. Often the best freelancers are ones that specialize in one thing only.
If someone promises to do it all you will have to wonder why they aren't doing it for their own channel.
In addition to the actual video creation you'll need to either manage these freelancers or hire someone to manage them. Making sure you have a strong workflow and resolve any issues they have will be an important part of the business. If you can find someone you trust to manage this process you can continue to stand back and consider it "automated".
There are other methods of YouTube automation where you can use technology to put together scraped videos. This method can be complicated for beginners and is not the method most commonly discussed under this term.
For an example using python to accomplish an automated channel you can read this article.
How to Make Money With YouTube Automation
Making money with YouTube automation is the same as any creator making money on YouTube.
There are 5 main ways most YouTubers make money:
Ad revenue
Affiliate marketing
Brand deals: Sponsored videos / Partnerships
Community: Memberships / Patreon
Sales: Product sales / merch
With YouTube automation the emphasis is often on earning money just via ads. This means you'll focus on getting as many views as possible to earn the most passive form on income (ads).
In order to make more on YouTube from ads you need to get more people to watch more ads. It's really that simple.
Here are a few ways to make money with ads on YouTube:
Choose a niche that earns decent money from ads (check out Most Profitable Niches On YouTube)
Add more ads to your videos including before the video, after the video and mid-roll ads.
Create longer videos so you can get to the 10 minute mark which enables mid-roll ads.
Make your content binge worthy so the viewer goes from one video to the next.
Create evergreen content that people will be able to watch again and again or find useful any time they find it in the future.
Make videos on popular or trending topics to ride waves of interest and large viewership increases.
Finally, make good videos people want to watch!
Those are a few of the best tips for growing your ad revenue on YouTube!
Want to learn more? Check out these related articles:
How Does This Method Fail?
There are many, many ways for channels to fail while implementing YouTube automation.
Here are some of the ways I've seen people fail while attempting this business model.
Failure to hit monetization requirements. You need 1,000 subscribers and 4,000 watch hours to earn money via ads. Many people give up before hitting this.
Inability to manage a team of freelancers. Using multiple people to create work is difficult and requires a project manager. Most people struggle with managing this effectively.
Poor quality work produced on the cheap. It's tempting to hire the cheapest possible freelancer but this leads to poor quality videos that no one watches.
Any and all of these failure points are ways this method falls apart for people.
While it's not technically a scam, this method of earning money on YouTube is much more difficult than you would expect!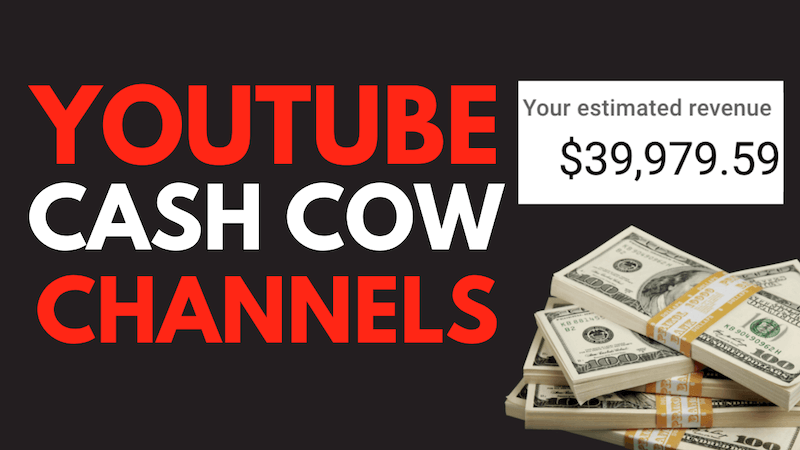 Frequently Asked Questions
Here are some of the common questions I've seen about YouTube automation.
What is the meaning of YouTube automation?
YouTube automation is where you outsource the entire creation of YouTube videos to put on your channel. You earn money from the videos getting views on those videos without doing any of the work.
What else is YouTube automation called?
Something this method is also talked about as cash cow channels, YTA, copy and paste, and more.
How do you automate a YouTube channel?
You can automate your YouTube channel by planning out a video content creation plan. You choose topics in your niche and then hire freelancers to create the actual videos.
Where can you hire freelancers to YouTube videos?
You can hire freelancers for YouTube videos in a number of places:
Is it hard to make money with YouTube automation?
Honestly, it's hard to make money on YouTube at all!
This is a valid way to earn income online and many of us make a full time living on YouTube. But it took me a couple years and lots of work to earn enough money on YouTube to live on.
Most creators give up early on because it's difficult to earn sustainable money on YouTube.
More YouTube Tips & Tutorials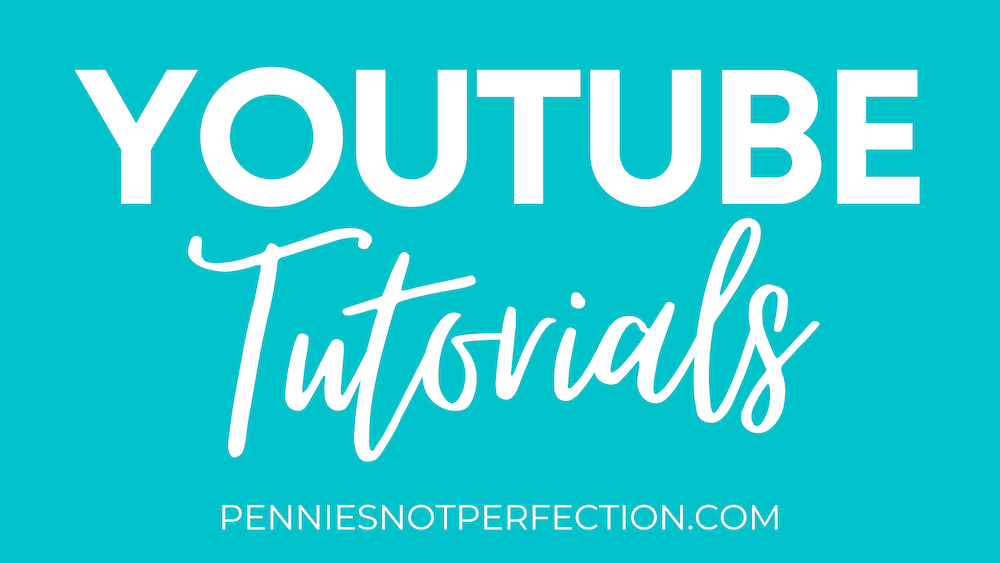 Here are a few useful YouTube tutorials on Pennies Not Perfection:
YouTube Tutorials
Faceless YouTube Videos
Youtube Tips & Tricks
Check out more YouTube tutorials or request a new tutorial by reaching out on Instagram!
If you want to say thank you, you can Buy Me A Coffee.
YouTube Resources
Here are some YouTube resources that can help you start, run, and grow your YouTube channel:

Mary is the founder of Pennies Not Perfection where she shares her journey to build wealth through online income. She quit her day job in 2021 after she paid off her debt and doubled her 9-5 salary.
Mary's favorite free financial tool is Personal Capital. She uses their free tools to track net worth and work toward to financial freedom.
Her favorite investment platform is M1 Finance, where she built a custom portfolio for free with no fees. She shares her portfolio growth and savings progress every month on YouTube.