There are many Etsy SEO tools to choose from and they all claim the best features at the lowest price. You know that your shop needs Etsy SEO to succeed, but which Etsy SEO tools should you use?
It's easy to waste lots of time researching and trying all of these SEO tools.
In this guide we go over the top Etsy SEO tools and look at:
top features
pros and cons
pricing
discounts
These Etsy SEO tools are the ones that will most likely help you improve SEO for your Etsy shop.
(Not even sure what SEO on Etsy means? Check out this Etsy SEO explained post to learn more.)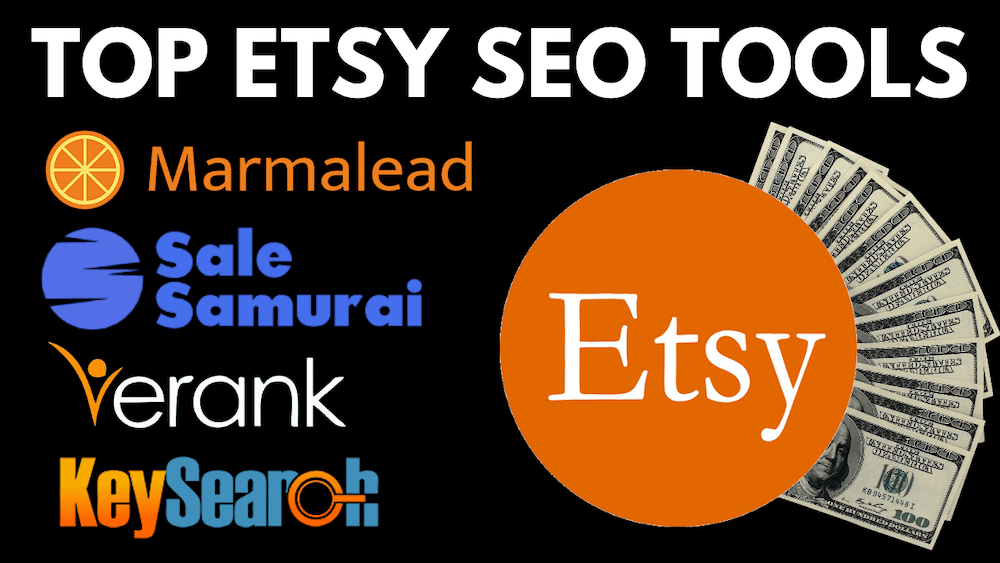 How To Pick An Etsy SEO Tool
All of the SEO tools for Etsy on this page are excellent and can help you improve your shop. So how do you pick just one?
Not every Etsy seller operates the same way so ultimately you'll want to just pick one and try it out.
The best tool is the one that you will actually use consistently!
Pick one of the Etsy SEO tools on this page and sign up. Use it for a while and see if you like the workflow to improve your shop's SEO. After a little bit of time you will be able to tell if you like the actual tool from the look of it to the information it gives you.
Turns out you didn't like that first SEO tool?
Try another!
Not every seller wants or needs the same thing which is why there are a variety of tools to help.
As a business owner it will be up to you to find the right one for your business needs. All of the SEO tools on this page are ones I've looked at and sellers have proven effective. You can't go wrong with any of these!
The Top Etsy SEO Tools
In this section we will look at each SEO tool and break down reasons why it might be the right option for you.
Remember, these are the **TOP** tools for SEO on Etsy not the only ones. There are many others and I get emails from new businesses all the time wanting to be included. I keep this list tight to companies that I know have helped others and will likely be around in the next few years. Unknown tools can be amazing and I test out a lot of them but this list is full of proven tools that can help you succeed!
Now let's look at the best SEO tools for Etsy and see how the features and prices differ.
Marmalead is the first SEO tool that comes to mind for many Etsy sellers.
It's the tool that many sellers have used to find sales via SEO because it works. It was also one of the first SEO tools out there and continues to add features that keep it on top of the list.
It's also a fantastic tool to help learn what products actually sell and that helps you figure out what products you can add to your shop.
Marmalead Features
Easy to navigate with a pleasing user interface
Product ideas with trending searches, keyword suggestions, similar searches data
Analytics for search volume, engagement, seasonality, forecasting, comparison
Tools like graded listings, visibility optimization, application
Ability to connect multiple Etsy shops
Access to their entrepreneur course library
Great tech support and customer service
Lots of additional seller information and knowledge opportunities
Marmalead Pros
Detailed analytics translated to action steps
Easy to understand SEO data
Extensive library of seller information
Ability to manage more than one shop
Courses and information included in pricing
Consistently updated and upgraded with new features
Over 100,000 sellers have used it successfully
Marmalead Cons
Higher price point than other SEO tools
Large amount of tools and info means a longer learning curve
Many sellers don't need all of the tools and info included
No scaling tool available currently
Marmalead Pricing
Marmalead is currently $19/month
If you pay annually you get a discount to $15.83/month.
Try Marmalead out for your Etsy SEO needs!
Sale Samurai is a newer SEO tool but it's actually the one I personally have used the most.
This SEO tool was created by e-commerce veterans who previously automated Amazon ads for large sellers and have huge insight into AI, analytics, and how to use data to make big moves.
Sale Samurai comes in at a lower price point and provides all the analytics, keyword data, and comparison tools you need to scale your Etsy shop. They focus on long-tail keywords and the AI driven tools provide robust information you can implement immediately.
Another thing Sale Samurai does is help scale print-on-demand products. If you want to sell digital products that create passive income then this tool is perfect. You can integrate directly with multiple print-on-demand partners to put your designs directly on hundreds of products.
Sale Samurai Features
Analytics for search volume, tags, price spread, shipping days and more
Chrome extension so you never have to leave Etsy for researching ideas
Advanced filtering options and downloadable data
Competitor insight with customer driven data for price points, views on products, shipping, etc.
Keyword tools driven by AI with real Etsy search volume
Integration with multiple print-on-demand partners
Scaling tools to help grow your business with additional products
One click automation for print-on-demand products
See our full SaleSamurai review for more
Sale Samurai Pros
Useful keyword data and suggestions
Easy to use and understand SEO grading system
Lots of competitor data you can utilize
Print-on-demand growth services
Fair pricing and a free trial
Sale Samurai Cons
No courses or seller tips included
Lack of community some other tools have
Less resources on how to use it
No live chat support so you have to email
Sale Samurai Pricing
Sale Samurai is currently $9.99 / month
You can pay yearly for $99.99 / year
Use code penniesnotperfection for a 20% discount
Try Sale Samurai to improve your Etsy shop!
Erank
eRank tends to make it on all the top lists for Etsy SEO tools because it has the most affordable options. In fact, it's one of the only ones with a free plan!
eRank packs in a lot of features you can access for free. Many new sellers start with eRank and migrate to other SEO tools if they end up not liking the busy interface. It can be hard to navigate and overwhelming to use at first but you can't beat the price to start!
For any Etsy sellers just starting our eRank is an SEO tool worth trying. You can always upgrade to another plan or try another tool as your income grows.
Erank Features
Keywords research tool to discover real keywords used
Ability to analyze the top listings for any keyword
Bulk rank checker to keep an eye on your top 20 keywords
Listing audits, analytics, and change tracking
Monitoring tools for your listings rankings
Ability to save up to 2,500 keywords that will update daily
Profit and ROI calculator tool to make sure you earn enough money
More tools like hashtag generator, color thesaurus, tag reports, inventory reports and more
Erank Pros
Free version is free forever! not just a trial
Simple tools that work well for individual tasks
Lots of data packed into all the different tools
Provides tons of keyword data
Listing tools provided cover all important elements
Erank Cons
The data isn't as easy to understand as other tools
Hard to navigate and find all the tools and data you want
Free package limits the number of things you can look up daily
The paid packages offer more than the free version
No chat support just email support only
Erank Pricing
Erank's most basic option is completely FREE forever
Erank's popular basic plan is $5.99 / month
The PRO plan is $9.99 / month for advanced sellers
Try eRank to see if it's the right SEO tool for you!
Keysearch
Keysearch is powerful SEO tools that provides information in a simple way that allows you to make good choices quickly. While it is not marketed as an Etsy only tool, I've found using a larger SEO tool is very helpful for advanced sellers.
You can run searches quickly and each search provides estimated volume, competition, and suggested additional keywords ideas. Since Etsy SEO now includes listing descriptions I like to use the data from Keysearch because I know it will improve my Etsy listing on Etsy and other websites and search engines.
The platform also includes additional SEO tools. You can analyze competitors and track keywords you've researched so you can continue to try new things with your SEO.
Keysearch is actually my preferred keyword research tool because I use it for everything: blog SEO, YouTube SEO and Etsy SEO. I use the keyword information to make content for all of these platforms! If you are using these other platforms to promote your products then you should likely use an SEO tool that helps with them all.
Keysearch Features
Easy-to-use web-based keyword research tool
Keyword difficulty checker
Keyword suggestions for any keyword
SEO competition analysis
Rank tracking, competitive analysis, content assistant
Keysearch Pros
Lots of SEO data you can use for Etsy and promoting products
Uses data from real search engines not just Etsy
Gives a lot of related keyword ideas you can use
Offers insight to multiple platforms
Offers a one month free trial (test it out or get a lot done in one month)
Keysearch Cons
Not focused 100% on Etsy SEO
No on page grading for Etsy listings
Focused more on website and YouTube SEO
Keysearch Pricing
The Starter plan is $17 per month
The Pro plan is $34 per month with more features
There is a 1 month trial for FREE.
Try Keysearch for your Etsy SEO needs!
Getting Started With An Etsy SEO Tool
There are some of the best Etsy SEO tools! They've all helped sellers I know grow their shops via SEO.
Each of these tools has their own unique spin on using the data to improve SEO on Etsy. Many of the features overlap and some tools have tools special to just their platform. You'll need to examine your shop to see which features fit best with your situation.
If you are desperate to get started then you likely should start with the free eRank plan. You can make some changes, try some new keywords and tags, and get more comfortable with using any SEO tool at all. Starting with a FREE tool is often the best plan before you invest with money and time.
How Much Do Etsy SEO Tools Cost?
We looked at the pricing of each SEO tool above but let's do a little comparison.
Marmalead
Sale Samurai
$7.99 per month with 20% off discount
Keysearch
eRank
FREE plan available
$5.99 or $9.99 per month for advanced plans
Those are the current prices for these Etsy SEO tools. I'll try to keep this list updated as pricing changes due to inflation or additional tools. If you see an out of date price please let me know!
More Etsy Tips & Tutorials
Etsy was a life changing side hustle for me. Selling digital products on Etsy allowed me to quit my job and grow a business to support my family.
That is why I love sharing what I've learned as an Etsy seller.
Here are a few useful Etsy tutorials on Pennies Not Perfection:
And here are some useful Etsy handbook guides:
Selling on Etsy can be a life changing if you learn how to grow your sales and get steady traffic.
It's something that I've seen change multiple people's lives. I wish that for you and hope this resource can help you make it happen!