You can save a lot of sales by creating an Etsy abandoned cart coupon code for your customers.
If someone puts your item in their cart but doesn't buy it, you can send them a special discount code to try and get them to finish their purchase.
You can watch the video tutorial for creating an abandoned cart coupon here.
How To Create An Etsy Abandoned Cart Coupon
Creating an abandoned cart coupon on Etsy is simple and can help you recover sales for your shop. It's an easy automated process that can run for your shop in the background to help increase your sales.
Here is how to create an abandoned cart coupon on Etsy:
To set up an Etsy abandoned cart campaign, follow these steps:
Login to your account at Etsy.com 
Click on Shop Manager in the top menu
Click Marketing in the left menu
On the popup menu, click Sales and discounts
Click Create a new offer black button
Under "Send offers to interested shoppers" click the Setup offer black button
Under "Who would you like to send this offer to?" click the 'Abandoned cart shoppers' toggle
Finish the rest of the steps to complete the coupon (learn more about Etsy sales here)
Click Review and confirm black button
Review on the next page then click Launch campaign black button
Your abandoned cart discount will start running and be sent to relevant customers from this point as long as the campaign is active.
What is an abandoned cart coupon on Etsy?
The abandoned cart coupon campaign on Etsy is a message you send to potential customers who started the check-out process on your shop but did not finish.
When products are placed in a shopping cart online but not purchased the card is considered "abandoned" by the customer.The abandoned cart coupon campaign sends an email to these potential customers. Shoppers may then click through to return to your store and complete their purchase at a discount.
Trying to recapture these customers is a vital part of increasing your shop's conversions to sales.
Sending a discount code to these abandoned cart customers can help you recover those sales.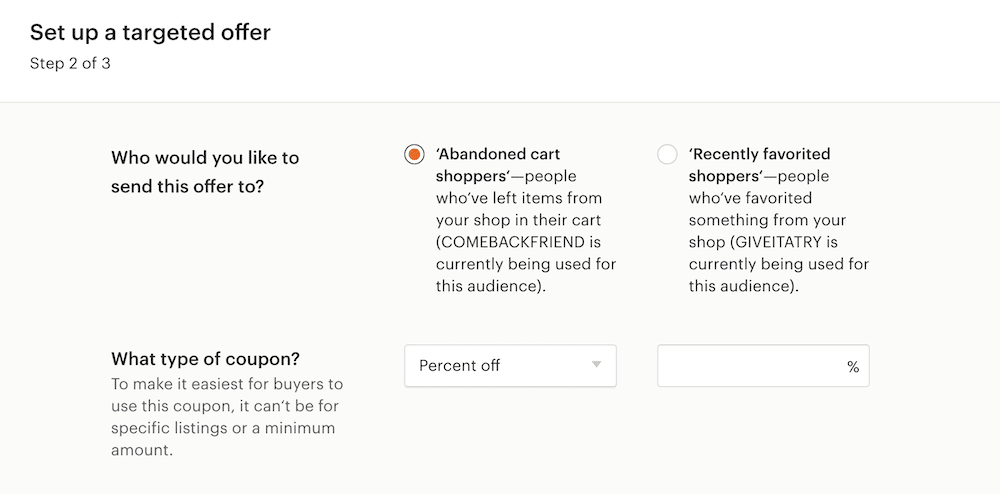 Etsy Abandoned Cart Coupon FAQ
The abandoned cart coupon is an often ignored tool so below we are answering some common questions about this tool.
How long will my targeted offer last? 
An abandoned cart campaign will run until you decide to stop it. To stop your campaign you can do so by choosing Details under the specific targeted offer on your Sales and discounts page.
Why didn't someone receive my discount code?
Etsy sends out the abandoned cart discount code as much as possible, but not all shoppers will receive it.
Some Etsy shoppers have opted out of receiving this type of discount and it will not be sent to them. You do not have any control over this since Etsy runs all of this.
What is an average abandoned cart rate?
This topic has been widely studied and those studies place abandonment as high as 80% AND as low as 55%. The averages you will find from most sources places it around 75&-77%
That means 3/4 of shoppers on average will choose to leave instead of making a purchase.
That is why creating an abandoned cart campaign is so helpful.
More Etsy Tips & Tutorials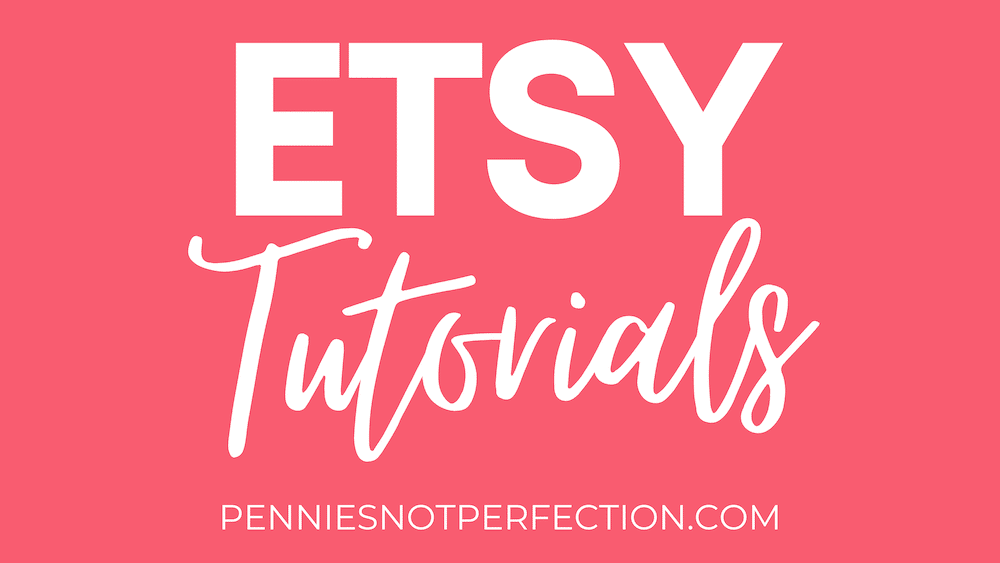 Here are a few useful Etsy tutorials on Pennies Not Perfection:
Etsy Tips
Check out more Etsy tutorials or request a new tutorial by reaching out on Instagram!
If you want to say thank you, you can Buy Me A Coffee.
Etsy Seller Resources
Here are some Etsy seller resources that can help you start, run, and grow your Etsy shop:

Mary is the founder of Pennies Not Perfection where she shares her journey to build wealth through online income. She quit her day job in 2021 after she paid off her debt and doubled her 9-5 salary.
Mary's favorite free financial tool is Personal Capital. She uses their free tools to track net worth and work toward to financial freedom.
Her favorite investment platform is M1 Finance, where she built a custom portfolio for free with no fees. She shares her portfolio growth and savings progress every month on YouTube.