Selling digital products on social media is great, but you don't own those platforms. They can go down, change the rules, or kick you off at any time. If you want to build a strong business selling digital products then you need to sell via your website and email list. In this tutorial I'll show you how to sell digital products via email with ConvertKit.
You can check out other posts to learn how to sell via your own website like this one: How To Sell Digital Products On Shopify.
If you are relying mainly on social media or Etsy then you need to start building your email list. It's one of the few things you own and control 100%. It's the only way you are guaranteed access to communicate with your customers.
When you build an email list with ConvertKit you are also able to sell digital products directly to your audience with this powerful tool.
In this tutorial we will look at how to sell digital products via email with ConvertKit.
Selling Digital Products With ConvertKit
In this ConvertKit tutorial I walk through how to add a digital product to your account so that you can sell it to your email list.
Why Build An Email List With ConvertKit
If you aren't building an email list to sell your products then you should start ASAP. Email lists are the one way you have to reach your customers and audience when social media goes down. It needs to be part of your strategy while creating a business around digital products.
But why use ConvertKit to build your email list? Why not use any of the other email marketing platforms?
Personally I chose ConvertKit because they are leading the way in allowing creators and business owners to make a living via their email list. Most of the other platforms eventually copy the same features but they are reactionary instead of driving the charge. I personally love supporting companies that are helping creators make income online.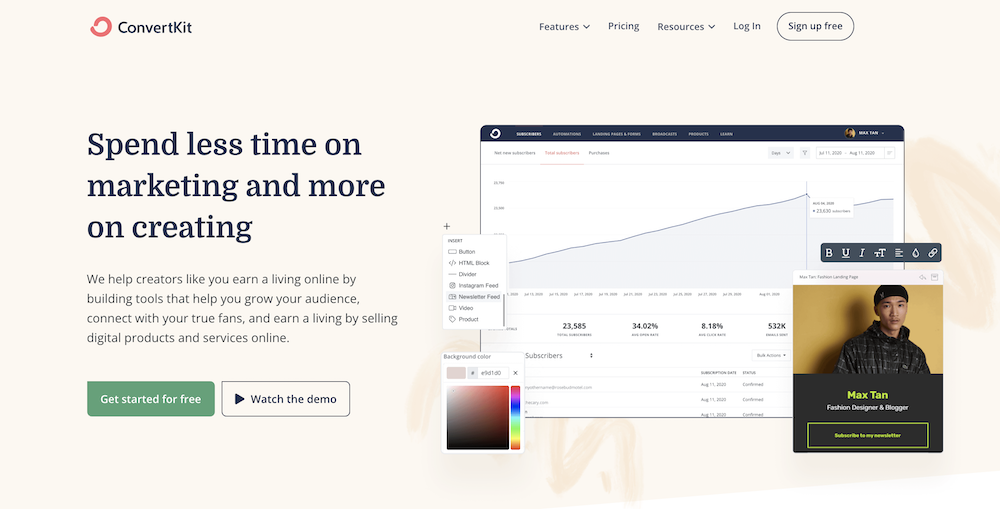 There are a number of other reasons why ConvertKit is an amazing choice for building your email list:
Autoresponders/drip campaigns. You can create and send a sequence of prewritten emails automatically with powerful list segmenting to send the perfect emails to customer who take certain actions.
Broadcast emails. You can send regular newsletters or one-time emails to your subscribers on your email list.
CAN-SPAM, GDPR, and CASL compliance. There are laws that guide how you can send commercial emails so you need to comply with them. ConvertKit makes sure you are in compliance with these rules.
Beautiful email content. Have you seen the emails people send from ConvertKit? They are beautiful. The design is always better than other email providers and you can customize your email content to show different text or images and also make it dynamic based on segments of your audience.
Responsive email templates. ConvertKit has many beautiful email designs ready to be used. They are perfectly crafted to look good on all devices.
Easy to use email editor. The built-in email editor shows you how your emails will look as you go and the editing process is incredibly simple.
Custom landing pages. With a ConvertKit plan you can create landing pages quickly and easily to grow your list. All of the pages are beautifully designed and responsive so they automatically format for devices.
Sell products. You can set up a landing page and collect payments for digital products as a one time sale or even subscription products. All within your ConvertKit account.
And more! ConvertKit literally has so many features you can write thousands of words about why it is an amazing platform to use.
I actually resisted using ConvertKit for a while because I thought it couldn't possibly be worth the price when I had a free MailChimp plan. Once I switched I realized how much the frugal based mindset had held me back with email marketing for my business.
Those are a few reasons why I chose ConvertKit and why I think it's a great option for any creator or small business owner.
Why Sell Digital Products ConvertKit
After using multiple email marketing providers since starting my business, I've decided the best email marketing platform for digital product sellers is ConvertKit.
I had previously used FloDesk and MailChimp but switched to ConvertKit because they are focused on helping creators make a living online – one of my passions in life as well! They also offer the best designs, most functions, and best overall platforms for creators wanting to monetize.
They also offer a ton of free education and tools to help you make more money.
ConvertKit email marketing sells more products than most social media efforts. That's because you are sending your products and offers to people who already know, like, and trust you. People who are already on your email list are much more likely to buy from you. This is why email marketing is incredibly important and should be at the top of your to do list.
ConvertKit makes it easy and cheap to get started and can scale with your business growth. You can start with a free plan and move up to the higher paid plans later when you make more money or need more tools.
The best feature of ConvertKit is the ability to sell your digital products in your emails!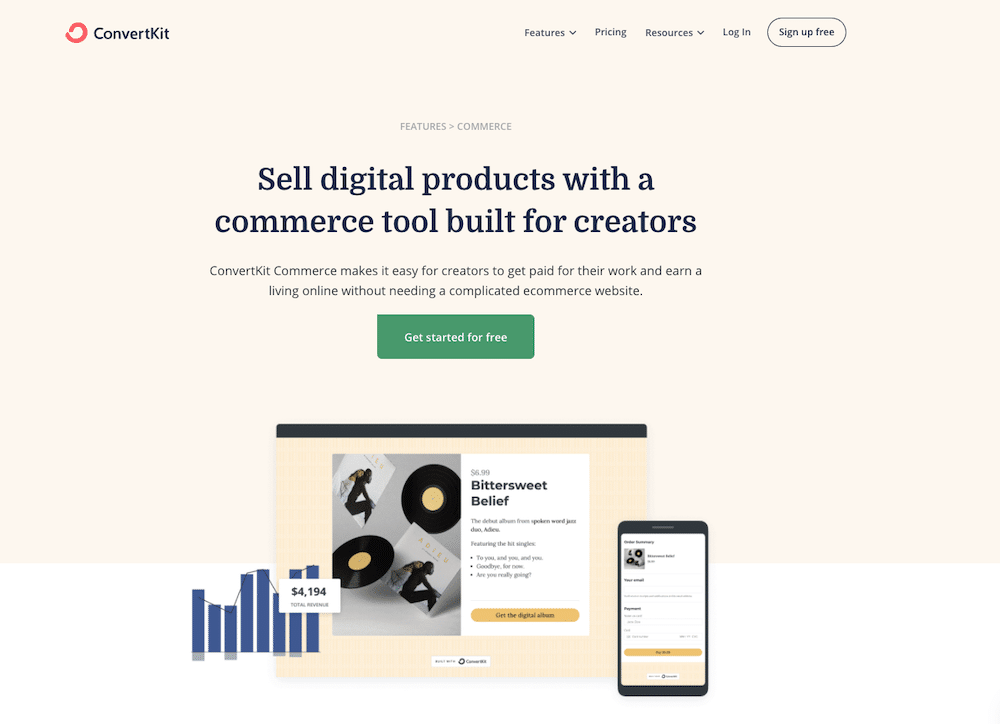 That's right, you can sell digital products and deliver them straight through ConverKit.
This allows you to provide customers multiple options to get your digital products. This reduces sales friction and opens you up to new passive income opportunities with your digital products.
Digital Product Ideas
Are you convinced to sell digital products but not sure what to create?
Check out these resources for lists of digital products you can create and sell to grow your own passive income streams!