Are you trying to make money on YouTube? If so you probably want to know how long does a YouTube video have to be to make money?
Lots of new YouTube creators want to know if short YouTube videos actually make more or not. In this Youtube guide we will look at how long videos need to be to make money.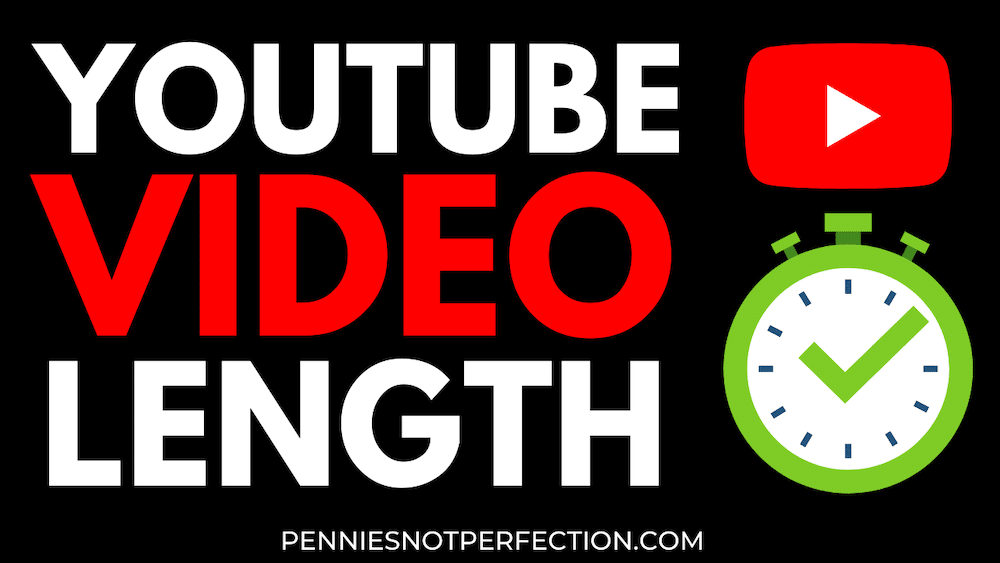 As a full time YouTuber I've played around with lots of various video lengths. Making money on YouTube feels amazing but it's powered by lots of hard work, testing, and data.
There are many factors that impact how much money you can earn with a YouTube video. One of those factors is video length.
In this YouTube monetization guide we will look at how video length affects earnings and CPM. We will also cover the minimum AND the best YouTube video length for monetization.
Let's get started by looking at the minimum video length for YouTube monetization.
YouTube Minimum Video Length for Monetization
Is there a minimum length for a YouTube video for it to be monetized? How long does a YouTube video have to be to make money? How long should a video be to have ads?
These questions often come up with YouTube beginners.
Thankfully there is no minimum video length for monetization on Youtube. You can make money on YouTube with videos of any length.
Regardless of length your YouTube videos will still need to follow all other monetizations rules and guidelines to be eligible.
Can you monetize videos under 1 minute?
Is it possible to earn money on YouTube from videos less than 30 seconds? Can you monetize videos under 1 minute?
Many people want to make short videos but still monetize them on YouTube.
Luckily with the YouTube partner program you can make money with videos under 1 minute. These videos can still show ads before and after they play.
In fact, some creators make a lot of money with short videos. You can make short videos that viewers watch one after another with ads playing in between. This is a solid strategy to make money on YouTube.
The screenshot below shows one of my videos that is under 1 minute but still earning money.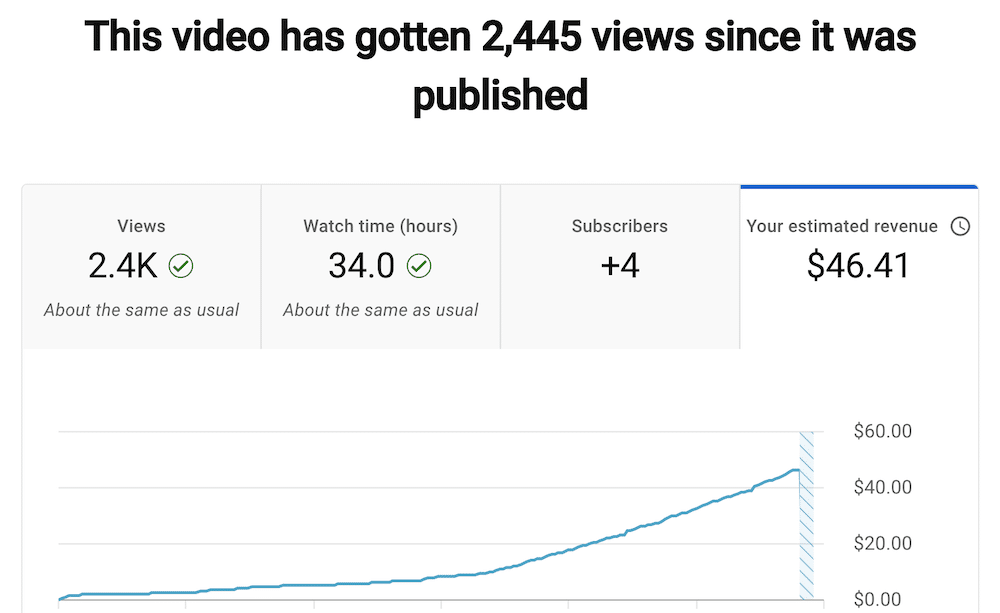 As you can see from this example, videos under 1 minute can be monetized. They will earn money just like any other video on YouTube.
This video took me less than 5 minutes to make and upload but it will continue making money for months to come.
Best Video Length For Monetization
The best video length for earning money on YouTube is the length that shows the most ads to viewers.
YouTube allows mid-roll ads in videos that are a minimum of 8 minutes long.
This means videos 8 minutes or longer can show more ads per viewing than shorter videos. This results in more money earned from ads.
The best video length for monetization is 8 minutes or longer. This is because you will earn more money from more ads being shown.
When you create longer videos with mid-roll ads you will want to balance monetization and user experience. If you place an ad every 30 seconds you will lose a lot of viewers forever. You want to increase the ad revenue without turning viewers off.
Testing YouTube Video Lengths
Just because longer videos often earn more doesn't mean they are right for your channel.
If you are better at creating short-form videos then focus on creating those shorter videos. Try to get these short videos seen by more people to earn more money.
Testing out different video lengths with your audience is a great way to find out where you can earn the most money while still creating quality videos.
If you want to earn the most money possible per video then you should aim for longer videos. You will be able to monetize with mid-roll ads and then also add in sponsorships with brands or affiliate marketing.
Videos on YouTube will earn money at any length. You have to decide what is right for your channel and video style.
You can see from my YouTube videos that I experiment with length often. Some of my shorter videos consistently earn more money than my long ones. A two minute video can earn many times what a 10 minute video earns if it gets more views.
Always focus on the quality of your videos. This will lead to more views and ultimately more money.
More YouTube Tips & Tutorials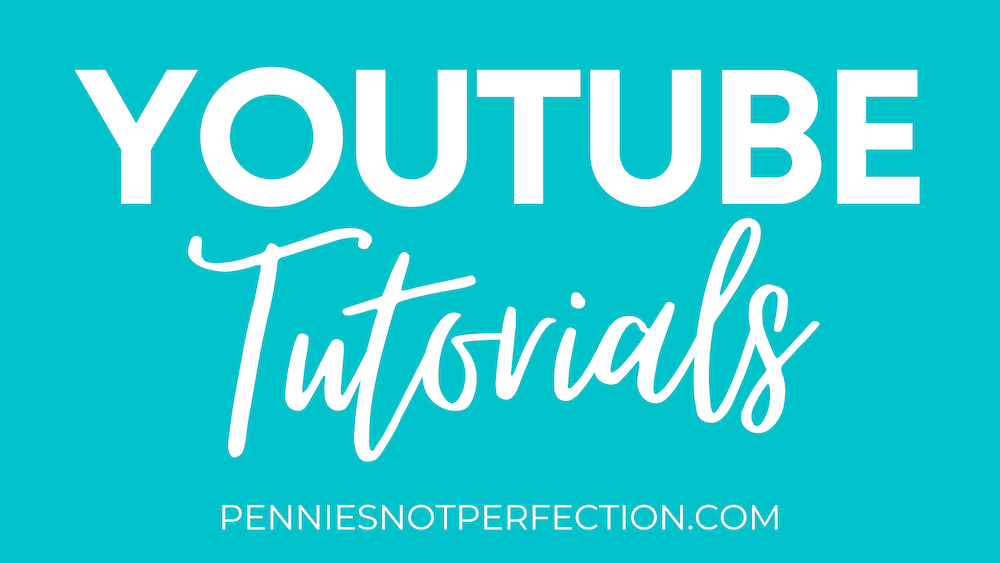 Here are a few useful YouTube tutorials on Pennies Not Perfection:
YouTube Tutorials
Faceless YouTube Videos
Youtube Tips & Tricks
Check out more YouTube tutorials or request a new tutorial by reaching out on Instagram!
If you want to say thank you, you can Buy Me A Coffee.
YouTube Resources
Here are some YouTube resources that can help you start, run, and grow your YouTube channel:

Mary is the founder of Pennies Not Perfection where she shares her journey to build wealth through online income. She quit her day job in 2021 after she paid off her debt and doubled her 9-5 salary.
Mary's favorite free financial tool is Personal Capital. She uses their free tools to track net worth and work toward to financial freedom.
Her favorite investment platform is M1 Finance, where she built a custom portfolio for free with no fees. She shares her portfolio growth and savings progress every month on YouTube.