Whether you are a blogger or YouTuber or building an online business, you should try making money through affiliate marketing. It is one of the best and fastest ways to make money online.
As a YouTuber I regularly earn $3,000 – $5,000 a month from affiliate marketing without a lot of extra work. It's one of my most passive income sources yet earns me hundreds of dollars each week.
Affiliate marketing is a great way to start earning money as a beginner. You can get started making money with affiliate marketing before many other methods like ad revenue.
My Favorite Affiliate Marketing Platforms
If you are just here to get some places to sign up to make money, here are my favorite platforms where you can find affiliate programs to apply for and earn money with affiliate marketing.
How to Make Money with Affiliate Marketing
If you want to start making money with affiliate marketing right now then you are in the right place.
You have likely heard about affiliate marketing before. Maybe you heard of it in a sleazy way like influencers who take advantage of it or in an inspiring way like how Michelle from Making Sense of Cents earns $50,000 per month from affiliate marketing. Or maybe you have no idea what affiliate marketing is and you just landed here because you know want to make money online.
I wrote this complete guide to making money with affiliate marketing because it's something I love doing and many of my fellow YouTubers continually asked for advice in masterminds. They wanted to know how I earned more in affiliate income than advertising most months during my income reports. Like me, they were inspired by people like Michelle who were making tens of thousands of dollars every month while only working 10 hours a week and traveling the world. They wanted to know how I got started and how I make money with affiliate marketing so this post is my answer.
Making money with affiliate marketing is not hard and it doesn't have to feel bad. You are providing a service of connecting people with services or products they need and your commission on a sale compensates you for that work – at no cost to the customer!
If you want to better understand what affiliate marketing is and how to make money from it then this post will be for you. I wrote this guide to share everything you need to know to get started as a beginner, share my best tips on making money, and give you actionable steps so you can get started earning as well.
What is affiliate marketing?
Affiliate marketing is where you promote products to your audience and then earn a commission when someone makes a purchase through your unique affiliate link.
Basically you earn money by selling other people's products.
The commissions for those sales can range from 4% to 70% of the product sales price.
As you can see, you can earn major amounts of money when you are earning 50% or more of a product price without having to create the product.
Affiliate marketing works in the same way as many old school referral programs and allows people to earn money through their blog or social media platforms by talking about things they love. It actually works well for all parties involved because you are only paid when you make a sale, it does not increase consumer cost, and the company providing the product does not have to pay upfront in case you don't provide sales.
What are affiliate programs?
There are affiliate programs for all types of products and in every industry.
There are affiliate programs where you can earn money promoting clothing, makeup, crafts, credit cards, bank accounts, ebooks, online courses and more. Regardless of what you plan to talk about online there will be an affiliate marketing program that will fit into your niche.
Affiliate programs will pay commissions in three different ways:
Pay per sale: You will earn a commission only when someone makes a purchase through your affiliate link.
Pay per lead: You will earn a commission if someone signs up for a free trial or creates a free account or somehow otherwise gives a company their email address as a lead.
Pay per click: This style of program is where you are paid money whenever someone clicks through one of your links.
There are many types of affiliate marketing programs but the most common one is pay per sale. That is what I will be referring to and giving tips to since it is what I use the most.
Is affiliate marketing scammy?
Affiliate marketing had a really bad reputation for a while.
This happened because some people abused the system in bad faith and were scammy about it. Now affiliate marketing is a much more popular and regulated industry. Legally affiliate links must be disclosed and there is more in place to protect consumers.
It is a great way to earn money and to help your audience connect with the products they need that you do not provide.
By recommending products you actually love you are adding value for your audience. You are connecting them to something they need but didn't know about until you made the introduction.
Personally I only ever recommend products I love or have used myself and think will add value to my audience. My motto is "if I wouldn't recommend it to my mom, I won't recommend it to you."
This lets an audience know that they aren't stumbling through products by chance but instead are able to trust your recommendation.
Yyou not you should promote an affiliate product, A great rule of thumb is to consider whether you would share it with your friends or family or not.
Affiliate marketing is amazing because you get paid for telling people why you love something!
Is affiliate marketing legal?
Affiliate marketing is a legal and common online practice where content creators and major companies earn revenue.
There are guidelines from the FTC about what you can and can't do with affiliate links. You will need to include disclaimers on your site and disclose that your content has affiliate links included in the content.
The guidelines from the FTC mean you should disclose you are making a commision for the links on your site. It must be:
Clear and conspicuous where it can be seen
Easy to notice by anyone using your site
Easy to understand and not confusing legal jargon
Free of distraction
As long as you are being upfront and sharing information about your affiliate links then you have nothing to worry about when doing affiliate marketing.
How is affiliate marketing different from referral programs?
People are very used to "referral links" where someone recommends a product or service they use via a link inside their account. In return for the referral you may get a free month or other benefit from the referral. It's a common way apps grow their user base.
An example of a referral program I promote is Robinhood. They do not have an affiliate program but when I refer people to Robinhood I get a free stock and the new person signing up get a free stock.
Affiliate marketing programs are different because they are special partnerships that not everyone has access to. Many have special requirements like a certain number of followers or website traffic and some even require a certain number of signups per month.
Affiliate marketing programs most often give affiliates cash or a similar form of compensation for their work to create sales through driving traffic through their links. An example of affiliate programs are when someone signs up for a program I've shared and I receive $50 in return.
What are the benefits of affiliate marketing?
There are so many benefits to using affiliate marketing as a way to monetize your online business / YouTube channel / blog. It's a great source of income for content creators like bloggers and YouTubers (I know from experience with both).
A few of the benefits of affiliate marketing:
Easy to get started. It's the easiest way to get started making money online. You find affiliate programs you want to join either directly or through affiliate marketing program marketplaces (many listed below).
Passive income. Once you've created your content containing affiliate links you are done with the upfront work. You can create one piece of content like a blog post that continues to earn you money every month because it gets good amounts of traffic and has affiliate links.
Great for newbies. Affiliate marketing is amazing because it is one of the best ways to earn money before you have a huge audience. If you have a very niche audience or just a small audience because you are new then you can still earn a decent amount of money with affiliate marketing.
Those are a few of the biggest benefits of affiliate marketing. It is definitely one of the best ways to monetize as a beginner and many people earn hundreds or even thousands of dollars withing a short time frame.
Why is this a great way to monetize for beginners?
I always recommend beginners start monetizing with affiliate marketing. It is the best way to earn money quickly with the best risk and reward ratio.
I say this because most new creators are not getting much traffic. Without traffic ads will result in very low rewards. It's easy to implement but ads do not earn much without scale.
Creating products is another method but much harder. Products require a lot of upfront work, and may flop because as a beginner you don't have an audience.
Enter affiliate marketing! You don't have to create the product but can earn a large commission if you can sell the product.
Affiliate marketing is also great because as a beginner it lets you try out different things. You can try multiple different affiliate programs and try promoting different products. Maybe you promote something and no one is interested. That is ok because it's not your product and you can just move on to the next one.
Once you find something that works you can replicate your success and continue to grow your income with affiliate marketing.
The great thing is that all the things you've done in the past that worked can be passive income as you continue to grow!
How to Get Started with Affiliate Marketing
Getting started with affiliate marketing is pretty easy.
If you are a YouTuber, add affiliate links to the description box and pinned comments on your most popular videos.
If you are a blogger, add affiliate links to your blog posts especially the ones bringing in the most of your traffic.
Many people start their affiliate marketing with Amazon Associates program that allows you to link to Amazon products and earn a small commission from anything that customer purchases on Amazon.
The affiliate program at Amazon has low commissions and only a 24 hours cookie length but it can be a great way to get started and earn money ongoing.
If you want to get started on Amazon, these tutorials can help:
I use the Amazon affiliate program sparingly but still earn a couple hundred dollars most months.
Finding Affiliate Marketing Programs
In addition to Amazon you can find many different affiliate programs within your niche.
Niche specific affiliate programs are the ones where you will ultimately have the most success and earn the most money. There are so many affiliate programs out there and there are single products and services in each program. You can find products from fashion, beauty, travel, home goods, personal finance and more.
To find these programs you will want to use Google to search for things like "pet products affiliate marketing programs" or "fitness affiliate marketing programs" to find affiliate programs in your niche.
When you search for affiliate programs you will come across both affiliate programs and affiliate networks when you are trying to find programs to use.
Affiliate programs are independent affiliate marketing programs run by the company that you will be promoting.
Affiliate networks are sites that give you access to many different affiliate programs in one portal.
One of the most popular affiliate networks is Awin. Here you can join one network have access to thousands of affiliate programs in one place. Affiliate networks make it easy to try multiple programs and stay organized.
You should make sure that you are only joining affiliate programs that fit your audience and their needs instead of chasing every single shiny object and high paying affiliate program.
My personal favorite affiliate programs have been ones I found within the affiliate network ShareASale but that is just worked for me and there are many others out there.
Best Affiliate Marketing Programs & Networks
If you are here and want to know where to earn money with affiliate marketing then you probably want to know what the best affiliate marketing programs are to join. I'll be going over my favorite affiliate networks which give you access to many programs inside them.
Affiliate Networks
I have incorporated affiliate networks into my affiliate marketing strategy and it's been one of the best strategies because it has allowed me to find more programs than I could have found on my own.
These large affiliate networks connect you with many affiliate companies and products that will earn you money. You can also use these affiliate networks to search for popular products to promote.
ShareASale – ShareASale is an affiliate network which means it is a platform where you can sign up for multiple affiliate programs within it. There are many great programs within ShareASale.
An example of how to use programs within this network is how my niche of budgeting planners use the Erin Condren affiliate program in ShareASale
The Erin Condren affiliate marketing program gives you 10% of each sale you refer to them which is often quite high since their average sale is $73.71 and your viewers are likely to be planning to buy there anyway because planner YouTubers are promoting products from a planner company.
It's a great program and I routinely earn money from it even though I don't use Erin Condren products! If you do you should get paid for your efforts instead of only getting free products through referrals.
I've also created a video about how to create affiliate links in ShareASale to make it super easy for beginners:
To promote Erin Condren, Etsy, or any other program they offer, you should go start an account with ShareASale.
Awin – This is another affiliate network where you can sign up for multiple programs in one place. There are many good programs here and Awin consistently earns me hundreds of dollars monthly.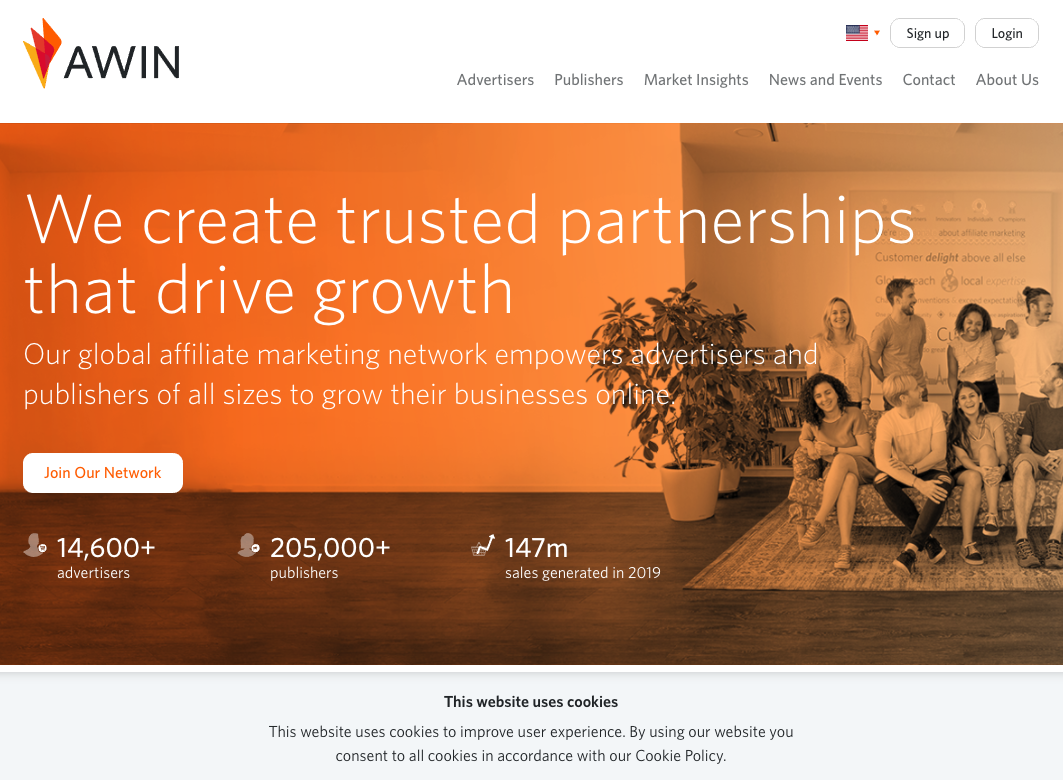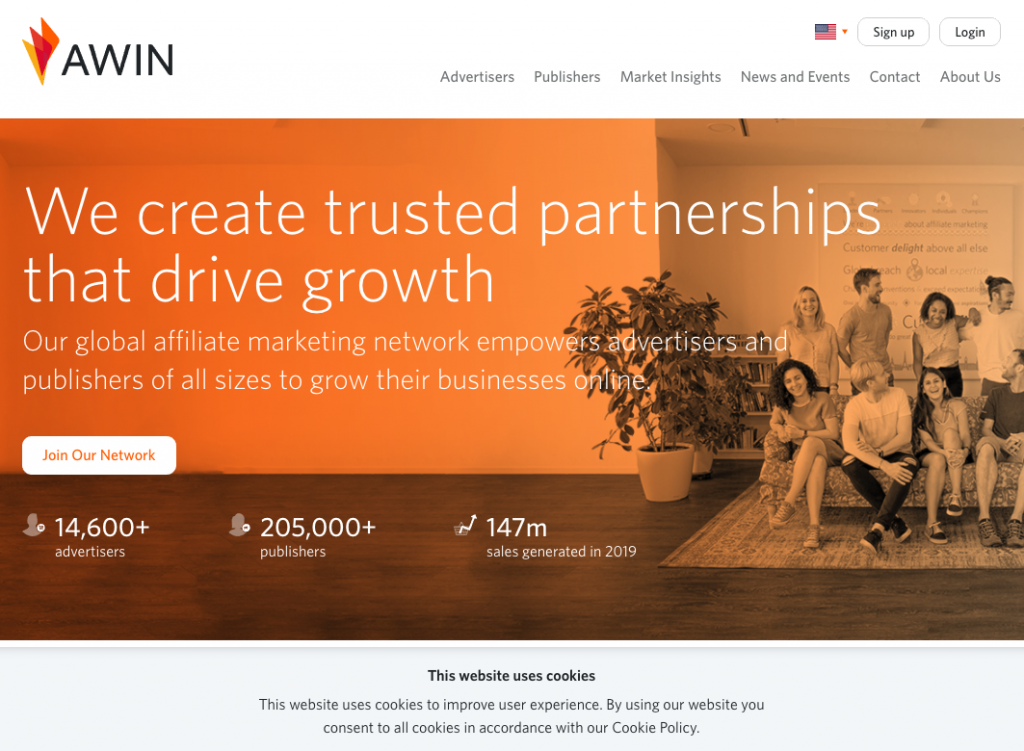 An example of a company I promote in this network is Etsy.
That's right, Etsy has an affiliate marketing program! They offer their affiliates 4% of anything someone purchases through an affiliate link. While 4% isn't much, it can really add up if people are buying many items.
(I signed up for the Etsy program with Awin, but it is also offered by ShareASale now too.)

I highly recommend you use the Etsy affiliate program to link to your favorite shops on Etsy. It is a great way for you to earn money by promoting small businesses on Etsy.
To promote Etsy shops or any of the other programs this huge network offers you should go start an account with Awin.
FlexOffers is an affiliate network that has many high paying affiliate programs so it's a great option if you have a channel about budgeting or any financial topic and want to get into some higher paying affiliates or promoting credit cards.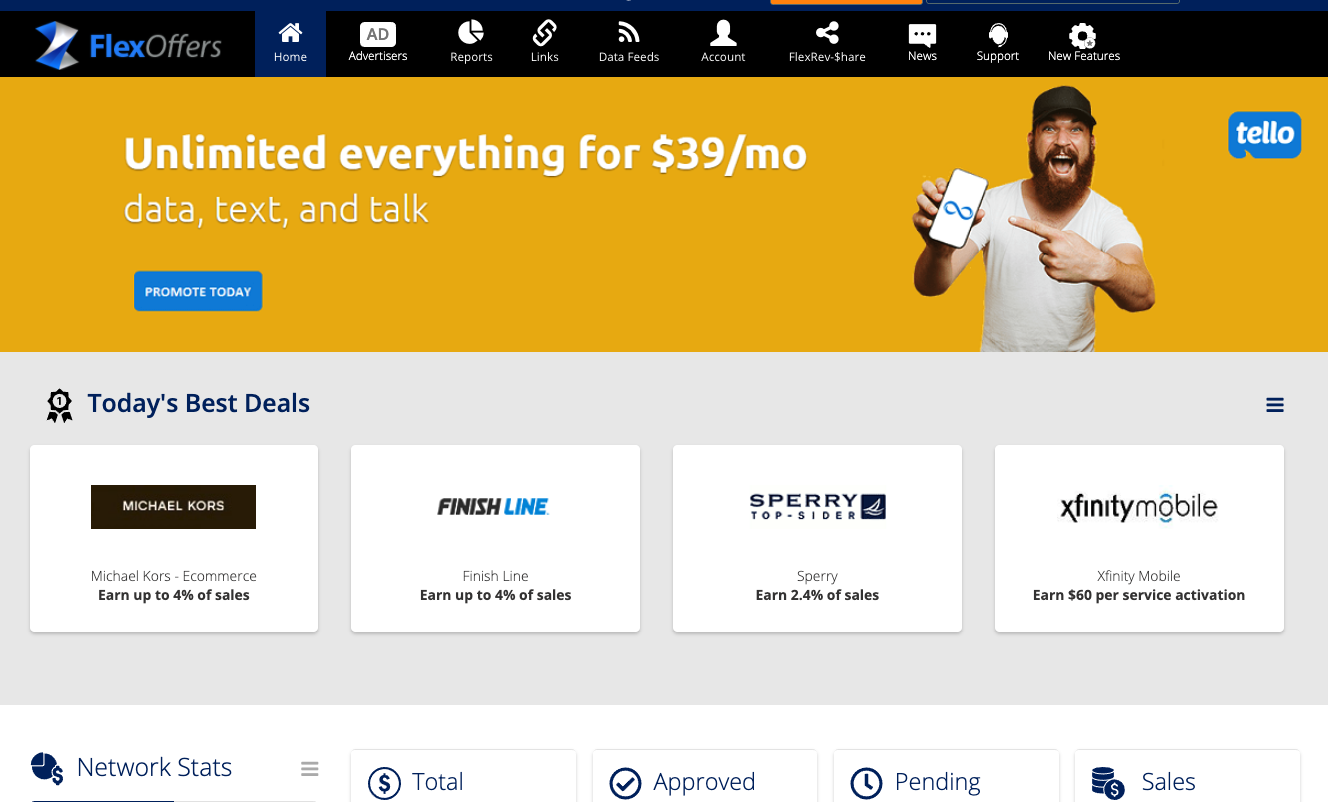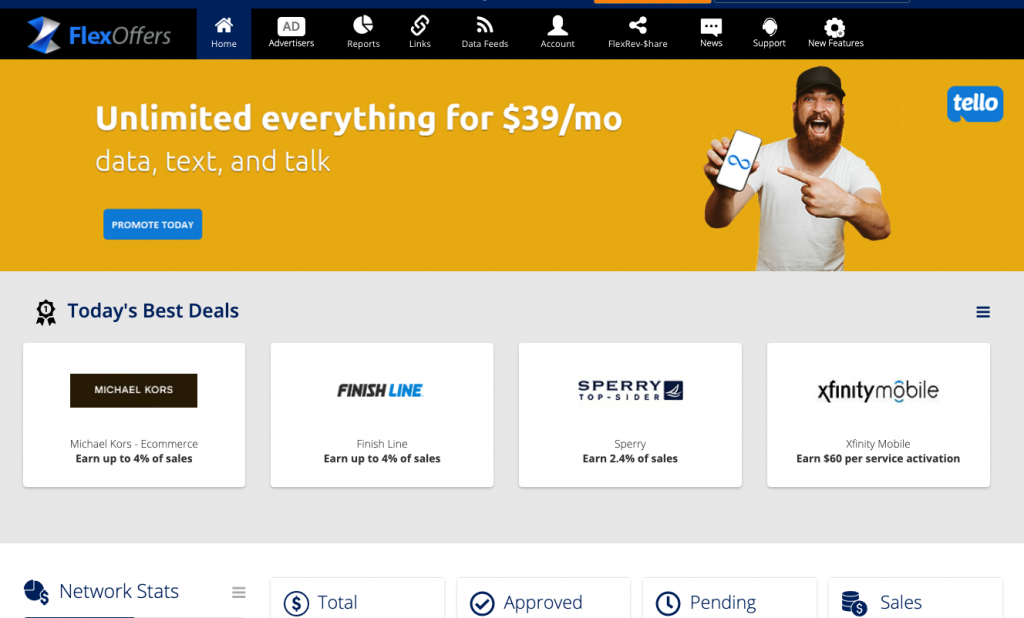 Within FlexOffers there are a number of financial programs on multiple topics.
They have so many programs for any niche. There are over 12,000 to choose from at FlexOffers.
This network works really well for me in the personal finance niche. They have affiliate programs on money management, budgeting, credit repair, mortgage loans, and more.
FlexOffers is the place to be if you are talking about personal finances and need affiliate programs to promote! In my opinion it's one of the best personal finance affiliate networks.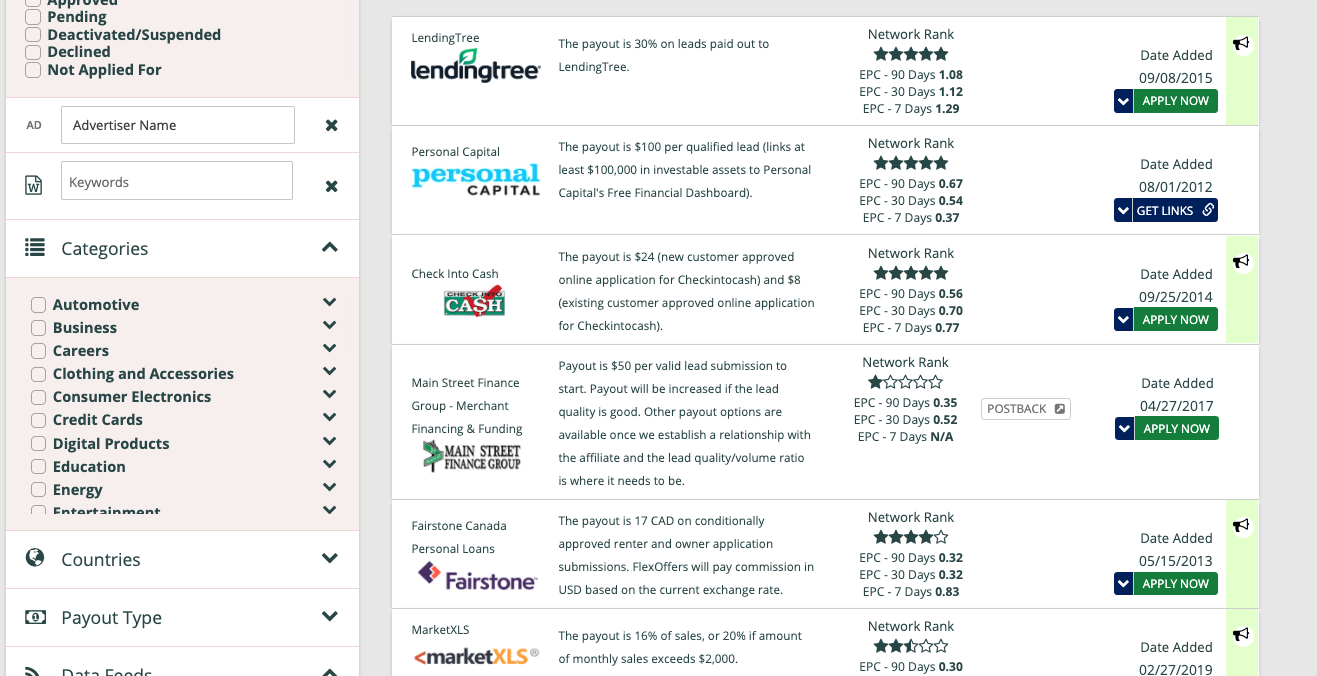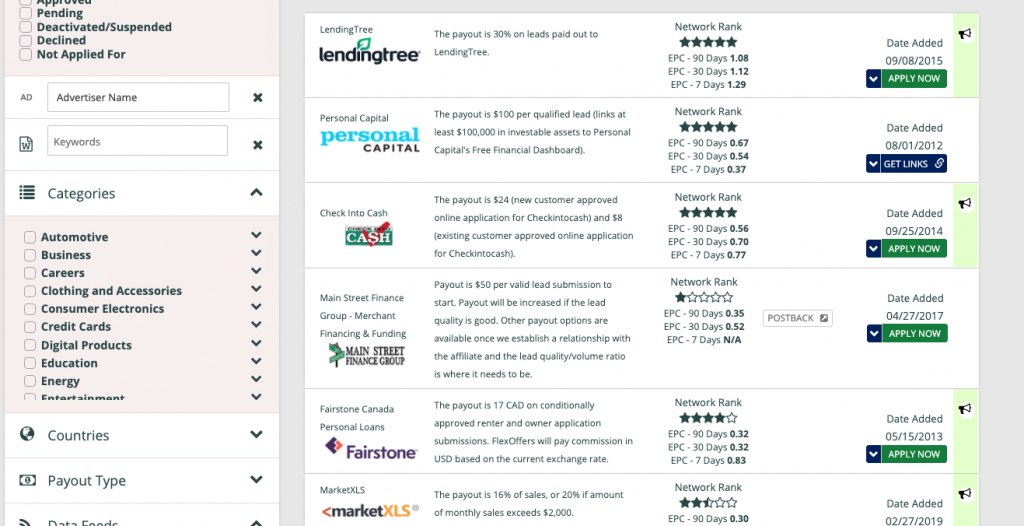 To promote these financial products you should go start an account at FlexOffers and search for any of the programs in the
Impact Radius is another affiliate marketing network that works very well for YouTube creators.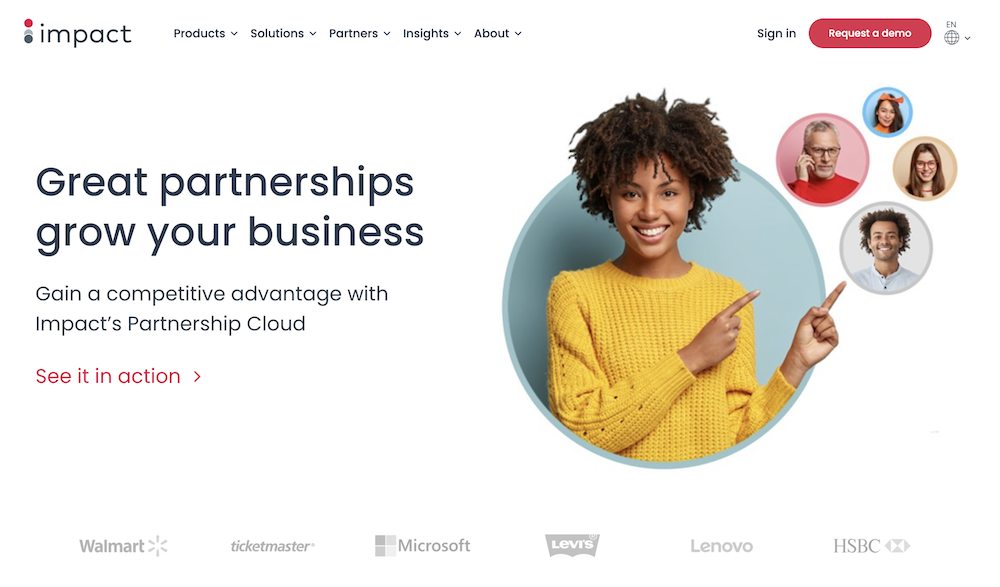 On this affiliate network you can find a lot of companies like:
Canva
Harry's
FuboTV
And more.
To make money with this network you can sign up for Impact Radius here.
Affiliate Marketing Tips
No matter which content platform you are using there are some general tips for promoting products and making money with affiliate marketing.
Here are some general affiliate marketing tips:
Explain the benefits of why someone would want to purchase the product you are promoting.
Share personal experiences about using the product or service. This is the best way to do affiliate marketing – sharing your experience about what you already use and love. Personal experience build trust and increase conversions.
Show proof of success or that the product actually worked or improved your life. General benefits won't sell people on buying a product but seeing actual proof helps.
Be honest about your reviews when talking about products you are promoting. Never lie and always share both the good and bad of a product.
Don't over do it or be too salesy. You don't want to be the pushy annoying person that only promotes links to earn money. It's not effective and it also just comes off as annoying and will turn people off you in general.
Include a call to action so people know what to do in order to take the next step. This leads more people to actually purchase the product. Call to actions are things like "grab your copy today" or "click here to sign up".
If you are promoting a high price product, you can also offer an incentive for purchasing with your link. Explain to buyers that you will give something extra to anyone that uses your link.
Always disclose that you use affiliate links no matter which platform you are using. Stay up to date and in compliance with the FTC guidelines.
Those are a few tips to get you started!
Tips For YouTubers
Are a YouTuber and want to start making money with affiliate marketing? Here are some of my favorite tips:
Mention your links in the video and direct your audience to your description box.
Include an affiliate disclaimer link in your description box that is clear you will make a commission.
Link to specific products you use instead of the general page. The less steps between a buyer and the purchase the better. Specific links convert better than generic ones.
Use products in the programs that you are promoting as an affiliate. If you have a choice to use products in the program or not, use the ones you can promote as an affiliate. People always want to know where you got things.
Leave a link to what you used in the video in a pinned comment.
Respond to any questions where people ask where you got something and give them the affiliate link. (This is just polite practice as well that builds trust with your audience.)
Those are just a few of my best tips for how I've managed to share products I love. As an example, I share my favorite budget stickers shops and earn income for doing it!
Want to learn more about monetizing YouTube? Check out these posts:
Tips For Instagram & TikTok
If you are running a TikTok or Instagram account, affiliate marketing is a great option for making money. Here are some of my favorite tips:
Use your affiliate links in your bio or within a linktree or similar platform to share multiple products
Use your stories to ask yes/no questions about whether someone is interested in something and then respond to the yes answers with useful info and your link
Pin comments with important info for the product you are promoting
Utilize the "swipe up" in Instagram stories where you can include affiliate links
Use / show / review items and tell the viewer where the link is to also get the item (bio, swipe up, etc.)
Have items in your videos both as the main focus and in the background
Create storefronts on sites like Amazon or Etsy to promote all the products you love
Those are just a few Instagram and TikTok specific affiliate marketing tips!
Tips For Bloggers
Blogging is the traditional king of affiliate marketing. Some bloggers have made millions of dollars in affiliate marketing income.
Michelle the blogger behind Making Sense of Affiliate Marketing has earned over $100,000 a month from her blog. That's crazy amounts of money and she is not the only blogger who has done it with affiliate marketing.
Blogging is a great way to earn money with affiliate marketing. Here are a few of the ways you can earn money through affiliate marketing through a blog:
Use affiliate links in your blog posts. This is the easiest way to do this as a blogger.
Use Lasso if you have a WordPress blog to make the affiliate links easier to manage. It creates custom, pretty links and tracks your clicks which is useful. You can also create beautiful displays for products and services.
Write how to posts that show readers how to use the product. Then you can link to the product or service they need to make it happen. How to and tutorial posts are very high converting types of affiliate posts.
Use attention grabbing clickbait style headlines that people will click on. You need to get people to your posts to get them to your links.
Write review posts where people are searching for the product you are trying to promote. These visitors are at the stage right before buying just before clicking your affiliate link. You can write reviews about all sorts of products. Make sure you are doing an honest review with good and bad parts about the product.
Create a round up post of multiple affiliate products. This can give your readers extra value by sharing the best of a certain category or a list of products.
More Frequently Asked Questions
I get a lot of other questions about affiliate marketing so I've shared some of them and the answers below!
Do I need a blog for affiliate marketing?
Nope! You don't need a blog to do affiliate marketing. You don't need any certain platform to get started with affiliate marketing.
What you need is a platform where you excel and plan to invest in building an audience. Your audience is what will earn you affiliate marketing income so cultivating an audience on any platform can work for affiliate marketing. However, you should be aware that certain platforms do better than others when you are trying to earn affiliate income.
While you don't absolutely need a blog for affiliate marketing it will make it easier because having a blog is one of the easiest and most profitable ways to make money from affiliate marketing. Even if you don't fully utilized your blog and plan
How do you get paid? How much can you make?
Before you get started you probably are wondering how much you can make and what types of ways you can get paid.
Flat rate is one of the ways you can get paid. As an example, website hosts like Bluehost will pay a flat rate of $65 per sale when someone signs up with your link.
Percentage of sale price is another way you can get paid. This is the most common and commission rates vary widely. If you are promoting a product that costs $100 and you will earn a 10% commission with that affiliate marketing program then you would earn $10 per sale.
Do you need a lot of followers or traffic?
Nope! That's the best part of affiliate marketing! You don't need a lot of traffic or a huge following to be successful!
In fact, some people with huge followings can hardly sell anything with affiliate marketing because their audience doesn't trust them or isn't connected. Often with a smaller audience you are more connected with your followers and they are more connected to you which means they are also willing to support you by trusting your opinion on products and using your affiliate links.
I made my first affiliate sales with less than 500 followers and not that many views. It was because I was sharing products I actually loved and was happy to be using. I never promote things I don't like or don't feel comfortable with because being real is what works with affiliate marketing.
As long as you are providing value with your recommendations then you will be able to earn money with affiliate marketing with a small following and feel good about it.
Why share which affiliate programs I use?
The affiliate marketing programs I shared here are the top two programs I've used to monetize my budget planner channel and they've worked very well for me. I've made thousands of dollars over my two years of being on YouTube from these two programs in those affiliate networks.
Yes, giving them away does mean I have more competition for the links but I've also found that helping more people eventually benefits me as well. I will earn a small amount if you sign up for those affiliate networks as well which will help make up for some revenue I've lost. Plus, I like having good deeds on my side.
I also, really, really like helping people figure out ways to earn income online and improve their lives through doing things like affiliate marketing or making digital products. I've got a passion for helping other people make money!
How can I be successful with affiliate marketing?
While I have covered everything you need to know as a beginner starting affiliate marketing, to be successful you will need two things:
Try and test things to find what works.
Learn from people who have been successful.
If you want a deep dive into how affiliate marketing works for both bloggers and YouTubers too you can take a more in depth class: Making Sense of Affiliate Marketing I took Michelle's course when I wanted to grow my affiliate income on YouTube and it's helped me grow that income source a lot even though I already understood the basics of affiliate marketing.
If you've signed up for the affiliate networks above and still feel lost on how to seamlessly use affiliate marketing you might want to try the course. It's great for beginners to walk you through how to use and grow your affiliate marketing income. I will say that it is geared toward bloggers but the basics are the same for bloggers and youtubers.
(If you do decide to buy Making Sense of Affiliate Marketing through my link send me a copy of your receipt and I will send you all of my online income related printables!)
Congrats on learning about and using affiliate marketing to grow the income!
More Affiliate Marketing Tips & Tutorials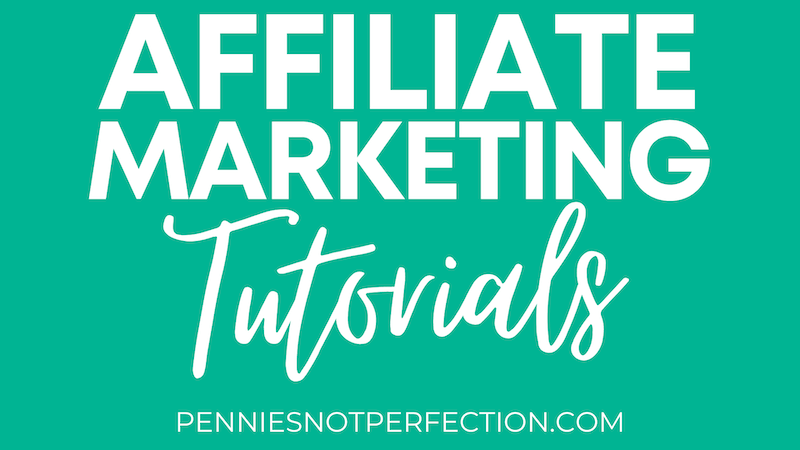 Want to learn more about affiliate marketing? Check out these useful tutorials on Pennies Not Perfection:
Affiliate Marketing 101
Affiliate Marketing Tutorials
Check out more affiliate marketing tutorials or request a new tutorial by reaching out on Instagram!
If you want to say thank you, you can Buy Me A Coffee.
Affiliate Marketing Resources
Here are some resources that can help you grow your affiliate marketing income: