Want to get paid to travel the world? These travel YouTube channel ideas can help you start an income steam that pays for your travel.
Making a full time living on YouTube can be difficult, but giving yourself the ability to travel more can offset some of the negatives.
In this YouTube guide we look at some of the different types of travel focused YouTube channels you can create to make money while also sharing your world travels.
This list is by no means comprehensive for travel niche ideas but it does share REAL examples to inpire you!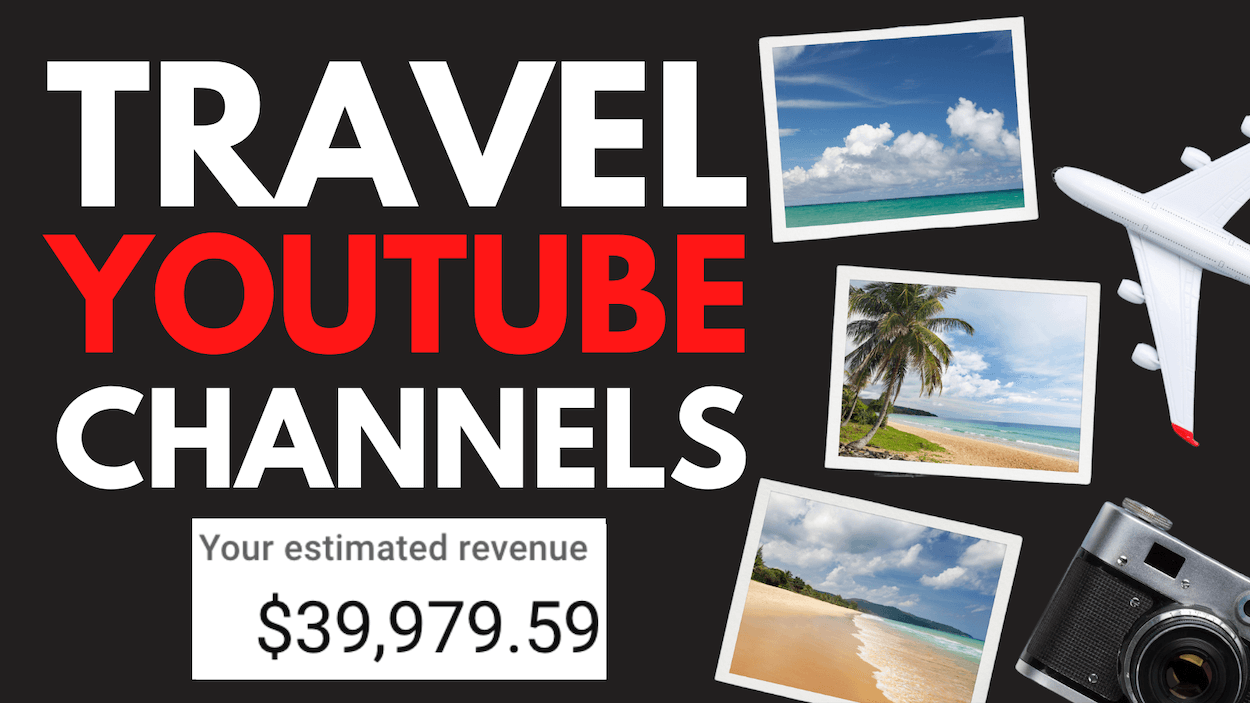 Travel Channel Idea: Food-Themed Travel Channel
A food-themed travel channel is a great way to share your passion for food while also offering advice and inspiration to other foodies who travel.
There are many different ways to do a travel channel focused on food. You can do restaurant reviews, street food videos, cooking demonstrations, the best foods and drinks in certain cities.
There are so many ways to make a food travel channel work!
Travel and food documentaries are a great way to explore global cultures and cuisines and collaborate with other food bloggers, chefs, or influencers.
Food Themed Travel YouTube Channel Examples
Here are a few examples of YouTube channels currently making food travel content: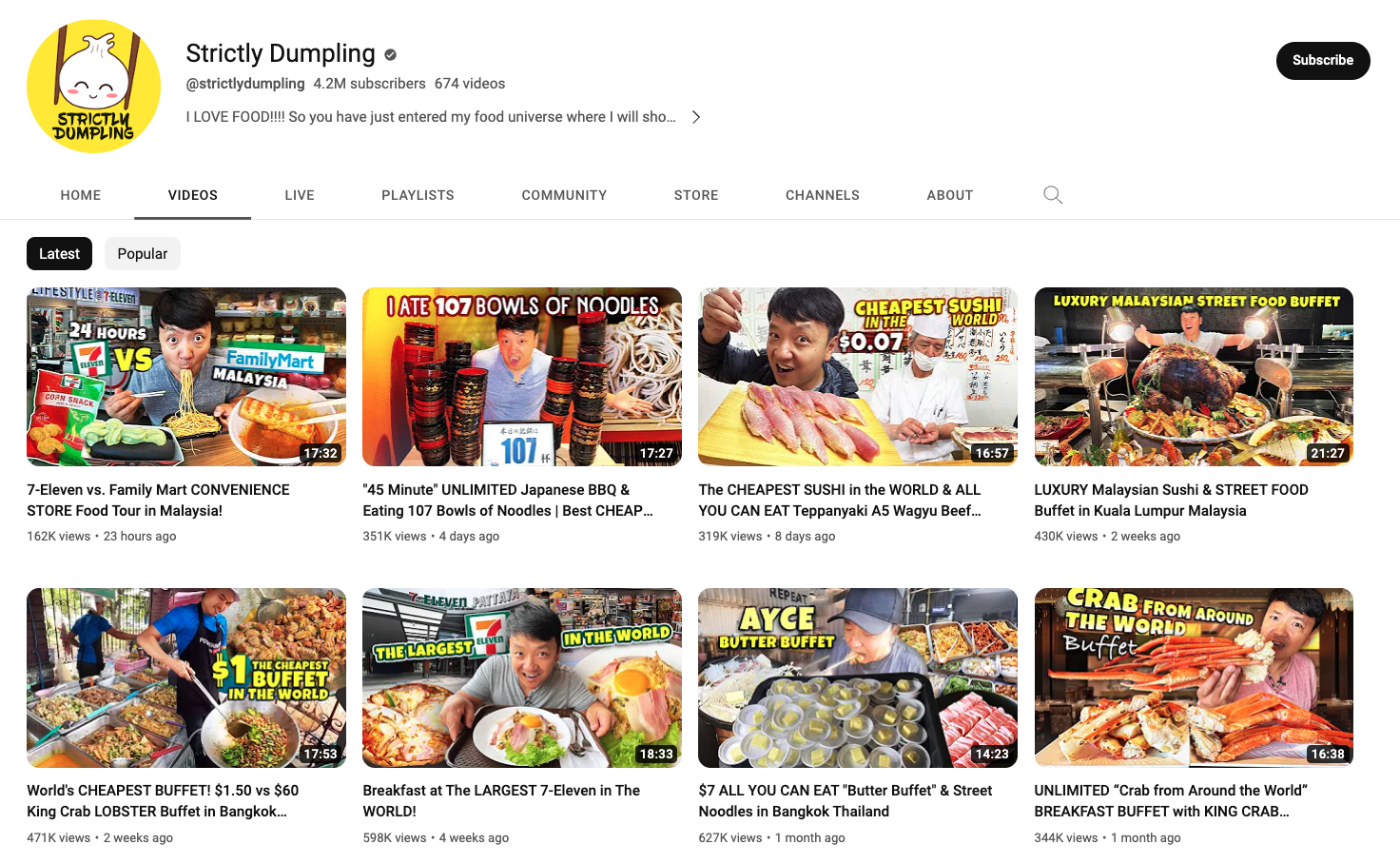 YouTube Channel Idea: Adventures Themed Travels
Adventure-themed travel involves exploring new and exciting destinations through physically and mentally challenging activities. This type of travel video can be exciting for viewers who want to do the activity themselves in the future.
Activities can include rock climbing, trekking, rafting, bungee jumping, and more. Anything that gets your heart pumping while traveling.
Adventure travel allows you to disconnect from daily routines and promotes personal growth. With this type of travel channel you can easily make documentary style videos or additional videos sharing big lessons learned.
Adventure Travel YouTube Channel Examples
Here are a couple Youtube channels currently making it work with adventure travel content:
Devin Super Tramp: Known for exciting action and adventure content, this channel features extreme sports and stunts. It has over 6.24 million subscribers and has worked with various athletes and entertainers.
The Bucket List Family: This channel documents the adventures of a family of five who gave up everything to explore the world. They provide advice on traveling effectively and affordably. With over 1.4 million subscribers, they generate an estimated $70,000 in yearly advertising revenue.
Travel Channel Idea: Budget Travel
Budget travel allows you to see the world without breaking the bank. This is actually a sub niche of travel that I personally consume on YouTube.
Strategies for budget travel include looking for inexpensive travel and lodging, traveling at off-peak times, and saving money on transportation and meals.
Budget travel channels provide advice on affordable travel destinations and experiences. They can also provide touring plans and travel hacking tips to help viewers make the most of their travel spending.
Budget Travel YouTube Channel Examples
Here are a couple Youtube channels currently succeeding with budget travel videos:
Vagabrothers: Hosted by Marko and Alex Ayling, this channel offers travel videos with excellent craftsmanship and compelling narrative. They work with local guides and specialists to highlight special events and undiscovered gems. They have over 1.15 million subscribers.
Indigo Traveller: Hosted by Nick, this channel explores different countries and cultures while on a tight budget. It offers budget travel tips, insights into local culture, and history. Nick rarely shows his face, focusing on the locations and experiences. He has 1.85 million subscribers.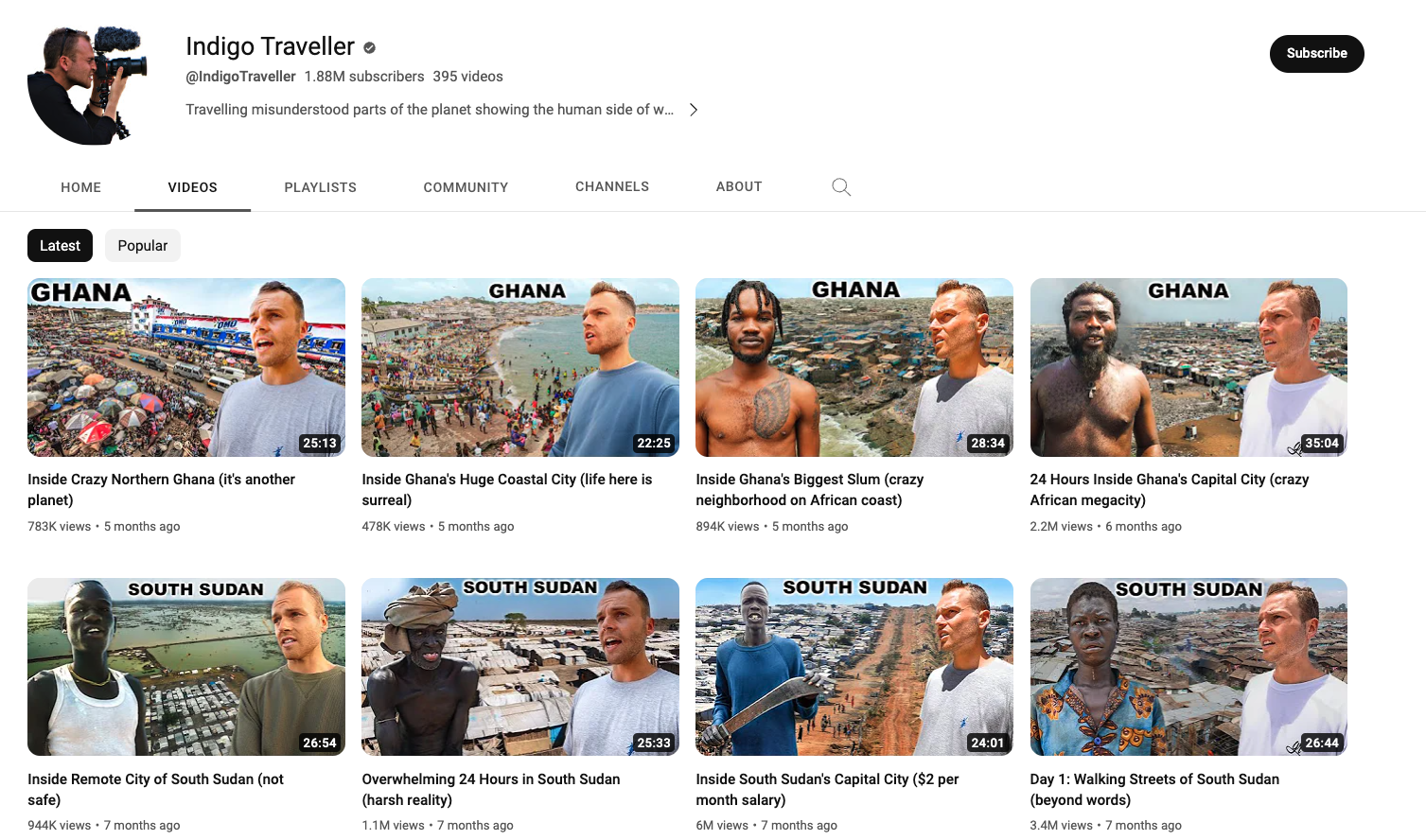 YouTube Channel Idea: Sustainable & Eco-friendly Travel
Sustainable and eco-friendly travel channels promote responsible tourism and highlight destinations, accommodations, and activities that prioritize environmental conservation.
Content can include showcasing eco-lodges, eco-tours, wildlife conservation efforts, and sustainable practices.
With this type of channel you should aim to educate viewers on how they can minimize their environmental impact while traveling. Give tips and ideas for the viewer to travel without impacting the locations they visit.
Eco-Friendly Travel YouTube Channel Examples
Here are a couple Youtube channels making sustainable & eco-friendly travel videos:
Kara and Nate: This couple documents their travel adventures while also focusing on sustainable travel practices. They share tips on reducing waste, supporting local communities, and minimizing carbon footprints. With over 2.5 million subscribers, they generate significant ad revenue.
Expedition Drenched: This channel follows the journey of a couple sailing around the world while focusing on marine conservation and sustainability. They explore marine ecosystems, participate in conservation efforts, and educate viewers on the importance of protecting the oceans. They have over 400k subscribers.
Shelbizleee: Shelbi has a degree in Environmental Science and a passion for sustainability. She shares travel videos along with other lifestyle content that focuses on living more sustainably.
Niche Travel Idea: Cultural Immersion & Local Experiences
Cultural immersion travel channels focus on immersing viewers in different cultures, traditions, and local experiences.
These channels showcase local festivals, celebrations, traditions, music, dance, crafts, and cuisine. Any type of event or item that is UNIQUE to the location you are visiting would make great content.
These types of YouTube channels provide insights into the daily lives of locals and encourage viewers to appreciate diverse cultures.
Cultural Immersion Travel YouTube Channel Examples
Here are a some Youtube channels making this type of travel videos:
Attaché: This channel offers travel guides that delve deep into local culture and experiences. It provides practical advice on how to navigate different cities, along with insights into history, food, and customs. With over 850k subscribers, the channel earns a substantial income.
Samuel and Audrey: This couple travels the world to experience local culture and cuisine. They document their adventures, share travel tips, and provide glimpses into authentic cultural experiences. With over 400k subscribers, they have built a dedicated audience.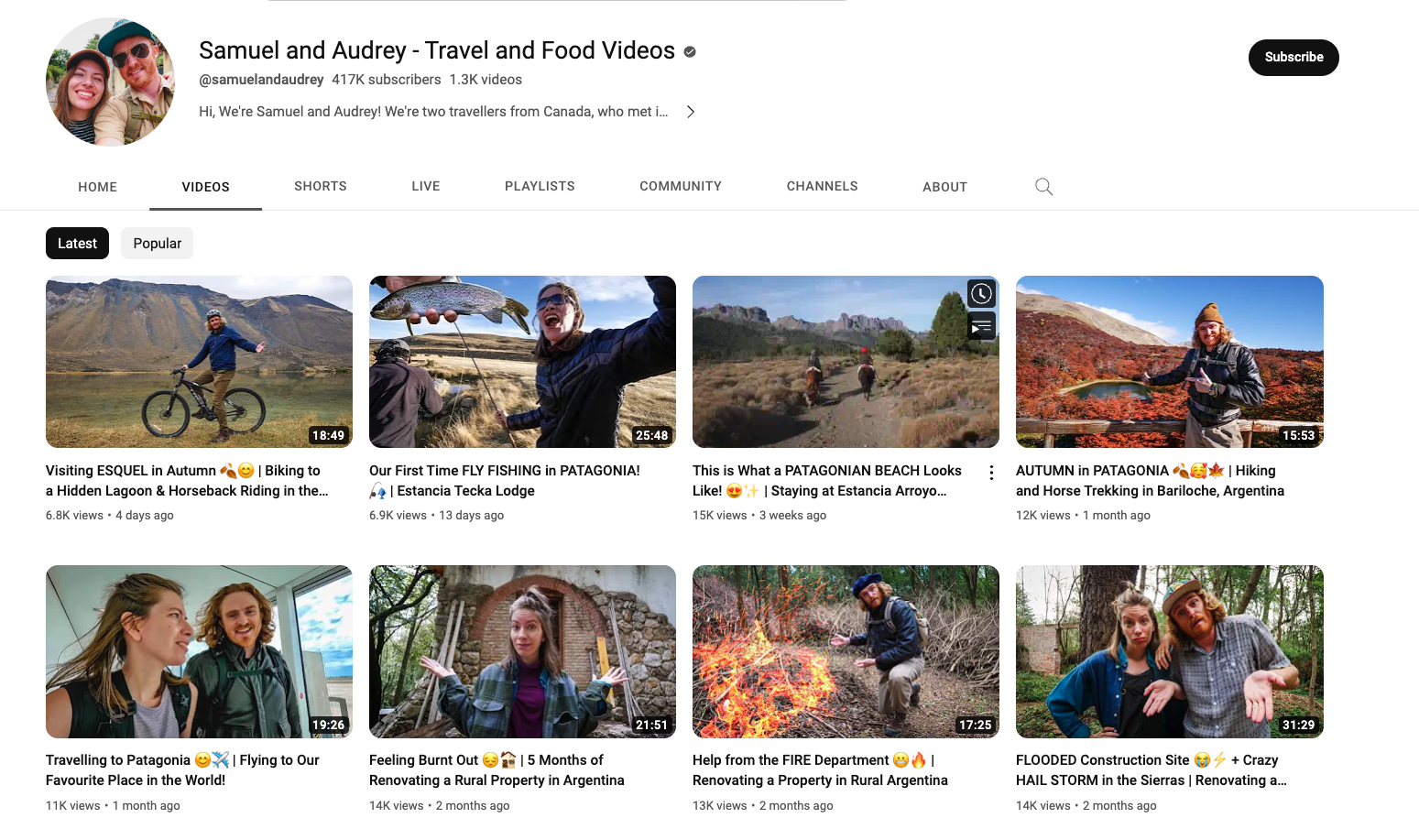 YouTube Travel Channel Idea: Historical and Heritage Travel
Historical and heritage travel channels explore destinations known for their rich history, ancient sites, and cultural heritage.
These YouTube channels provide detailed information about historical landmarks, archaeological sites, museums, and cultural events. They offer viewers a chance to learn about different historical periods, civilizations, and their impact on modern society.
If you want to do a travel channel tied into history then you either need to know a lot about history already or be prepared to do lots of research. You will want to make sure your facts are correct as you share them with fellow history buffs who travel.
Historical Travel YouTube Channel Examples
Here are a some Youtube channels making history related travel videos:
The History Guy: Hosted by historian and author Lance Geiger, this channel presents fascinating stories from history. It covers a wide range of topics, from significant historical events to forgotten stories, with engaging storytelling and visuals. With over 3 million subscribers, the channel has a dedicated following.
Time Team Classics: This channel focuses on archaeological digs and discoveries from around the world. It showcases the process of uncovering history and provides insights into ancient civilizations and their artifacts. The channel has over 200k subscribers.
YouTube Travel Channel Idea: Travel with Pets
Travel with pets is a growing category and can make an excellent niche YouTube channel. If you can cater to pet owners who want to explore the world with their furry companions this could be a great channel idea.
These channels offer advice on pet-friendly destinations, accommodations, transportation, and activities.
If you create this type of YouTube channel you should provide tips for traveling safely and comfortably with pets, along with fun experiences and adventures.
Pet Travel YouTube Channel Examples
Here are two Youtube channel examples making pet travel videos:
Gone to the Snow Dogs: This channel features a family that travels with their Siberian Huskies. They share their experiences, tips, and challenges of traveling with dogs, along with exploring pet-friendly destinations. With over 1.5 million subscribers, they have a strong pet-loving audience.
Long Haul Trekkers: This channel follows a couple who travels the world with their dogs, focusing on hiking and outdoor adventures. They provide insights into pet-friendly hiking trails, camping spots, and gear recommendations. With over 100k subscribers, they have built a niche audience.
Creating A Travel YouTube Channel
Starting a travel YouTube channel can be an exciting and fulfilling endeavor… even if it's just an excuse to write off your travel expenses!
Whether you choose to focus on adventure travel, luxury experiences, sustainable tourism, cultural immersion, historical exploration, or pet-friendly adventures, there is a niche for every type of traveler.
Remember, success in the travel YouTube space requires dedication, creativity, and a passion for exploration.
So, pack your bags, grab your camera, and embark on a journey to share the world with the virtual travel community. Happy filming and bon voyage!
More YouTube Tips & Tutorials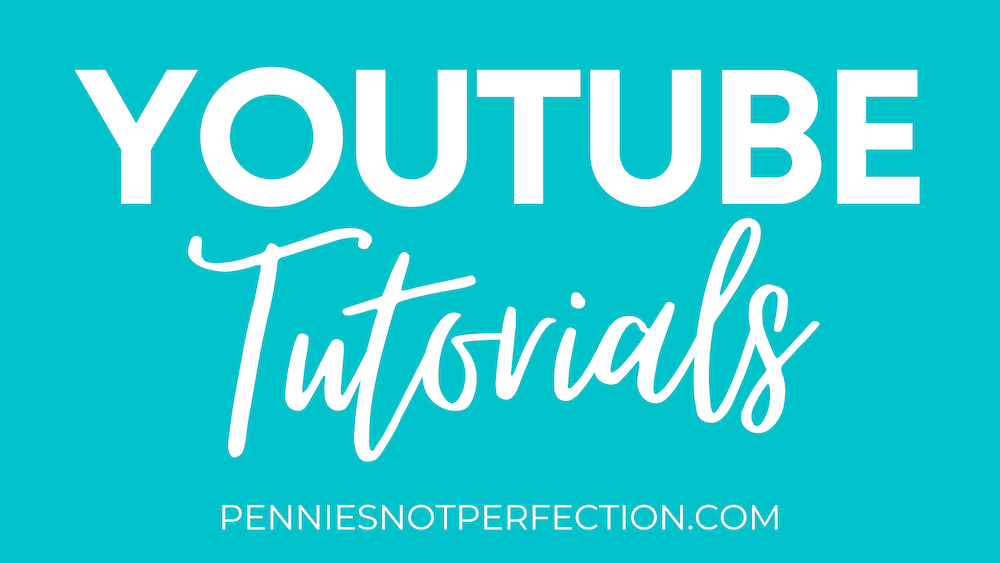 Here are a few useful YouTube tutorials on Pennies Not Perfection:
YouTube Tutorials
Faceless YouTube Videos
Youtube Tips & Tricks
Check out more YouTube tutorials or request a new tutorial by reaching out on Instagram!
If you want to say thank you, you can Buy Me A Coffee.
YouTube Resources
Here are some YouTube resources that can help you start, run, and grow your YouTube channel:

Mary is the founder of Pennies Not Perfection where she shares her journey to build wealth through online income. She quit her day job in 2021 after she paid off her debt and doubled her 9-5 salary.
Mary's favorite free financial tool is Personal Capital. She uses their free tools to track net worth and work toward to financial freedom.
Her favorite investment platform is M1 Finance, where she built a custom portfolio for free with no fees. She shares her portfolio growth and savings progress every month on YouTube.