Selling printables can be an amazing business. But many people never start because they can't pick an idea. In this post we eliminate that barrier by sharing the best printable ideas to sell on Etsy.
Are you ready to start selling printables and change your life?
You can earn hundreds or thousands per month and create true passive income. The first step is researching printable ideas you can make and then picking one to create.
This post shares all the printable ideas to get you started, but make sure you check out these helpful posts too: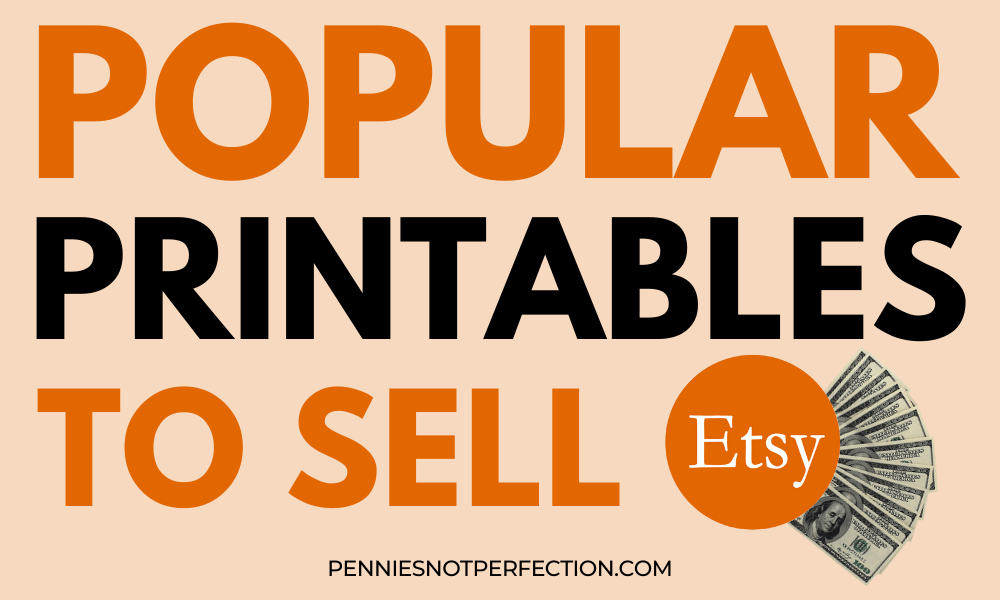 What Are Printables?
You might be new to the world of printables and wondering what exactly are they?
A printable is a type of digital product that is delivered through digital download that the customer can print out at home.
It's ideal for creators since you can create and sell a product multiple times with no printing and shipping. It's also great for customers who can purchase the design for a cheaper price and print as they want to as many times as they need.
Printables are cheaper and more efficient for both the seller and customer.
Selling printables on Etsy can generate a great passive income each month but you have to put in time to understanding your audience and creatine unique printables they want to purchase.
Want someone to walk you through the process of selecting, making, and selling printables? I recommend the E-printables course from Gold City Ventures.
E-Printables Course
Learn everything you need to know to create and sell printables online as a side hustle. Includes lessons, templates, and 24/7 support.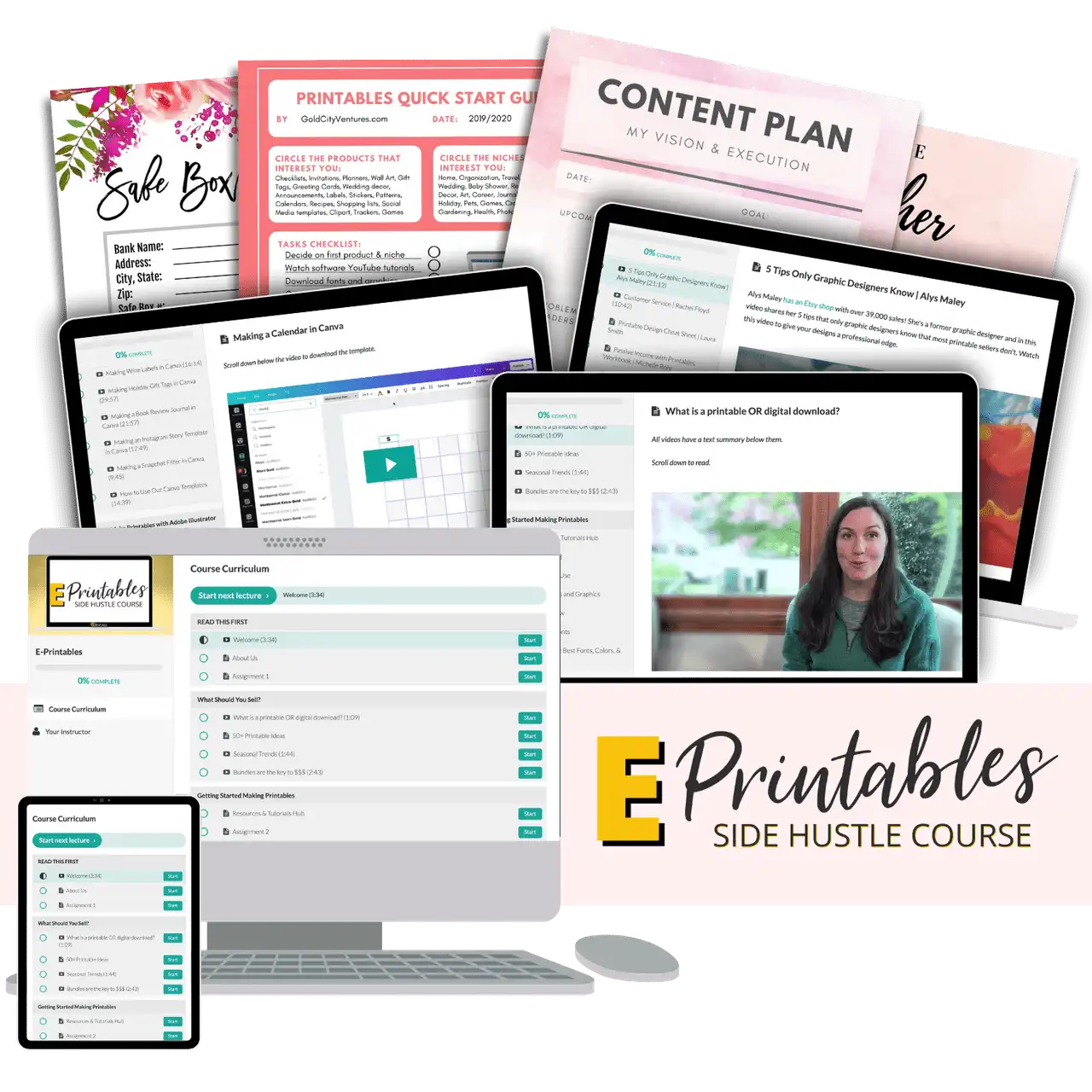 I earn a commission if you make a purchase, at no additional cost to you.

Popular Printables To Sell
Now that you know what printables are, let's look at some of the popular printables you can make and sell.
Party Printable Ideas
Party Invitations – Printable party invitations are a hit on Etsy – both printable and digital options. Let customers edit with template sites like Corjl, Templett, or Canva.
Party Games – Printable party games are a hit for birthday parties and sell well when themed. You can create them for kids or adult parties!
Gift Tags – Craft gift tags or even gift tag templates to sell to people looking to print something last minute for gifts.
Birthday Cards – Create birthday cards people can print and sign to bring along with a gift.
Greeting Cards – Similar to birthday cards, create greeting cards for other holidays and events to add to your shop.
Scavenger Hunts – Themed or age appropriate scavenger hunts are a great printable to create that can go along with other party game printables.
Printables To Sell For Kids
Activity Books – Put together a printable activity book with multiple pages of games and coloring sheets around a theme or event.
Coloring Pages – Create coloring printables for kids around themes and characters or animals.
Flashcards – Design printable flashcards to help kids learn that parents will love using.
Chore Charts – Create chore charts for parents to print and use at home to help encourage kids to do chores.
Reward Charts – Similar to the chore charts, printable reward charts for kids are a great product offering.
Study Guides – Craft helpful study guides for common learning topics kids will encounter in school.
Summer Worksheets – Design worksheets for kids to use during the summer to keep up their education skills and avoid summer learning loss.
Tracing Sheets – Help pre-school children learn to write and draw by creating tracing sheet printables they can use during the learning process.
Wedding Printable Ideas
Bachelorette Party Games – Printable party games sell well on Etsy especially when they have a theme or very specific design.
Photo Booth Props – Design themed sets of photo booth props for weddings and related events to help people have fun and get silly.
Save-The-Date Cards – Help couples share their date with printable save the date card designs in your shop. You can use Corjl, Templett, or Canva to let them edit the details.
Table Numbers – Design table numbers to print and cut at home for wedding table arrangements.
Wedding Favor Labels – Give brides the labels they need to make custom wedding favors for their guests.
Wedding Planner Printables – Create a printable or 100 in a bundle to give brides everything they need to plan and organize their wedding.
Organization Printable Ideas
Chore Checklists – Chores and cleaning can be a struggle for many which makes printable chore checklists a great product for those looking to get organized.
Cleaning Checklists – Get more specific with cleaning tasks and make daily, weekly, and monthly checklists for people to remove cleaning guesswork.
Daily Checklists – Create daily checklists with blank areas or with themes like cleaning to sell on Etsy.
Household Planner – Give people a way to organize everything in their household in one place with meal plans, schedules, to do lists, goals and more.
Monthly Planners – Minimalistic or themed monthly planners sell well on Etsy and can be fun to create.
Weekly Planners – Similar to the monthly planners these printables could be bundled with the monthly for additional sales.
Other Printables To Sell
Adult Coloring Pages – Coloring printables aren't just for kids! Create more detailed and intricate coloring pages for teens and adults looking to relax by coloring.
Budget Planners – Many people, myself included, like to budget by hand and use budgeting printables like Monthly Budget Planners.
Debt Payment Planners – Paying off debt can feel overwhelming which makes a debt planner printable a good solution for people trying to get organized.
Design Printables – The market might be saturated for many art and design printables but you can create unique ones to still reach an audience.
Finance Planners – Create easy to use personal finance planners to help people get organized with their money.
Self Care Printables – These printables you can create include anything helpful to self-care, from gratitude journals to self-worth workbooks to anxiety trackers.
Travel Printables – Printable travel planners, checklists, and itineraries could be an amazing product idea especially for big trips like family Walt Disney World trips.
Need even more ideas? Check out these lists of digital products you can sell: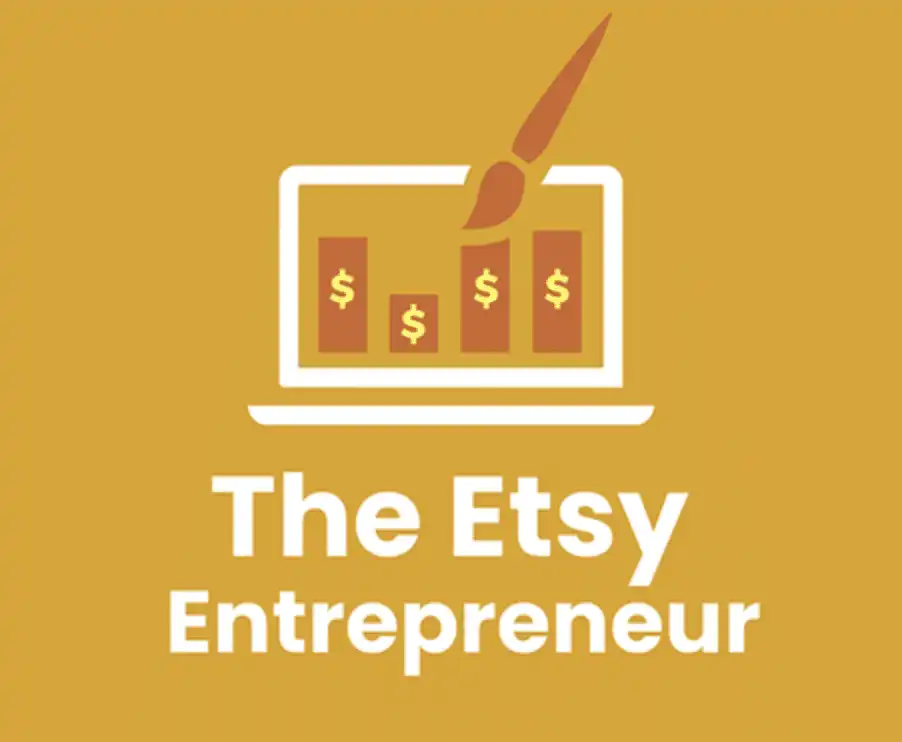 I earn a commission if you make a purchase, at no additional cost to you.

Learn How To Sell On Etsy
Did you pick a printable you want to make and sell on Etsy?
Here are some Etsy seller posts that may help you:
Etsy Basics:
Etsy SEO:
Mary is the founder of Pennies Not Perfection where she shares her journey to build wealth through online income. She quit her day job in 2021 after she paid off her debt and doubled her 9-5 salary.
Mary's favorite free financial tool is Personal Capital. She uses their free tools to track net worth and work toward to financial freedom.
Her favorite investment platform is M1 Finance, where she built a custom portfolio for free with no fees. She shares her portfolio growth and savings progress every month on YouTube.