Selling on Etsy is an incredible side hustle that even becomes a full time income for some sellers. If you want to take advantage of this e-commerce platform keep reading for ideas of things to sell on Etsy for extra money.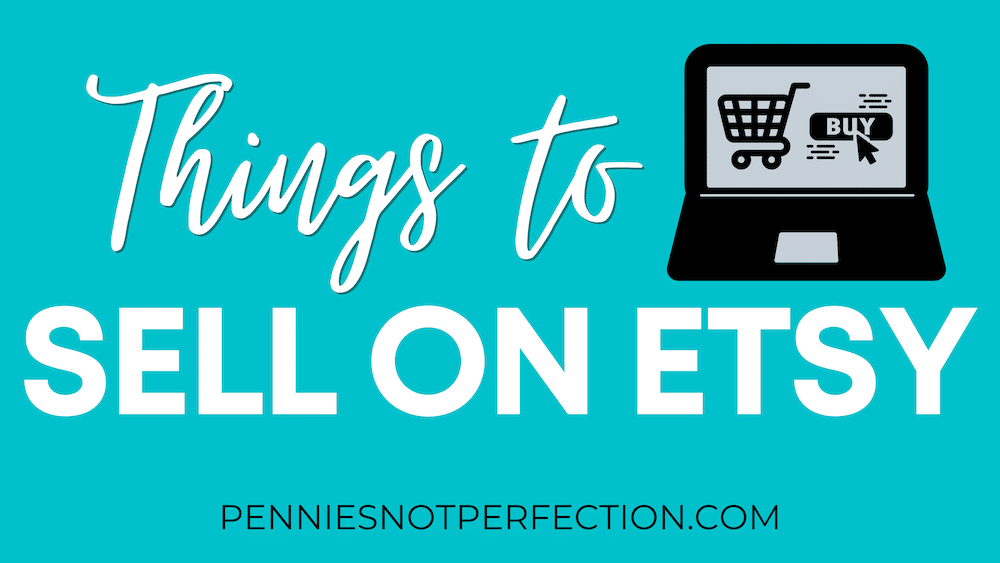 What Is Etsy?
Etsy is the top marketplace where people come together to make, sell, buy, and collect unique items. 
It's a gift giver's dream and the most popular place to buy unique products in several categories like handmade items, printables, invitations and more.
Since it launched in 2005 Etsy has grown and over 4 million sellers use the marketplace to reach over 30 million customers.
Why Sell On Etsy?
With so many options for e-commerce sellers, what makes Etsy special?
Etsy is the go-to marketplace for unique items from custom to vintage to craft products. Unlike the mega-corporations Etsy is all about keeping the human touch in e-commerce.
It focuses on bringing together customers and sellers who want an alternative to the cold practicality of normal e-commerce experiences.
This means customers shopping on Etsy are looking for unique, personalized, custom items made by real people that are not mass products. The site draws customers who want a unique experience and product.
This unique situation means to succeed on Etsy you have to understand the customer experience along with the best things to sell on Etsy.
How To Find Products To Sell On Etsy
How do people find products to sell on Etsy? For many, they do Etsy keyword research!
Etsy SEO is the process of researching, selecting, and optimizing Etsy product listings based on keywords people use to search. This process also helps many sellers decide what they want to sell.
In the video above we walk through how to find things to sell on Etsy using a research tool called Sale Samurai.
With SaleSamurai you are able to discover new ideas, find keywords, and track your competition to see where you will rank for things you want to sell.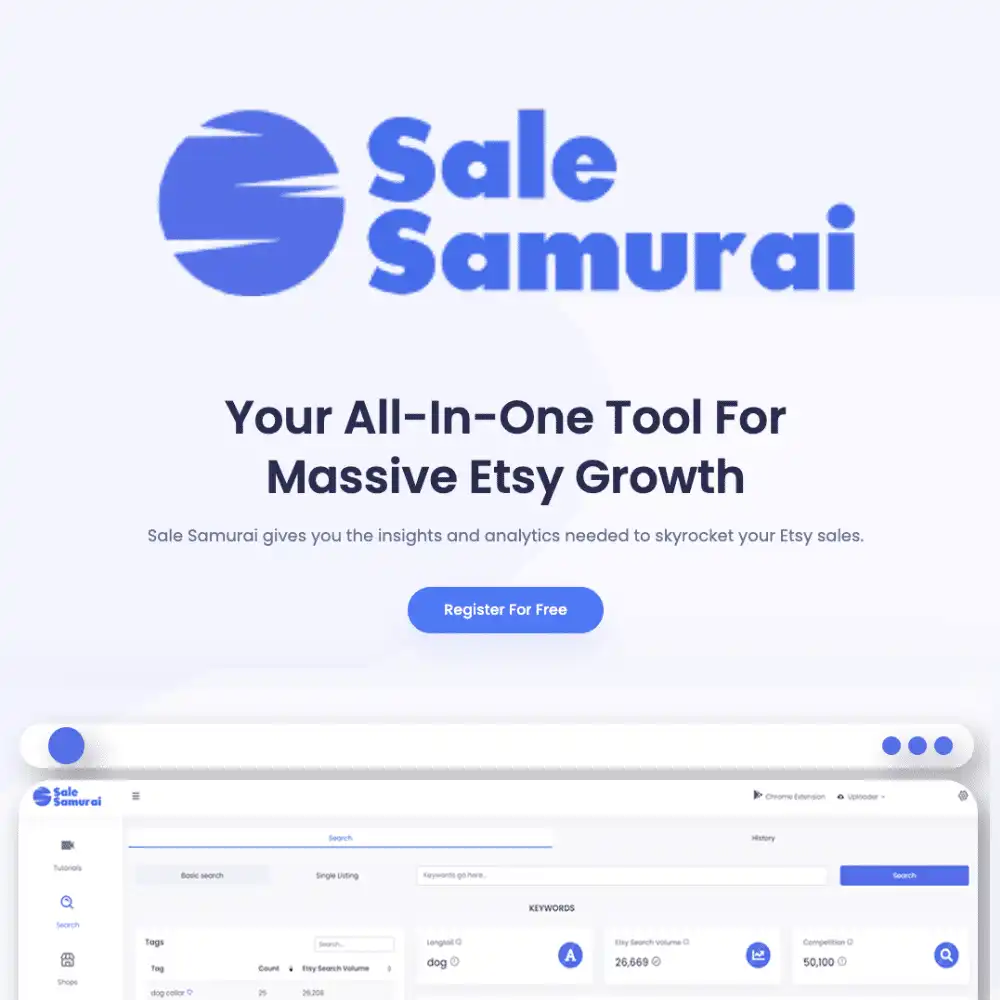 I earn a commission if you make a purchase, at no additional cost to you.

It allows you to:
Uncover keywords that shoppers are using to make their purchases so you select things that will actually sell
Brainstorm your next product idea based on sales of related products and niches
Learn the real search volume behind the keywords that are leading to sales of products
Spy on your competition and learn what they are doing to make sales and which products are selling enough for you to sell as well
In this video about finding things to sell on Etsy we look at:
how to brainstorm Etsy product ideas
how to look up keywords for things to sell on Etsy
ways to track your competition on Etsy
how to generate ideas from the built in calendar
how to determine the profit of your products
ways to evaluate ROI on advertising on Etsy for your products
Understanding how to evaluate product ideas and select the right things to sell will help you succeed as a seller on Etsy.
Things To Sell On Etsy For Extra Money
If you want a list of things to sell on Etsy then look no further than this list of ideas!
Jewelry (handmade, personalized, etc.)
Jewelry supplies
Craft supplies
Stickers
Printables
Wedding items
Wedding clothing & accessories
Party decorations
Party supplies
Invitations
Personalized gifts
Handmade clothes
Vintage clothes
Vintage items & decor
Notebooks and Journals
Homemade bath products
Handmade beauty products
Zero-waste products
Ready made craft kits
Food & gift baskets
Wall decals
Plants
Baby accessories
Children's toys
Mugs
Candles
Digital art
Art prints
Pet treats
Pet accessories
Greeting cards
Enamel pins
Seasonal gifts
These are some of the popular things to sell on Etsy but there are hundreds of other categories and things you could sell successfully!
My Experience With Selling On Etsy
I've sold digital products on Etsy for several years and earned tens of thousands of dollars.
What began with one small printable that earned $25 in the first month eventually became a side hustle of $1,000+ per month. It has been an incredible side hustle to sell things on Etsy.
After selling on Etsy for a few years I've noticed a few keys to success:
Selling items that are well priced in your niche compared to competitors
Creating and selling items people are looking for based on keyword research
Giving customers good customer experiences with your shop
Cultivating great reviews from customers for your products
Using these guiding principles has helped me make thousands of sales on Etsy.
Pros & Cons Selling On Etsy
As with any e-commerce platform, there are pros and cons to selling products on Etsy.
You can sell all the details in the video above but there are many pros and cons to selling things on Etsy.
Some pros to selling on Etsy:
traffic to your shop immediately from the marketplace
easy to get started and open your shop quickly
lots of built in tools and resources for sellers
Some cons to selling on Etsy:
numerous fees from transaction fees, listing fees, etc.
fees increase over time without your input or control
no way to opt out of advertising if you sell $10,000 per year
Etsy has been a great platform to learn and grow on even as I eventually transferred over to primarily selling on Shopify.
More Etsy Tips & Tutorials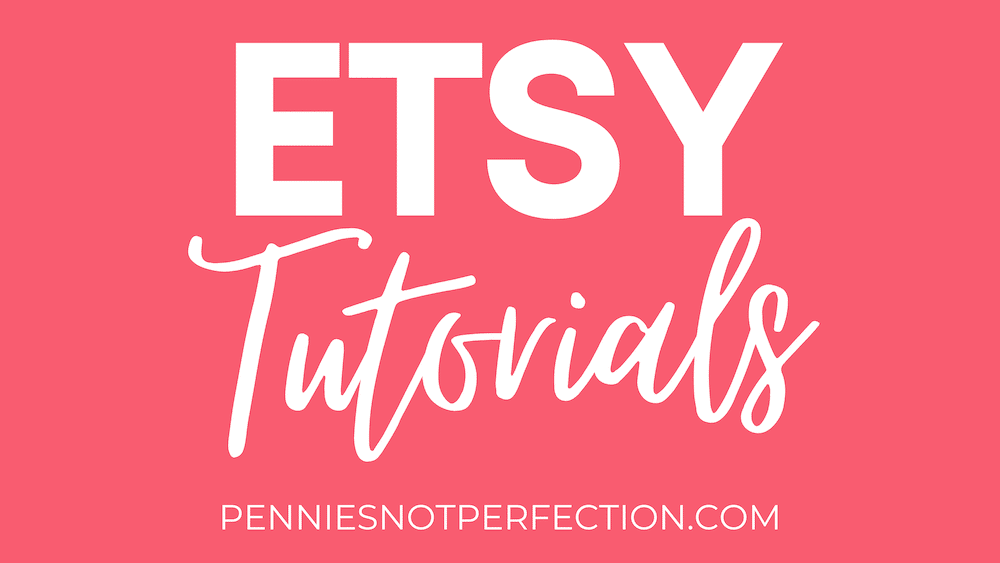 Here are a few useful Etsy tutorials on Pennies Not Perfection:
Etsy SEO
Etsy Sales Tips
Check out more Etsy tutorials or request a new tutorial by reaching out on Instagram!
If you want to say thank you, you can Buy Me A Coffee.
Etsy Seller Resources
Here are some Etsy seller resources that can help you start, run, and grow your Etsy shop:

Mary is the founder of Pennies Not Perfection where she shares her journey to build wealth through online income. She quit her day job in 2021 after she paid off her debt and doubled her 9-5 salary.
Mary's favorite free financial tool is Personal Capital. She uses their free tools to track net worth and work toward to financial freedom.
Her favorite investment platform is M1 Finance, where she built a custom portfolio for free with no fees. She shares her portfolio growth and savings progress every month on YouTube.