Selling digital products on Shopify is a great way to make passive income with your personal brand or business. I've written before about selling digital products on Etsy, but many sellers choose to leave Etsy for Shopify due to the increasing fees.
Shopify is one of the leading platforms to create your own online store easily and quickly. It's also able to scale up as your business grows.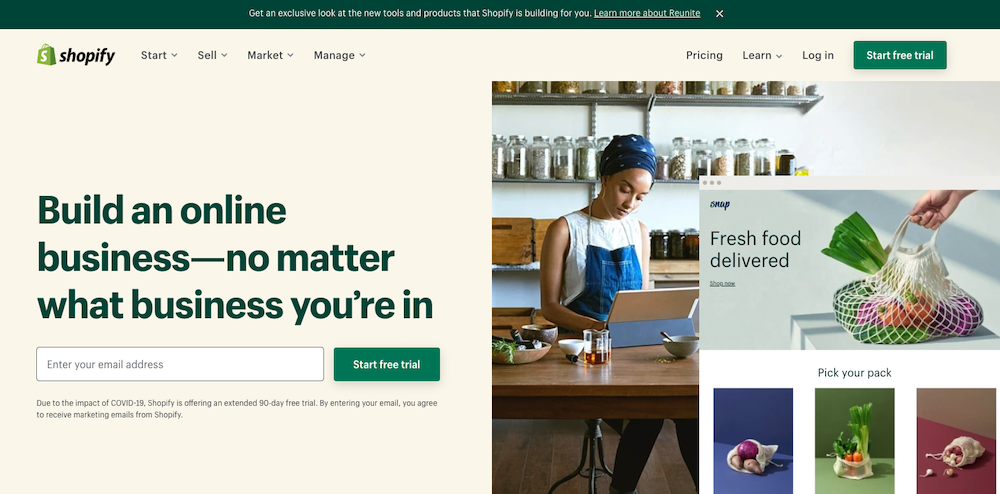 Many of my favorite creators have left Etsy in order to sell on their own site with Shopify because it's much more affordable if you sell large amounts. There are no additional fees that add up and you know what you're getting.
If you are interested in selling digital products with a Shopify store this post will walk you through the basics:
How to open a Shopify store for digital products
Digital products to sell on Shopify
How to sell digital products on Shopify
Sounds easy right? Let's dive in and look at each step in depth so you can sell digital products on Shopify.
How To Open A Shopify Digital Products Store
Opening a Shopify store to sell your digital products sounds complicated but the process is actually quite easy. You can create your shop and be ready to sell products in less than 30 minutes.
The ease of creating a store and immediately beginning to sell your products makes Shopify one of the best platforms for selling online today and this video shows how you can start selling digital products on Shopify. Since Shopify does a 14 day free trial, you can test all this out for free.
Creating Your Shopify Store
Starting a store to sell on Shopify is easy:
Create an account with your email
Enter a store name that will become your default URL storename.myshopify.com
Answer a few questions
That's all you need to actually create your store!
The video goes into detail for a step-by-step tutorial but it's quite easy to walk through on your own as well! The important part comes next with customizing your shop.
Customizing Your Shopify Store
In order to build and customize your store you will need several things to get started:
A business idea
Your business name
A domain name idea (do not leave myshopify as your domain!)
A logo
Products to sell in your store
Photos or mockups of your products
Descriptions of your products
How To Sell Digital Products On Shopify
Now let's look at how to list and sell digital products on Shopify.
Step 1: Adding the Digital Downloads app
In order to sell digital products with Shopify you have to use an app from the Shopify App Store.
The free app is the Shopify Digital Downloads app.
Here's how to install the Digital Downloads app:
Navigate to Shopify Apps at apps.shopify.com
Search for "digital downloads"
Select on "Digital Downloads"
Click "Add app"
There are also several third-party apps for selling digital products available in the Shopify App store.
You can research different Shopify apps for selling digital products and select the best one for your needs. This tutorial only covers the free app but there are many options!
Step 2: Adding Digital Products
In your new Shopify store, go to Products > Add product to create your first product listing.
From your Shopify admin, click Products.
Click Add product
Enter your product title and product description.
Under the Shipping heading, uncheck the box next to This is a physical product.
To make the product temporarily unavailable until the digital attachment is added: at the top of the product page next to Sales channels, click Manage, uncheck the boxes next to your sales channels, then click Done.
Click Save product
Under the product title, click More actions
Click "Add Digital Attachment" (this takes you to the Digital Downloads app page)
Click "Upload File"
Select the file you want to attach to this product.
Click "View in your Shopify admin"
Now that you have added the attachment, you need to make the product available:

Next to Sales channels, click Manage.
Check the boxes next to the sales channels where you want to make your product available.
Click Done.
Not sure what to sell in your new online store? Let's look at some product ideas to inspire you.
Digital Product Ideas To Sell On Shopify
What digital products will you sell in your Shopify store?
The following list of digital product ideas will help you determine something you can share in your online store. Any digital product that sells well on Etsy could also be sold in a Shopify website.
Here are 25 digital product ideas you could create and sell on Shopify:
Art prints
Birthday invitations
Build plans
Business planners
Checklists & trackers
Clip art
Craft patterns
Ebooks
Excel templates
Fonts
Holiday cards
Instagram templates
Invitation templates
Lightroom presets
Meal plans
Party decor
Party invitation
Pinterest templates
Party signs
Planner inserts
Printable photo props
Printable stickers
Resume templates
Sewing patterns
Social media templates
Stock photos
Study guides
SVG cut files
Thank you cards
Workbooks
Want more ideas? Check out this huge list of 63 Digital Product Ideas To Sell To Make Passive Income.
Check out these additional digital product ideas:
Choosing Digital Products To Sell
You are convinced selling digital products is a great idea. But what should you sell? How do you decide?
Creating Your First Product
When deciding what type of digital product to sell I would recommend picking an area where you have a passion for your first product. This passion makes it easier to think up designs for products.
For example, maybe you think you should make SVG files because they are popular, but you really love making spreadsheets to keep your life and business organized. I'd focus on that instead! There is an audience for every type of product.
You don't have to have design skills or a background in digital marketing in order to create and sell digital downloads. You don't need a formal education or design background to create digital products and earn money selling them – you just have to be curious and willing to learn!
Creating Similar Products
When you are creating more products you should choose additional products that will complement your existing items.
I'd think about what types of products would complement each other in a shop that helps my target audience. You can create listings that complement and link back to each other like related party invitations, party signs, party photo booth backdrops, photo booth props, and more.
Adding complementary products to your store will allow you to crosssell and upsell to create more value for your customers and more revenue for your business.
Creating Digital Products
There are a number of ways to create digital products online these days. It's possible to make digital products to sell for free with a number of programs!
Adobe InDesign – I personally use Adobe InDesign for creating all my printables because it's the best, most reliable and has the most flexibility.
There is a learning curve because it's a professional program but it's worth it for the hassles it removes.
Try creating with Adobe InDesign's free trial.
Adobe Illustrator – This program is a must have for all graphics creators! It allows you to do so much and the only limit will be your creativity.
It's perfect for creating wall art, clip arts, designs for SVGs, etc.
Try creating with Adobe Illustrator's free trial.
Canva – Canva is one of the best free editing programs where you can create a digital products. The paid version is even better with bonus features that help take your work to the next level.
Check out some of these Canva tutorials:
PicMonkey – This might be a photo editing heavy program but you can also create digital downloads through PicMonkey.
It can be a good option for editing photos for stock photo sales as well.
Selling On Shopify
Shopify is one of the most popular platforms to use for selling goods online.
Shopify has emerged at the top of many seller's lists for the ease of use, beautiful designs, set pricing, and powerful backend. It offers everything you need to sell digital or physical products and scale your business too. 
Get a free 14 dat trial of Shopify here and see if it's the right fit for you.
If you need help with your Shopify store, check out my related Shopify tutorials and guides: