If you are creating faceless YouTube videos then you'll need to find b-roll to create those videos. In this post we look at places to find free b-roll for YouTube cash cow channels and other videos.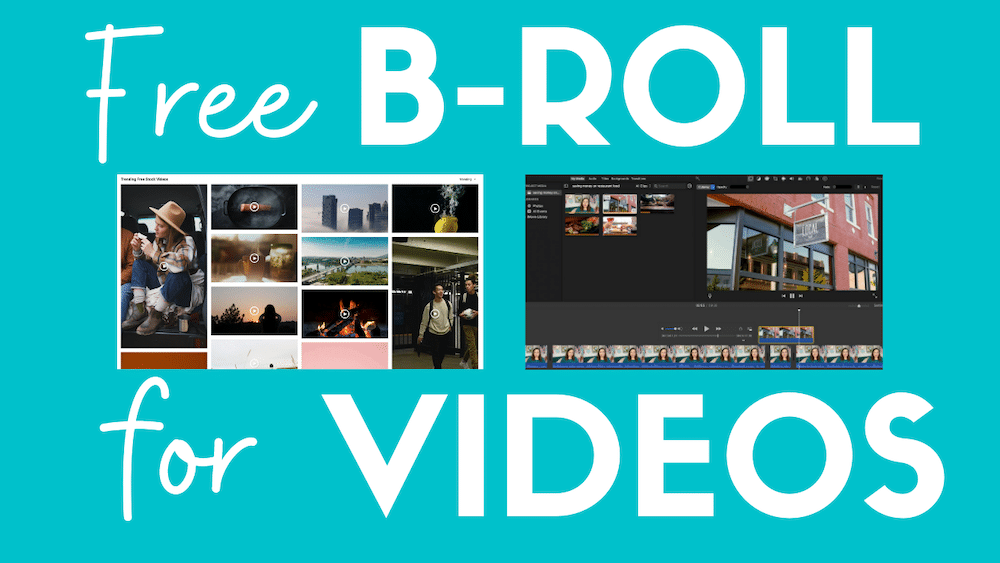 What Is B-Roll?
B-roll is the extra footage you add into a video to make the story better by having a more versatile and interesting video.
It makes video editing more flexible and easier. B roll footage can include video, still photos, animation, or other graphics.
For cash cow YouTube videos where you are not the focus of the video, you'll need various types of b-roll to create your video content. Sourcing and putting together b-roll footage is a huge part of creating videos without showing your face.
Related: Make Money On YouTube Without Showing Your Face
Where To Find Free B-Roll
There are several websites that offer free videos you can use as b-roll in YouTube videos.
There are two places to find b-roll consistently and easily that I personally use often:
Let's look at both of these in depth.
Pexels
One of my favorite b-roll sources is the website called Pexels. They claim to be "The best free stock photos, royalty free images & videos shared by creators."
As a creator I believe the best part of Pexels is that they keep the licensing and legal side simple.
As they explain: "All photos and videos on Pexels can be downloaded and used for free."
Here are some additional details they offer about using the b-roll:
All photos and videos on Pexels are free to use. 
Attribution is not required.
Giving credit to the photographer or Pexels is not necessary but always appreciated. 
You can modify the photos and videos from Pexels. Be creative and edit them as you like.
This makes things incredibly easy as a YouTube creator who needs to use other people's videos to create a channel!
Canva
Another amazing resource for quick b-roll for YouTube videos is Canva.
While primarily known as a design tool, Canva is another fantastic resource for free video content.
As part of their design suite, Canva offers a wide selection of video templates, stock footage, and easy-to-use editing tools.
They also include many different automations and graphic effects that can elevate your videos. For less than $20 per month you can use Canva to find footage and other premium content.
More Free B-Roll Websites
Pexels has been my go to for b-roll for YouTube videos, but there are other free b-roll websites.
Here are several free b-roll websites you can use:
Coverr
Coverr is a fantastic resource, especially when you want your content to stand out. With its extensive collection of royalty-free videos, it's your one-stop shop for all stock footage needs.
Mazwai
Mazwai's strength lies in its uniqueness. If you're working on a creative video project, you'll find their selection of HD media clips irresistible. The options are vast, letting your creativity truly run wild!
Mixkit
At Mixkit, you can not only find an extensive collection of high-quality videos, but you can also customize and add various elements to them. It's an efficient tool to reduce your production time and boost your content's appeal.
Dareful
Dareful's high-quality stock footage is perfect for those looking for the extraordinary. Whatever you desire, whether it's romantic sunsets or thrilling adventure scenes, you're likely to find it here.
Clipstill
Clipstill offers a fresh perspective on content creation. It provides an easy-to-use platform where you can turn videos into captivating clips, stories, or GIFs. It's the ideal tool for those who need quick and beautiful content.
Vidsplay
For those of us who are constantly creating video content, Vidsplay is a great option. With an extensive archive and frequent new additions, it's a cost-effective way to keep your videos fresh and engaging.
Videvo
Videvo's extensive library of free video footage and motion graphics opens up a world of creative possibilities. Make sure to understand their various licensing options to make the most out of their resources.
📱 Videezy
Videezy offers a myriad of royalty-free video clips, but remember to read their licensing info carefully. With a mix of HD and 4K content, they cater to a wide range of quality needs.
In addition to these free b-roll websites you can also find many sites where you can purchase b-roll footage at a low rate.
Using Free B-Roll Footage Websites
These are best free B-roll footage websites available to help create cash cow YouTube channels.
There are a few things you need to keep in mind whenever you are using these free b-roll footage websites.
First, keep licensing and fine print in mind as you choose the videos you want to use. Do your due diligence and read the small print and licensing details attached to the video content.
Second, credit video creators where necessary and also when possible. Giving credit to the original video creators you source for your videos does not take away from your videos. It does generate good will and karma in the community and is a general good practice.
Third, pay attention to the video technical details. If you are creating videos for YouTube then you likely will only want to work in 1080p instead of focusing on 4k. Pay attention to make sure videos are high enough quality to include in your work. Using 1080p will ensure most are but if you want 4k videos only you will be limited on free websites.
Finally, remember that free sites for b-roll footage are not the same as paying for video content. You will have to sort through a lot of content and not everything will be top tier. Many amateurs upload content to free sites and you'll have to evaluate a lot of videos to decide what to use.
Related: YouTube Creator Tutorials
More YouTube Channel Resources
Here are some resources that you can use to create videos and grow your channel on YouTube.
Outsourcing Video Work
These sites help you find freelancers and virtual assistants to create your YouTube content and run your cash cow channel.
Fiverr – Hire freelancers to help edit your videos, create voiceovers, film footage, and more. You can create an entire channel using Fiverr freelancers and several specialize in creating these types of faceless, voiceless channels.
OnlineJobs PH – Hire freelancers in The Philippines to help you run your channel. You can find professional video creators and editors looking for work at very reasonable prices. I personally use video editors that I found on this site and it has been an amazing working relationship.
YouTube Tools
These tools help you create content that will actually reach an audience on YouTube, from finding the right topics to creating thumbnails that capture attention.
TubeBuddy – TubeBuddy is an all around tool helpful especially for SEO research and creating optimized videos that rank in search. It's the ideal tool to use for video channels that will be faceless and not rely on a personality to build them.
Epidemic Sound – Get music for your videos without worrying about future copyright issues. You can try to get "copyright free" or "royalty free" music from other sites but those can come back to claim. your ad revenue years down the road (I speak from experience). Avoid issues and pay for access to music you can use legally.
Canva – If you need to make thumbnails for YouTube videos then you need to use Canva. It's a fantastic design tool that makes creating thumbnails quick and easy. It's also super easy to manage a team of freelancers who might be helping you generate thumbnails. At only $12 per month it's essential.
YouTube Channel Organization
These resources will help you plan and organize your ideas for your cash cow YouTube channel.
YouTube Success Planner – This YouTube planner includes everything in the video planner and goes more in depth on how to grow your channel, how to monetize your videos, and how to track your success.