Every month I make $3,000+ from affiliate marketing programs. I love sharing products I use and earning money when someone purchases that product. One of my favorite ways to earn money in this way is the Etsy affiliate program. That's why in this post I'm sharing how to become an Etsy affiliate.
The Etsy affiliate program is an amazing fit for many lifestyle content creators. It's a great way to increase your revenue as a blogger or video creator.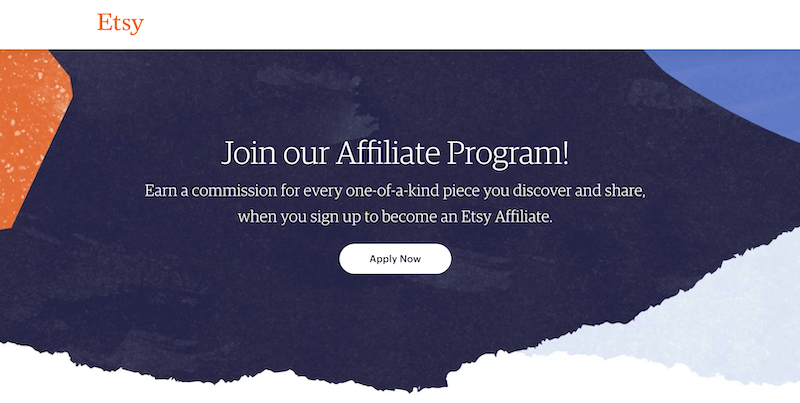 What Is Affiliate Marketing?
Affiliate marketing is where you promote products to your audience and then earn a commission when someone makes a purchase through your unique affiliate link. 
Basically you earn money by selling other people's products.
The commissions for those sales can range from 4% to 70% of the product sales price.
Affiliate marketing is a great way to make money on YouTube or TikTok or with any content you create online. It's a perfect fit for creators who might not want to make their own product to sell on Etsy.
The Etsy Affiliate Program
Many people don't even know Etsy has an affiliate program. Lucky for you, it does exist and many of us use it to earn money every month!
The Etsy affiliate program allows you to earn a commission every time you send someone to Etsy and they make a purchase.
That's right: they can purchase something from ANY Etsy shop!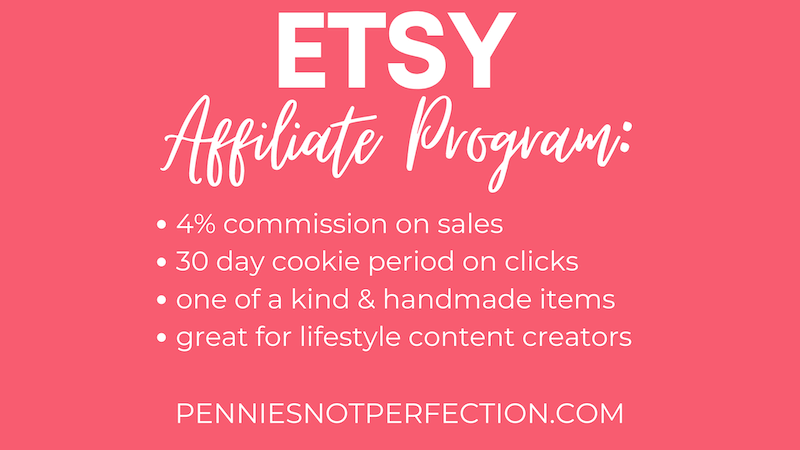 The Etsy affiliate commission is similar to Amazon's. You'll earn a flat 4% commission for any sales made on Etsy through your affiliate link (minus sales that aren't eligible like gift cards and orders paid by check).
If you are an Etsy seller like I am it is important to note that you can't earn commissions on your own shop. You need to disclose to Etsy the shop you own and they will make sure your commissions exclude purchases from your Etsy shop.
Why Become An Etsy Affiliate
Many traditional affiliate marketers ignore the Etsy affiliate program because they consider a 4% commission to be too low.
I believe this creates an amazing opportunity for creators because being an Etsy affiliate is a great way to create additional income only.
Why would you consider becoming an Etsy affiliate? Let's look at the positives.
Etsy has a variety of items.
There is a ton of variety in products on Etsy. They are the leader in crafts and vintage items but also have a variety of other products that your customers might love.
Etsy is a great fit if you are in any of these niches:
crafts & DIY
weddings
jewelry
home decor
organization
vintage clothing
Those niches are perfect for the Etsy affiliate program but almost every creator can find something to promote thanks to the millions of different Etsy shops.
Etsy is known and trusted by consumers.
As an affiliate you can take advantage of the trust between Etsy and it's customers. When you send customers to Etsy you know that you are sending them to a well-known brand that will protect and side with customers.
Because Etsy is known and many people already use it to make purchases you are less likely to have issues as an affiliate. No one will be worried about giving over their credit card information and m
All you need to do as an affiliate is get people to Etsy and then let Etsy handle the rest. With a 30 day cookie period you are likely to make sales as long as you get people to the website.
Etsy affiliate bonuses for content.
Etsy often hosts contents and bonus periods where you can earn extra as an affiliate. You can also often earn additional income as an affiliate for creating specific content the Etsy affiliate program has requested.
As an example, they gave $10 to all affiliates who created a Christmas gift guide featuring Etsy affiliate products. They do this often around holidays and sales. As an Etsy affiliate you can get bonuses for content you are already creating!
It helps small businesses.
Etsy sellers are usually individuals with a side hustle or small business. Every time you send a buyer to Etsy instead of a big box website you are helping a small business succeed.
While this doesn't earn you extra money it should give you a warm fuzzy feeling. Helping other small businesses and creators succeed builds karma for your own business to succeed.
How To Become An Etsy Affiliate
Now that we've covered all the positives of the program, you're ready to join!
The Etsy affiliate program is run by Awin, a large affiliate network that hosts multiple different affiliate programs. You can join the Etsy affiliate program on Awin or ShareASale (which is now owned by Awin but still operates separately).
To join the Etsy affiliate program you need to create an account on Awin or ShareASale.
Then after you are inside these networks with your account you will apply to the Etsy affiliate program.
To join the Etsy program inside your account:
Go to Programs
Search for Etsy
Click "Join Program"
Fill out the information about how you will promote Etsy products
The Etsy affiliate program accepts most people that apply but adding information about you and how you will promote products helps fast track your acceptance.
If you are considering an increase in your affiliate marketing efforts I recommend joining both Awin and ShareAsale. Both websites have a very different experience and offer different programs.
You can then select one to join the Etsy affiliate program under.
How To Create Etsy Affiliate Links
The video below shows how to create Etsy affiliate links when you join the Etsy affiliate program at Awin.
The process is similar when you join the Etsy affiliate program under ShareASale.
More Affiliate Marketing Tips & Tutorials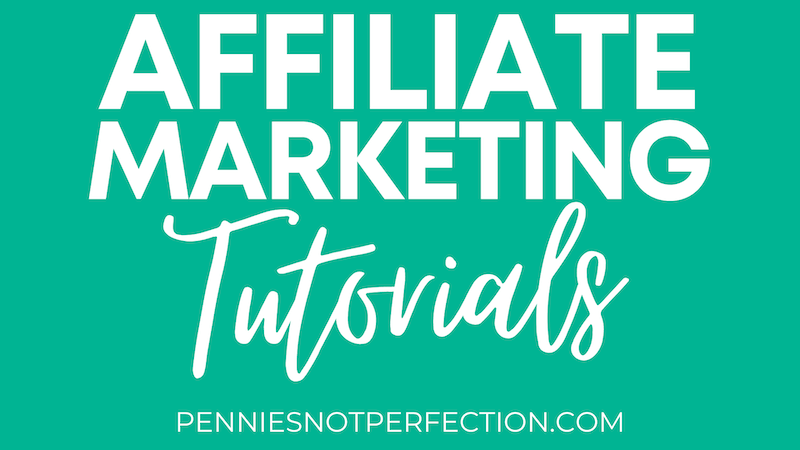 Here are a few useful affiliate marketing tutorials on Pennies Not Perfection:
Affilaite Marketing 101
Affiliate Marketing Tutorials
Check out more affiliate marketing tutorials or request a new tutorial by reaching out on Instagram!
If you want to say thank you, you can Buy Me A Coffee.
Affiliate Marketing Resources
Here are some resources that can help you grow your affiliate marketing income: