Want to earn money with affiliate marketing but not sure where to start? This master list shares the best affiliate marketing networks you can join.
Affiliate Marketing Tips & Tutorials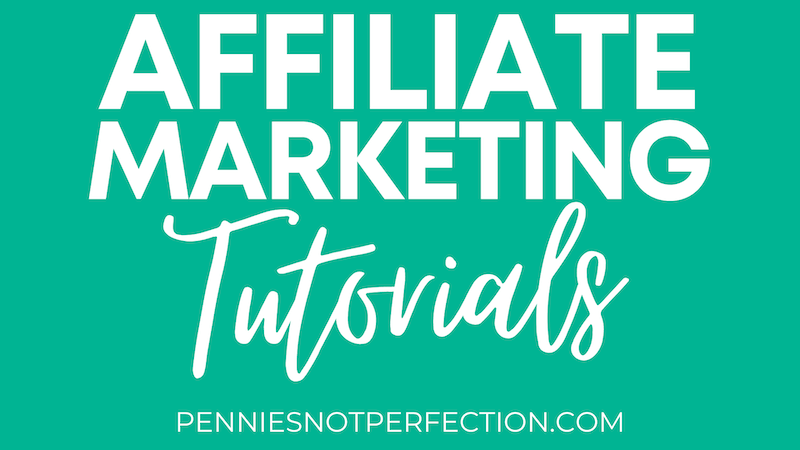 Want to learn more about affiliate marketing? Check out these useful tutorials on Pennies Not Perfection:
Affiliate Marketing 101
Affiliate Marketing Tutorials
Check out more affiliate marketing tutorials or request a new tutorial by reaching out on Instagram!
If you want to say thank you, you can Buy Me A Coffee.
Affiliate Marketing Resources
Here are some resources that can help you grow your affiliate marketing income:
Frequently Asked Questions
Affiliate marketing is one of my favorite ways to earn money online but it can be confusing for beginners. Here are some of the most frequently asked questions I get about affiliate marketing networks and more.
What is affiliate marketing?
Affiliate marketing is a method of monetizing content by promoting products or services from other companies to your audience.
You earn a commission whenever someone clicks your link and then makes a purchase. It does not cost anything for your audience and your commission is paid out of the profit the company would have made.
What is an affiliate program?
An affiliate program is the arrangement where a company signs up affiliate partners to promote their products. They then pay out an agreed upon commission for any sales that have been referred.
Affiliate programs can be managed in house by the company or run by a third party affiliate network company.
What is an affiliate network?
An affiliate marketing network is a company that runs multiple affiliate programs.
All of the affiliate marketing networks on this page are company that have multiple different affiliate programs on their site. When you sign up for an affiliate network you are able to join multiple programs.
Affiliate marketing networks are very effective for both the companies and the partners. The most popular affiliate networks allow you to join and manage mange partnerships in one place.
Whats the best affiliate network for my niche?
Most affiliate marketing networks are not niche specific like individual programs are. You can be successful with most affiliate networks in any niche.
However, sometimes in a niche you'll find that the majority of your desired programs are with one affiliate network like the personal finance affiliate programs at FlexOffers. If this is the case then you'll want to join that network and focus your efforts.
Who is this list of affiliate networks for?
It's for all content creators! You can successfully use affiliate marketing as a YouTuber, blogger, TikToker, etc. The platform matters less than how you are connecting with your audience to recommend products.
You can also use affiliate marketing as a business owner to supplement your earnings. I helped setup affiliate marketing for a wedding planner friend and she now has a nice stream of income from it!
How can I find affiliate programs on my own?
This list is designed to give people a starting point for affiliate marketing. When you already have a business or platform as an influencer joining an affiliate network is a quick way to get started. You can join multiple programs instead of hunting them down.
But what if you want to find affiliate programs on your own? You can!
The best way to do this is to get niche specific. Search google for "affiliate programs for" your niche. So if you create beauty content you might search for "affiliate programs for makeup" as an example.
What should I know about these affiliate programs?
The most important thing to know is what rules programs have. This information is vital as a creator using affiliate programs to earn money.
You should be aware of commission rates, payment thresholds, rules, regulations, affiliate disclaimers and more. Anything the affiliate program sends you should be read and noted on your end. The best rule of thumb? Pay attention!