After quitting my job to create content full time on YouTube I have received a lot of questions about the decision. One of my favorites to answer is what is a cash cow YouTube channel?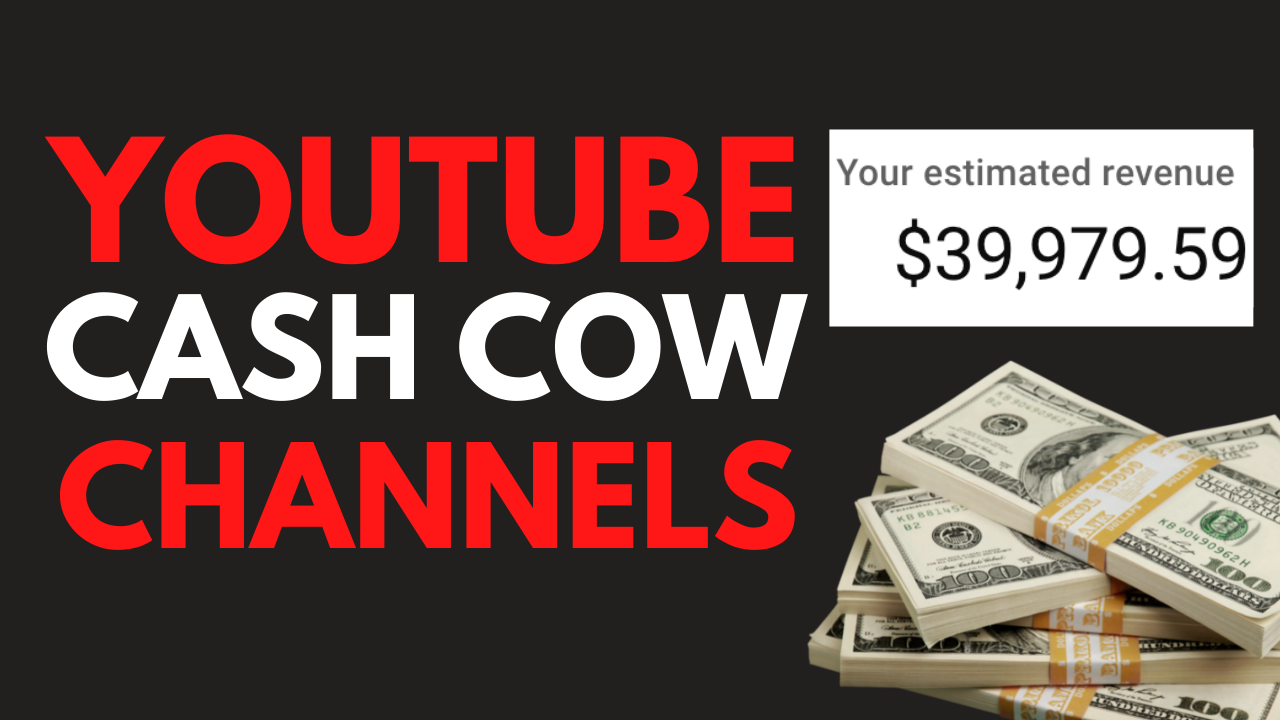 Since my YouTube income is a mix of personality based content along with cash cow type videos this is one of my favorite topics to talk about!
What is a cash cow YouTube channel?
Cash cow channels on YouTube are channels designed entirely to make money.
These channels do not rely on a personality and the entire content can be outsourced to a team of freelancers or employees.
The videos are often designed to get as many views as possible in higher paying niches. The focus is on getting views to generate revenue rather than building community or other possible purposes.
Cash cow channels are all about making money on YouTube without being a personality in front of the camera. This allows you to pay others to make the content that then earns money. It removes you from the content creation grind and instead creates an asset that earns money each month without your work.
They can be successful but it takes a lot of work to find success with your ideas and content team.
Cash cow channels on YouTube have risen in popularity over the last few years as people have sold courses and shared income stats from the platform.
Related: 6 Online Income Streams (How I Doubled My Income)
How do cash cow YouTube channels work? 
Cash cow channel owners pay people to write scripts, gather b-roll videos, create voiceovers, and edit the videos. Then the finished video is uploaded to their YouTube channel.
Videos are created around popular topics that drive lots of views and can generate large amounts of ad revenue.
Cash cow channels are mainly monetized by ad revenue on YouTube.
They can also successfully use affiliate marketing to drive up income. Many channels also use Amazon affiliate links and other affiliate programs to generate additional revenue.
Related: How To Make Money With A YouTube Channel
Cash Cow Channel Ideas
Cash cow channels on YouTube are nothing new. There are already hundreds or thousands of successful cash cow channels earning owners money every single month.
If you aren't sure what kind of cash cow YouTube channel to make, check out these channel ideas.
This will give you a few ideas of topics you can build a channel around.
However, it's just a starting point! People build channels in this style in almost every niche. If there is a topic that interests you then you can probably build a YouTube channel around it.
Related: Cash Cow Channel Ideas For YouTube.
More Cash Cow YouTube Video Ideas
Building a cash cow YouTube channel will vary in difficulty depending on the niche you select. Certain topics are easier to grow channels around on YouTube.
Depending on your topic you'll have to generate video ideas that you hope will generate massive views (and revenue).
Want to know how to get started with generating ideas for your YouTube channel?
Check out these 40 Faceless YouTube Video Ideas:
Since the majority of cash cow type channels are created without a personality showing their face, these video ideas will inspire you.
Faceless, cash cow channels are a great model on YouTube that continues to grow in popularity. This means new video types will be created giving you even more opportunities.
Related: YouTube Channel Ideas Without Showing Face And Voice
Cash Cow YouTube Channel Resources
After reading these cash cow channel ideas you're probably ready to start your own channel and rake in money. Here are a few tips and resources that can help you save time and earn money faster.
Here are some resources that you can use to create these videos and grow your channel.
Outsourcing Video Work
These sites help you find freelancers and virtual assistants to create your YouTube content and run your cash cow channel.
Fiverr – Hire freelancers to help edit your videos, create voiceovers, film footage, and more. You can create an entire channel using Fiverr freelancers and several specialize in creating these types of faceless, voiceless channels.
OnlineJobs PH – Hire freelancers in The Philippines to help you run your channel. You can find professional video creators and editors looking for work at very reasonable prices. I personally use video editors that I found on this site and it has been an amazing working relationship.
YouTube Tools
These tools help you create content that will actually reach an audience on YouTube, from finding the right topics to creating thumbnails that capture attention.
TubeBuddy – TubeBuddy is an all around tool helpful especially for SEO research and creating optimized videos that rank in search. It's the ideal tool to use for video channels that will be faceless and not rely on a personality to build them.
Epidemic Sound – Get music for your videos without worrying about future copyright issues. You can try to get "copyright free" or "royalty free" music from other sites but those can come back to claim. your ad revenue years downthe road (I speak from experience). Avoid issues and pay for access to music you can use legally.
YouTube Channel Organization
These resources will help you plan and organize your ideas for your cash cow YouTube channel.
YouTube Success Planner – This YouTube planner includes everything in the video planner and goes more in depth on how to grow your channel, how to monetize your videos, and how to track your success.