Coloring makes kids happy and soothes stressed-out adults. But did you know selling coloring pages on Etsy can also make a great side income?
This Etsy niche has helped many artistic people sell creative printables.
I've earned over $10,000 per year selling printables on Etsy and think it's one of the best side hustles. If you want to learn as well you can grab a seat in the FREE Printables Workshop.
Do Coloring Pages Sell On Etsy?
Coloring improves your motor skills, vision, anxiety and more. It helps you focus and many people find they sleep better after coloring too. Plus, it's fun for adults and kids!
With all the benefits of coloring, people are on the lookout for new pages to use in their meditative and artistic hobby.
The growth of the coloring niche means people are looking for new coloring pages.
With the rise of printable products, selling coloring pages on Etsy has opened up a market for artists and creative entrepreneurs.
This niche allows artists and other creatives to showcase their work and generate a new source of income. By creating printable coloring pages, artists use this growing trend to create passive income streams.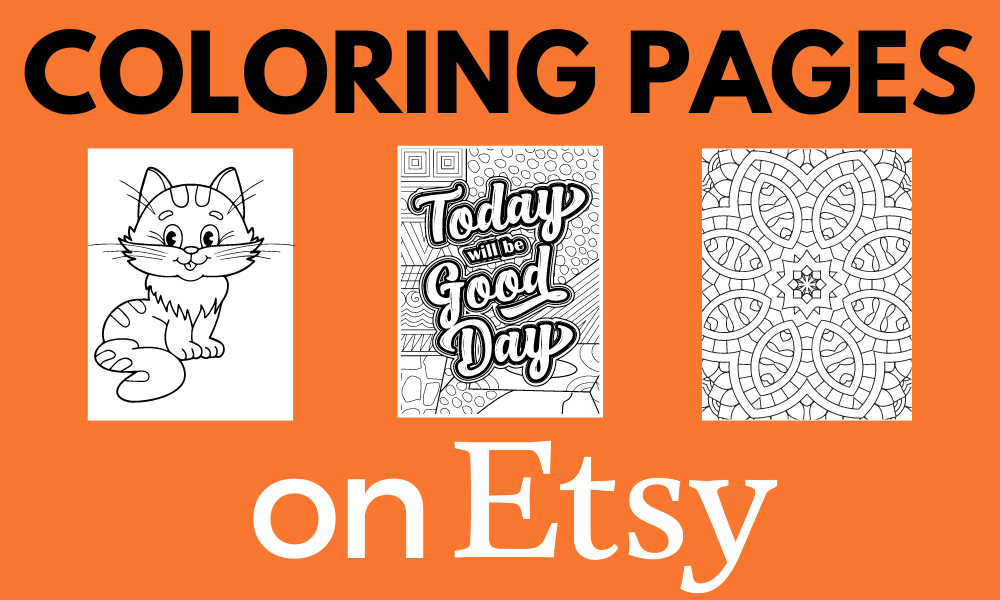 What You Need to Know About Selling Coloring Pages on Etsy
If you are considering this product on Etsy then there are a few things you need to consider.
Design
You'll need to have a design or at least a style in mind. It will need to be something unique that can stand out.
The coloring niche on Etsy already has thousands of designs. Your new coloring page design will need to be something that is different and new.
Printable vs Physical
You will then need to decide if you want to sell physical coloring books, printable coloring pages, or both.
There are benefits to both as well as some drawbacks.
For physical coloring pages and books you will need to create the product and fill the orders. Or you will need to set up third party fulfillment.
For printable coloring pages you can create the page once and allow Etsy to fill orders for you over and over. Once it is created you are done. However the drawback is with digital items your work is out there and easy to steal or use for other purposes giving you less control.
Because I personally prefer to sell digital products I will be focusing on how to create and sell digital coloring pages.
Coloring Page Ideas
Not sure what design or style to use for your coloring pages on Etsy?
Try out these ideas:
quote coloring pages
mandala coloring pages
funny coloring page designs
affirmation coloring pages
seasonal coloring pages (Christmas, Easter, Valentine's Day)
Disney coloring pages (you need a special license for this)
coloring pages for kids
Those are just a few ways to get started.
To generate seasonal ideas for coloring pages you can review the free Seasonal Etsy Best-Sellers Ebook from Gold City Ventures.
You can find more design ideas by doing Etsy keyword research. Learning what people are searching for can inform what types of coloring pages you should create.
Learn what coloring pages people are looking for by using a tool like Sale Samurai.
How to Create Coloring Pages To Sell
There are a few different programs you can use to create coloring pages.
For creating coloring pages you can use:
Inkscape (free)
Procreate ($9.99)
The program you decide to use will depend on your skills and budget.
You can then create a coloring page from scratch or purchase clip art elements from websites.
Some websites you can use for clip art include:
One you have your elements or hand drawn design then you can arrange them on the page. You can include text or other graphics as needed for your design style.
When it's done you export the file as a PDF design to upload to your Etsy listing.
Coloring Pages Pricing
How much do coloring pages sell for on Etsy?
Unfortunately despite the popularity this is a lower priced digital or printed product.
The average price for a printable coloring page is around $1.00.
Since there is no upfront cost and you can sell this item over and over there is the potential to make lots of money if you are uploading many different designs.
You could also combine your designs with similar products like printable stickers or coloring items like crayons or markers.
Now that you've created a design and decided on pricing, it's time to create your Etsy shop and list it!
Creating Your Coloring Etsy Shop
In order to sell printables on Etsy you have to first start your Etsy shop!
I highly recommend you create a few products before moving on to the logistics of opening your shop since you will need at least one to start and ideally will launch your shop with multiple.
In order to start an Etsy shop you will need an idea of what you want to sell and a name picked out for your new Etsy store. If you haven't already decided this before starting you will want to think about what you will sell in your new Etsy store and what brand you want to build around your shop.
Once you've got a general idea you are ready to watch this video tutorial on how to create your new Etsy shop!
You can start your shop with this link for 40 free listings to jumpstart your shop without having to waste money on those first listings.
How To Sell Coloring Pages On Etsy
Selling digital products on Etsy is easy but creating your listing is going to be different than creating a listing for a physical product.
In the video tutorial above we walk through the steps to create a listing on Etsy step by step. Creating a listing is not difficult but it can be helpful to see the process laid out step by step like I do in the video.
Digital Product File Delivery
Let's talk about the details and most frequently asked questions about delivering digital download files to your buyers on Etsy.
File Types
Printables can be created in multiple file types. The most common will be PDF, JPG, and PNG. For printables I always recommend PDF since they are easier to print and will be the highest quality option for someone printing. You can always include multiple file types for your customer.
Naming Your Files
Naming your digital download files doesn't need to be complicated but it should be useful and make sense to your customers. Make sure you name them in a way that is easily identifiable so your customers can find them quickly once downloaded.
That means you will want to change things from IMG_2021_06_05.PDF to something like Spending_Tracker_Pennies_Not_Perfection.PDF or something similar.
This is a simple thing to do when you are creating your printables and it will help keep you and your customer organized.
Adding Files To Your Etsy Listing
When setting up your listing you will be able to upload 5 files with your listing.
You should upload the printable files but you can also include instructions or bonuses here as well.
Customer Downloads
When someone purchases your printable from your Etsy shop the files are automatically available for them to download inside their account. As the seller you don't have to send any files to the customer or interact with them unless they send you a message with questions.
After a purchase your customer will be be able to go to "Purchases and Reviews" under "Your Account". Here they will see all the files they purchased from you.
Then they can click the black "Download Files" button which takes them to a screen where they can download each file individually. by clicking each "Download" button.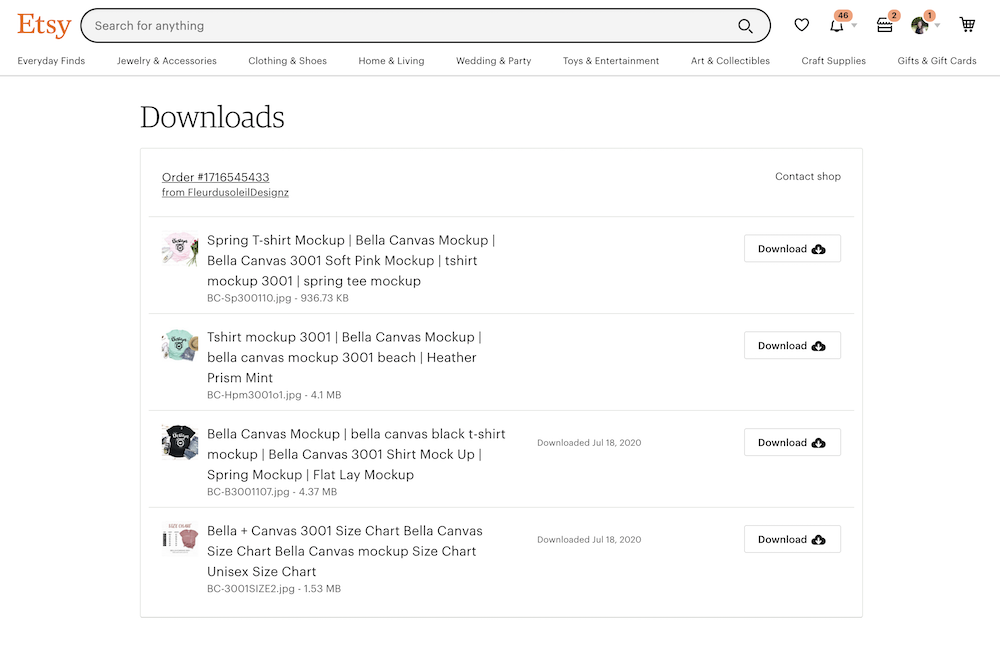 For a customer resource you can send them to read frequently asked questions on this post: How To Download A Digital Product On Etsy.
Growing A Business On Etsy
Etsy can be an amazing place to build a business. You can continually earn passive income through selling coloring pages and other printables.
If you want to grow on Etsy I recommend my friend Sharon's Etsy Entrepreneur course. 
She walks you through the process of setting up an Etsy shop and growing it to make $1,000 a month or more. She grew her Etsy store of digital downloads to more than $1,000 a month and has inspired many people to do the same.
Another great option for beginners who want to sell printables is the E-Printables course from Gold City Ventures.
E-Printables Course focuses specifically on printables and guides you on how to create printables, how to sell them on Etsy, and how to market them for success.
This course walks you step by step through the process and they have an ongoing Facebook group where you can get and give support to other digital product sellers.
More Etsy Tips
Here are some posts about starting and growing an Etsy shop and selling digital products that may help you:
Etsy Basics:
Etsy SEO:
Digital Products on Etsy: