Selling digital products in a Shopify store can be effective but you have to set up your store in a way that gives you the best chance for success. Shopify apps for selling digital products can help you succeed.
In this post I'm going over the best, must-have Shopify apps – including free Shopify apps – that will help you sell digital products.
If you haven't started your store yet, try it out with a 14 Day FREE Shopify Trial.
I'm a Shopify affiliate so I get commissions when people sign up through my links but it's truly one of the best platforms to use for selling any products online.
Shopify Apps For Selling Digital Products
When you're building a Shopify store for digital products there are a number of apps that allow you to upload and sell products passively.
Shopify apps allow you to create a Shopify store customized to your needs and all of these amazing apps give you the ability to sell digital downloads and products easily.
I go over both free and paid Shopify apps in this video. I also cover Shopify apps for selling digital downloads, music downloads, courses, memberships, and more.
Here are the best apps for selling digital products for different types of content.
Digital Downloads
Digital Downloads – This is the number one free app by Shopify for selling digital products. It's the one I've used most often for selling printable downloads. This app allows customers to download their file immediately upon purchase by receiving a link via email.
SendOwl
SendOwl – This Shopify app provides instant delivery of purchased digital products and have fulfilled over 8 million order on Shopify. It's also a stand alone company with additional customer service and features. It comes with multiple useful features like automation, expiring links, and auto-generated license keys that can help you to power your products.
Single Music
Single Music – For musicians selling music as a digital product this app is incredibly valuable since it was made with musicians in mind. It bridges the gap between physical and digital music sales with useful tools like chart reporting, upselling campaigns, and clips for samples.
Thinkific
Thinkific – For course creators the Thinkific Shopify app is the best way to add and sell courses to your Shopify store. The Thinkific app makes it super easy to create a course curriculum by uploading and drag and drop content. There is a free option when is great for beginners that allows you to create and sell up to three courses in your Shopify store.
FetchApp
FetchApp – This delivery app for digital products has more features than. Shopify's free app but less than the paid SendOwl version making it a good option for people that need to start with a free plan but then grow. You have the ability in this Shopify app to attach multiple files with a digital products which can be useful for larger items with multiple file types.
Sky Pilot
Sky Pilot – If you've been wanting to build a membership program then Sky Pilot is a great option. For recurring revenue for your Shopify store this app can fill all needs. You can sell files, video streams and more to your customers in the membership.
Bold Memberships
Bold Memberships – This app is also a great option for building a membership site with recurring revenue for your business. You can show or hide any piece of content to your members, create tiers of membership, and customize lots of features and functions. This app is $9.99 a month and offers a free trial.
These are some of the best options for selling different types of digital products on Shopify.
Shopify Apps exist to help you build your business by adding extra features to your Shopify admin. Most are created by third party developers, not by Shopify, so you'll have to keep in mind that custom apps will be serviced by those companies directly. Apps are a great way to add features and create a better store overall, especially if you plan to sell digital products.
How To Start A Digital Products Shopify Store
I recommend using Shopify to build a shop on your own website.
If you don't want to sell digital products on a competitive marketplace like Etsy this is the ideal e-commerce option. It's ideal if you want to start with your own store from the beginning.
The video above is specifically tailored to opening a Shopify store for selling digital products.
Shopify is one of the leading platforms to create your own online store super easily and quickly. It's also able to scale up as your business grows.
The ease of creating a store and selling your products immediately makes Shopify the best platforms for selling online.
There are many ways to make Shopify work for selling digital products.
Additionally, here are some posts and links about Shopify that can help you:
Digital Product Ideas
So maybe you're set on opening a store to sell digital products but you don't know what you want to sell.
There are lots of possibilities out there so finding the right product to sell is all about finding out what works best for you and your personality and skill level.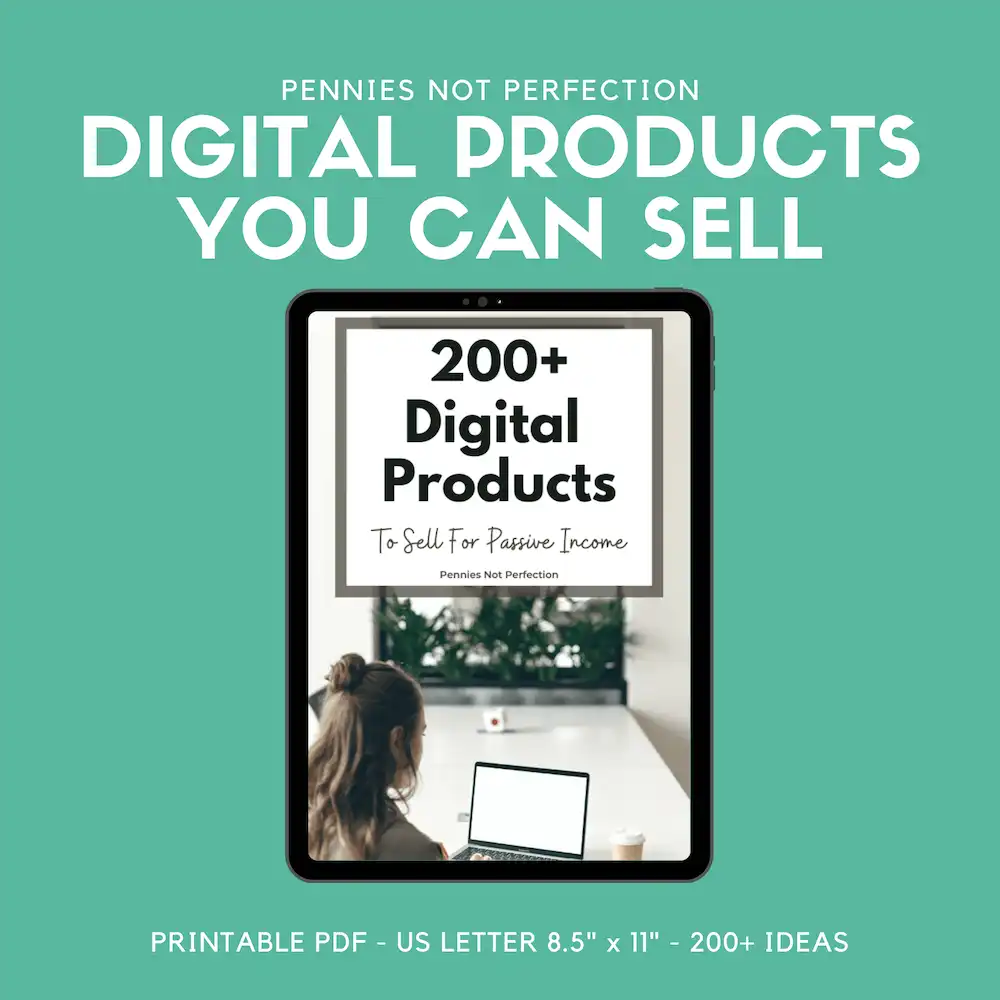 Some ideas for digital products to sell:
Printables
Spreadsheets
Music / Songs
Courses
Ebooks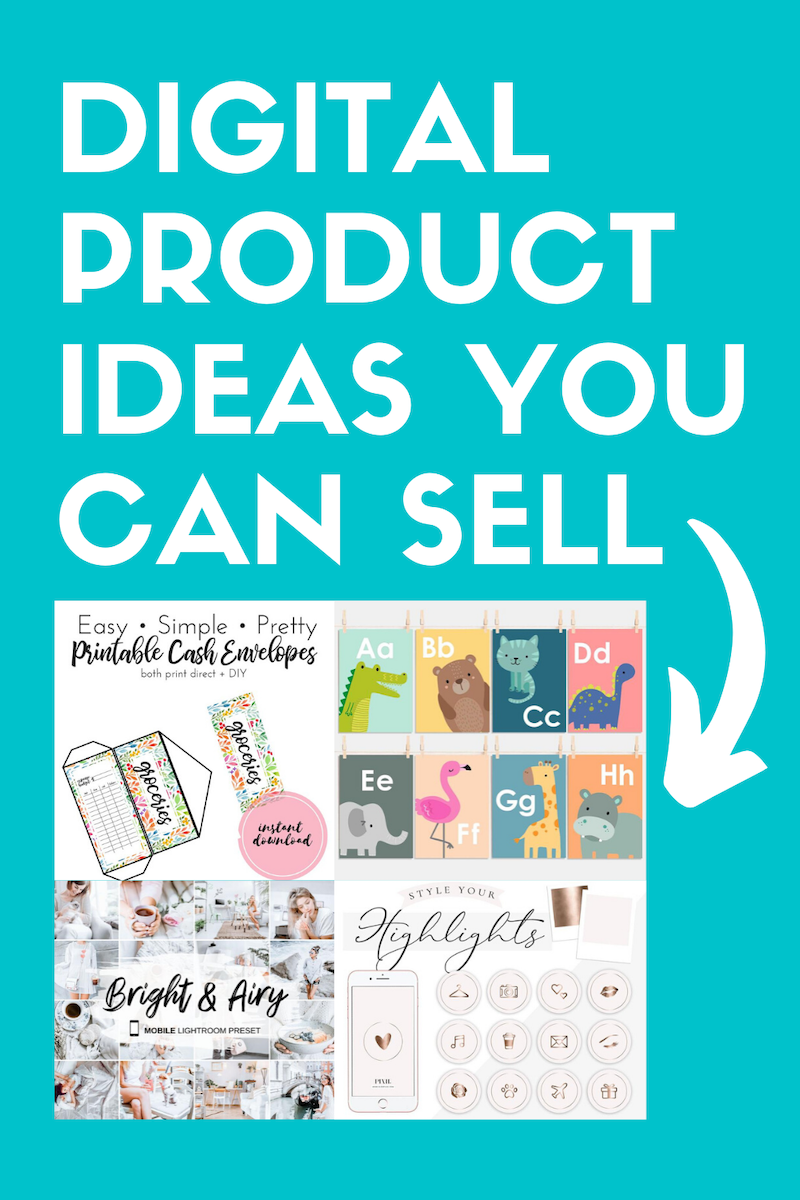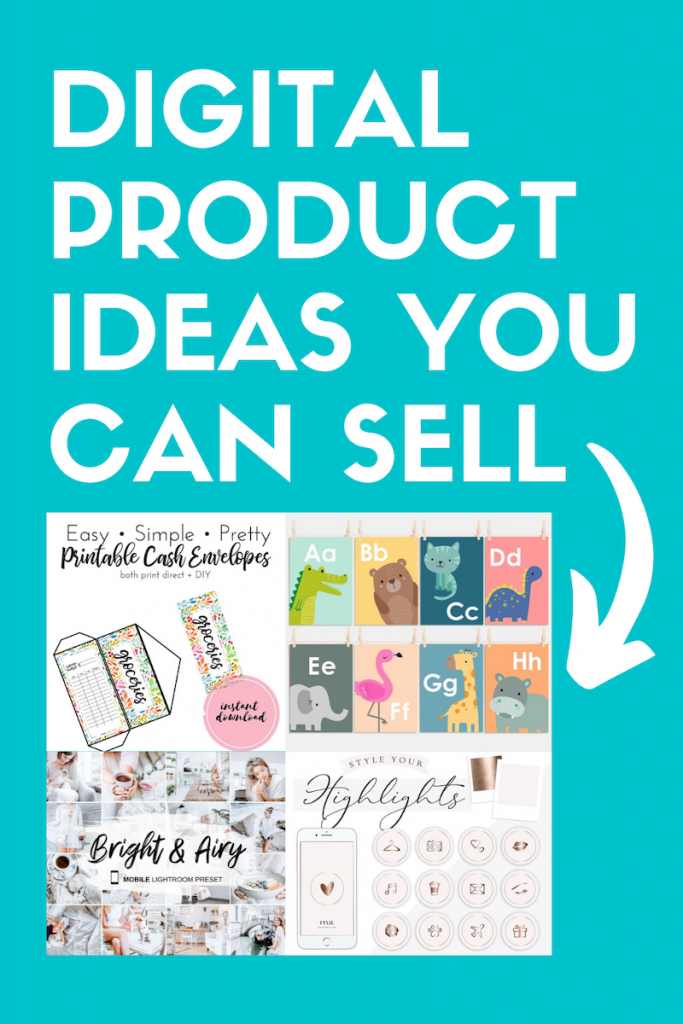 Check out these related posts with useful lists of types of digital products you can sell in your Shopify store:
Enjoy the passive income that comes from selling your digital products via Shopify!
Mary is the founder of Pennies Not Perfection where she shares her journey to build wealth through online income. She quit her day job in 2021 after she paid off her debt and doubled her 9-5 salary.
Mary's favorite free financial tool is Personal Capital. She uses their free tools to track net worth and work toward to financial freedom.
Her favorite investment platform is M1 Finance, where she built a custom portfolio for free with no fees. She shares her portfolio growth and savings progress every month on YouTube.