I use Canva as one of the many digital product creation resources in my toolbox and love it for the ease of use and powerful design functions like creating transparent backgrounds in seconds.
In this Canva tutorial I show you how to make transparent backgrounds for your design work.
What Is A Transparent Background?
When you hear the phrase "transparent background" in regards to an image, logo, or other design file it means there is no background at all. Instead of a background there is nothing visible.
The file type that supports transparency in backgrounds in PNG, aka Portable Network Graphics, a raster-graphics file format that supports lossless data compression. This file type supports:
palette-based images
grayscale images
transparent backgrounds
full-color non-palette-based RGB or RGBA images
PNG files with transparent backgrounds are useful in a variety of design functions.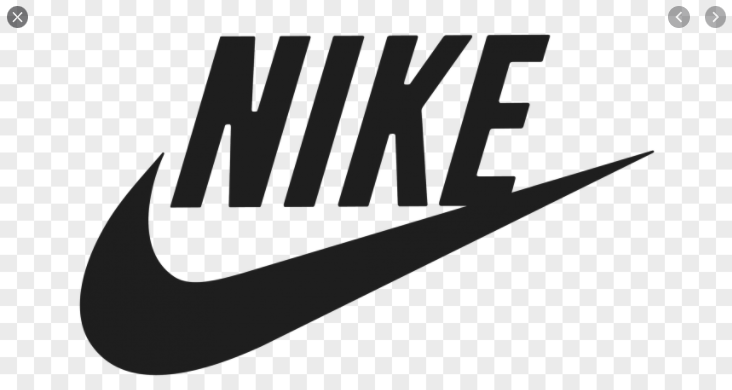 You can see examples of these images easily by searching "transparent PNG" with your favorite brand's name. When you see an image surrounded by a white-and-grey checkered pattern in the search results that is an indicator that the background does not exist. When you use that image in a design the checkered pattern will not show up – no background will be visible.
Why Do You Need Transparent Backgrounds?
Professional designs are built upon the concept of layers. Designers use layers of photos, text, graphic elements, backgrounds to built a full cohesive design made from all the layers together.
Layering elements only works in a design if you are able to layer items with transparent backgrounds. If each item had a regular background you would not be able to achieve a beautiful and professional design, which is why transparent backgrounds are so important.
If you are creating graphics or designing digital products or adding a watermark to photos/videos you will need to be able to create images with transparent backgrounds.
How Can You Find Or Create Transparent Backgrounds?
You don't need to be a professional designer to create transparent backgrounds for your photos, logos, or design elements.
It's easy to make a transparent background in Canva with their pro plan.
You can also make transparent backgrounds in other programs both for free and paid but I've found the simplicity and ease of Canva makes it my go to for this particular function since I pay for their affordable pro plan.
If you are trying to find certain elements to use online or via a site like Creative Market, you can find these transparent backgrounds with a few key search terms. When looking for things with transparent backgrounds, use these terms:
PNG
transparent PNG
transparent logo
transparent image
transparent background
How to Make a Transparent Background in Canva
The video tutorial below shows how to create transparent backgrounds as well as how to then use those images in Canva.
Creating a transparent background for your design is super easy in Canva:
Open Canva and start a new design project
Create your design – remember that any elements you add will be visible in the final project because there is nowhere to hide with a transparent background
When you are happen with your design, it's time to download
Click the "Download" button in the top right corner
Select "PNG" in the File type dropdown
Select the checkbox next to "Transparent background"
Hit the purple "Download" button
When your png file downloads it will have a transparent background.
If you do not see the box to select next to "Transparent background" option then you are in the Canva's Free Forever plan and will need to upgrade your account to a paid version. There are options to pay monthly as a subscription or save some money and pay yearly.
Transparent Background & White Background Differences
If you haven't used transparent backgrounds for images before then you might not be aware of the differences. Sometimes these can appear the same on a computer based on the application so what are the differences?
An image on a white background may look the same as one with a transparent background in various applications, but in other applications the difference will be obvious. The transparent background image will be able to be laid over another image without a background.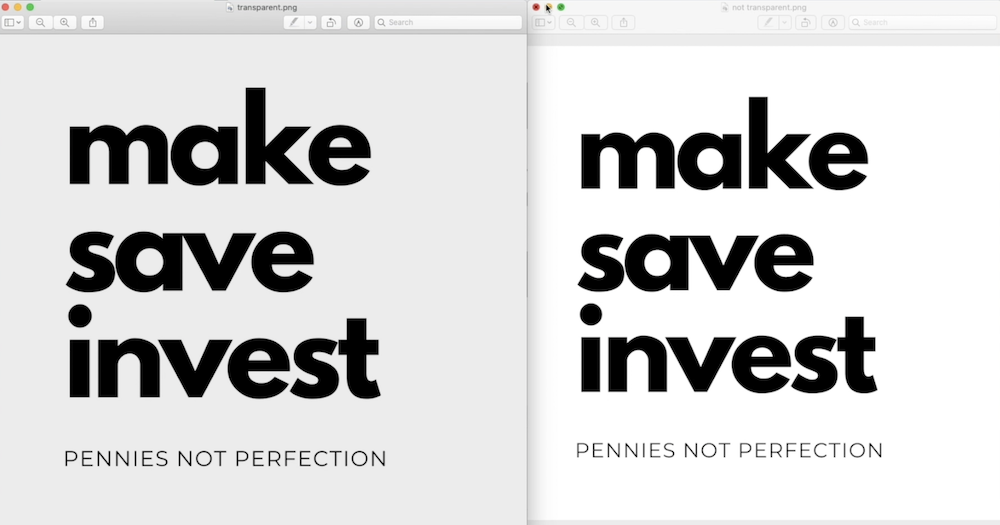 In this example the transparent background image on the left side shows up with a greyed out screen in Preview. On the right you can see the image with a white background that is not transparent.
Next let's look at how you would use an image with a transparent background.
How to Use Transparent Background Images
After you have created your image with a transparent background you are ready to start using it to create layers in your design work.
In the image below we've added the transparent background png on top of another image.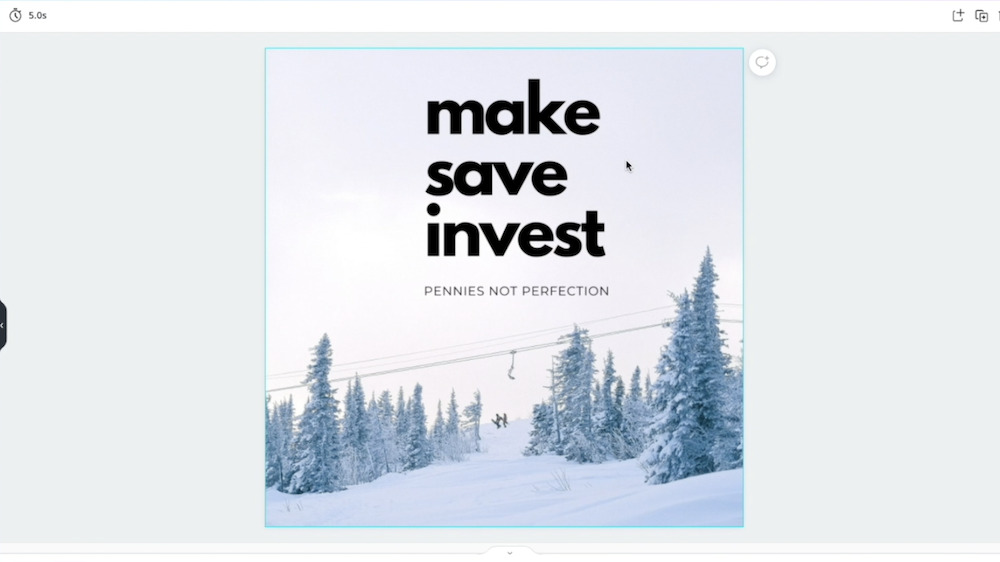 As you can see there is no background around the text because of the transparent background.
You can compare that to the picture below where we added the file with the white background that was not transparent.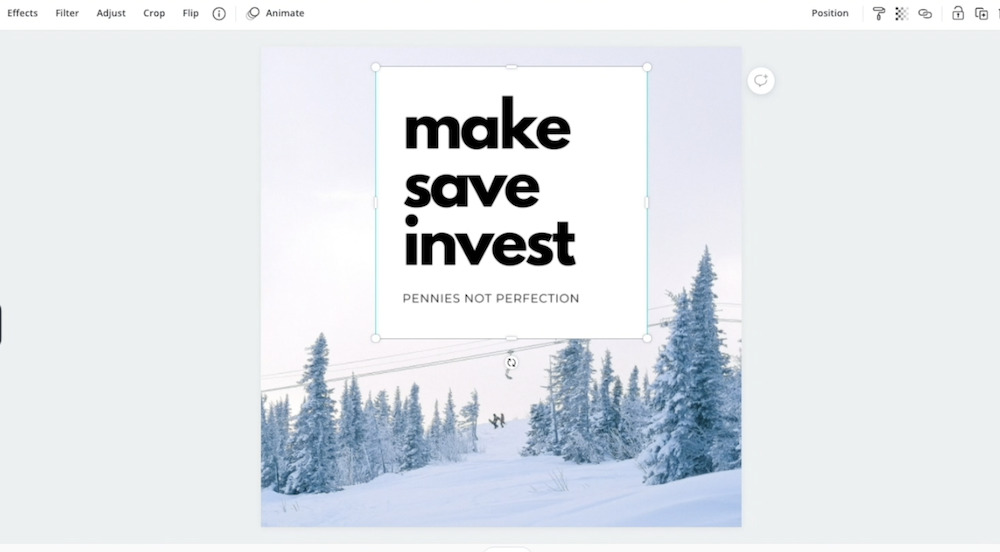 Without the transparent background you are stuck with a white box that detracts from the design and does not allow proper layering.
To layer your transparent background image in your work you just upload your image back into Canva and then you can easily click and place it on top of other designs.
This technique is easy to use and can be done with any number of elements, text, logos, or more.
Once you know how to use transparent backgrounds you are ready to make more digital products, social media content or anything you need. The possibilities are endless!
What Is Canva?
Canva is an amazing web-based design tool with free and paid plans that allow users to create a variety of design work.
Canva is one the most useful tools I personally pay for in order to earn a living online. It's the lowest subscription cost in my business expenses yet it produces the most revenue!
I've used it to create social media posts, YouTube thumbnails, media kits, digital products, invoices, and more.
The paid plan at Canva costs just $12.99 per month in 2022.
Canva Pro includes:
100+ million stock photos, videos, audio and graphics to use
unlimited features, folders, and premium content
600,000+ templates with more added daily
brand kits for storing logos, colors, fonts, and more
tools like Background Remover, Magic Resize, Social Media Scheduling
1 TB of cloud storage
and 24/7 customer support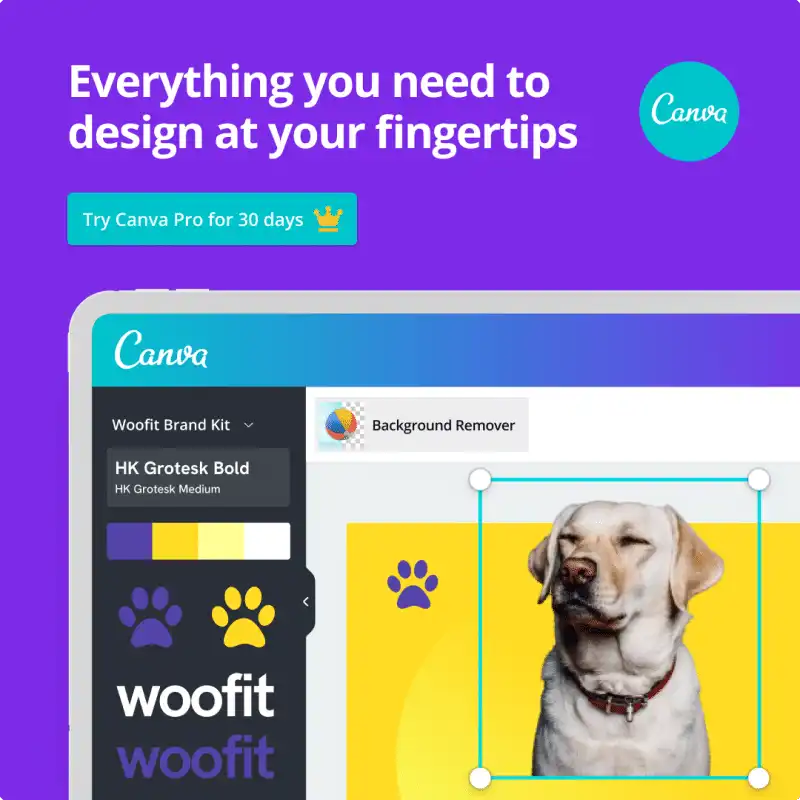 I earn a commission if you make a purchase, at no additional cost to you.

More Canva Tips & Tutorials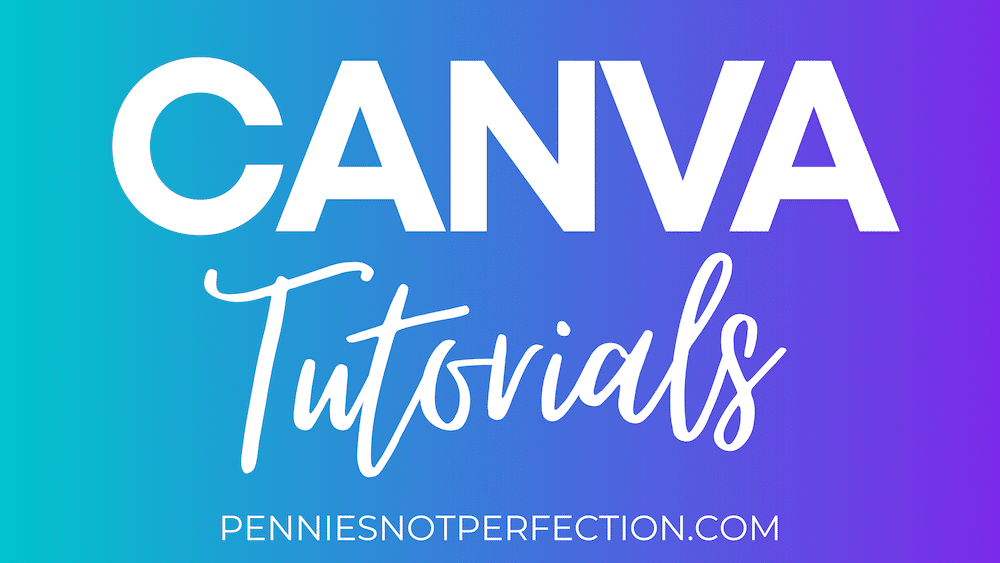 Here are a few useful Canva tutorials on Pennies Not Perfection:
You can find more tutorials on the Canva Design Tutorial listing page.
Enjoy creating with Canva!
Mary is the founder of Pennies Not Perfection where she shares her journey to build wealth through online income. She quit her day job in 2021 after she paid off her debt and doubled her 9-5 salary.
Mary's favorite free financial tool is Personal Capital. She uses their free tools to track net worth and work toward to financial freedom.
Her favorite investment platform is M1 Finance, where she built a custom portfolio for free with no fees. She shares her portfolio growth and savings progress every month on YouTube.