Trying to build passive income but struggling? Check out these inspiring passive income quotes for a bit of motivation.
Let's be honest: building passive income is HARD.
It takes hard work and time or lots of money upfront. Either way you have to invest into building a passive income stream. Because of that upfront investment many people get discouraged and give up.
If you are committing to creating passive income, let these quotes inspire you to push past the hard stages!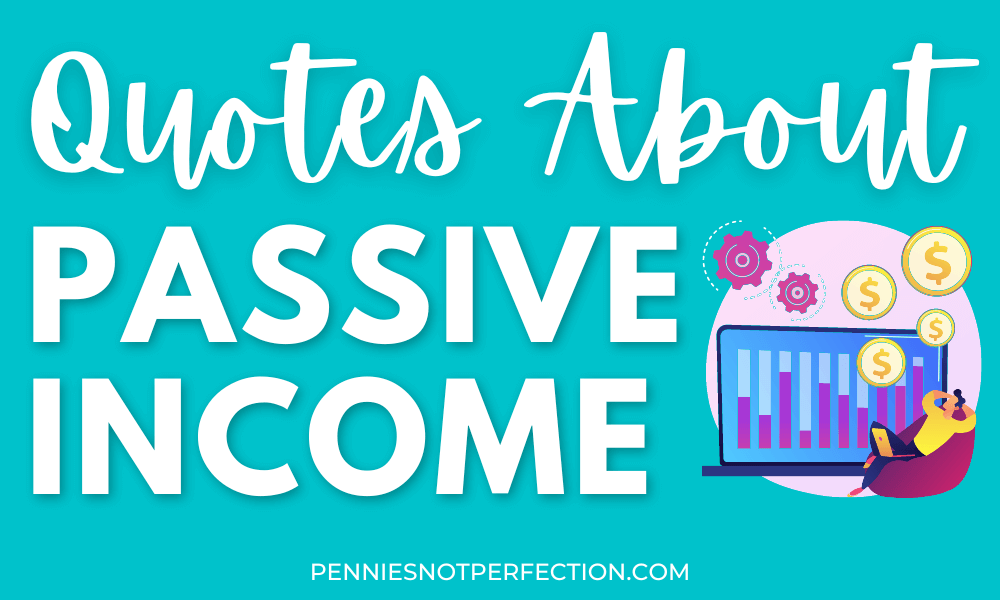 If you are motivated by inspirational quotes then this post full of passive income quotes will provide a boost to your experience growing passive income streams. Whether you are investing to build passive dividend income or passive income streams online this list can inspire you.
In this list you will find:
quotes about passive income
quotes about WHY you need passive income
the freedom of passive income quotes
motivational quotes about creating passive income
quotes for your journey building passive income
Between all of these different types of quotes you are sure to find some inspiration to keep going.
Passive Income Is HARD
Creating passive income is difficult. It involves either upfront time or money invested to create something that generates income without your direct involvement.
You have to put in hard work to create passive income.
Anything work hard is also worth doing, which is why I've personally pursued building some passive income streams. (More about my income streams at the bottom of the page!)
I've collected some passive income quotes to remind me why I'm putting in so much hard work upfront.
Are you on a similar journey or want to start building passive income? Check out these quotes to motivate you!
Quotes On WHY You Need Passive Income
Do you know why you need passive income streams? Are you building this for your future? Many thought leaders have share their thoughts on why passive income is needed.
These quotes can help you wake up to the reality of needing passive income streams:
"If you do not find a way to make money while you sleep, you will work until you die." – Warren Buffet
"The key to financial freedom and great wealth is a person's ability or skill to convert earned income into passive income and/or portfolio income." – Robert Kiyosaki
"Money has the power to buy you things. But a much bigger power of money is in generating more money for you. Those who are able to manifest the latter, are never short of it." – Manoj Arora
"Rich people choose to get paid based on results. Poor people choose to get paid based on time." – T. Harv Eker
"Residual income means NEVER having to start over." – Tom "Big Al" Schreiter
"NEVER depend on a single income." – Warren Buffett
"Rich people use debt to leverage investments and grow cash flows. Poor people use debt to buy things that make rich people richer." – Grant Cardone
"The poor and middle class work for money…the rich have money work for them." – Robert Kiyosaki
"It was through multiple streams of passive earnings that I could take time off work without worry over how much we were spending each month. The more diverse my portfolio became, the better protected we became from any economic downturns." – David Bach
"Earning passive income is like having your own printing press, with it you print unlimited cash flow every day, 24 hours a day!"- Robert Kiyosaki
"Compound interest is the 8th wonder of the world. He who understands it, earns it. He who doesn't, pays it." – Albert Einstein
The Best Benefit: FREEDOM
Did you know that one of the biggest benefits of passive income is freedom? Freedom to use your time and additional money however you want.
These passive income quotes emphasize the freedom it brings:
"You can only be financially free when your passive income exceeds your expenses."T. Harv Eker
"The greater the passive income you can build, the freer you will become." – Todd M. Fleming
"Residual income is passive income that comes in every month whether you show up or not. It's when you no longer get paid on your personal efforts alone, but you get paid on the efforts of hundreds or even thousands of others and on the efforts of your money! It's one of the keys to financial freedom and time freedom." – Steve Fisher
"To obtain financial freedom, one must be either a business owner, an investor, or both, generating passive income, particularly on a monthly basis." – Robert Kiyosaki
"I personally feel that the #1 benefit of having my expenses covered by passive income is that I get to keep doing a lot more of the kind of work I enjoy. I also get to work the way I want to work – where I want, when I want, how I want, and with whom I want." – Steve Pavlina
"Passive income is important because it allows you to do the things that you want, whether that spends more time with your family or hobbies." – Derek Frech
"Money is only a tool. It will take you wherever you wish, but it will not replace you as the driver." – Ayn Rand
Creating Passive Income Quotes
Passive income can give you the dream life you never hoped to afford but it takes a lot of work to create. These quotes will help you understand how to create these income streams and keep you focused on the goal.
Are you ready to create passive income? You will be after reading these quotes:
"The key is to work extremely hard for a short period of time (1-5 years), create abundant wealth, and then make money work hard for you through wise investments that yield a passive income for life. " – H.W. Charles
"He who makes $25,000 annually through passive income is more enviable than he who earns $100,000 annually through a salary." – Mokokoma Mokhonoana
"Investing should be more like watching paint dry or watching grass grow. If you want excitement, take $800 and go to Las Vegas." – Paul Samuelson
"Your economic security does not lie in your job; it lies in your power to produce – to think, to learn, to create, to adapt. That's true financial independence. It's not having wealth; it's having the power to produce wealth." – Stephen .R. Covey
"Never stand begging for that which you have the power to earn." – Miguel de Cervantes
"Work smarter, not harder." – Carl Barks
"Keep away from people who try to belittle your ambitions. Small people always do that, but the really great make you feel that you, too, can become great." – Mark Twain
"The secret to creating lasting financial change is to decide to pay yourself FIRST and then make it automatic." – David Bach
"If you want to be wealthy, don't focus on making more money; instead create an investment portfolio outside your job that pays off big dividends over time." – Daymond John
"I remember saying to my mentor, 'If I had more money, I'd have a better plan.' He quickly responded, 'I would suggest that if you had a better plan, you would have MORE money.' You see, it's NOT the amount that counts; it's the PLAN that counts." – Jim Rohn
"My rich dad taught me to focus on passive income and spend my time acquiring the assets that provide passive or long term residual income…passive income from capital gains, dividends, residual income from business, rental income from real estate, and royalties." – Robert Kiyosaki
"Opportunities come infrequently. When it rains gold, put out the bucket, not the thimble." –Warren Buffett
"Wealth like a tree grows from a tiny seed. The first copper you save is the seed from which your tree of wealth shall grow." – The Richest Man in Babylon
"Money makes money. And the money that money makes, makes money." – Benjamin Franklin
"The path to success is to take massive, determined action." – Tony Robbins
"Passive income does not have to be huge, it just has to give you a little extra money for something that's important in your life." – Wanda Urbanska
"Shop for assets, not sh*t." – George Choy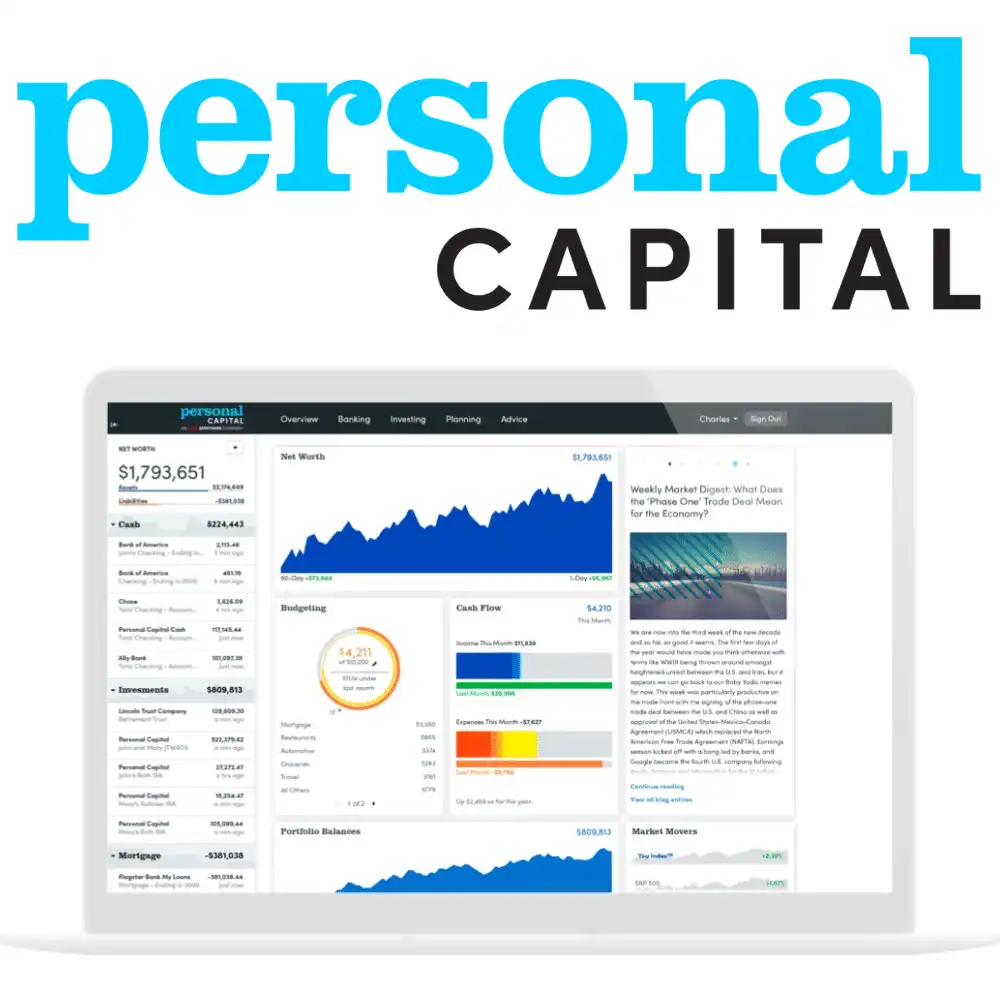 I earn a commission if you make a purchase, at no additional cost to you.

Motivating Quotes While You Build Income
These quotes about building passive income show how difficult but rewarding it can be. Building income you don't have to trade time for liberates people to live the life they always wanted.
These inspirational quotes will motivate you:
"Some people want it to happen. Some wish it would happen. Others make it happen." – Michael Jordan
"You cannot have a million-dollar dream with a minimum wage work ethic." – Stephan C. Hogan
"The best time, to plant a tree was 20 years ago. The second best time is today." – Ancient Chinese Proverb
"Make the money, don't let the money make you. Change the game, don't let the game change you." – Macklemore
"Financial independence is all about having more choices." – Robert Kiyosaki
"The greater the passive income you can build, the freer you will become." – Todd M. Fleming
"Don't work your way up, work your way out!" – Unknown
"There are no secrets to success. It is the result of preparation, hard work, and learning from failure." – Colin Powell
"You can only become truly accomplished at something you love. Don't make money your goal. Instead, pursue the things you love doing, and then do them so well that people cannot take their eyes off you." – Maya Angelou
"Life begins at the END of your comfort zone." – Pat Flynn
"It's what you practice in private that you will be rewarded for in public." – Tony Robbins
"Money can't buy happiness, but it will certainly get you a better class of memories." – Ronald Reagan
"Patience and perseverance have a magical effect before which difficulties disappear and obstacles vanish." – John Quincy Adams
"Wealth is not about how much money you have. It's about having enough to live the life you want without worrying too much about tomorrow." – Stephen Covey
"Success is the child of drudgery and perseverance. It cannot be coaxed or bribed; pay the price and it is yours." – Orison Swett Marden
"To me, passive income is just having your hard work pay you over and over again. And it's not like a one-time thing — it keeps paying you." – Gary Vaynerchuck
Inspiring Quotes For Your Journey
Building new income streams can be difficult – especially when you are creating passive ones!
This process can take many years and you'll need to find motivation from various sources during the journey. These generic quotes and traditional sayings aren't specific to passive income but they can motivate you to keep going!
The follow quotes and sayings can provide motivation while building income:
"You are worth more than working a 9-5 job for 50 years."
"Doubt kills more dreams than failure ever will."
"Old ways won't open new doors."
"If it doesn't challenge you, it won't change you."
"Work for it more than you hope for it."
"There are people less qualified than you, doing things you want to do, simply because they decided to take action."
"Get into the habit of asking yourself, 'Does this support the lifestyle I'm trying to create?'"
"It's a slow process, but quitting won't speed it up."
"Discipline is doing what needs to be done even when you don't want to do it."
"The distance between your dreams and reality is called action."
"Today is your opportunity to build the tomorrow you want."
"If you want something you've never had, you have to do something you've never done."
"You will never always be motivated, so you must learn to be disciplined."
"Where you are a year from now is a reflection of the choices you choose to make right now."
"One day you will thank yourself for never giving up."
"You have to fight through some bad days to earn the best days of your life."
"Keep going, because you did not come this far only to just come this far."
"The struggle is part of the journey. Everyone goes through it. Keep going and don't give up."
"When you feel like quitting, think about why you started."
"Everyday you have a choice – stay the same or change."
"Push yourself because no one else is going to do it for you."
"Every next level of your life will demand a different version of you."
"Good things come to people who wait, but better things come to those who go out and get them."
"If you do what you always did, you will get what you always got."
"Just keep going. Be patient. Results take time, but if you're consistent they will come."
"When you're ready to give up, you're halfway there."
"Tough times don't last. Tough people do."
Is It Possible To Build Passive Income?
Did these quotes motivate you to get started? Or are you wondering in a society built around having one employer, is it even possible to build passive income?
The answer is YES, but it's hard to do.
There are many ways to build passive and semi-passive income streams.
Most of my "passive" income streams are semi-passive since I still have to occasionally check on them and tend to them. These are all of the online passive income streams like:
These are some passive income streams that personally I consider semi-passive where you do the work upfront and then get paid for months or years to come.
There are most fully passive income streams like:
building an investment portfolio
owning real estate that someone manages for you
Want to start your own journey to building passive income?
Checking out these posts:
Mary is the founder of Pennies Not Perfection where she shares her journey to build wealth through online income. She quit her day job in 2021 after she paid off her debt and doubled her 9-5 salary.
Mary's favorite free financial tool is Personal Capital. She uses their free tools to track net worth and work toward to financial freedom.
Her favorite investment platform is M1 Finance, where she built a custom portfolio for free with no fees. She shares her portfolio growth and savings progress every month on YouTube.