Are you trying to stay legit with your Etsy business? Then you need to open up a business bank account!
In this guide to the best bank account for Etsy businesses we look at my top pick, how to choose the right bank account, and options for Etsy sellers.
Short on time? Let's look at my pick for the best bank account for Etsy sellers and then go more in depth.
Best Bank Accounts For Etsy Businesses
There are several online banking solutions that are very helpful for Etsy sellers.
Currently my personal choice for my Etsy business is Relay.
Bank With Relay - Get $50 with $100 Deposit
No fee business banking with online money management tools like the Profit First model.
No account fees, overdraft fees or minimum balances. Up to 20 individual checking accounts and 2 savings accounts.
Relay moves idle cash out of operating accounts and into your savings. Earn 1% to 3% APY1 on every spare dollar.
I earn a commission if you sign up, at no cost to you.

Important notes: Relay is a financial technology company, not an FDIC-insured bank. Banking services and FDIC insurance are provided through Thread Bank and Evolve Bank & Trust; Members FDIC. The Relay Visa® Debit Card is issued by Thread Bank pursuant to a license from Visa U.S.A. Inc. and may be used everywhere Visa® debit cards are accepted.
The interest rates and annual percentage yield on your account are accurate as of 05/16/23 and are variable and subject to change based on the target range of the Federal Funds rate. APY will vary between 1-3% depending on the balances held. Earn 1% APY on savings balances of less than $50,000, 1.5% APY on savings between $50,000 and $250,000, 2% APY on savings balances between $250,000 and $1,000,000 and 3% APY on savings balances of more than $1,000,000. There are no minimum balances or minimum deposits required to earn interest on your account.
I think Relay is actually the best option for any small business because of the features included and the ability to operate on the Profit First model.
I've moved my business to Relay personally but I also think it's ideal for Etsy sellers because of the focus on making your business profitable.
Unfortunately many Etsy sellers don't know their business numbers and struggle to know if they are profitable or not.
With Relay you can create automations and multiple checking and savings accounts that allow you to separate your profit, income, and expenses.
Using the Profit First model inside your bank account is a great solution for Etsy sellers who struggle with their numbers.
Another great business bank account for Etsy sellers is currently Novo. With no minimum balance, powerful apps, and a direct integration with Etsy it is the ideal solution.
Novo | Free Novo Business Banking Account
Business checking account with no hidden fees that integrates with the tools you already use to run your online business. I choose to use Novo for my online businesses.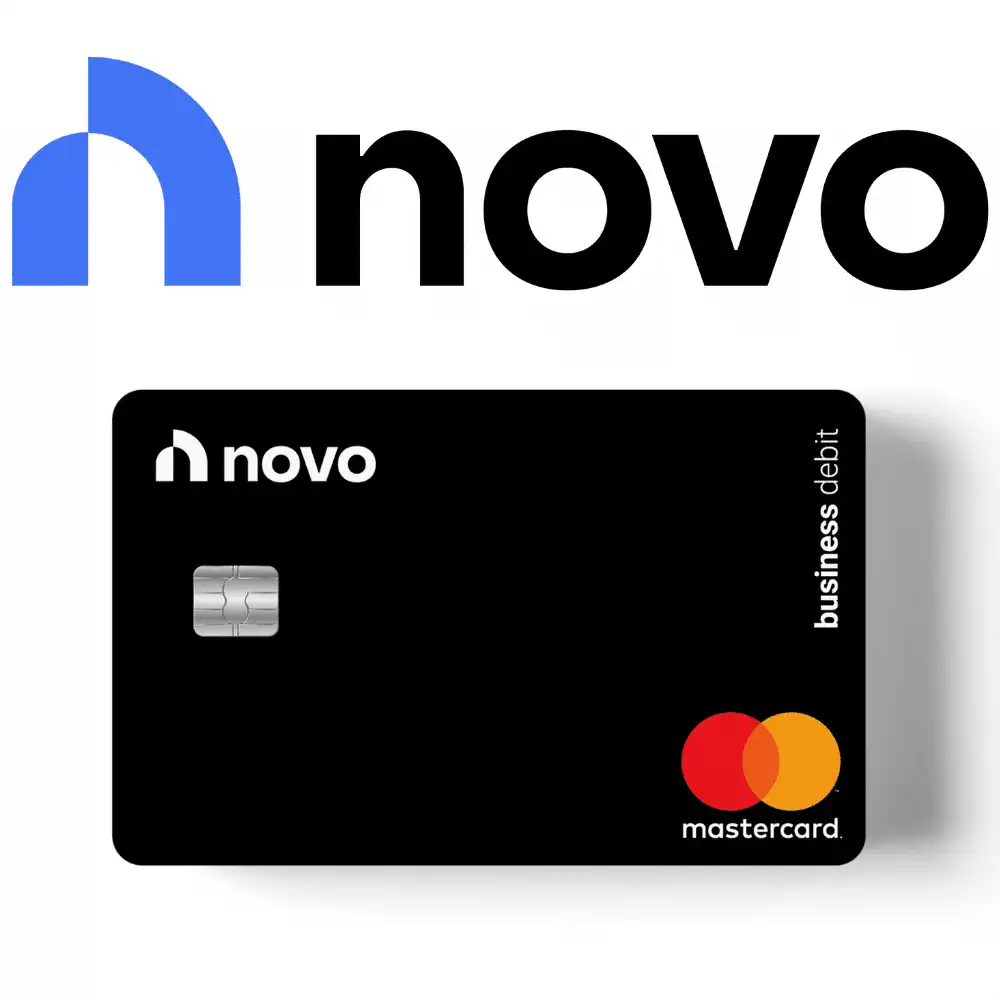 I earn a commission if you make a purchase, at no additional cost to you.

Why is Novo my number one choice for Etsy sellers?
It's because it's ideal for starting small as a side hustle or solo business owner but has the flexibility to scale with you as your business grows.
Here are some of the benefits Novo offers:
direct integration with Etsy!
quick and easy account setup
can start with just $1 transferred into your account
no minimum balance required
immediate access to funds
reserves in the account for budgeting & sinking funds
send and receive payments directly
invoicing inside your account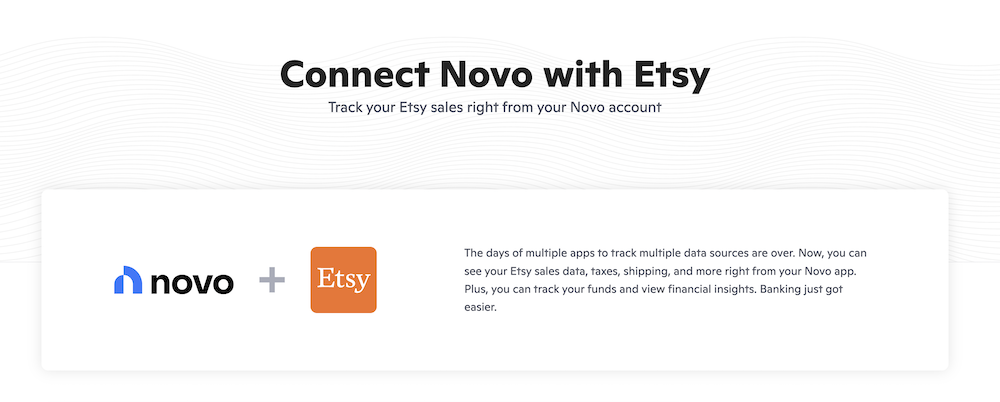 The Etsy integration means you'll be able to see your Etsy sales immediately and keep up to date with additional financial insight. Instead of switching back and forth between apps you'll be able to have it all in one place for a level of convenience other banks don't offer. The integration also gives useful monthly data about sales, taxes, shipping and more.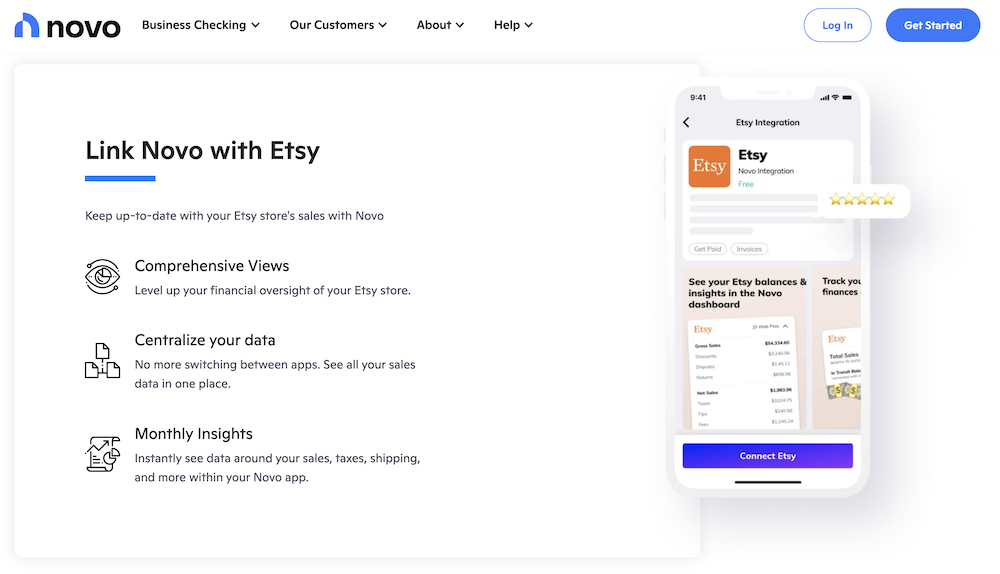 You can see some of the functions that work well for Etsy sellers in the video below where I share some of the features inside my own account.
This is all ideal for Etsy business owners and the reason why Novo tops my list for the best bank account for Etsy business owners. You can see the full list of potential bank accounts further down in this article.
Why Your Etsy Shop Needs A Bank Account
When you start an Etsy shop you probably aren't thinking about banking. You're likely thinking about product ideas and getting your SEO right.
Those things are critical but you also need to consider the legal and financial aspects behind your business.
As soon as possible you need to open up a bank account for your Etsy business. It's one thing many sellers ignore but I recommend doing immediately.
When running a business you should not be blending your business and personal finances in your checking account. The IRS frowns on this and wants you to have clear separation.
Your business income and expenses need to be in a separate bank account.
This also makes things much, much easier for YOU!
When you have a separate business checking account it is much easier to see at a glance if you're profitable. It's less confusing when you need to sort out financial statements. It's also easier to handle your business accounting and taxes when you keep things separate.
When you start your Etsy shop you might not have a lot of expenses or income for a while. Opening up an account at Novo where you can start with $1 or $100 will allow you to start small and grow over time.
Related: How Much Money Can You Make on Etsy?
What is a business checking account?
If you are new to running a business then you might not know anything about business bank accounts.
A business checking account is a checking account dedicated solely to your business: it's the primary place where all your finances go. You use it to receive income, pay expenses, withdraw money, and more.
You might be asking, how is that different than a personal checking account?
With a business checking account the main difference is the purpose of the account. Personal checking accounts are not set up for running a business and may have limitations on what you can do with them. Personal accounts can also be shut down by the bank when they see "suspicious" business activity (it has happened to my friends).
Also with your business bank account you will only handle money for the business, allowing your money to stay separated for easier budgeting and accounting. Business checking accounts also sometimes have additional perks and features that help you run your business.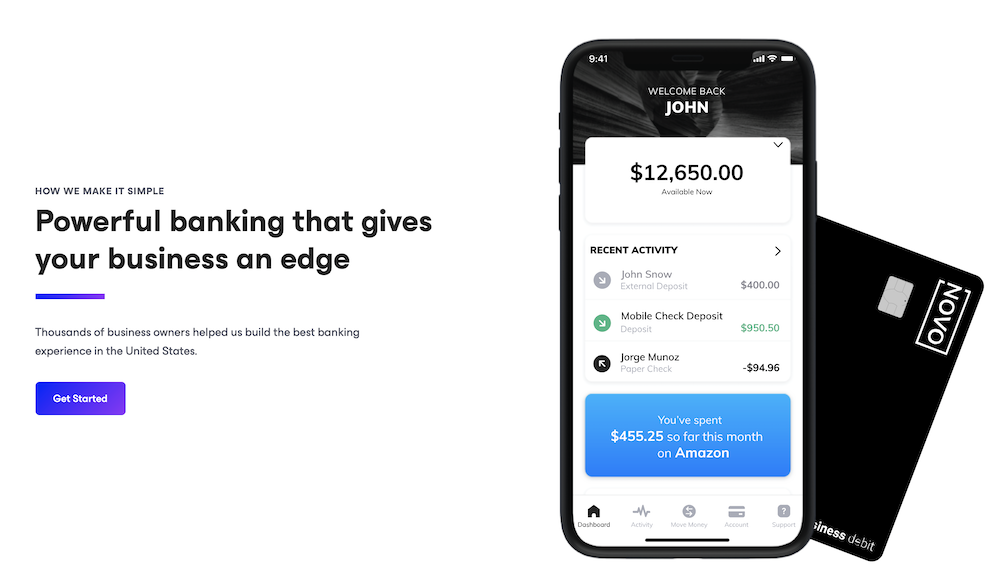 How To Choose A Business Bank Account
Choosing a bank account for your Etsy business can feel overwhelming at first. There are many different features to compare. If it's your first time opening a bank account for business then you might not know what to look for among your many options.
The first step in choosing a bank account for your business is to understand your needs. You'll compare that with what the different banks are offering. Do you desire local branches? Online apps and features? Deciding on your most necessary features will help you make the right choice.
Here are a few of the things you should consider when choosing a business bank account:
Bank Account Costs
Not all business checking account are free. Many actually have higher fees than personal accounts or higher balance requirements to bypass those fees.
Free business bank accounts do exist but they may be missing features you find necessary. It's important to look at the monthly fees, transactional fees, and hidden fees to determine how much a business checking account will cost you monthly.
Monthly Transactions
Business checking accounts often have limits on the number of transactions you can do per month. It can range widely depending on which bank account you choose. Transactions may include deposits, withdrawals, transfers, and more so you'll want to consider how much you will be moving money around.
When choosing the right account for your business you need to learn how many transactions you can make per month without hitting the limit. You'll also want to understand what happens and what charges will occur if you do hit that limit of transactions.
Bank Account Balance
Some bank's require you to have a minimum bank account balance every day in order to avoid fees. Others do not have minimum balance requirements.
Consider whether you want to worry about keeping a certain amount in your bank account or not. Many large banks offering business checking accounts will require a minimum balance while other new options like Novo do not require a minimum balance.
Location & Convenience
Do you need a bank that is local to you? Some banks may not have branches near you. Others may conduct business entirely online. If you prefer human interaction or convenience of a local branch then you'll need to consider that when choosing a bank.
If you run an entirely online business for Etsy then you may not care about locations. As long as the bank offers digital support you'll be happy with any option.
Tools & Perks
The tools that a business bank account offers can vary but include things like invoicing inside the account or complex integrations to business software. You'll want to consider any software you use to run your business and if your bank account will easily integrate with that tool.
Another thing some business bank accounts offer is special perks like discounts or credits for a business service like advertising. Depending on the perks offered this could be worth thousands of dollars and something to consider when choosing a bank.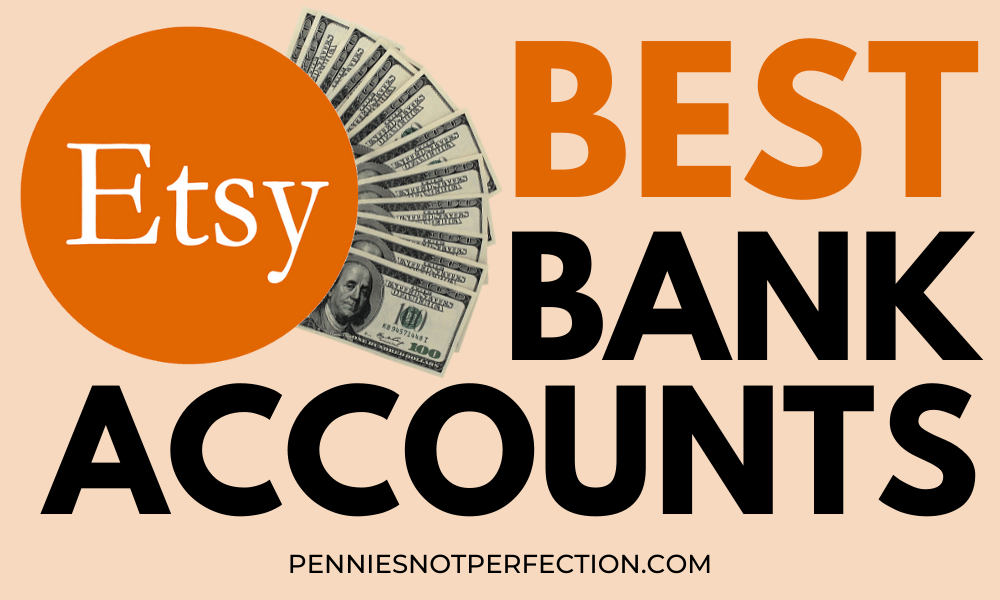 Top Business Bank Accounts For Etsy Businesses
Not sure if Novo is the right account for you? Totally understandable! It's the right fit for my digital products Etsy business but it might not fit all Etsy sellers.
Here are a few other top business bank accounts for Etsy sellers:
Hands down Relay is my preferred bank account for online businesses and it's the one I personally use.
I switched to Relay after using Novo for a couple years because I wanted to move my business to the Profit First model and also automate more of my banking transactions.
Relay offers powerful automations and provides you with smart banking with no minimums, no fees, and theability to open multiple accounts.
For Etsy sellers Relay is ideal for managing the money side so you can focus on your craft.
Novo Business Checking
Hands down Novo is my preferred bank account for online businesses and it's the one I personally use. It's ideal for new Etsy sellers because there is no minimum balance required, has no hidden fees, refunds atm fees, offers exclusive perks, and more. The website and mobile app make it easy to transfer money and the reserves system makes it simple to budget and save for your business expenses.
I personally use Novo for my online business and I'm an affiliate for them. You can read my review of Novo business banking here.
BlueVine Business Checking
BlueVine is a business bank solution that appeals to many sole proprietors with lots of clients. While this is not how an Etsy business operates, BlueVine has a lot of great perks for others too. There is no minimum deposit, balance requirement, or monthly service fee. You can also access ATMs without additional fees and earn interest on your balances up to $100,000.
Chase Business Checking
Chase offers business checking for small businesses that can be incredible convenient at higher volumes. This won't be the right solution for everyone but if you plan to keep at least a $2,000 minimum balance in your account you won't pay fees but will have access to many features.
Ally Bank
Ally is a fantastic place to open up a personal checking account. While they don't offer strictly business bank accounts, you can open an account in your name to separate your Etsy business income. Since most sellers are sole proprietors operating under their own name this is a valid solution until you grow.
Credit Unions
Another great solution is local credit unions! Some credit unions have amazing business bank accounts. There are often lower fees and free checking options for members. You'll have to check your eligibility for these credit unions. Sometimes employment or residency can qualify you to open accounts.
Choosing The Right Bank Account
Picking the right business bank account for your Etsy business will depend on what you prioritize.
Whichever account you choose to go with, open it as soon as you can. It will help your business thrive by keeping things separate and professional.
Also remember that no choice is forever! You can always choose an account now and change later. I'm now on my third business bank account since starting my online business but I've finally found the right fit for me. Sometimes your needs will change and that's ok.
Mary is the founder of Pennies Not Perfection where she shares her journey to build wealth through online income. She quit her day job in 2021 after she paid off her debt and doubled her 9-5 salary.
Mary's favorite free financial tool is Personal Capital. She uses their free tools to track net worth and work toward to financial freedom.
Her favorite investment platform is M1 Finance, where she built a custom portfolio for free with no fees. She shares her portfolio growth and savings progress every month on YouTube.