Whether you sell physical handmade products or digital products on Etsy, you've like considering finding an alternative. Etsy is a great e-commerce marketplace but once you grow you will want to find alternatives to Etsy where you can sell your products with better conditions.
Etsy offers great benefits for beginners like 45 million existing buyers, brand recognition, and easy to use tools.
However, it can only take businesses so far.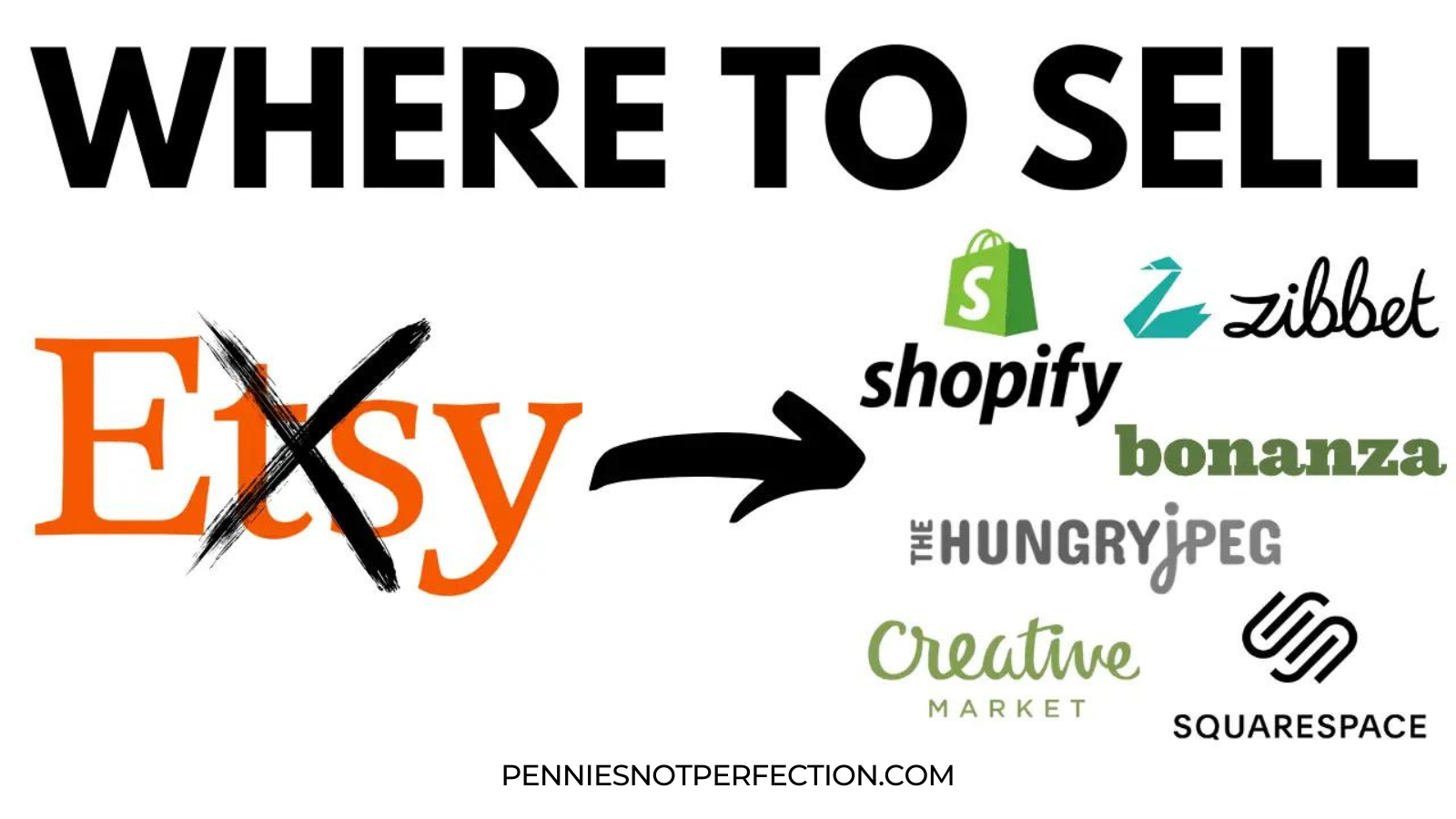 Etsy owns your customer list and storefront so you are limited in your ability to control branding, customer retention, retargeting, and more.
Etsy also advertises other products on yours which often means you lose out on potential sales. It feels even worse when Etsy advertises a shop that blatantly copied your product and your listing description word for word. Promise me, people do it all the time to my shops.
All of this means Etsy might be a fine place to start selling your products but you definitely need to find alternatives to Etsy.
Where To Sell Besides Etsy
In this article I've rounded up different options for you to sell your products online without using Etsy.
There are a two different types of Etsy alternatives so we will break it down into categories:
Website building Etsy alternatives
Online marketplace Etsy alternatives
Basically when you are looking at where to sell besides Etsy you will want to consider creating your own e-commerce website versus selling on another marketplace like Etsy.
Website Building Etsy Alternatives
When you are considering leaving Etsy for alternatives you likely are thinking about building your own e-commerce website. Having your own website allows you much more flexibility and freedom with how you market your products and how you interact with your potential customers.
Most sellers explore these website alternatives because of Etsy's limitations and restrictive rules. Building your own website gives you more control and ownership over your shop. It also allows you to move to the next level and grow your business beyond what most Etsy shops ever become.
Let's look at some of the best website building alternatives to Etsy.
Shopify
Shopify is one of the most powerful e-commerce options out there as well as one of the easiest to use. It's and all-in-one e-commerce platform which I personally use to run my e-commerce shop.
Shopify is the solution I recommend for most people who want to sell online professionally.
The monthly plans start at $29 plus the transaction fees in order to sell online or even in a retail store and on social media like TikTok or Instagram. Shopify gives you a full suite of business tools with a multi-channel solution that is user-friendly but powerful.
You can customize your website with templates or custom design. You have your own domain name and access to powerful tools for analytics, marketing, development and more as well as marketplace selling options.
It's also very easy to move over your Etsy shop! I've written a whole article about moving your Etsy shop to Shopify and have a tutorial showing you how to do it.
Considering Shopify? Check out these related posts:
Squarespace
This website builder is as popular for stand alone e-commerce stores as Shopify or Wix. Squarespace plans to build and host a website start at $12 per month but to sell your products you'll have to choose a plan that costs $18 per month plus transaction fees.
Squarespace creates beautiful websites and e-commerce options. It's got a number of user-friendly templates and the drag and drop tools make building pages easy for beginners.
The best part of Squarespace is that it requires exactly zero need to know anything technical in order to set it up and get started with selling your products. This is very similar to Etsy which is why it's a great Etsy alternative. However to get the best design and exact working set up you need you may have to invest in design and development help as you grow.
Squarespace has a variety of tools for sellers from inventory management to social media promotion. They also offer varying levels of features so you can move up in levels as you need to add new items.
Wix
Wix is a leading website builder for people that want an easy-to-use solution with templates and drag-and-drop building tools and the ability to add e-commerce. Plans start at just $23 per month plus transaction fees.
Wix offers multiple tiers on their monthly pricing so you can select the plan that fits your needs as a seller the best. When you choose Wix as your Etsy alternative you are able to sell via online storefront, track orders, accept Paypal and credit card payments, create coupons, and more.
Unfortunately a similarity to Etsy is limited customization. You are generally stuck using the templates on Wix which is great if you want something simple but it limits your creativity in a similar way to Etsy.
Wix offers an active community online, a robust knowledge base, and decent customer support. You can find your way through most challenges here but it will still ultimately limit you in some of the same ways Etsy does.
WooCommerce
WooCommerce is the e-commerce solution for anyone that already has an existing WordPress site. It is a good solution for anyone wanting something simple that can be added to their existing site so they can sell beyond Etsy. I personally used it for my digital product shop for over a year before switching to Shopify.
WooCommerce is one of the most popular e-commerce platforms since so many sites are already run on WordPress. WooCommerce is NOT a stand alone site builder but it is a WordPress plugin that allows you to build an online store on top of WordPress.
In order to use WooCommerce you have to have hosting from a site like BlueHost or BigScoots and install WordPress. Since WordPress is the world's most popular content management system most hosting companies have one-click installs where they do all the work. Then you will install and active the WooCommerce plugin.
The great thing about WooCommerce is that it is FREE to use. You will only pay the transaction fees for using things like Stripe or PayPal. However, if you want to do anything more complicated then a basic store youll end up paying for add-on features and plugins. It can also drastically slow down an existing WordPress site so there are a lot of considerations about using WooCommerce.
Online Marketplace Alternatives To Etsy For Digital Product Sellers
While having your own website will have many benefits, you might just want a marketplace Etsy alternative.
There are a number of additional marketplaces similar to Etsy where you can sell products. Depending on the type of product you sell you may have an easier time using certain alternatives.
If you are a digital product seller like I am then you may be interested in these marketplaces for digital sellers:
Here are some of the best marketplaces for digital product sellers:
Creative Market
Creative Market is one of the best marketplaces for design work of all types. There are over 4 million products from artists isn 190 countries and the user base on Creative Market numbers over 8 million. While still smaller than Etsy's overall user base this is a more targeted market that can bring customers to your design work.
Creative Market does not require exclusivity and gives you plenty of control over your listings. They provide all the backend necessities to make sure your product is seen and delivered digitally without any issues.
Try selling on Creative Market
Design Bundles
Design Bundles can help put your digital design products in front of the right audience in their 1.3 million visitors per month. They have an active newsletter and social media presence that highlights products on their site so there is the potential for even more features.
This marketplace will take a higher cut of your sales because they operate on a royalty rate style commission. This means you'll receive 75% of the sale price for non-affiliate sales and 50% of the sale price for affiliate initiated sales. This is significantly lower than other digital product marketplace options so you'll need to consider your pricing with this Etsy alternative.
Hungry JPEG
Hungry JPEG is an Etsy alternative that offers premium design resources. Applications are reviewed and not every digital seller can sell resources on Hungry JPEG. This makes it more exclusive and the quality stays high unlike Etsy where there is not barrier to entry.
Store owners on this Etsy marketplace alternative receive 70% of the sale price. This is more than you'll pay out on Etsy but the reputation and curated nature of the Hungry JPEG may make up for that difference depending on what you sell.
Hungry JPEG specializes in selling fonts, graphics, templates, crafts and other design resources.
Online Marketplace Alternatives To Etsy For Physical Product Sellers
Selling regular physical products or handmade products? Check out these online marketplaces where you can sell besides Etsy:
Amazon Handmade
Everyone knows the e-commerce giant Amazon, but did you know they also have a handmade marketplace?
Amazon entered the artisan marketplace a few years ago as Etsy was growing it's user base. With Amazon Handmade you can create a storefront to sell your unique handmade items.
There are some major benefits to selling on an Amazon site and using Fulfillment by Amazon:
no listing expiration
Amazon sponsored ads
insightful analytics from an e-commerce powerhouse
These actually solve many of the common gripes I've seen from Etsy sellers about listing fees and paying for Etsy's off-site ads.
However, for these benefits you'll have to pay more. Amazon Handmade takes a 15% commission per transaction and charges a monthly membership fee that varies based on the number of listings you have.
There are downsides to selling on Amazon. While you will potentially reach more people with your listing you will not own the customer data – that is all Amazon's. They don't allow you to contact customers out side your platform.
You can definitely get a boost in sales by selling on Amazon but you'll need to consider the trade-offs for using this Etsy alternative marketplace.
Try selling on Amazon Handmade
Zibbet
Zibbet is very similar to Etsy but charges a flat monthly fee per channel. You import your existing products from a channel like Etsy which makes this a very easy to setup option. Zibbet also allows you to manage inventory across all of your platforms in one location.
In this one spot you can manage your complete inventory in Zibbet's handy dashboard. You'll also be able to manage things like shipping, order management, analytics and more.
Zibbet has useful customer service which makes it a great alternative option if you've had negative experiences with Etsy's customer service.
Bonanza
Bonanza is an Etsy alternative that operates closer to eBay in functionality. It's focus is on unique items like arts and crafts or collectibles. If you sell individual unique items then Bonanza is the marketplace for you.
It offers sellers a built-in market similar to Etsy so you have a customer base to sell to immediately from day 1 even if the market is smaller than Etsy. It's also free to list items on this marketplace so you've got very little to lose by getting started with a shop here. The site only charges you base on the final price. They charge 3.5%-5% of the final sales price including shipping.
You can import items directly from Etsy onto Bonanza which makes getting started fast.
Since this marketplace operates similar to eBay you should expect customers to try and negotiate pricing and message you about products more often than on Etsy. This means pricing should consider the potential need to negotiate for people to get "deals" on your products.
Those are just a few of the alternatives to Etsy where you can sell your products.
Selling On Etsy
Still want to sell on Etsy instead of the alternatives? Check out these helpful posts:
These posts will help you get started on Etsy and grow your sales as well. Whether you end up selling on Etsy or an Etsy alternative, you will be glad you decided to pursue your online income dreams!