I love free stuff. Who doesn't enjoy getting things for free? Getting free stuff is even more important once you have a new baby and many new baby expenses. In this post I'm sharing how to get free baby stuff and showing the $100 worth of free stuff I got from the Amazon baby registry.
Amazon Baby Registry
Create an Amazon Baby Registry for surprise gifts, registry completion discounts and more.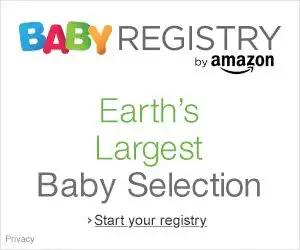 I earn a commission if you make a purchase, at no additional cost to you.

Getting free baby stuff when it's things I need? AMAZING. That's why I loved the Amazon baby registry and it's many, many perks – they give you $100 of free baby stuff for using it!
If you're expecting a baby then you need to be using the Amazon registry system to get as much free stuff as possible! Using the Amazon baby registry for most of your baby shower gifts is an easy strategy to use to maximize all the free baby stuff you can possibly get.
My Experience Getting Free Baby Stuff
In the video above I'm sharing my experience redeeming the $100 Baby Bucks bonus for the Amazon baby registry.
I used this benefit to get a lot of free baby stuff like wipes, diapers, diaper genie refills and even a high chair!
This is all stuff that would have had to come out of my normal budget but instead I was able to get it all for free!
All of the items I got for free from using the Amazon registry were useful and things I would have bought anyway so it really did save us a lot of money using this strategy when planning for our baby's arrival.
Because I used the Amazon baby registry and loved it so much, the links I'm sharing in this post are affiliate links, which means at no extra cost to you this site will make a commission. I only share links to actual items I've bought or used and recommend. I highly recommend this registry for getting free stuff!
Why We Used The Amazon Baby Registry
There are a lot of options for baby registries out there and many people use multiple.
There is no real reason to exclusively use just one, but we focused on Amazon's for a few reasons including the option to get $100 in free items.
Other reasons why we used it:
It's easy. It's super easy to setup, it's easy to use, and it is easy for out of town friends and family to access. Since we had a lot of out of town family buying us gifts, Amazon was an easy choice.
You get free stuff! Even if you don't get the $100 you get a welcome box full of surprise items for parents and baby worth $35. You can see what came in my Amazon baby registry welcome box here.
You get a registry completion discount. Every baby registry does this but it's a nice perk nonetheless in case you didn't get items you really need.
You get $100 baby bucks which means you get $100 in free baby stuff! It's an ever changing supply of items to choose from so you can't buy anything you want, but we got a ton of great stuff we will use. – This awesome feature was stopped during Covid and has not returned, unfortunately!
Here's a look at what our registry dashboard looked like after we had claimed our item. Once you are eligible for the baby bucks you'll be able to choose the items you want to redeem for free via the baby bucks bonus page.
What We Bought With The Free $100 Bonus
The baby bucks bonus is a specific page where you can buy an assortment of diapers, wipes, and other baby products.
There is no guarantee of what will be included there when you visit the site. As an example, here's what I got for free with my Amazon baby bucks:
Amazon elements baby wipes – One truth of baby life, you will use a lot of wipes! the 9 pack of baby wipes seemed like a great buy, especially when we have to supply wipes to daycare every so often.
Diaper genie refills  – The diaper genie has been great and we were just running out of refills from our first pack when this came up! Score!
Water wipes value pack – I loved the sample of these wipes I got so grabbing a few more packs of them was a great choice.
Fisher Price space save high chair – This high chair is a great example of the "other" baby items available through this bonus program. It was something we needed to buy anyway and we got it for free! It also saw the best baby rocker ever listed too!
Baby Aquafor – This got left out of our video because we were already using it. I stocked up on a few tubes of baby aqaufor because it is amazing for any type of skin issue. We've used it for preventing diaper rash, cradle cap, and other little skin problems. I've also heard it's good for sunburn for adults!
All of these items were high quality and things we needed! We used everything up and the high chair has lasted for multiple years now.
Update: this perk for the Amazon registry was removed during the last couple years. I'm hoping it returns for people but currently it is not listed as a feature.
How To Sign Up For The Amazon Baby Registry
Signing up an Amazon baby registry is very easy. To start a registry takes less than five minutes from start to finish.
Of course, adding products and deciding on which ones are perfect for your baby can take much longer!
Luckily they give you a guide to the most popular and wished for baby items on Amazon. This means you have a great start to highly rated products other moms and dads already trust.
You can select these items quickly and create a fully stocked baby registry in less than ten minutes.
Not only do you get $100 in free baby stuff with this registry when you purchase/receive $1,000 in items, but you also get a cute welcome box full of goodies for baby!
How To Get The $100 Baby Bucks Bonus
Update: Amazon has removed this and it is no longer available. This section is still here to show what they were giving with the hope that it returns!
You can get $100 worth of baby stuff completely free with the Amazon baby registry. Free, free, FREE! Can you say free stuff?
These baby bucks can be used for things like diapers, wipes, diaper creams, or anything in a certain section on the site.
Sometimes there are bigger items included as well. We actually bought our high chair with it!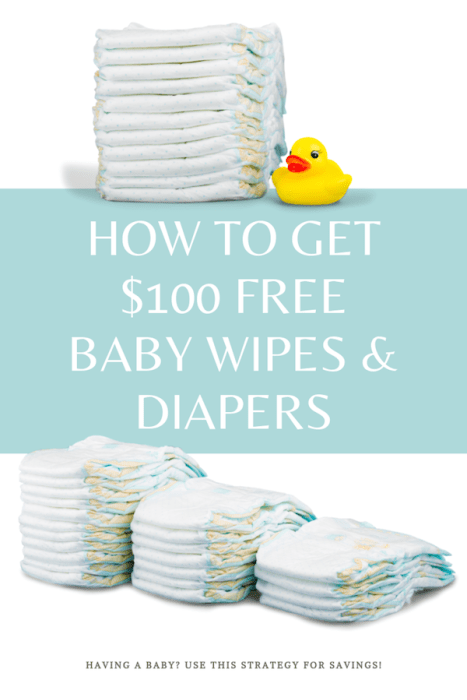 However, there are a couple things you have to do to get this deal:
Sign up for a baby registry on Amazon.
Make sure your account is a prime membership account. Sign up for Prime if you haven't already. You can also do a 30 day free trial of Prime.
Complete $1,000 in purchases from your registry. Purchases can be made by you or others.
Check to see your Baby Bucks completion is eligible in your account after you've hit the goal and had the baby.
Use the link provided in the Baby Bucks section to complete your shopping.
Do this within 90 days or you will lose out on the option!
Some people have told me that they want to get the bonus items but would not hit the $1,000 spent. I understand we were blessed to have so many items gifted to us from the registry.
However we still had a strategy in place to make sure we hit the amount. I wanted to make sure I would get $100 in free baby stuff.
If you aren't sure you'll have a baby shower or have people purchase $1,000 in items then you can use the tips below to hit that number.
Here are a few tips for how to hit the $1,000 spent on your baby registry:
Start the registry early in the pregnancy. It's a lot easier to accumulate $1,000 in purchases over many months than all at once at the end! You can also add items you need during pregnancy and buy them as needed from the registry.
Use the registry to stock up on items you will need. You can add things like diapers and wipes that you will use for baby, but you can also add household items you will use and then buy those as well. There are many household items you will need stocked up once the baby arrives.
Use Amazon as your only registry option. Most people have 2-3 baby registry options in order to give people options for their purchases. However, if you want to strategize in order to get the $100 in free items, then you should consolidate. For this use Amazon only so you will likely have higher spend amounts there.
Tell people about your goal. If people are considering buying you a baby gift to help you out they will be likely to purchase it from Amazon if you tell them it will give you extra benefits. Being open and honest about the ability to get a $100 baby bucks bonus from your Amazon registry will motivate others to help you get to your goal.
Those are just a few of the ways you can work with the baby registry to get the minimum spending amount you need for the extra bonus.
Amazon Baby Registry Welcome Box
One of the first free things I received with the Amazon baby registry was a free welcome box!
The welcome box contained lots of free baby stuff that I used for months.
Some of the items mentioned that I received in the box (affiliate links):
Note on the video: it was missing the Avent bottle! I forgot I took it out to research it and then completely forgot it. Even more great stuff in the box than the video even covers!
The registry box you receive will differ in items depending on when you start your Amazon baby registry and the time of year it is. They include a variety of items and the value is much much higher than I expected.
Each season the items in the box differ slightly. This means if you have multiple babies then you'll have the opportunity to get different items.
If you haven't signed up for an Amazon baby registry yet, what are you waiting for? Get started and enjoy your free stuff!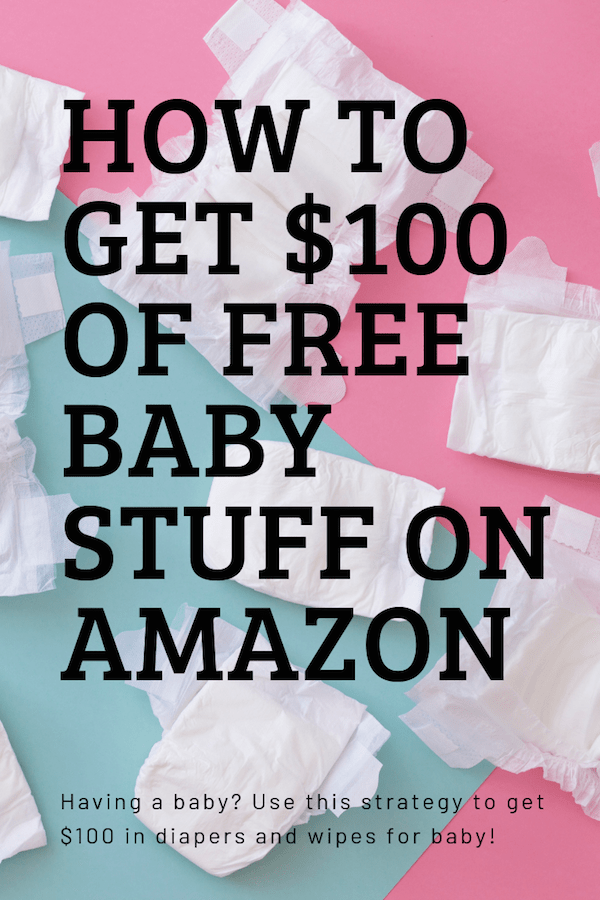 Mary is the founder of Pennies Not Perfection where she shares her journey to build wealth through online income. She quit her day job in 2021 after she paid off her debt and doubled her 9-5 salary.
Mary's favorite free financial tool is Personal Capital. She uses their free tools to track net worth and work toward to financial freedom.
Her favorite investment platform is M1 Finance, where she built a custom portfolio for free with no fees. She shares her portfolio growth and savings progress every month on YouTube.