Upside, previously known as GetUpside, is a simple cashback app that allows you to earn cash back on every day purchases like gas. In this review and tutorial we look at how to use Upside app to earn money.
How To Use Upside App
The video above shows how to use Upside by:
signing up
entering an Upside promo code
finding your first offer
completing the offer
receiving cash back
You can also continue reading for written instructions on how to enter a referral code and how to redeem an offer in Upside.
How To Enter An Upside Promo Code
GetUpside gives you a bonus when you sign up using a referral code like RXZNW.
It's easy to do and only takes the additional step of entering the code when you sign up. You can watch the video below or keep scrolling for detailed written instructions.
The following instructions will show you:
how to open an account on Upside
where to enter a referral code (RXZNW) on Upside
how to hit all the requirements to get your bonus money
The steps you need to get the referral money for the Upside bonus.
Click on link or search for "GetUpside" in app store
Click and download GetUpside app to your phone
Open GetUpside on your phone
Go through the account sign up process with email of Facebook account
Enter RXZNW in the box for referral code
Claim your first offer and spend $10
Get your cash back and the referral sign up bonus!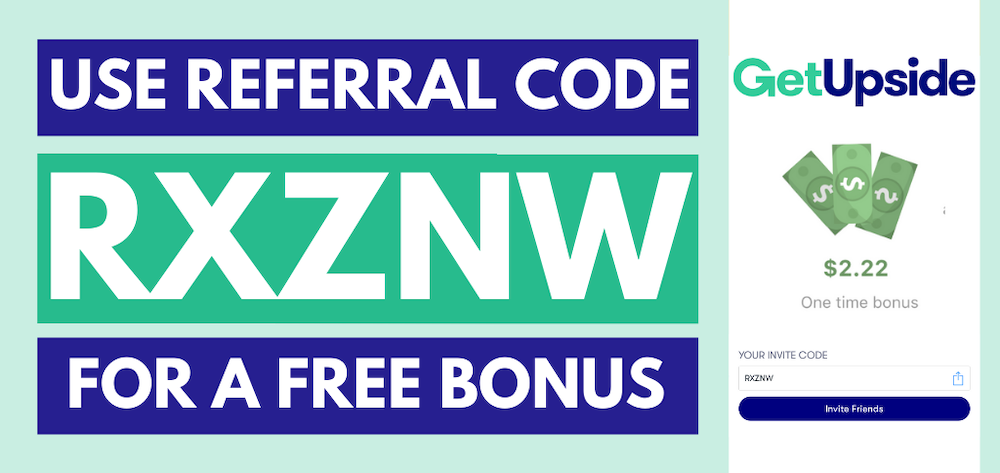 How To Redeem An Offer On Upside
Upside provides various offers inside the app after you've downloaded it and created an account.
Redeeming an offer to earn cash back is the way to get your referral bonus and also how you will earn money using Upside.
It's easy to do but there are several steps you have to follow. To see how to complete an offer in the Upside app you can review the second half of the video above or follow these instructions.
The steps you need to redeem an offer in Upside:
Open the Upside app
Review the deals available closest to you in the app on the map
When you find the offer you like click the "Claim Offer" button
You will have a timer set in order to go to the location
Navigate to the location of the offer you claimed
When you arrive, open up the app and click the "Check in" button
In the next screen, enter the first 6 and last 4 digits of the credit card you will use to buy gas
Click the confirm button
Click the done button
Then purchase gas using the card you entered
Finish your purchase, leave, and check the app later to see your cash back
You can see all cash back under "My History" in the bottom menu on the app.
There you can select each purchase to see details of how much you earn.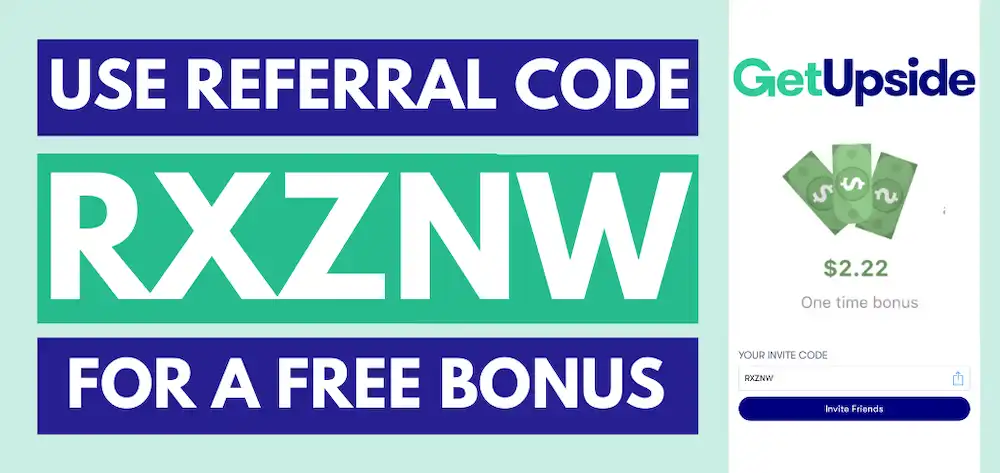 I earn a commission if you make a purchase, at no additional cost to you.

How To Share An Upside Referral Code
Once you've signed up for Upside and are using the app you can earn even more money by referring other people to use the app.
Upside offers an ongoing referral program where you will earn money every time someone buys gas after using your referral code.
At the time of writing this Upside tutorial, they offered 1 cent per every gallon your referrals purchased with the app.
In the video below I share how to find and share your Upside referral code.
In this video I show how to:
use Upside to find your referral code
how to copy your Upside referral code to share
how to text your friends your referral code to Upside
Want to share your referral code with others who might use it? Leave your code in the comments here.
Upside Sign Up Bonus & Other Bonuses
How much can you earn with Upside? The key to making more money is focusing on the bonus offers.
Upside Sign Up Bonus
The first bonus is the sign up bonus. This gives you an extra 15 cents or more for each gallon you purchase when you redeem your first offer.
This amount could go down or rise depending on when you sign up for the app with a referral code.
Upside Referral Bonuses
The larger amounts of money will come through creating a large network of referrals.
Every time you refer someone to the app you will earn money every time they use it. You will earn 1 cent per gallon of gas they purchase.
For every referral your referral brings to the app you get .5 cents per gallon they purchase.
Those referral bonuses can compound and add up if you have a lot of friends and family you bring to the app. It definitely feels a little bit like a MLM pyramid scheme, but you can't deny the app has benefits and you won't lose any money by using it.
GetUpside Review
GetUpside is a simple app that allows you to earn cash back on every day purchases like gas. When you use participating gas stations you can get up to 25 cents cash back per gallon you purchase.
When you refer friends you can also earn money on the gas purchases they make using the GetUpside app.
You can also earn up to 15% cash back on grocery bills and 35% cash back on purchases at participating restaurants.
It's one of the few cash back apps that you use in real life and don't need to shop online to use. You just need your phone to redeem the cash back.
Reasons why I like GetUpside:
easy to use app
free to use and is one of the few ways to save money buying gas
requires very little personal information
payouts start immediately rather than needing a large amount
payout options include PayPal, mailed checks, or digital gift cards
very few extra steps to redeem cash back offers
allows you to benefit by referring friends
Downsides to GetUpside:
the app is limited based on geography
not all states are eligible
grocery stores and restaurants are limited
earnings are not huge
Overall the GetUpside app is something that won't earn you huge amounts of money but is worth giving a try.
If you purchase a lot of gas it can help offset the rising cost of gasoline.
If you promote the app to your friends by sharing a GetUpside referral code then you can earn even more with their referral program.
The app is easy to use and redeeming the cash back is simple to do and quick. Your success using it depends on your location but based on my experience in a medium size city there are many gas stations that participate.
Mary is the founder of Pennies Not Perfection where she shares her journey to build wealth through online income. She quit her day job in 2021 after she paid off her debt and doubled her 9-5 salary.
Mary's favorite free financial tool is Personal Capital. She uses their free tools to track net worth and work toward to financial freedom.
Her favorite investment platform is M1 Finance, where she built a custom portfolio for free with no fees. She shares her portfolio growth and savings progress every month on YouTube.