Getting money back for things you already plan to buy is one of the most satisfying things in the world. It's an easy way to automate every day savings. Here I'm sharing the best cash back apps I personally use to save money.
Using cash back apps has been the best way I save money on groceries. I'm not a coupon cutter and rarely shop sale ads, but I'm happy to scan a receipt or click a link to save money.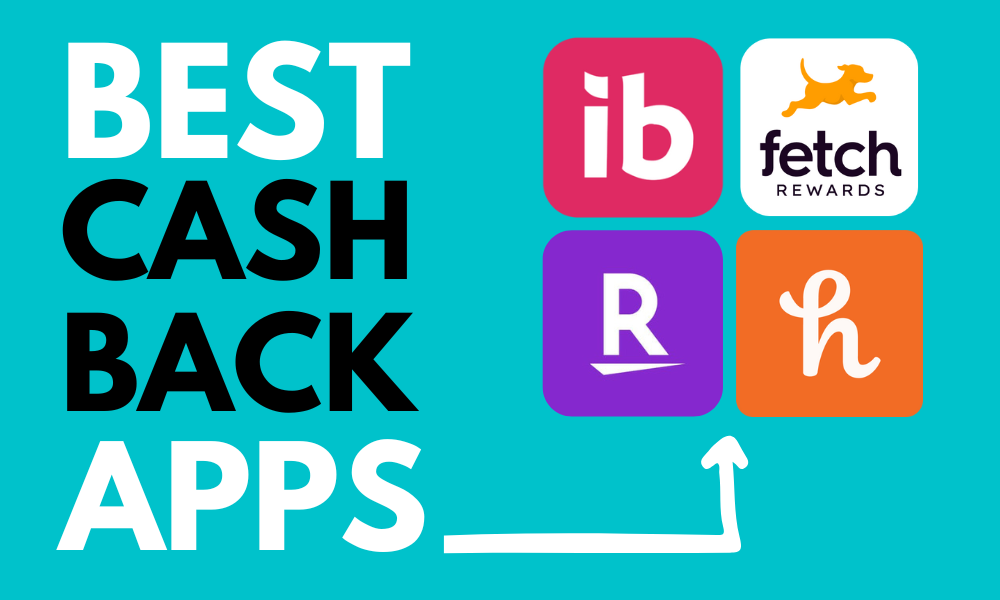 Cash back apps are the best way to save money the lazy way!
If you want to take advantage of all the cash back apps and get some more money back in your pocket, check out the following cashback and reward apps that you can use to save.
Best Cash Back Apps
The following are the best cash back apps and reward point apps out there. Using one or all of these will help you save money on things you are already buying.
All of these cash back apps are legitimate, pay out as promised, and keep your data safe with high level security.
Ibotta
Ibotta is one of the largest and best cashback apps for grocery shopping. They have multiple partnerships with large retailers and grocery stores.
With Ibotta you click on offers and decide what to buy. You add offers to your list for a store and then make the purchase. After the purchase you either have your loyalty card linked or scan your receipt to match up the offers you bought. For each offer you are given cash back into your account.
When you reach $20 in cashback rewards in Ibotta you can then withdraw as cash or gift cards.
Sign up for Ibotta to start saving now!
Learn more about the cashback app Ibotta:
Rakuten
Rakuten (previously called Ebates) is a browser extension you can use to get cashback on online purchases.
If you are shopping online then you need to sign up for Rakuten and install their browser extension. It automatically detects any cash back opportunities and sends you a ping to let you know. It's the easiest way to get cash back for any online purchases – you barely have to do anything besides click a link!
When you are using Rakuten a message will pop up automatically when you are on a website. It will let you know how much cash back you can earn. Then you must activate the cash back savings by clicking the link and continuing to shop.
Rakuten works with a variety of retailers from Amazon to Walmart and more. They offer anywhere from 1% to 20% or more cashback. They do this by sharing part of their affiliate commission with you when you click their link to shop.
Rakuten pays out cash and sends you a check or direct deposit to your bank account.
Sign up for Rakuten to save money!
More about cash back app Rakuten:
Fetch Rewards
This incredible app allows you to earn points by scanning your receipts after shopping. You earn more points on specific brands but every receipt earns points that you can use to redeem gift cards.
With Fetch Rewards you can scan receipts from grocery stores, gas stations, and most major retailers. You can also connect your email and earn cash back for spending online at sites like Amazon.
Fetch Rewards is a fantastic app to use because it can be combined with other methods of saving money. Unfortunately it does not pay out in cash and you'll only be able to get gift cards for your points.
Start earning money with Fetch Rewards (use code MV7RR)!
More about rewards app Fetch Rewards:
Honey
Honey is a cash back app that works as a browser extension for shopping online similar to Rakuten.
With Honey the browser extension works by finding coupons for items you purchase online. It also works to find other discounts and lower prices for items you are planning to buy. Automating the process to find the lowest prices helps you save money and earn cash back.
With Honey you earn points and then can use those points to get gift cards and thousands of retailers.
Join Honey and start earning cash back points!
How Do Cash Back Apps Work?
Almost all of these cashback apps work in the same way.
In general the process looks the same:
download the app or install the browser extension
create your account
start adding your receipts/connecting your receipts
let the cash back app verify your purchase
earn cash for your spending
cash out your money when you hit the threshhold
Each one operates slightly differently but this is the general process for using a cash back app.
Can I Instantly Earn On Cash Back Apps?
Yes, you can!
With most of these apps you can instantly earn money by signing up with a referral code. You'll see my codes are listed above and you can find more referral codes here.
When you use a referral code to sign up for an app you can get an instant bonus. These will range from $2 on Fetch Rewards to up to $30 on Rakuten.
How Do Cash Back Apps Make Money?
If you are earning money with an app then YOU are likely the product.
These apps are supported financially by the brands and stores providing the cash. You are the product in this case because the app is selling the connection to you as the purchaser.
These cash back apps then split the profits and give you a slice of the income. Giving customers back a percentage of the amount spent keeps everyone happy.
Bottom Line
These cashback programs will not make you rich. In fact, they won't even bring in all that much money.
But they are low effort, easy ways to get more money for things you are already doing. Keeping a little bit more of your money is always a good thing. Every bit helps and pennies add up to dollars.
Implementing these cash back apps into your regular spending routines will be an easy way to save more money. Try a couple out and see which ones work best for you!