Use Upside referral code RXZNW for a $2 or more bonus on the Upside app!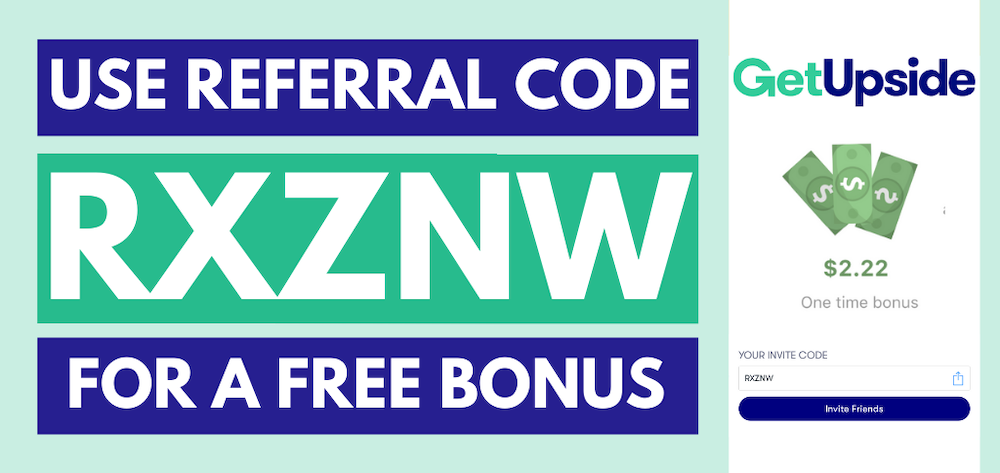 IMPORTANT! You have to spend $10 on gas or another offer to get the bonus after signing up and using the referral code!
This Upside referral code RXZNW will get you at least $2 for free that you can redeem for cash on the Upside app.
How Do I Use A Referral Code in Upside?
GetUpside gives you a bonus when you sign up using a referral code like RXZNW.
It's easy to do and only takes the additional step of entering the code when you sign up. You can watch the video below or keep scrolling for detailed written instructions.
The following instructions will show you:
how to open an account on GetUpside
where to enter a referral code (RXZNW) on GetUpside
how to hit all the requirements to get your bonus money
The steps you need to get the referral money for the Cash App bonus.
Click on link or search for "GetUpside" in app store
Click and download GetUpside app to your phone
Open GetUpside on your phone
Go through the account sign up process with email of Facebook account
Enter RXZNW in the box for referral code
Claim your first offer and spend $10
Get your cash back and the referral sign up bonus!
Want to learn how to do more with Upside?
How To Use Upside App: Tutorial & Review
Get Upside Sign Up Bonus
How much will you get as a sign up bonus when you join GetUpside with a referral code?
There is not a standard sign up bonus with GetUpside but at the time of writing this post it was $2.22.
This amount could go down or rise depending on when you sign up for the app with a referral code.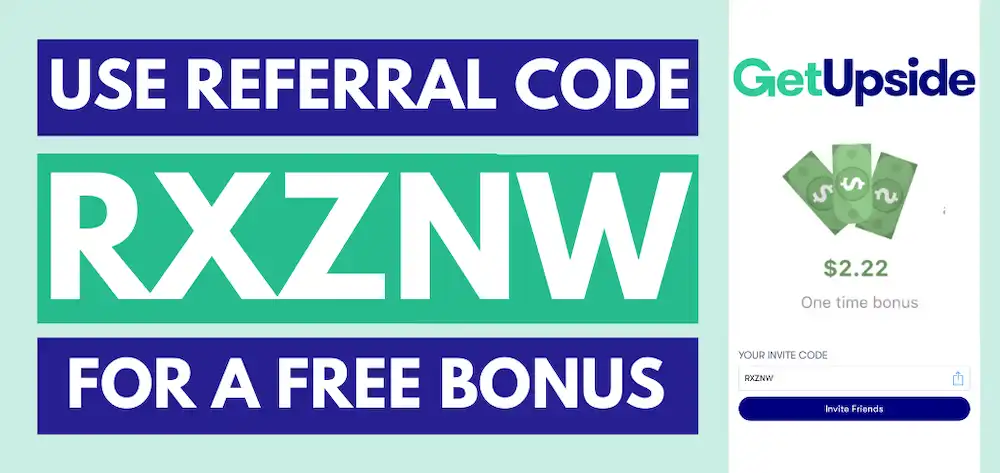 I earn a commission if you make a purchase, at no additional cost to you.

GetUpside Review
GetUpside is a simple app that allows you to earn cash back on every day purchases like gas. When you use participating gas stations you can get up to 25 cents cash back per gallon you purchase.
When you refer friends you can also earn money on the gas purchases they make using the GetUpside app.
You can also earn up to 15% cash back on grocery bills and 35% cash back on purchases at participating restaurants.
It's one of the few cash back apps that you use in real life and don't need to shop online to use. You just need your phone to redeem the cash back.
Reasons why I like GetUpside:
easy to use app
free to use and is one of the few ways to save money buying gas
requires very little personal information
payouts start immediately rather than needing a large amount
payout options include PayPal, mailed checks, or digital gift cards
very few extra steps to redeem cash back offers
allows you to benefit by referring friends
Downsides to GetUpside:
the app is limited based on geography
not all states are eligible
grocery stores and restaurants are limited
earnings are not huge
Overall the GetUpside app is something that won't earn you huge amounts of money but is worth giving a try. If you purchase a lot of gas it can help offset the rising cost of gasoline.
The app is easy to use and redeeming the cash back is simple to do and quick. Your success using it depends on your location but based on my experience in a medium size city there are many gas stations that participate.
GetUpside Referral Code FAQ
Below are some of the questions I often get asked on videos about the GetUpside app and the referral code program.
Is it GetUpside or Upside? Are they the same?
The Upside app was previously called "GetUpside" so you will often see this app referred to as GetUpside or GetUpside App or Upside any variation of this based on branding changes.
It's the same app!
Is GetUpside app legit?
The number one question I see is whether or not the GetUpside app is legit or not. It sounds too good to be true which usually means it is. But in this case the app is legit and does work! After using it for a couple months I've felt comfortable enough to recommend it to others.
GetUpside is a legitimate company. They offer cash back on mainly gas purchases and have expanded to also include grocery and restaurant purchases.
Is GetUpside safe to use?
Another concern is the safety of using such an app but there should be little concern.
You don't have to enter any personal information and payouts are done through paypal which just requires an email or digital gift card. Your personal information stays safe when you use the app.
What is the GetUpside referral code?
Use referral code RXZNW for a bonus when you sign up for GetUpside!
All you do is download the free app, enter RXZNW as the referral code, and then use the app for at least a $10 purchase.
What is the difference between referral codes and promo codes?
GetUpside offers the ability to earn via both referral codes and promo codes. Referral codes are from other users like myself while promo codes are from GetUpside when they are advertising to grow their user base.
A new user can only use one referral code or promo code. If you redeemed a GetUpside promo code on your account first, you can't use another referral code.
Do referral bonuses apply to only gas purchases?
Yes, currently referral bonuses are currently just for gas purchases.
GetUpside has mentioned they plan to add referral bonus options for grocery and restaurants soon but that appears to still be pending.
Are there any GetUpside hacks to earn money fast?
Unfortunately there are not glitches or ways to cheat the system that you should use.
Sometimes people will promote a "glitch" or "hack" to earn extra money or scam others. These hacks will often get your account banned and you should not use them if you want to continue earning money with GetUpside long term.
Why did I not receive the GetUpside referral bonus money?
Unfortunately if you didn't receive your referral credit in the app, it's possible one of a few things happened. Here are some of the common issues:
If you used a promo code you can't also use a referral code.
If you signed up and did a grocery receipt but not a gas offer – referral bonuses only apply too gas purchases.
You didn't spend $10 on the purchase which is the minimum to get the bonus.
You can fix most of these issues by just doing the correct thing next, but any issues should be directed to the customer service team at GetUpside.
Want to earn more free stuff with other apps? I've got a whole page and YouTube playlist full of referral codes and referral links for the best financial apps!
I only include the apps I use and love so it won't have everything, but you can get hundreds of dollars free just by using these referral codes when you sign up for things! The list includes apps for investing, saving, coupons, and more.
Check out the list of referral codes for free money!
Why Am I Sharing These?
First of all, referrals earn me money too! For every sign up you get a bonus and so do I! It's usually the exact same amount you are receiving.
Second, because it helps you. I've been in the position where I wanted to use an app or service but didn't have access to a connection where I would receive a referral sign up bonus. It is frustrating!
Putting these referral codes and links out there can help others avoid that situation and I get a little bit of a kickback that helps me continue running this website to provide financial education. I love being able to give others free money!