M1 Finance is my current favorite brokerage account. I recommend it and use it in most of my YouTube videos. Because of this I get a lot of questions about it including how to make money with M1 Finance.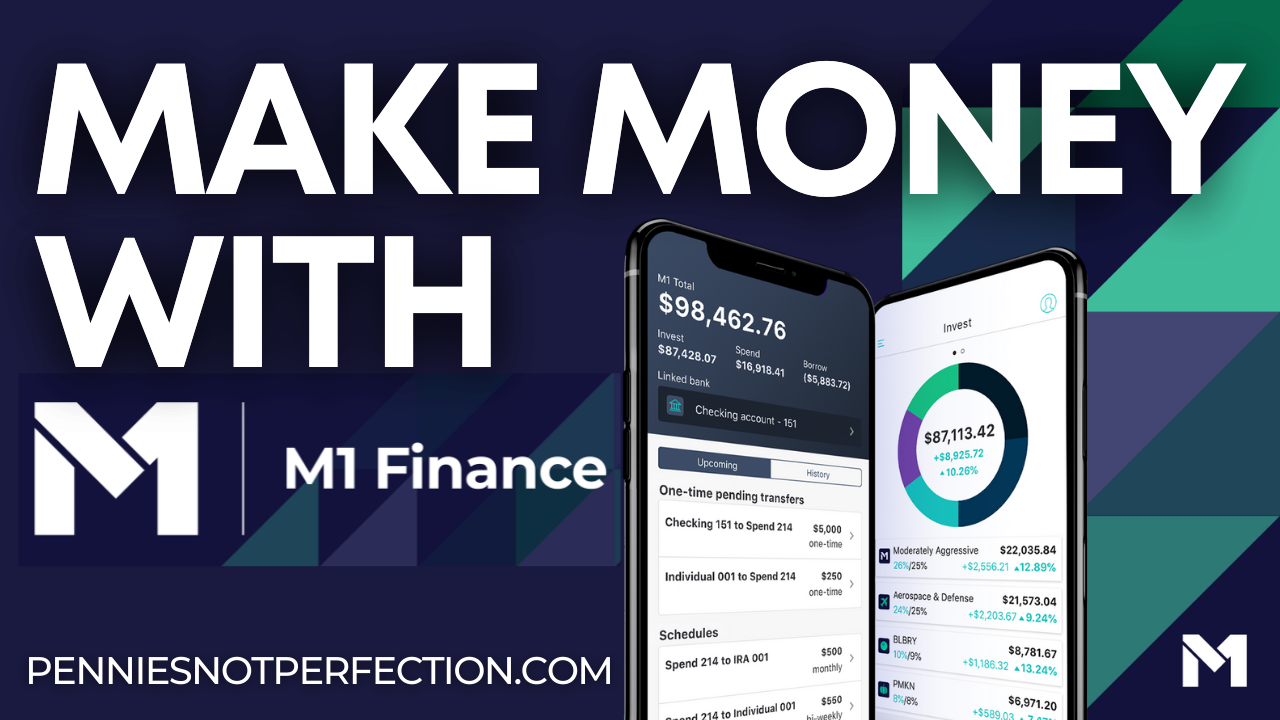 How do you make money with a financial platform like M1 Finance?
For the short answer, there are several ways:
Referral Bonuses
Transfer Bonuses
Asset Appreciation
Dividend Payments
M1 Spend Interest Payments
Credit Card Cash Back
Now let's look deeper at M1 Finance and explore the different ways you can use M1 Finance to make money.
What Is M1 Finance?
M1 Finance began as a brokerage platform but they now offering many financial products from a credit card to loans to a checking account.
You can read my full review and experience with M1 Finance here.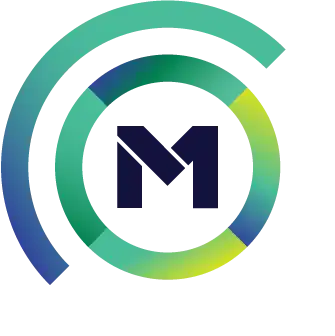 I earn a commission if you make a purchase, at no additional cost to you.

How To Make Money With M1 Finance
Let's look at the details of each way you can make money with M1 Finance.
I love this topic because I've personally earned thousands of dollars thanks to using M1 Finance. In 2021 I earned over $10,000 from several of the methods detailed below.
The best part about making money with this company? Anyone can do it!
You might not want to try all of the money making methods but you can certainly try one or two.
Referral Bonuses
The first way you can earn money with M1 Finance is by starting your account with a referral link.
When you use a referral link to open an M1 Finance account you instantly are eligible to receive a sign up bonus.
M1 Finance sign up bonuses from referral links vary depending on the season and current promotion.
At the time of writing this guide to making money with M1 Finance, the current promotion gives you $50 for starting an account with $100. This is only if you use someone's referral link which benefits you both!
Want to use my referral link? Click here to get a bonus for starting an M1 Finance account!
Transfer Bonuses
Along with the referral bonuses, another way to earn money with M1 Finance is to take advantage of the free money they offer people opening new accounts.
M1 Finance runs many different promotions and offers large sums of money to people transferring accounts to them.
You earn a cash bonus just for transferring your taxable brokerage account or retirement account to M1 Finance.
With all of these promotions, the bonus rises with the account value. If you transfer a large account to M1 Finance then they will give you a large bonus.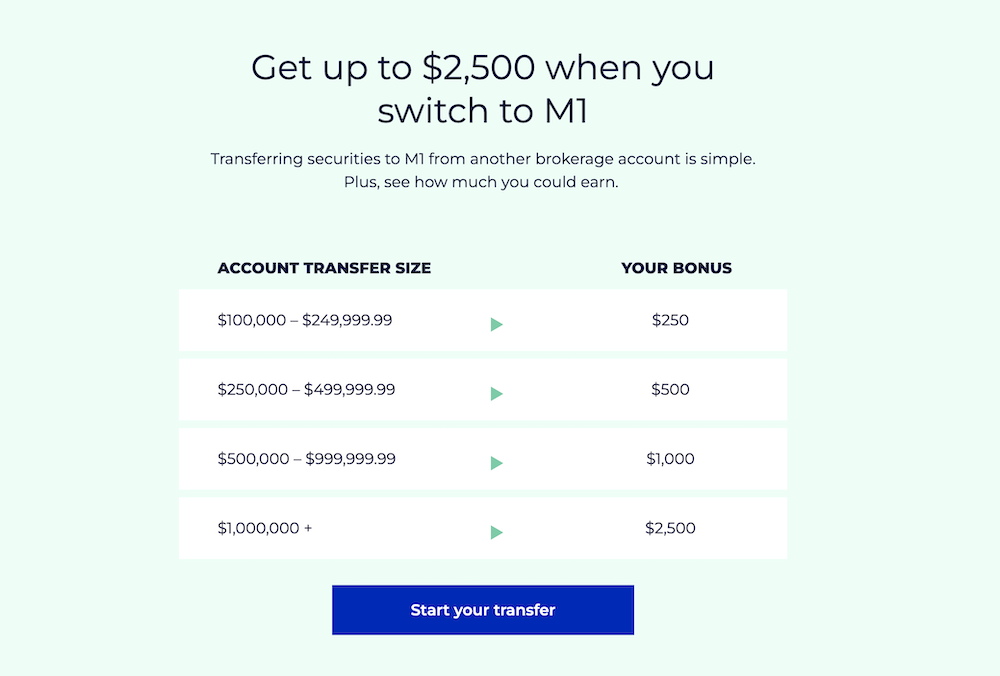 You can check out M1 Finance's website for the the latest promotion offered for account transfers.
These bonuses constantly change but there is almost always some kind of M1 Finance Sign Up Bonus for new accounts.
Asset Appreciation
There are plenty of ways to make money with M1 Finance, but one way that stands out is investing.
Commission free investing with automation is the backbone of M1 Finance. It's the original offering and the thing that most people use to earn money on M1 Finance.
Investing through buying stocks and ETFs allows you to earn money through asset appreciation. The stocks and ETFs you buy are assets and over time their value can go up earning you more money.
Maneuvering through stocks can be risky if you aren't careful – there's no guarantee your investment will go up in value!
This opportunity has both risk and reward.
If you buy a stock at $25 then in 12 months it is at $50, you've made $25!
If you buy a stock at $25 then in 12 months it is at $20, you've lost $5.
These monetary gains or losses are only locked in when you sell the stock or ETF. Until then you can ride the market and hope for even more appreciation of your assets.
Just always keep in mind that the stock market and individual stocks can go up AND down in value.
Dividend Payments
Dividend payments from stocks you own is another way to make money on M1 Finance.
When you own certain stocks or ETFs you are paid a regular payment of the company's profit. Dividends are the payments a company makes to share it's profits with all stockholders. It's one of the ways investors can earn money from investing in a stock.
There are several types of dividends from cash to stock payouts and also multiple payout periods from monthly to quarterly. These all depend on how the company chooses to pay it's shareholders.
Not all stocks pay dividends so to earn money in this way you have to purchase stocks that pay dividends.
Dividend investors love M1 Finance because of the automation and powerful tools like dynamic rebalancing and portfolio dividend reinvestments.
M1 Spend Interest Payments
M1 Spend is the checking account within M1 Finance. It offers a 1% APY to customers which is multiple times the national average.
If you choose to use M1 Spend as your checking account you will earn money on whatever amount you keep inside it.
You will also be able to earn 1% cash back on all purchases made with the debit card attached to the account.
The one catch with this way to earn money is that you also have to spend money to achieve it. To get these benefits you will need to be an M1 Plus member which currently costs $125 per year.
You can still use M1 Spend without the Plus membership but you won't earn 1% on your money or get the 1% cash back.
M1 Credit Card Cash Back Rewards
The final method of earning money with M1 Finance is to use their credit card.
The Owner's Rewards Credit Card by M1 is a unique credit card that allows you to grow your investment portfolio with credit card purchases.
With every purchase you are eligible to earn from 1.5% to 10% cash back.
When you purchase items from companies you own in a portfolio you are able to earn more cash back, from 2.5% to 10%. All other purchases receive the standard 1.5% cash back.
M1 Finance is also offering a $300 bonus for new users who spend a certain amount to qualify. If you have large upcoming purchases the rewards credit card bonus could be a great way to earn a bit of extra cash.
There is a $95 fee for the card but that is waived with a M1 Plus membership (which could be used to also benefit with the M1 Spend account).
More About M1 Finance
M1 Finance is an all-in-one financial platform that allows you to invest, spend, earn, and borrow money.
They currently offer a great $50 sign up bonus with an M1 Finance referral link (click here for mine!).
You can also read my full M1 Finance Review here to see if it's a good fit for you.
Mary is the founder of Pennies Not Perfection where she shares her journey to build wealth through online income. She quit her day job in 2021 after she paid off her debt and doubled her 9-5 salary.
Mary's favorite free financial tool is Personal Capital. She uses their free tools to track net worth and work toward to financial freedom.
Her favorite investment platform is M1 Finance, where she built a custom portfolio for free with no fees. She shares her portfolio growth and savings progress every month on YouTube.