Are you a budgeting beginner? Trying to revamp your budget after time off? This budget categories list can help give your budget a refresh!
Sometimes it helps to see a list of expenses and budgeting categories to help find all the expenses you might have in a month.
The following is a long list of budgeting expense categories and even it is not comprehensive! Before you budget I highly recommend you sit down and try to write out every budget category you might use with this as a starting point. 
Income
Salary (paycheck)
Side hustle
Bonuses
Tips earned
Reimbursements
Alimony (received)
Child support (received)
Gifts (received)
Investment income
Passive income
Housing
Mortgage
Rent
Home Owners Association (HOA) fees
Home improvements/upgrades
Property taxes
Home maintenance/repairs
Home warranty
Lawn care
Home security system
Utilities
Electricity
Internet
Cable
Phone
Heating
Garbage
Recycling
Water
Sewer
Natural gas
Food
Groceries
Restaurants
Fast food
Coffee shops
Alcohol
School lunches
Work lunches
Events
Costco membership
Grocery delivery service
Transportation
Car payment
Gas 
Charging costs if electric
Car maintenance (oil changes, tire rotation)
Car repairs (when something breaks)
Annual car fees (registration, inspection)
Car tags
Car wash fees
Parking fees
Car taxes
Public transportation (subway, taxis)
Uber/Lyft ride sharing cosots
Tolls (EZ Pass)
Roadside assistance (AAA)
Clothing
Adult clothing
Kids clothing
Dry cleaning
Alterations
Kids
Daycare or Tuition
Babysitters
Extra-curricular activities
Toys
Kids sports gear
Allowance
Baby necessities (diapers, formula)
Tuition
School uniforms
School supplies
Child support
Personal Care
Haircuts/barber
Hair coloring
Nail salon
Eyebrows
Massages/Spa
Makeup
Toiletries
Medical
Doctor visits
Dentist visits
Hospital visits
Prescriptions
Over the counter medication
Glasses, contacts, contact solution
Vitamins/Supplements
Insurance
Medical insurance
Dental insurance
Vision insurance
Mortgage insurance
Renters insurance
Car insurance
Life insurance
Property insurance
Disability insurance
Long-term care insurance
Identity theft insurance
Pet insurance
Wellbeing
Gym memberships
Personal development
Therapy
Coaching
Conferences
Household
Cleaning supplies
Laundry supplies
Paper products
Tools
Furniture
Appliances
Home decor
Pool supplies
Subscriptions
Magazines
Professional Society annual fees
Netflix/Hulu
Amazon Prime
Music (Spotify, Pandora)
Sports TV subscription (like ESPN)
Software subscriptions
Identity theft protection
Recreation
Bars
Movies
Concerts
Sporting Events
Hobbies
Hosting parties
Books
Family membership fees
Pocket Money
Pets
Veterinarian visits
Pet food
Toys, accessories, beds

Pet clothes

Pet medication (i.e. flea shots, heart worm medication)
Giving
Tithes
Offerings
Charity donations
Miscellaneous giving
Tips
Gifts
Holiday gifts
Birthday gifts
Wedding/wedding shower gifts
Baby/baby shower gifts
Service gifts
Other occasions
Travel
Vacation
Trips to see family
Trips for weddings,
bachelor/bachelorette parties
Souvenirs
Baggage fees
TSA Pre-check or Global Entry
Services
Financial advisor
Lawyer
Tax professional
House cleaner
Yard care
Miscellaneous
ATM fees
ID renewal fees
Postage
Holiday spending
Family pictures
Taxes
Federal taxes
State taxes
City taxes
Property taxes (could be under Housing)
Savings
Emergency Fund savings
College savings
Retirement savings
Car replacement savings
Health Savings Account/Plan
Long term savings goals
Short term savings goals
Investments
Debt Repayment
Credit card debt
Student loans
Medical debt
Personal loans
Auto loan payments
Extra mortgage payoff
Alimony
How To Use The Budget Categories List
This list. of budgeting categories should be used as inspiration to get you started with your first budget.
First, look the list over and write down all the categories where you know you spend money or expect to spend soon. Not every category will apply to your budget.
Next, use the list of budget categories you've written down to plan out your monthly budget. Give each category an assigned spending amount.
Then, track your spending and assign each expense a budget category so it's applied properly.
Finally, reconcile actual spending to your budgeted amount. What categories were under budget? Which were over budget? Where do you need to make some changes?
Evaluate what spending happened during the month that was outside of the categories you chose. Should you add a new budget category for this expense?
Budgeting Tips
Budgeting can be difficult to grasp at first but for many people it becomes second nature. It's definitely a skill you can practice and improve over time.
We have a lot of different budgeting tips and tricks here that can help.
Learn more from these budgeting guides:
We also have multiple printable guides to help you write out a budget. Writing out budgets can help you process the information in a different way that helps you better stay on track financially.
Practice your budgeting skills with these budget worksheets:
Monthly Budget Planner
This monthly budget printable is a grouping of everything you need to plan and track your monthly budget. These monthly budget worksheets are designed to help you keep your budget on track by writing it down each month and tracking where your money goes.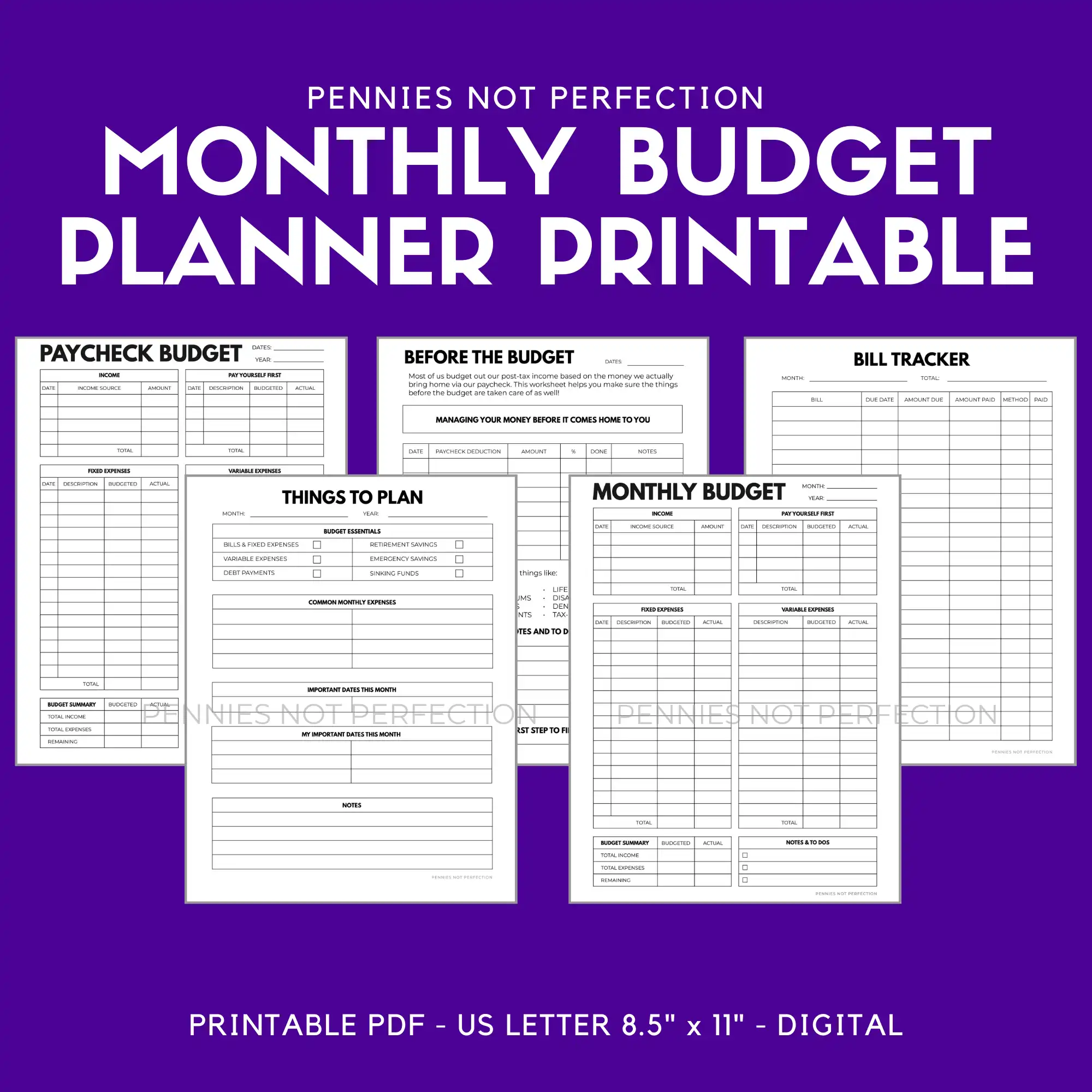 Financial Bundle: Budgeting, Savings, Debt Payoff
This financial planner bundle is a grouping of everything you need to plan your budget, grow your savings, and achieve your debt payoff. It is perfect for anyone who wants an all-in-one solution to get started and get organized!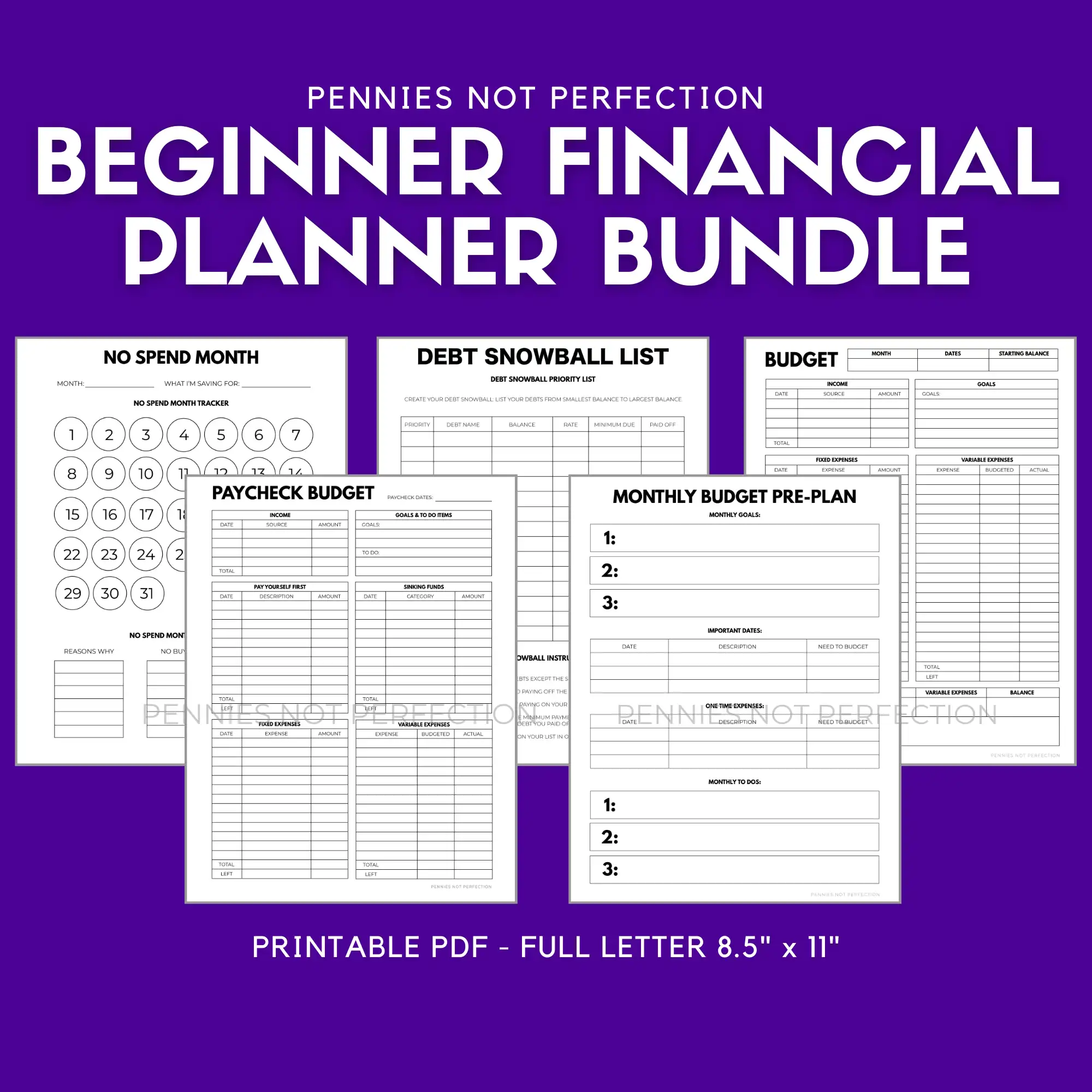 Budget Categories List Final Thoughts
Budgeting is HIGHLY personal so this list has many things that do not and will never apply to your lifestyle. Your budget is going to be specific to you and how you want and need to spend your money.
Some people love to break down their budget into as many categories as possible. Others like to keep it super simple with just some big overarching categories.  It can be as complex or as simple as you want it.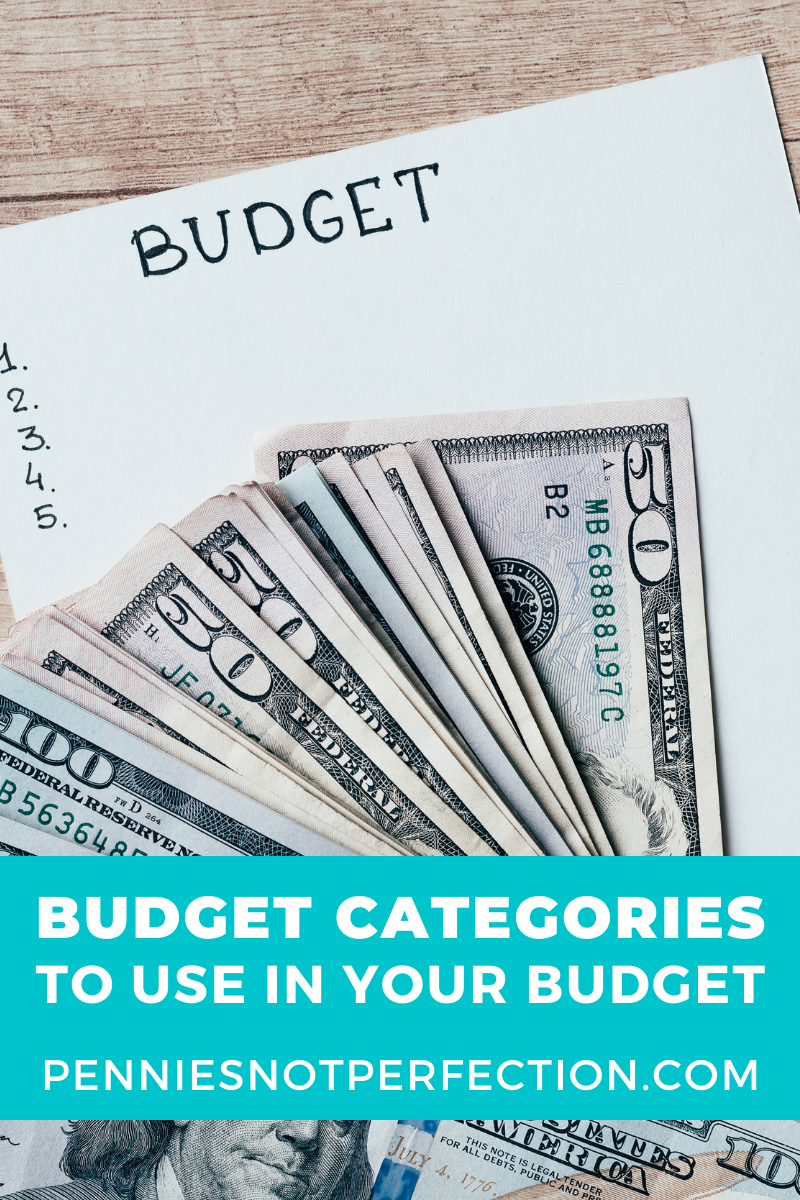 Mary is the founder of Pennies Not Perfection where she shares her journey to build wealth through online income. She quit her day job in 2021 after she paid off her debt and doubled her 9-5 salary.
Mary's favorite free financial tool is Personal Capital. She uses their free tools to track net worth and work toward to financial freedom.
Her favorite investment platform is M1 Finance, where she built a custom portfolio for free with no fees. She shares her portfolio growth and savings progress every month on YouTube.