I drastically cut back my spending when I was paying off debt. I realized I had to cut back to make any major progress on my financial goals. Because I still wanted a social life that just meant I needed to find cheap ways to have fun.
The biggest hurdle I had to overcome was how to entertain myself on the cheap. In the past I've spent $100+ on a night out with dinner, drinking, and other activities that cost a lot of money. I'd also go shopping for fun when I didn't have anything else to do for a couple hours.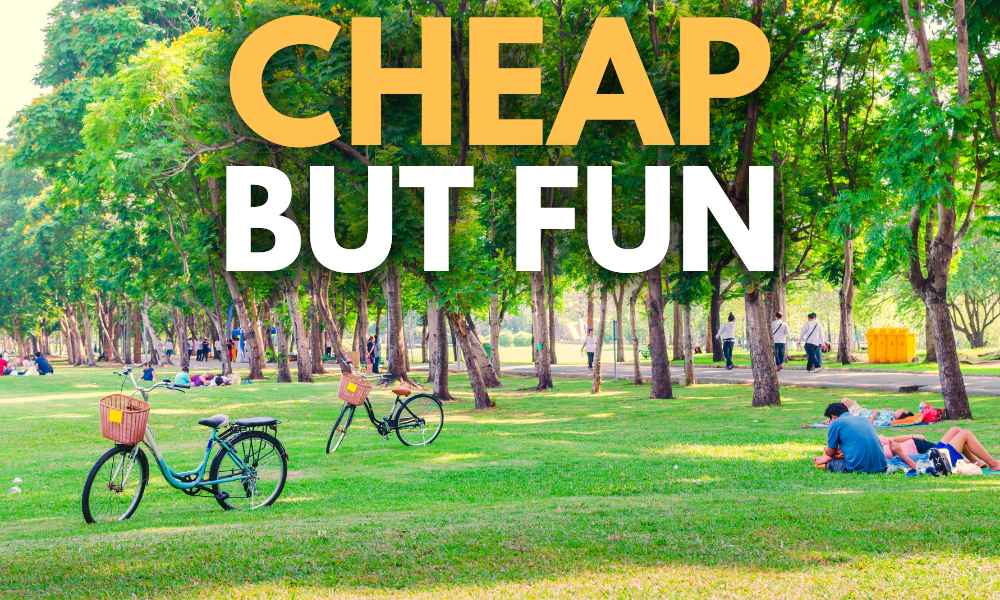 Now I spend most of my time doing very frugal or cheap activities. I also invest in items that will be fun for years and cost very little in the long term. It turns out that there are plenty of ways to have a lot of fun without spending a lot of money.
Cheap Ways To Have Fun
Here are some examples of frugal entertainment options that I use and you might want to try! These are all frugal or cheap ways to have fun while saving money.
Go for a hike.
Nature is amazing and free. Even if you aren't in a mountainous area you probably have a park with at least rolling hills (we do and I live in a flat area!).
Not sure where to hike? You can google "places to hike near me" or check out AllTrails.com that shares all the hiking trails with lots of details.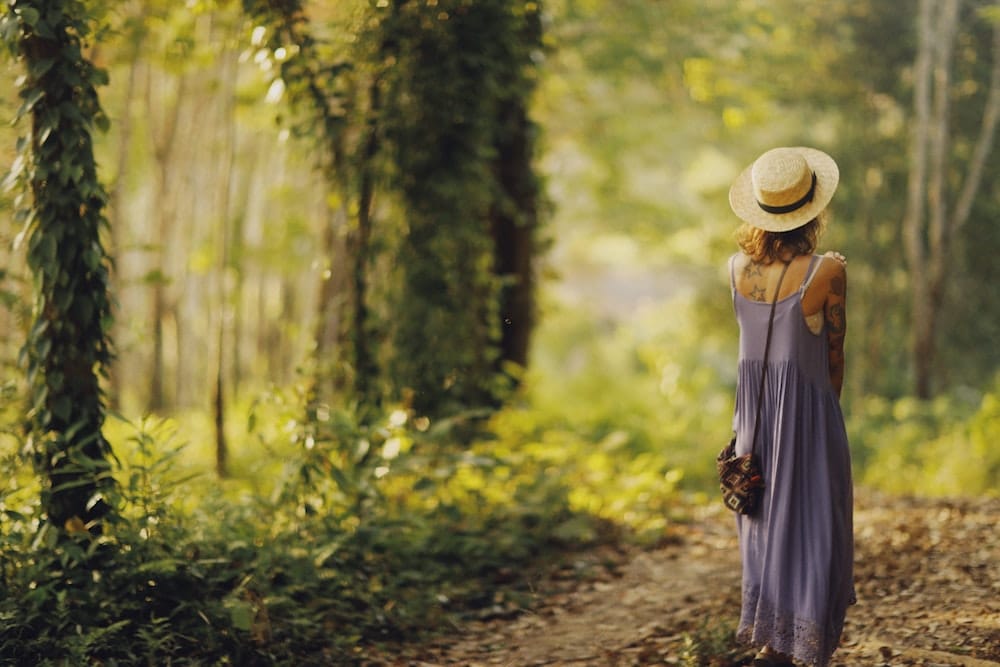 Go enjoy nature for a few hours and get exercise.
Bring a friend or your dog for company. Run, walk, skip, bike. Just move your body outside! Being in nature is also a great self care idea since nature can be soothing.
There are also free exercise classes held outside in many areas. Check with your local city guide or follow a lot of the gyms and parks in your area on social media to get notifications.
Go to the library.
A library card is so useful for frugal fun! You can check out books, DVDs, music, etc. A good book can keep you entertained for hours at no cost.
Most libraries also now let you rent books digitally through apps like Libby. A library card gives you access to both digital and physical books.
Host a tea party.
While hosting a party usually requires big expenses, hosting an impromptu tea party can be fun and frugal.
Bake a treat from scratch and offer up tea to all your guests for a fun part for less than $10. This is a cheap way to eat and enjoy time together but still feel like it's a bit special. It works really well with kids too!
Explore thrift stores.
Not only can thrift stores be a great source of secondhand deals, they can also be incredibly fun and entertaining. Visit several in your area and discover the weirdest item for sale you can find.
Buying furniture at thrift stores is also a great way to recreate furniture you love on the cheap. It's also a great source of items if you want to start a reselling side hustle.
Visit a park.
You probably live near a park and don't utilize it. Visit your local park and take advantage of what is there.
Parks around here offer playgrounds, fitness equipment, sports fields, and more. There is always something free and fun to do there.
Pretend you're on "Chopped" for dinner.
Chopped forces contestants to cook with random non-matching ingredients, but you can do this yourself at home!
Give yourself a pantry challenge for dinner and see what you can make with wacky ingredients. It's fun, challenging, and helps you prevent food from going to waste.
Host a game night.
Game nights with friends are super fun and cheap. Have everyone bring their favorite game and make it BYOB so everyone can enjoy what they want to drink or eat.
This is one of my favorite cheap ways to have fun with friends. Game nights can be a huge crowd pleaser!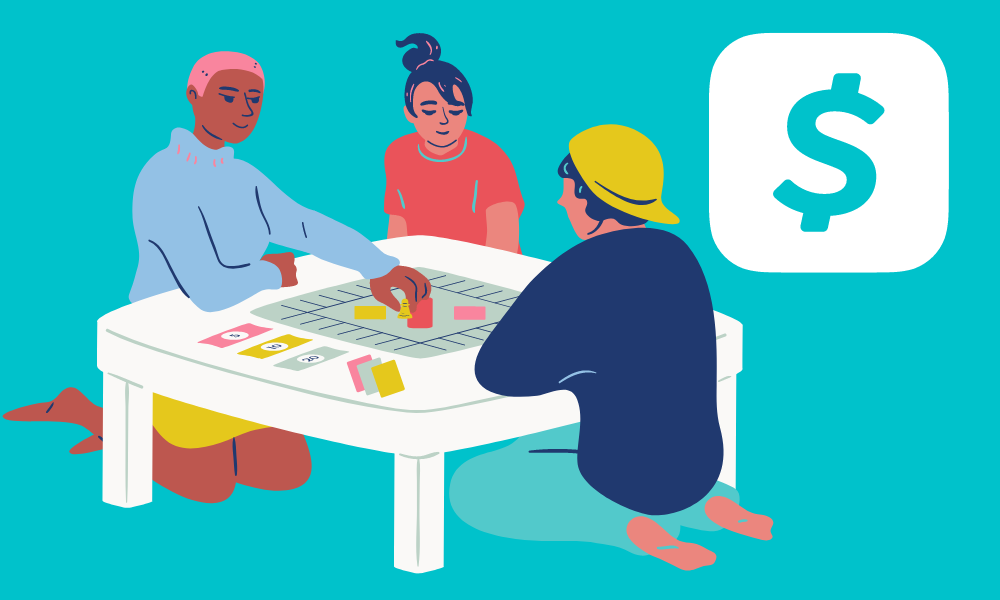 Take part in community events.
Most local community events are free or very cheap to start with. Check your local newspaper or neighborhood groups online to find community activities you can participate in on the cheap.
You can usually find parties, performances, speakers and more. Many events just want people to attend since they are already paid for by sponsors or other sources.
Be a volunteer.
Volunteering at shows or sporting events often lets you watch for free or gives you a chance to view at another time in exchange for your labor.
Volunteering is usually a win win for everyone and a great frugal way to spend your time.
Host a potluck.
Similar to the game night, host a dinner where everyone you invite brings a dish. It's a low cost way to have a really fun evening and delicious dinner.
If you want to keep it even cheaper you can plan to make low cost dishes like pasta.
Volunteer at events.
You can get into a lot of events and festivals for free just by offering to volunteer for a few hours.
After a few hours of work you can then enjoy the festivities. This works pretty well at festivals or conferences.
Go to museum free days.
The museums in most major cities have free days or free hours where locals can come in for free.
Most museums off low or no cost admission days, especially to local residents. Find out when admission is reduced and plan a visit to the museum without breaking the bank.
These are a frugal way to experience the culture and history in your city. Museums are one of the cheap ways to have fun in many major metropolitan cities.
Go to free concerts.
If you live in a city with any type of music scene, then there will often be free concerts happening.
My city has a free summer concert series and there are lots of other free concerts throughout the year.
Take a free course.
Thanks to the internet there are now free courses on hundreds of topics available online. Pick something you're interested in and sign up to learn more!
Not sure where to find a free course? Start on YouTube by searching "free course on (topic)". There will be several video course options on most topics!
Watch free things online.
Between free shows and a million things to watch on YouTube, you can be entertained for free for days if you simply plug in and search for things to watch online.
Visit the zoo on free day.
Zoos usually have a free day or afternoon for locals. Sometimes this is just a few hours long but it's plenty of time to stop by for free and have some fun!
Our local zoo is super fun to visit on the free afternoon each week. In fact, it is a family tradition and one of the cheap ways we spend time together.
Learn a TikTok dance.
Even if you never plan to share the video, TikTok is great for creating dances most people can do.
Pick a fun dance to a song you enjoy and spend some time learning the dance. You can do it for yourself or to share but either way it's a cheap and fun way to spend time.
Not sold on the style of TikTok dances? Look up some choreography on YouTube or a dance class instead!
Try a dollar store craft.
Visit your local Dollar Tree and challenge yourself to making a pretty craft for less than $5 for all the supplies you need.
Get creative with supplies from the dollar store and what you already have or can find for free. You can search Pinterest for a ton of frugal dollar store craft ideas.
Take a free tour.
Touring local businesses nearby is a frugal option for family entertainment. Many places charge nothing for entry and a tour while others charge a nominal amount.
I've enjoyed touring places that make things like dairy products and manufactured items.
Plan your next shopping spree without spending.
Instead of impulsively buying items, do a little window shopping and pre-planning to find out how you can get what you want at the absolute best price.
Check out when there might be a sale next and see if Rakuten is offering cash back.
Rakuten: Shop & Get Cash Back
Make money while you shop online with Rakuten. Get cash back, deals and shopping rewards from your favorite stores when you use Rakuten.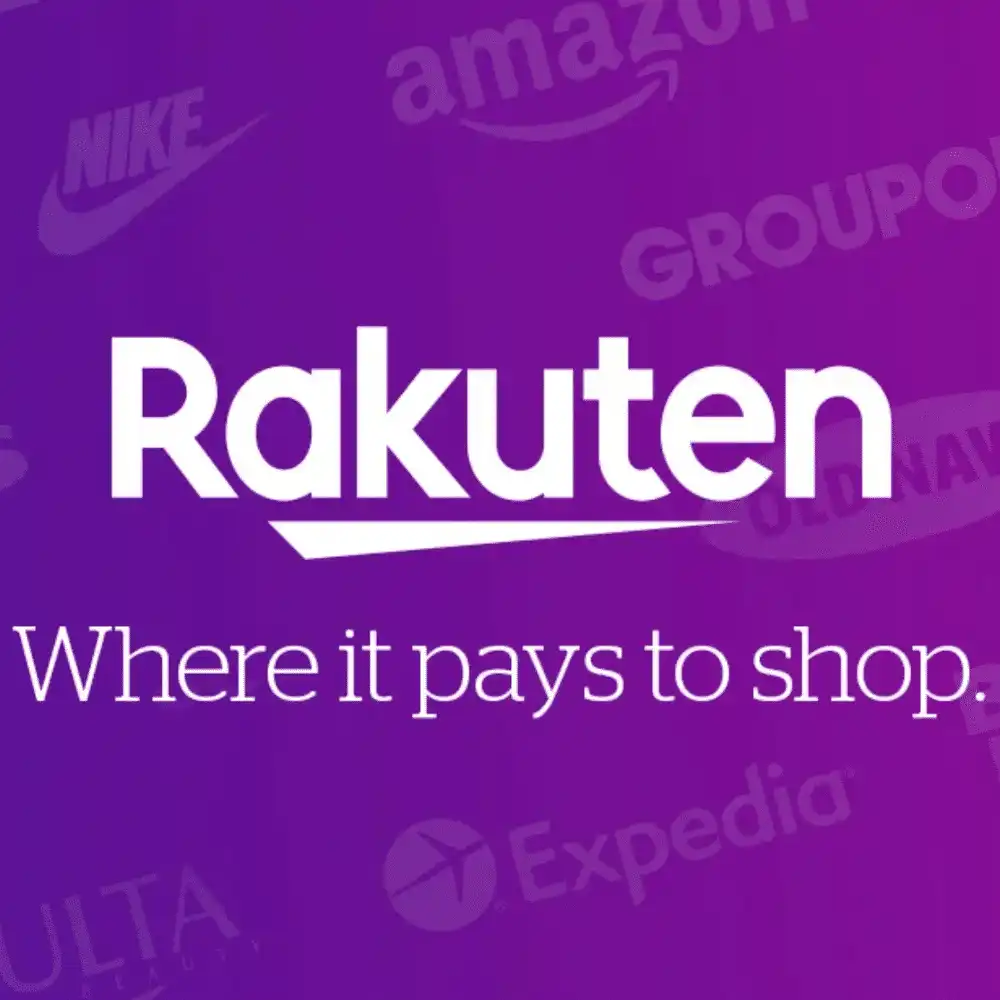 I earn a commission if you make a purchase, at no additional cost to you.

Find things to do without money.
There are literally hundreds of things you can do without spending money. Here are 50 things to do without spending money to get you started.
Those are just a few of the super frugal ways I like to entertain myself around my city. It turns out there is a lot you can do that is active, social, and fun without spending a lot of money. Sure it's nice to spend a ton on a night out now and again, but it's totally not necessary to have a fun time!
More Frugal Living Ideas
Want more ways to live frugally and stack your cash?
Check out these ideas:
Mary is the founder of Pennies Not Perfection where she shares her journey to build wealth through online income. She quit her day job in 2021 after she paid off her debt and doubled her 9-5 salary.
Mary's favorite free financial tool is Personal Capital. She uses their free tools to track net worth and work toward to financial freedom.
Her favorite investment platform is M1 Finance, where she built a custom portfolio for free with no fees. She shares her portfolio growth and savings progress every month on YouTube.