I no longer recommend using Swagbucks.
You will not earn much for your time and they unfortunately shut down accounts without an appeal often.
Swagbucks Review
Swagbucks is a cash back website and app that allows users to earn SB points that can be redeemed for cash or gift cards.
Swabucks has been around since 2005 and it's the first cash back website I personally ever used. My first $10 gift card redemption in college was an exciting event!
Since they began Swagbucks has paid out over $742,570,000 in cash and free gift cards.
Is Swagbucks Legitimate?
Swagbucks is a legitimate website. I've personally used it and redeemed gift cards for doing surveys and shopping.
Some people have claimed Swagbucks is a scam. Unfortunately this is a situation where people misunderstand how a site works or fail to earn large amounts. You won't be getting rich on Swagbucks but it is legitimate and does pay out.
Swagbucks has an 8.3 rating out of 12,909 reviews on Trustpilot. This points to the site being trustworthy even if some people don't know how to best use it.
Reasons why I like Swagbucks:
super easy to use and earn SB points for cash/gift cards
tasks available are very simple
you get a $3-5 signup bonus for signing up
it's the longest running site I've used to earn fun money
Downsides to Swagbucks:
low payouts for the amount of time invested
often disqualified for surveys
While there are some downsides to Swagbucks, it is a great cash back website to use with eyes wide open.
You won't be getting rich on Swagbucks but it's fun for those times when you have down time and want to earn a couple bucks.
How to Use A Swagbucks Referral Link
Getting the 300 Swagbucks points signup bonus when you sign up for Swagbucks is easy.
This step-by-step tutorial shows you how to get the $3 Swagbucks referral code bonus.
The following instructions will show you:
how to use a referral link for Swagbucks
steps to open an account on Swagbucks
how to hit all the requirements to get your bonus money
Sign Up For Swagbucks
The steps you need to take to get the referral money for the Swagbucks bonus:
Click on a referral link to open the Swagbucks website
Enter your email and password and then click "Sign Up Now"
Follow the instructions to verify your email
Then take the required demographics survey
That's it! After you complete those tasks Swagbucks will open your account fully and you will receive the sign up bonus and points for completing the first two tasks.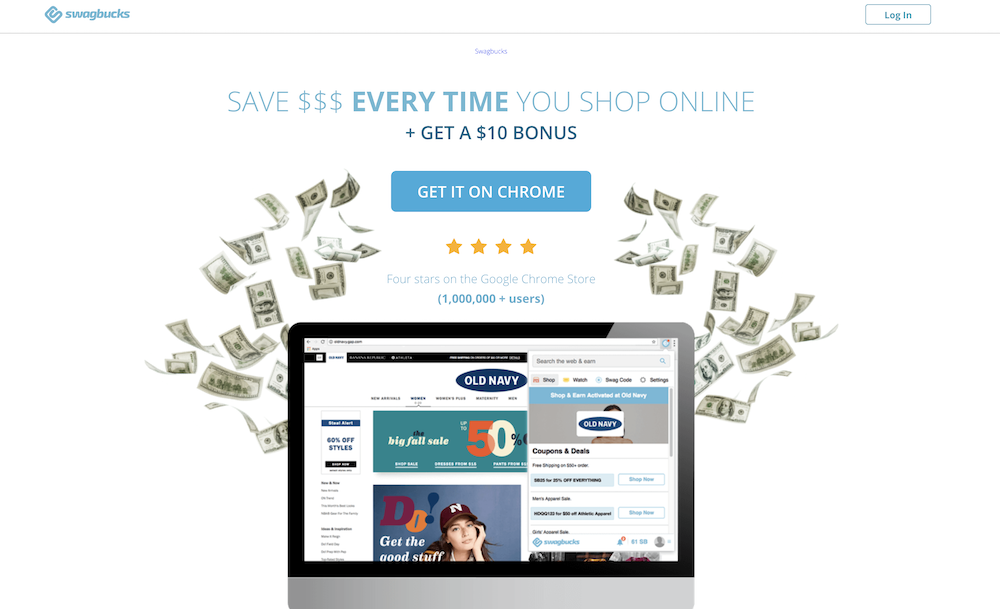 Swagbucks Referral Code Sharing
Once you've signed up you may want to share your Swagbucks referral code link and make money by referring your friends as well.
You can make $3 each time you refer a friend as well as 10% of their lifetime earnings. This can add up!
Here's how to find your referral code in Swagbucks:
Go to Swagbucks on your phone or the website
Click on the top left smiley face dropdown menu
Select "Referrals" from the menu
Click on the "Invite More Friends" button on the top right
Copy the link under "Share your SwagButton referral URL:"
Share your Swagbucks referral link to give others a bonus
You can get $3-5 per referral to start when you share your link. Then if they continue to use Swagbucks you'll earn 10% of everything they earn!

This comes from Swagbucks cut and doesn't affect the user so it is really a win-win situation when you refer friends using your Swagbucks referral code.
If you haven't started your own account then use this referral link to get a bonus when you start using Swagbucks.
Swagbucks Sign Up Bonus
How much will you get as a sign up bonus when you join Swagbucks with a referral link?
The standard referral sign up bonus with a Swagbucks referral link is 300 SB points which can be redeemed for $3 in cash or gift cards.
You can only get this bonus if you are referred to Swagbucks. If you just go to the website without a referral link you will not get it but may get a different sign up bonus.
The referral has changed multiple times. It has been $3, $5, and $10 in the past. The have periods where the amount changes and increases. You'll have to check to see how many SB points you can earn with the signup bonus.
This also goes for how much you can earn by referring people with your own referral link. Your earning can change at any time. At the time of writing this they were even giving an extra 100 SB points or $1 extra for each referral.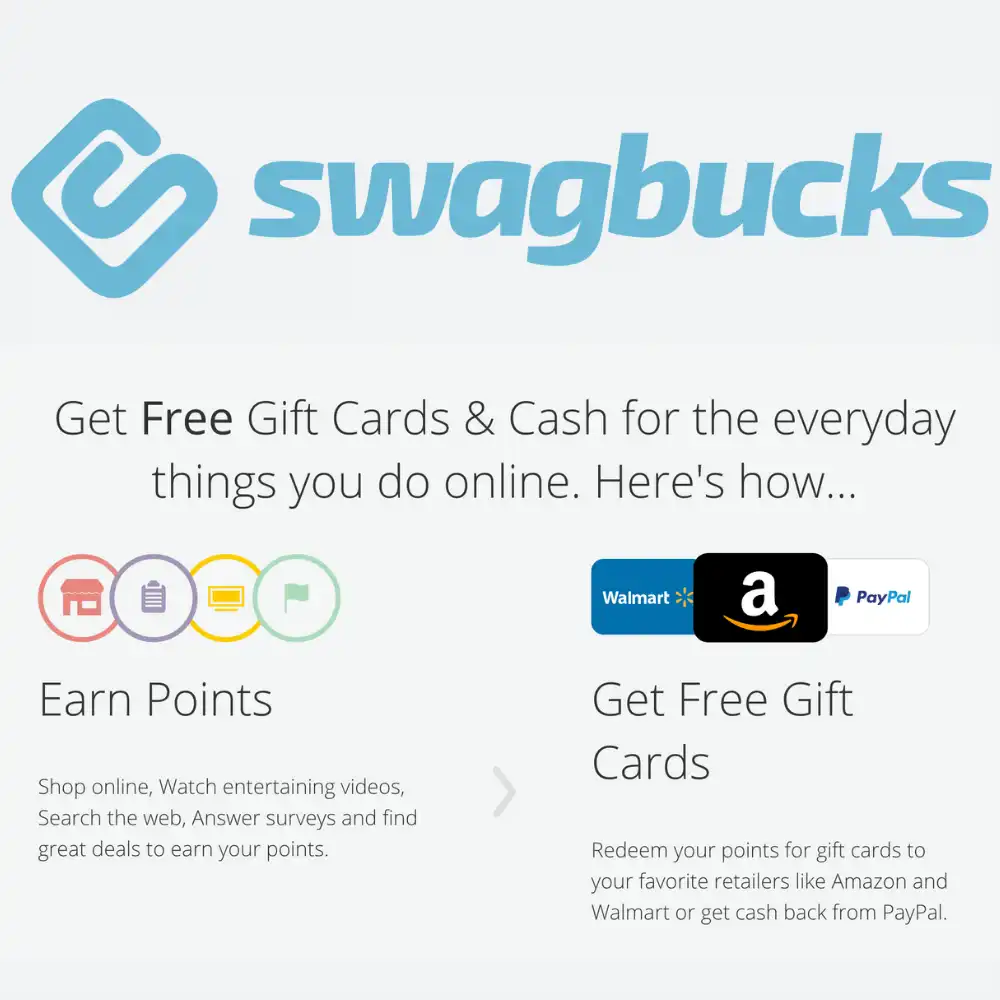 I earn a commission if you make a purchase, at no additional cost to you.

Swagbucks Referral Code FAQ
Below are some of the questions I often get asked on videos about the Swagbucks referral code program.
What's the Swagbucks referral link?
Each person that uses Swagbucks has their own individual link they can use to refer friends that looks like this: https://www.swagbucks.com/p/register?rb=125114555
You can find your own referral link inside your account. After you locate it, share it with others to get a sign up bonus for both yourself and the new user.
You can click on my link above to allow me to refer you for signing up.
What is the Swagbucks referral code?
There is not a specific code to enter with Swagbucks because they use a link system instead.
The referral link will have unique numbers and letters at the end that identifies you for the bonus. It will look like this https://www.swagbucks.com/p/register?rb=125114555
Swagbucks previously used codes for this system and still has the optional area to put a code but you don't need to do this to get a bonus. You just need to click a referral link.
Can you still get the referral bonus after signing up? 
Unfortunately the Swagbucks referral program only applies to new users who sign up with a referral link from an existing customer.
If you already signed up for an account without using a referral link then you will not be able to get the bonus added later.
How long does it take to get the referral money from Swagbucks?
You will receive a 300 SB referral bonus in your account the day after your referral qualifies for the bonus.
What can I redeem my SB points for?
SB points can be redeemed for a number of items:
cash via Paypal
cash via Reward Cards
crypto
store gift cards
food and beverage gift cards
travel gift cards
other gift cards
charity donations
What is a Swag Code?
Swag Codes are strings of text that you can apply on the site for instant Swag Bucks. Sometimes they look LIKETHIS or they look LiKEtH1S.  Each Swag Code is worth a certain amount of Swag Bucks and is only available within a specific time frame.
To get these Swag Codes you will need to download the Swagbutton and check for codes to find active ones.
Why did I not receive the referral bonus money?
It's possible that something went wrong. Swagbucks will investigate missing points if you have this issue but you have to submit your help request within 14 days.
Want to earn more free stuff with other apps? I've got a whole page and YouTube playlist full of referral codes and referral links for the best financial apps!
I only include the apps I use and love so it won't have everything, but you can get hundreds of dollars free just by using these referral codes when you sign up for things! The list includes apps for investing, saving, coupons, and more.
Check out the list of referral codes for free money!
Why Am I Sharing These?
First of all, referrals earn me money too! For every sign up you get a bonus and so do I! It's usually the exact same amount you are receiving.
Secondly, because it helps you. I've been in the position where I wanted to use an app or service but didn't have access to a connection where I would receive a referral sign up bonus. It is frustrating!
Putting these referral codes and links out there can help others avoid that situation and I get a little bit of a kickback that helps me continue running this website to provide financial education. I love being able to give others free money!